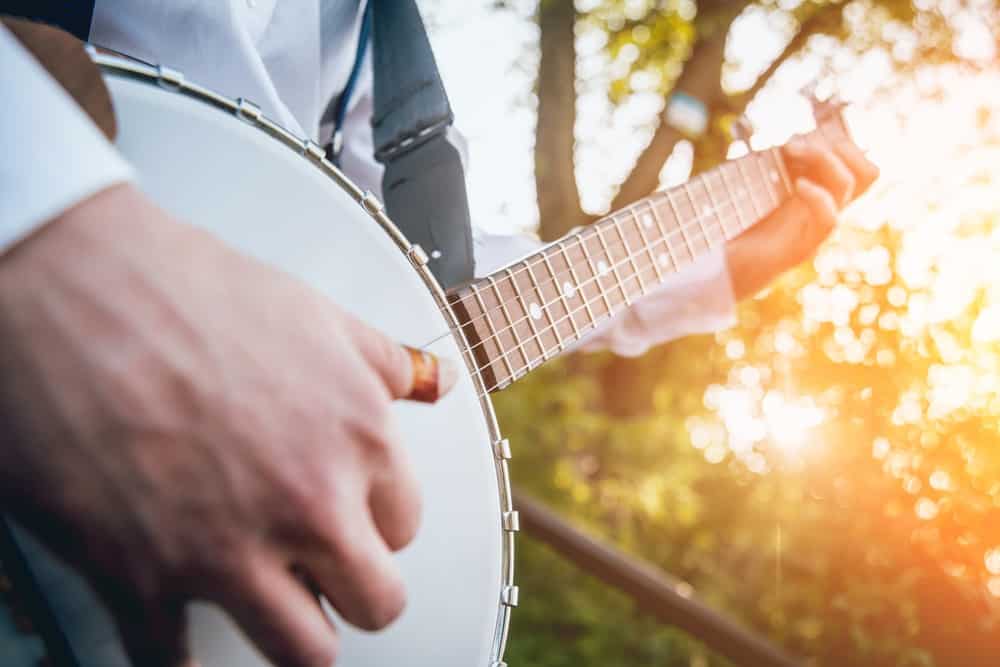 Banjo is a stringed instrument from the family and it is mostly plucked with hand. The banjo has a thin long membrane that is probably the thinnest among all the stringed instruments out there. The body is perfectly round that is often made of a cavity of circular wood, plastic, or originally from the animal skin.
DISCLOSURE: This post may contain affiliate links, meaning when you click the links and make a purchase, we receive a commission.
Banjo was originated in the North American region and gained high popularity in the 1800s. Even today, Banjo is widely played for a vast range of genres including country music, hip hop, rock, folk, and pop. The scope of Banjo is pretty wide and most music enthusiasts who want to have a better and deeper sense of music rather than learning those famous instruments out there would like to learn Banjo.
A few of the most popular and interesting ways that you can choose to learn Banjo and the costs incurred would be shown below.
How Much Do Banjo Lessons Cost
Online lessons are undoubtedly one of the best ways to learn Banjo not only given the fact that they are going to save you a lot of bucks in terms of commute and stuff like that, but you can also have a better learning routine with these online lessons because you will be creating your own schedule and learning when it is convenient for you.
These are also some of the most affordable ways to master Banjo so, you don't have to worry much about them. Two of the most economical and outstanding online lessons that you can choose to learn Banjo are: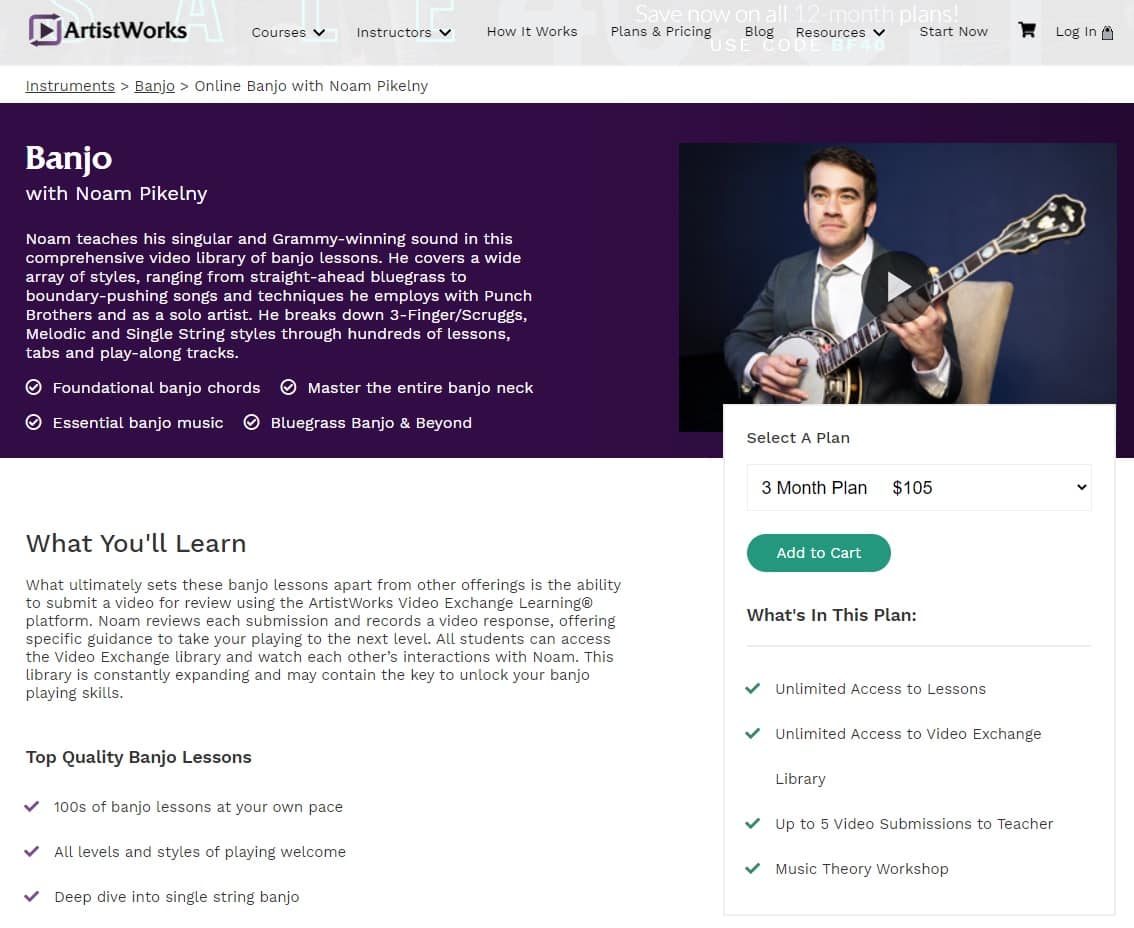 Noam Pikelny is one of the most famous names in the world of Banjo and he has bagged several awards including a Grammy. So, it might not be an easy task for most students out there to be learning from one of the true sensations for Banjo. This course does not only allow you to learn Banjo from Noam Pikelny firsthand but also shares a deeper insight on his Grammy-Winning sound with a complete breakdown for a better and more comprehensive understanding for the students.
This is one complete course with the right elaboration and detailed orientation of all the right skills that you can possibly need to be learning Banjo.
The course comes with different pricing packages based on what learning plan you need to choose. There are three learning plans being offered for this course That are 3-months priced at $105, a 6-months plan price at $179, and an annual plan priced at $279. These are learning plans that you can choose from to ensure that you are getting the right time to learn. Also, each plan has its own perks like additional numbers of video submissions and more.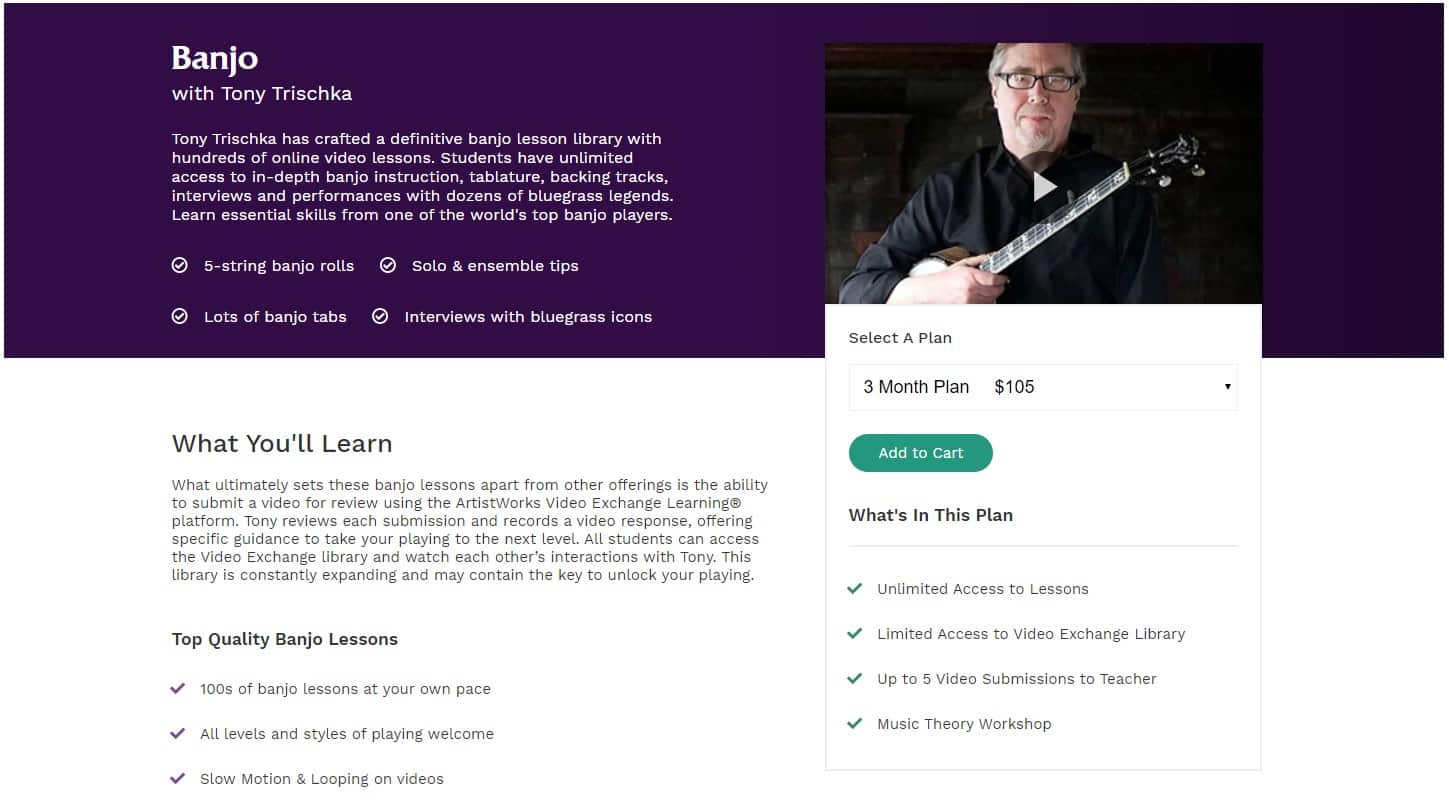 Artistworks is one of the most affordable ways of learning Banjo since you are going to get no additional costs except for buying a Banjo that you will be needing for practice. Tony Trischka is another legend in the Banjo playing world and anyone who has a thing for Banjo knows his name and appreciates his masterpieces. This lesson is a great aid for anyone who is unable to get hold of Tony so this course might be the most cost-efficient way.
You can choose from the plans on this course as well, as it is the same for all the other courses listed on Artistowrks and you are getting 3 learning plans that are 3-months, 6-months, and annual plan. The prices are pretty affordable and you can choose from $105, $179, and $279 based on what needs you have.
2. Books (Start From $50 – $200/book)
Well, books are simply the most economical way to learn Banjo as you can get your hands-on multiple books at half the price of online lessons. However, if you are an absolute beginner who is looking to start the Banjo lessons, then this might not be the best thing for you to get.
A book on Banjo can roughly cost you around $50-$200 with all the right guidance and instructions that you can possibly need to learn Banjo. These books can be a great supplement with any other training method that you can choose to learn Banjo and you can make the most of your time having a good read and following the instructions that are there on the books. So, you must consider getting some good books that can help you learn the Banjo right way.
3. Online Tutors (Start From $30 – $50/hour)
There are also some great online tutors that can help you learn Banjo. The perk you are going to get with these online tutors is that not only you will be learning in the comfort of your own place, but you can also cut the expenses of travel and other things like that. You will also not have to worry about geographical boundaries and no matter where you live, you can always find the right online tutor to help you learn Banjo lessons.
Moving forward on the cost part, apart from the Banjo you will be purchasing and minimal internet costs, you will only have to pay from $30-$50 an hour to these online tutors. You have the chance to easily get the right tutor for yourself.
The best part is that you will only be paying for the time you will be spending on learning so that you will be saving tons this way. It might feel like paying more than any other learning method, but you can rest assured that the curriculum will be personalized and you will be learning more this way in an hour than any other learning method can teach you in 10 hours.
4. Music Studios (Start From $100/week)
Music studios are everywhere in the world and they are promising a more goal-oriented and skills-focused learning approach towards the learning process over any given instruments including Banjo. All you will need to do is find the right music studio around your place where the commute is not an issue for you and you can go there regularly for the music classes.
Most music studios have a weekly or monthly fee that can range between $100 a week to anywhere between $500 a month, but it will be worth it because you will not only get the right time and chance to learn from a Banjo expert firsthand but you will have the right environment and people around you to motivate you with the learning and you can learn from their experiences.
With a music studio, you can also learn Banjo playing styles like playing it solo or a part of some band to make the most of your learning experience and make it count towards your goals. So, this would be the right choice for you to have if you can bear the expenses for it.
The Bottom Line
You can not put a price on your passion and the same is the thing for music and learning an instrument. Banjo is a highly-skilled instrument and you will need to spend a bit extra to learn it the right way. These costs listed above are only the learning costs and you might have to spend a bit extra on other expenses involved.