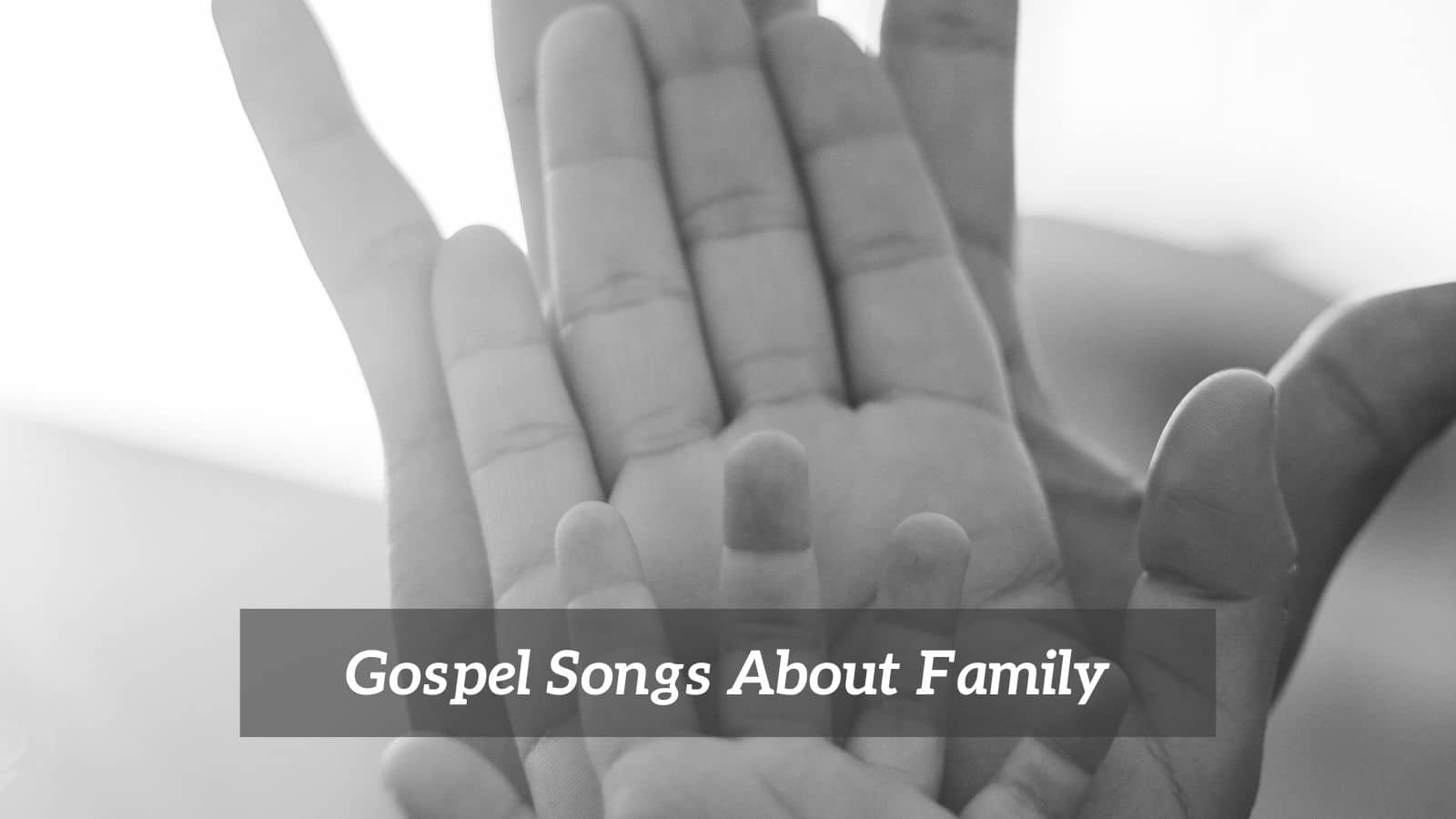 Peace, community and praise are the driving forces of gospel music, igniting every pulse with love for the Lord and the sense of togetherness.
From the family you find within your fellow believers, to your place as a son or daughter of God, our collection of gospel songs about family carries the sunlit passion of unconditional love within each and every breathtaking harmony.
Gospel Songs About Family
1. Ricky Dillard – All Of My Help
Ricky Dillon's captivating performance of All Of My Help is, at heart, a song dedicated to championing the glory of the Lord, but his gospel choir's passionate message has the energy to empower any family relationship you hold.
Dillon and his vast choir raise an unmatched atmosphere of love and praise, harnessing the joy of a large family reunion blessed with golden harmony and good vibes.
While lending his being to Jesus, Dillon's lyrics transfer perfectly to the unconditional support and companionship which uplifts any family bond; whether you're envisioning your spouse, sibling, children, parents, or anyone who's helped you flourish into the person you are today;
"I put my faith in you, I put my trust in you… I found my joy in you, I found my peace in you.. and I thank you for being there for me, all of my help comes from you."
This track sings the praises of your family alongside the praises of your Lord, binding the two most important relationships of your life together into one intoxicatingly positive track.
2. Whitney Houston – Family First
Whitney Houston's angelic pop song is winged with lush, gospel ambience and beautiful sentiments that transcend any despair that may cloud your skies.
Family First brings you back home to the purest type of relationship; the undying love of a family; "Don't be ashamed of your family, brought you into this earth, and loved you since birth."
Houston's track is anchored in the message that blood runs thicker than water; that family will always be dependable as a beacon of hope, helping you to stand strong through the storms that desecrate friendships and romance;
"Nothing's better than family, for the ones who love you so, be a shoulder to cry on when you're in need, they'll never leave you alone, when friends bring you down, and they drag you through the dirt, and nobody's around, they'll carry you through the hurt."
3. Bill Withers Stevie Wonder & John Legend – Lean On Me
Bill Withers' 1972 US #1 Lean On Me has become an anthem in gospel culture for its crystal clear message of community, trust, support and love.
This 2015 rendition binds the musical mastery of Stevie Wonder and John Legend into a spellbinding cover, featuring an unexpected, final performance from the iconic songwriter himself, Bill Withers.
Lean On Me's lyrics capture the soul of every family, illustrating their endless support which carries you through the depths of your troubles and into the light again, "You just call on me brother, when you need a hand, we all need somebody to lean on… Lean on me when you're not strong, I'll be your friend, I'll help you carry on."
Withers highlights how a family's bond refuses to be severed by distance or time, and that you can always return to their aid.
4. The Asidors – The family Prayer Song (As For Me & My House, We Will Serve The Lord)
The Asidors are a captivating Christian family act, lacing their music with sweet Christian sentiments, alongside showcasing the adoration of the family and peaceful life they've been blessed with.
Their rendition of As For Me & My House, We Will Serve The Lord, is so powerful and pure, their refreshing message of faithfulness to the family and to God could elate the heart of even the most avid atheist.
As For Me & My House asks the Lord, on behalf of your children and partner, to bless your house with his love and protection as you dedicate your family to faith, "Staying together, praying together, any storm we can weather, trusting in God's word, we need each other, fathers and mothers, sisters and brothers, trusting in God's word."
This is a song for any family who commits their hearts to God as equally as to each other, graced with the cutest child backing singers.
5. Worship House – We Are Family
We Are Family is a bold and beautiful track adorned with spirit-raising energy.
Bearing an everlastingly truthful message, echoed in simple phrasing so that even the kids can feel its power, this track's lyrics harness the joy of an impassioned church community, bound together by the love of God, "We are heirs of The Father, we are joint heirs with the Son, we are children of His Kingdom, we are family, we are one."
This gospel song is ignited by the sentiment of 'the more the merrier,' showing that whilst your blood family will always remain the closest, your church blesses you with a wider family of like-minded beings, together conjuring a natural and sanctimonious sense of love and support every Sunday.
6. The Crabb Family – Through The Fire
The Crabb Family give a timeless twist to gospel songs about family with their track, Through The Fire.
Throughout their inspirational, almighty vocal tones resonates a message of finding family with the Lord, which pulls you through the destructive fires and into peace once more.
Family is usually unconditional, but in death, divorce and other abandonments, their binding can burn despairingly into embers, casting you out and forcing you to find a miraculous new start, alone.
Through The Fire chooses not to focus upon the misery of disaster, instead depicting the eternal family you find through the Father, summoning the support you need to believe in the better days ahead.
From decision-making to gaining the strength to fight, to finally achieving peace, The Crabbs family evoke every fortune which faith grants them, undertoned by the shining belief that you'll be protected from any obstacle the universe throws;
"I know within myself that I would surely perish, if I trust the hand of God, he'll shield the flame."
7. Spirit Of Praise 4 – We Are Family
We Are Family carries a chorus shimmering with bright-shining spirit to uplift the weariest of souls.
This inspiring performance resounds with a symphony of tight-knit voices, anchored in the simple, heart-warming honesty, love and togetherness which transcends all ages of believer;
"You are my brother, you are my sister, we are family, we are one." This is another incredible track which blends the love of eternal family with the Lord, with the deep-rooted, family energy of a community strengthened by their pure and everlasting faith.