The Soweto Gospel Choir recorded their first album in December of 2002, after a successful Australian tour. "Voices of Heaven" would reach No. 1 on the Billboard's World Music Chart within three weeks of its release in the US and the group would go on to win Best International Choir as well as Best Choir at the 2003 American Gospel Music Awards.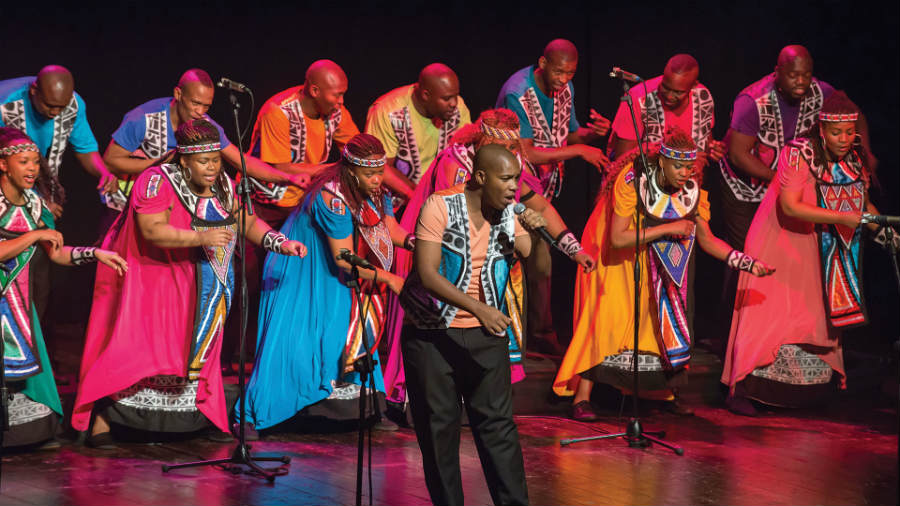 Co-­founded by music promoter Beverly Bryer and choir master David Mulovhedzi, the Soweto Gospel Choir features members from different churches and communities in South Africa. They perform in several African languages as well as English. The range of their collaborations is impressive, spanning from U2 and Pharrell to Jimmy Cliff and Celine Dion. In addition to their ever-­growing list of Grammys for Best Traditional World Music, the Choir won Best Movie Song with Peter Gabriel for Wall­-E's "Down to Earth."
For all the success of the Gospel Choir, Soweto was not lacking in global recognition before its formation. One of the most visible sites of the struggle against apartheid, Soweto's very existence is tied to these policies. The name stands for South Western Townships. These townships received a massive influx of black residents after the National Party was voted into power in 1948 because cities like Johannesburg were increasingly reserved for the country's white population.
Today, South Africa's official tourism site encourages visitors to explore the history of these townships. In Soweto, for instance, you can find the Hector Pieterson memorial and museum, honouring a young schoolboy killed during the student-­led Soweto uprising of 1976. On Vilakazi Street, you will find the former homes of Nelson Mandela and Desmond Tutu. For the older members of the Gospel Choir, these monuments represent lived memories.
"The older members, they are part of that scene," Choir member Zippo explains, "During those times the only thing the South Africans had was music. They went to churches and they used to sing some hymns and gospel songs just to ease their pain, you know".
The Soweto Gospel Choir works hard to give back. Ambassadors for Nelson Mandela's 46664 campaign, SHOUT, IGoal, UN's MDG Envoys for Africa, and Interpol's "Proud to Be" campaign, the Choir has also founded its own AIDS orphans foundation, Nkosi's Haven Vukani. They put their money where their music is.