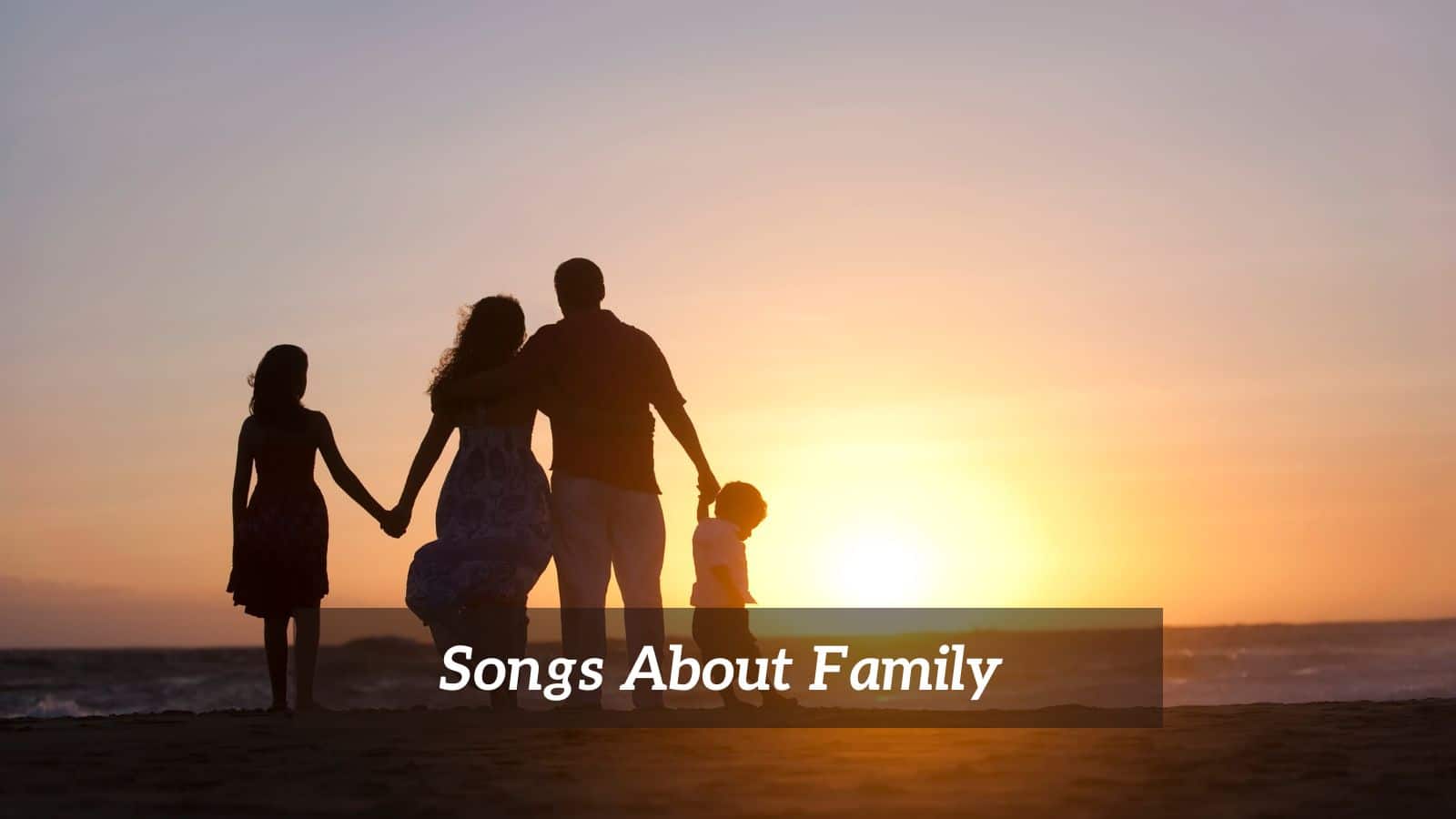 No two families are truly alike. Every clan shares a slightly different breed of love, formed from the unique memories of joy and plight which they build together.
Songs about family are no different – spanning the breadth of different family dynamics and experiences, spreading through the newest and oldest branches of pop.
From the nostalgia of early childhood, to grieving the death of a parent, our playlist of songs about family embraces every tide of family life.
Songs About Family
1. Taylor Swift – The Best Day
The Best Day is plush with the serene nostalgic atmosphere of childhood.
Taylor Swift weaves innocent stories of growing up, lapsed with the spiced scent of autumn, "I run and run past the pumpkin patch and the tractor rides, look now, the sky is gold, I hug your legs and fall asleep on the way home."
While The Best Day is devoted to her mother as her best friend and the best days they shared, Taylor dedicates a verse to her father and brother too, padding out the adventure of her upbringing with warmth that makes you melt.
2. Sister Sledge – We Are Family
Sister Sledge's disco anthem is a get together song for the ages.
We Are Family celebrates every aspect of sisterhood; the stark similarities that bind you together and the depth of understanding and unconditional love envied by everyone outside your tight-knit group.
They raise the high-spirited energy of exponential love spread within a family, topped with a positive message of support that every sister should share; "Here's what we call our golden rule. Have faith in you and the things you do, you won't go wrong."
3. Avicii – Hey Brother
The love within a family can be stretched over any unfathomable distance and still remain intact – a sentiment Avicii captures remarkably in his anthem, Hey Brother.
This track shows the love and support that stays between siblings despite gradually drifting apart and being wrecked by life's disasters.
Hey Brother settles itself in the lyric, "If the sky comes falling down for you, there's nothing in this world I wouldn't do', and uses a timeless analogy to show the depth of family compared to friendship, "Hey sister, know the water's sweet but blood is thicker."
4. Luther Vandross – Dance With My Father
Luther Vandross embeds his soul into his track, Dance With My Father Again.
His song is grounded in the simplest of precious memories, "My father would lift me high and dance with my mother and me, then spin me around 'til I fell asleep, then up the stairs he would carry me."
Accompanied by childlike music-box highlights, Luther laments his loss, his mother's grief and the slipping of his childhood innocence in a song so heartfelt with meaning, it can transform sorrow into comfort in anyone's darkest hours.
"If I could steal one final glance, one final step, one final dance with him, I'd play a song that would never, ever end."
5. St Winifreds School Choir – Theres No-One Quite Like Grandma
1980's Christmas #1, this time-capsule track is a sickly sweet song about grandma, which pushed John Lennon off the top spot in the UK charts right after his death.
The children's choir adorably sing of all the blessings a grandma brings from an endearingly innocent perspective;
"She's always a friend to you and she's a friend to me … She's there in times of need, before it's bedtime, on her knee to us a book she'll read … At party time and Christmas too, we know that she'll be there."
Their doting message will resonate with any child who shares a special bond with their grandma.
6. The Chainsmokers & Kygo – Family
The Chainsmokers & Kygo turn Avicii's line "know that water's sweet but blood is thicker" on its head to craft a unique foundation for their song, Family.
The first line, "I know water, that's thicker than blood," opens up a story of friends being truer than family, generating the same depth of love, memories and support as blood relations.
Family has an everlasting commitment of support through your ups and downs, but when friends choose to stay through your hardships, they've proved to be just as close as blood;
"People come, and some people go, and some people ride to the end. When I am blind, in my mind I swear they be my rescue, my lifeline… My brothers and my sisters."
7. Ed Sheeran – Supermarket Flowers
Supermarket Flowers carries every sombre emotion that comes with losing a mother or grandmother within its sparse, candid sound.
Sheeran masterfully details the first inarticulate days following death, "I took the supermarket flowers from the windowsill, I threw the day-old cup of tea, took the 'Get Well Soon cards and stuffed animals."
The lists blanketing the verses uniquely build a story of someone's life through the masses of sorrow left smouldering in their place.
Supermarket Flowers is woven with gut-wrenching lyrics that become a beacon of hope to anyone dealing with grief;
"It's tearing me up but I know, a heart that's broke is a heart that's been loved … And I hope that I see the world as you did 'cause I know a life with love is a life that's been lived."
8. Spice Girls – Mama
The Spice Girls' pop anthem is a love-song that gives thanks to mothers from the eyes of a daughter who's grown up.
While many kids battle with their parents, Mama shows that a mother makes her decisions out of love, "I didn't want to hear it then but I'm not ashamed to say it now, every little thing you said and did was right for me."
Their hit is perfect for your Mother's Day playlist as it sings every praise your mom would ever want to hear.
9. Whitney Houston – Family First
Whitney Houston's passionate song seeps with soulful, feel-good family energy. Her choir of women of all ages sing of hardship and peace; when you've spent your strength and have run out of places to turn, family is the only thing destined to remain.
She describes, "Nothing's better than family … They will never leave you alone. When your friends bring you down and they drag you through the dirt, and nobody is around, they will carry you through the hurt.
Family First encourages you to reach out when you're hurt and find the support and hope you seek within the people you love, retaining in your heart that "Family comes first.