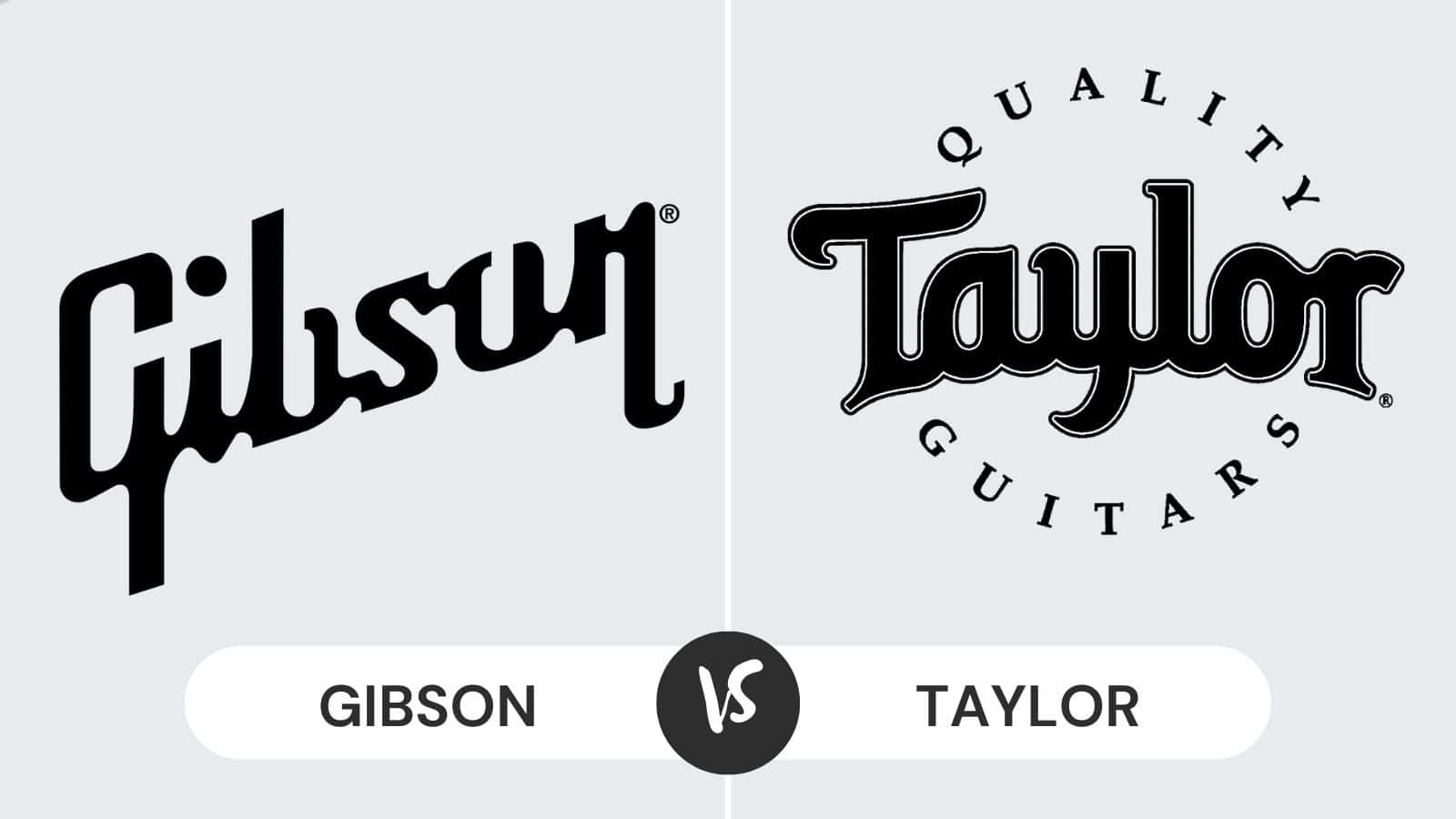 There are tons of different guitars out there and they come in different shapes, sizes, and types. Similarly, the guitar being one of the most popular instruments out there in the musical world, there are hundreds of brands worldwide, but some reign supreme.
Gibson and Taylor are two of the most popular US-based guitar manufacturers that are a phenomenal choice if you're interested in purchasing an instrument that'll last you a long while.
If you're in the market for a reliable guitar that's going to last you a long while without causing any issues, either a Gibson or Taylor would be your best choice.
Moving forward, there are a lot of other perks that you get with these guitars in terms of design aesthetics.
If you are looking to choose a new guitar for yourself and you are considering these two options, here are a few things that you must know about them both.
Gibson vs Taylor Guitar Comparison
| Features | Gibson | Taylor |
| --- | --- | --- |
| Sound | Deep, hollow | Light, airy |
| Frequencies | Relatively flatted EQ | Clear treble frequencies |
| Choice | Greater | Mainly semi-acoustics |
| Made in? | USA | USA and Mexico |
Gibson Guitar
Gibson is a US-based brand and they are based out of Michigan, USA.
The company has been manufacturing these guitars for a long time now and they are in the business since 1902 that makes them over a century old manufacturer and with such extensive experience at their hands, you will be enjoying the perfect experience of utility and durability on these guitars.
Variety
The best thing about Gibson Guitars is the wide range of models, guitar types, and variety that is available and which makes it the perfect choice for you to buy guitars from Gibson.
They are offering a truly extensive array of electric and acoustic guitars including some of the bass guitars that would enhance the playing experience for you whether you are a professional guitarist, enthusiast, or just looking to get a guitar to learn playing on it.
There is also a designer series that has some of the most dynamic guitars that would suit your needs perfectly if you are looking to get your hands on some guitar for a pop concert or a public performance.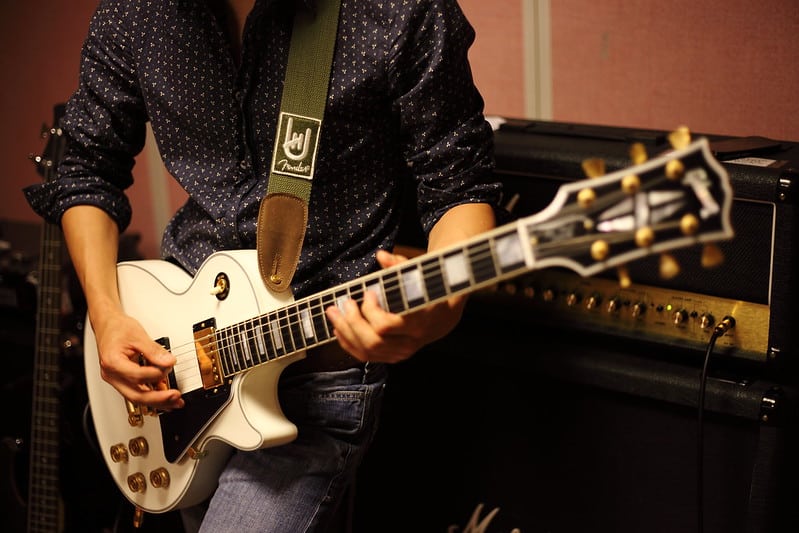 Support and Sales
In addition to all that, you will certainly get better support services and after-sales experience.
They are offering repairs, parts, and all the other support services that you might be looking for and that will be getting you the right experience that you might be seeking in a guitar.
In addition, these aesthetic dynamics on these guitars from Gibson are certainly amazing and you will love having them around.
Gibson's most popular guitar series has to be the Les Paul, which was founded by the person of the same name. The Les Paul uses a double humbucking style of pickups to produce rich, deep tones.
It's an incredibly popular guitar, with some of the most iconic names in music playing the instrument. The Les Paul has been popularly used by Jimmy Page, the lead guitar player for Led Zeppelin, one of the most iconic bands of its time.
And, if you're looking for an acoustic guitar from Gibson, then the Hummingbird Original or the Dove Original are both excellent choices.
Pricing
Gibson Guitars are some of the most expensive instruments on the market, however.
They have a more affordable brand known as Epiphone, which produces guitar that feature the similar Gibson shape and style, though the instruments are generally manufactured in cheaper regions like China or Korea.
Gibson's top line is obviously different, with guitars being manufactured in the United States, using only the finest materials. The craftsmanship is also second to none, so you'd be hard-pressed to find a better guitar on the market than a Gibson.
One of the things that set Gibson apart from Taylor is the fact that they have an entire line of electric guitars. Taylor, on the other hand, is renowned for semi-acoustics and acoustic guitars.
This makes Gibson a more versatile choice, and it's a phenomenal guitar for people who want to become professional musicians.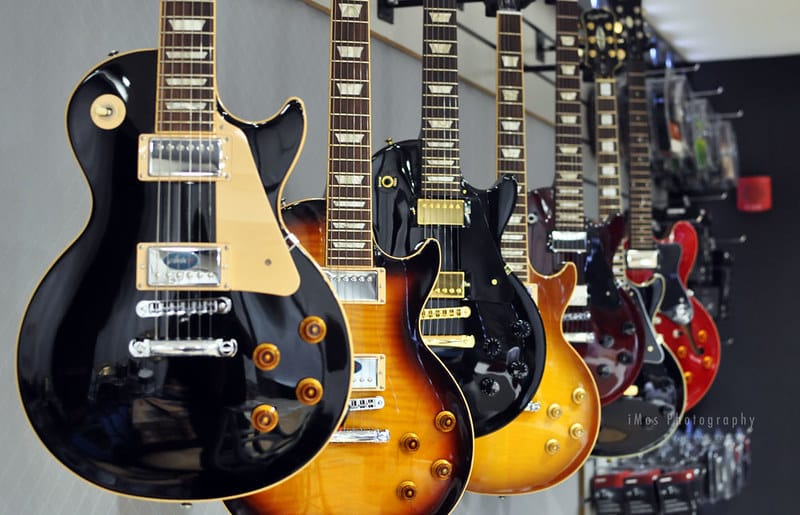 The Gibson acoustic guitar line is slightly expensive too, but that's because the company uses different types of wood, ranging from oak to dreadnought in its guitars. This gives the guitar a vibrant, rich tone.
Their semi-acoustic guitars are also incredibly popular, and some of the most popular musicians in the world play these instruments.
Taylor Guitar
Taylor guitars is another US-based guitar manufacturer that is based out of California and they are in business for a few decades now.
Taylor has got high popularity due to their highly affordable guitars and they offer a variety of different instruments for you to choose from.
Again, Taylor isn't exactly one of the cheapest priced instruments. In fact, most people who play Taylor guitars are generally fingerstyle musicians or those who like playing acoustic music.
They are renowned for the quality of their sound, including the nifty electronics that allows Taylor instruments to sound much better than other guitars on the market.
Variety
Moving forward, you will also get to know that the Taylor guitars have a cool variety of guitars, including some travel instruments, full-sized guitars, and the jumbo sizes.
They are keeping affordability, comfort, and durability in mind for all these guitars and the best quality of materials are used to manufacture these guitars.
But obviously, all of that comes with a price. You can expect to pay anywhere between $1,000 to up to $5,000 for a Taylor guitar.
Perhaps the ideal competition is between Taylor and Martin, as both are renowned for the quality of their craftsmanship and the style of instruments that they produce.
In addition to all that, Taylor guitars have a widespread network of dealers in the USA that would be the perfect thing for you to buy a guitar from anywhere in the country.
Support and Sales
More importantly, you also get a pretty fantastic warranty with your Taylor guitar, so in case something goes wrong, you can always claim a refund. Ideally, both Taylor and Gibson use some of the best materials in the industry, and their guitars are some of the best in the market.
The Bottom Line
It's more a matter of personal preference and about your budget. If you can afford to spend the money, both Gibson and Taylor have some really excellent instruments on the market.