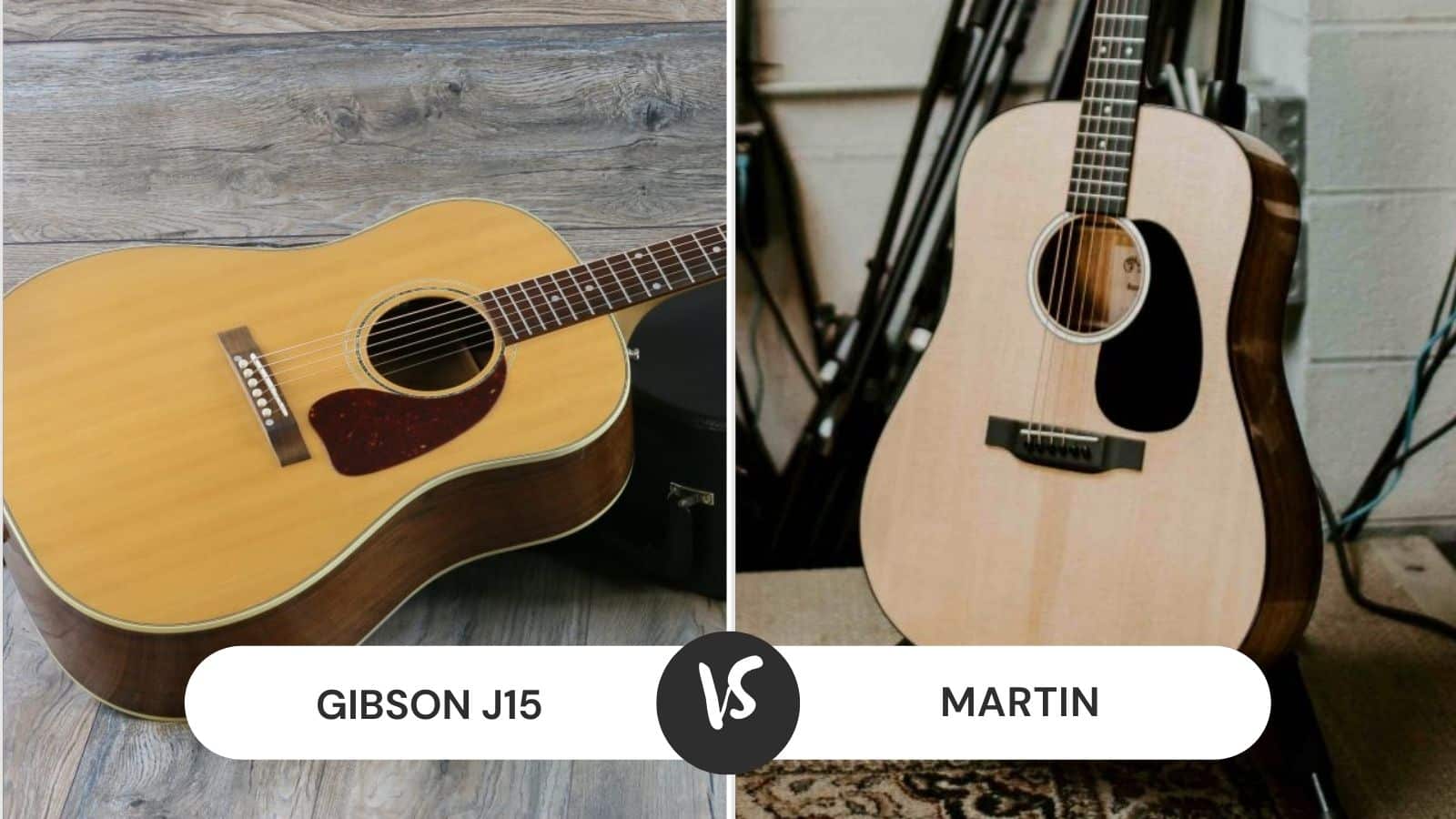 The past decade saw a huge spike in guitar sales. Thanks to its affordability and portability, more and more people are purchasing guitars, and experts suggest that it's only a matter of time before guitar beats piano in terms of popularity.
Furthermore, it is exceptionally versatile and can play multiple genres. If you are new to the guitar world and are looking to buy your first guitar, you may go through option paralysis.
With hundreds of brands releasing guitars day in, day out, the market is really saturated, and it could be difficult for you to choose the right one.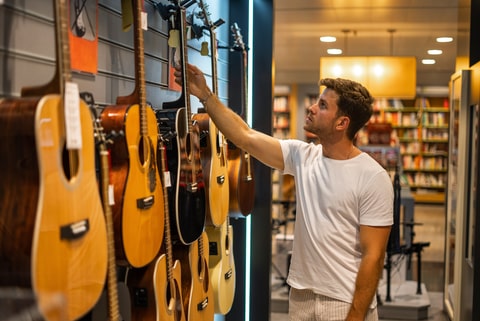 However, only a few guitar companies enjoy a good reputation in the market. Gibson and Martin are two such companies. Both brands have been around for quite some time and offer a wide range of guitars.
The Gibson J15 and Martin guitar are two popular guitar models by Gibson and Martin. Both pack many exciting features and have been embraced by thousands of famous artists. So, which one sounds better and offers more value for your money?
Today, we intend to compare the Gibson J15 and Martin guitar hereinafter. Read on to find out the winner!
Gibson J15 vs Martin Guitar Comparison
Below is a comparison between the Gibson J15 and Martin guitar. Let's get started!
| Features | Gibson J15 | Martin Guitars |
| --- | --- | --- |
| Pickup | L.R. Baggs | Fishman |
| Tone | Warm | Bright |
| Price | High | Moderate |
| Material | Sitka spruce | Mahogany and maple |
Gibson J15 Guitar
If you have done some research on guitars, you must have heard about Gibson. Based in America, the company was established in 1902 and is among the pioneers of the guitar industry.
It designs, develops, and sells a variety of musical instruments, including violins, bows, guitars, and many others.
Gibson has a history of manufacturing premium quality guitars, and the Gibson J15 acoustic guitar is no exception. It is a flagship-level acoustic guitar by the company that has all the features you need in a guitar.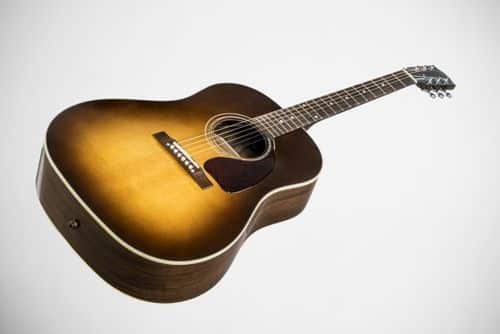 Construction
Introduced in 2014, the Gibson J15 acoustic guitar has a dreadnought body for an enriching playing experience. For those who do not know, dreadnought guitars feature relatively larger bodies.
They have a bigger soundhole, which can produce tones at high volumes. Predictably then, the Gibson J15 acoustic guitar is pretty loud. You won't even need a guitar unless performing in a gig.
The Gibson J15 acoustic guitar has an excellent construction for improved playability. It features a Sitka spruce top and a walnut body.
It's no secret that spruce is amongst the best tonewoods, thanks to its lighter weight, sturdiness, and excellent tonal qualities. It delivers a balanced tone across the lows, mid-range, and high-end.
Furthermore, the walnut also offers some amazing benefits for guitars. It is a hard tonewood that gives tight low-end, and notable sustain to your guitar.
And yes, it is highly durable too. If taken care of appropriately, your Gibson J15 acoustic guitar can last a lifetime. The maple wood also adds to the charm of the guitar and gives it a sleek look.
Another great thing about the Gibson J15 acoustic guitar is that it has a relatively low weight, despite its dreadnought body. However, its huge size could be a problem for some users, especially for those with small hands.
Having said that, if you are looking for a full-sized dreadnought, you'd surely love playing it. Its fretboard features rolled edges for a smooth hand feel.
The Gibson J15 acoustic guitar has a rounded shoulder neck with a gradual curve from its body to its neck.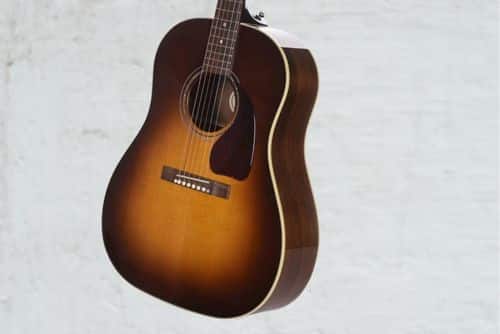 This design is not usually seen in acoustic dreadnought guitars. It diffuses the bass response and gives clarity to your tone. Moreover, it also makes the guitar a bit easy to hold.
As far as the pickup is concerned, the Gibson J15 acoustic guitar comes with an L.R. Baggs pickup. L.R. Baggs is a popular company, and its pickups are usually used in flagship models.
It's no secret that the pickup is an integral component of every guitar, and for a guitar to sound great, it must have a quality pickup.
This pickup drastically improves the playability of your guitar as it offers a warmer sound with great clarity.
Furthermore, the L.R. Baggs pickup has shown great performance against noise and hum. It features a special magnet that is quite stable and holds power nicely.
Performance
When it comes to performance, the Gibson J15 acoustic guitar is all bells and whistles. It has a balanced warm tone with fine clarity. It is incredibly versatile and has high sound output.
Whether you want to perform on a stage or record in a studio, the Gibson J15 acoustic guitar won't let you down.
Another cool thing about the Gibson J15 acoustic guitar is that it comes in a hard shell case for your convenience. This case allows for easy portability and storage.
When not in use, consider keeping your guitar in this hard shell to keep it safe from dust particles and scratches.
Martin Guitar
Martin is a household name in the guitar industry. The company came into being in 1833 and has earned a great reputation. With decades of experience, it surely knows how to craft the best-sounding guitars.
The best thing about Martin guitars is that it has a huge lineup. From electric to acoustic, the company offers guitars in many shapes and sizes. Regardless of your budget, you can find a reliable guitar at Martin.
The company even invented a few guitar shapes, such as the flat-top steel string guitar. Although this guitar shape is not widely used now, it was a huge hit back in the day.
In addition to that, Martin guitars are easily available worldwide. If you want a Martin guitar, just visit your local store, and the chances are that you will find one there that matches your budget and playing needs.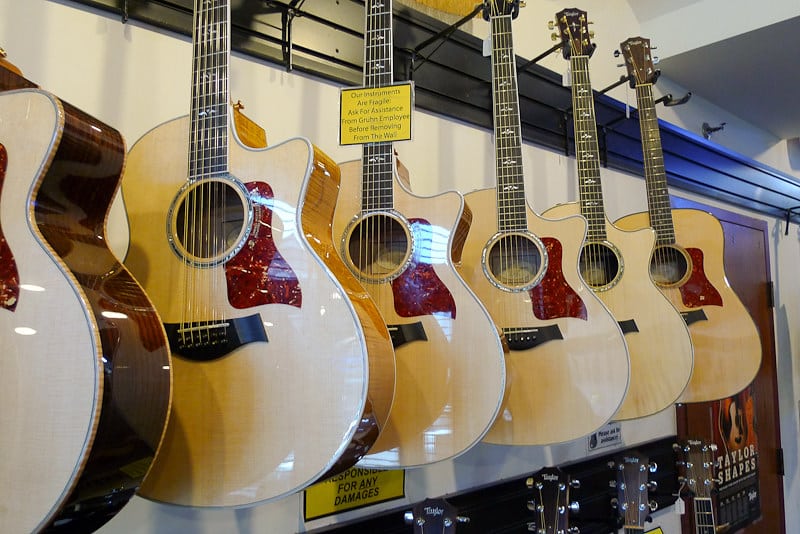 Construction
Martin guitars are incredibly durable, thanks to the premium materials used in their construction. From the fretboard to the bridge, every part of their guitars is made of quality materials.
So, if you are sick and tired of those flimsy guitars and are seeking a durable guitar that will last several years at least, consider opting for Martin guitars.
Performance
Martin guitars house many ground-breaking features. The company has always been ahead of its time and keeps experimenting with new things to improve its guitars' playability.
There are some Martin guitar models that boast an electric system to prevent feedback. If you have used a guitar with an amp, you'd know how annoying feedback could be. Thankfully, that won't be a problem while using Martin guitars.
As for pickups, Martin guitars use special Fishman pickups that effectively reduce the noise and bring clarity to your tone.
Moreover, the special mechanism in Martin guitars also keeps your guitar in tune. And yes, they are available in many cool finishes. All these features make Martin guitars an ideal option for playing professionals.
Final Verdict
The Gibson J15 and Martin guitars are popular options when it comes to guitars. The Gibson J15 is a pretty capable guitar with quality construction.
However, Martin guitars win this battle, thanks to their innovative features. They have bright tones, exquisite designs, and affordable price tags.