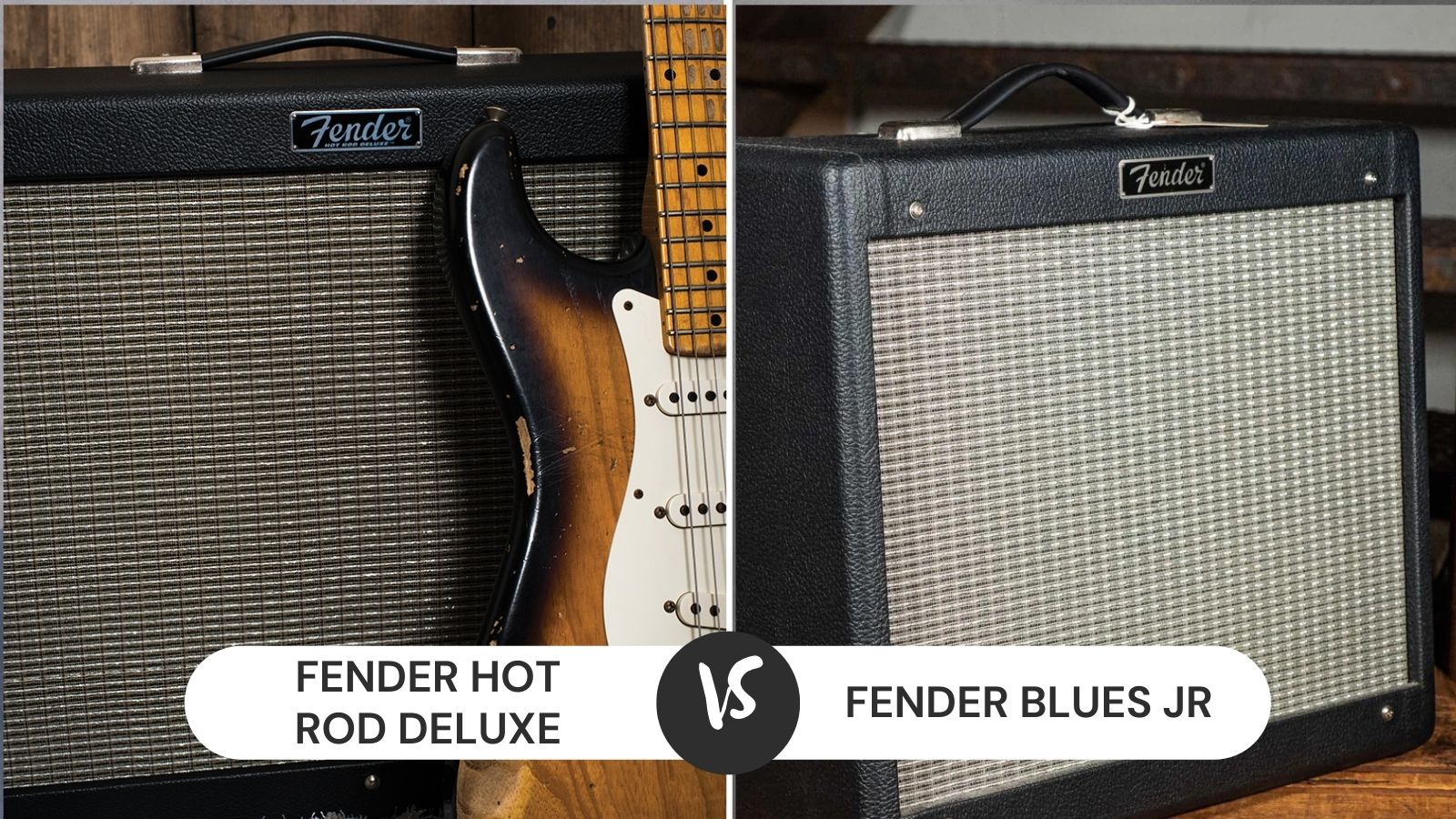 Below is a detailed comparison between the Fender Hot Rod Deluxe and Blues Jr guitar amps.
| Features | Fender Hot Rod Deluxe | Fender Blues Jr |
| --- | --- | --- |
| Preamps | 12AX7 | 12AX7 |
| Speaker | Celestion A-type | Celestion A-type |
| Power | 40-watt | 15-watt |
| Weight | 18.59 kg | 14.28 kg |
Comparing the Fender Hot Rod Deluxe vs Blues Jr
Fender Hot Rod
Whether you are looking for a guitar amp for practicing in your studio or playing in big gigs, the Fender Hot Rod Deluxe is the right guitar amp for you. The Hot Rod Deluxe lineup by Fender has been around for over two decades and enjoys great popularity among guitarists.
The Fender Hot Rod Deluxe amps have seen many refinements over the years for even better playability. Any guitarist who has played guitar with a tube amp will be familiar with these guitar amps.
Performance
The Fender Hot Rod Deluxe is a tone monster with an amazing clean tone. As compared to the original iteration, it tends to have a warmer sound. The company has modified it to add warmth to mid-range.
Of course, people's music tastes change over time. Overly bright and cutting tones were more popular back in the day. As players' tastes changed, Fender made tonal modifications to add a touch of warmth to the tone.
You get two channels with the Fender Hot Rod Deluxe guitar amp; clean and overdrive. And yes, it features three 12AX7 preamps, combined with two 6L6 power tubes. It is a 40-watt amp, ideal for studio use as well as gigs. It will surely keep up with the drummer.
If you are looking to add any time-based effects, the good news for you is that the Fender Hot Rod Deluxe also comes with an effects loop. Everything is easy to use and you can easily operate it even if you are using it for the first time.
Construction
Now coming to the construction, the Fender Hot Rod Deluxe has an exceptional build quality. It comes with a solid pine cabinet that reduces its weight significantly, making it a perfect option for gigging.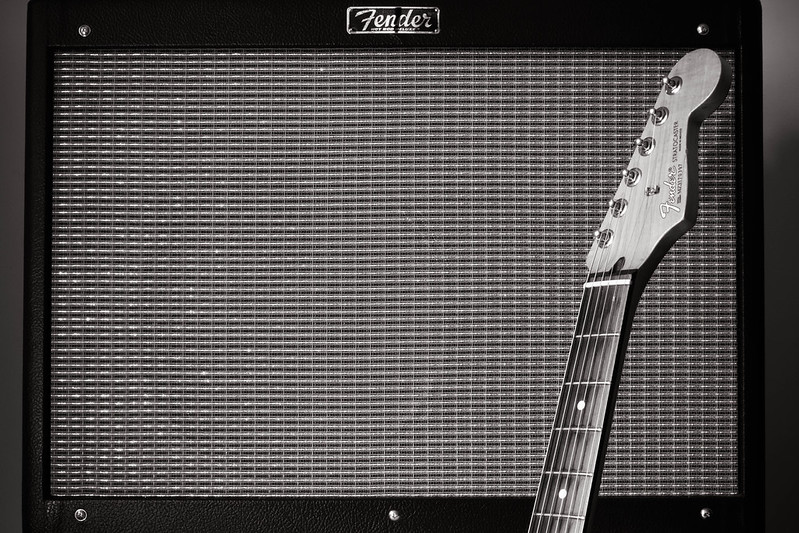 The construction of the Fender Hot Rod Deluxe also impacts the playability since it resonates a bit differently. Over time, it is seen that the wood also starts to resonate along with the amplifier.
So, it is a tonal enhancement in a way. And yes, it weighs 18.59 kg, which is not low but is pretty manageable.
The Fender Hot Rod Deluxe has been designed meticulously for your maximum convenience. The original models came with a chrome finish. No doubt, the finish added to their charm and gave a stunning look to the amp.
However, the problem with the chrome finish was that it reflected the light from above, making it hard to read the numbers on the layout.
On the other hand, the new Hot Rod Deluxe models come with a matte black finish. The numbers and words are written in white, which is a lot easier to see in all lighting conditions. The knobs are also colored white, so you won't have to guess, even when playing in poorly lit rooms.
The new speakers are another upgrade in the Fender Hot Rod Deluxe guitar amps. It features the Celestion A-type speakers, which also have warmth in their sound. So, they perfectly complement the guitar amp, and as a result, you get the classic Fender feel.
The knobs are located at the top to give you easy access. The fender signature grey cover on the top protects the amp from dust and dirt.
Fender Blues JR
Fenders Blues Jr is one of the most popular and beloved guitar amps in the market. Fender has made a few tonal changes in what was already a great-sounding amplifier.
It is a simple, yet powerful guitar amp used widely in studios as well as in performances. It first gained players' attention in the 90s, and its popularity does not seem to decline any time soon.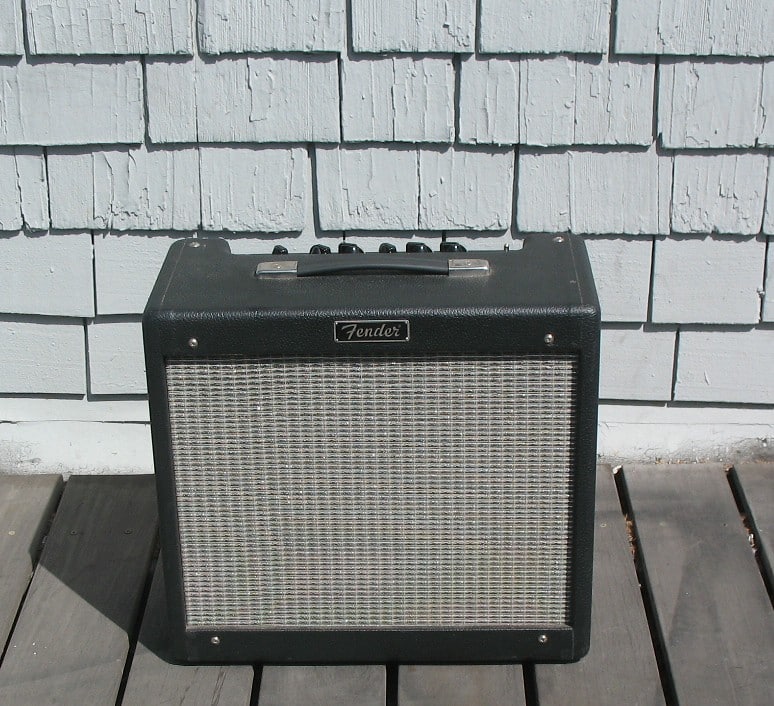 Performance
Since it is a 15-watt amp, it is not recommended for large gigs but is an excellent choice for home use and small gigs. It delivers exceptionally clean tones even at low volumes.
You also get a reverb spring, which is not a highlighting feature but is a good feature to have nonetheless. As for the layout, you see volume, treble, bass, mid, master, and reverb controls. You also get a ¼-inch input jack and a fat switch.
The reverb of the previous Fenders Blues Jr models was a bit overwhelming. Thankfully, that has been fixed in the new models. Apart from that, the previous models also gave a harsh sound, which is not the case anymore.
Construction
The Fenders Blues Jr has also seen changes in its construction. The color of the knobs has been changed for more visibility in dark rooms, and the company has also made the text easier to see.
The first thing you notice is that it has fewer knobs. Not only does it give the amp a minimalistic look, but also makes it far easier to use.
Like the Fender Hot Rod Deluxe amp, the Fenders Blues Jr also utilizes three 12AX7 preamp tubes. Expectedly then, the tone is quite rich for a guitar amp of this size and power.
These tubes, when combined with the EL84 power section, deliver excellent drives. And yes, it also uses the 12-inch Celestion speakers.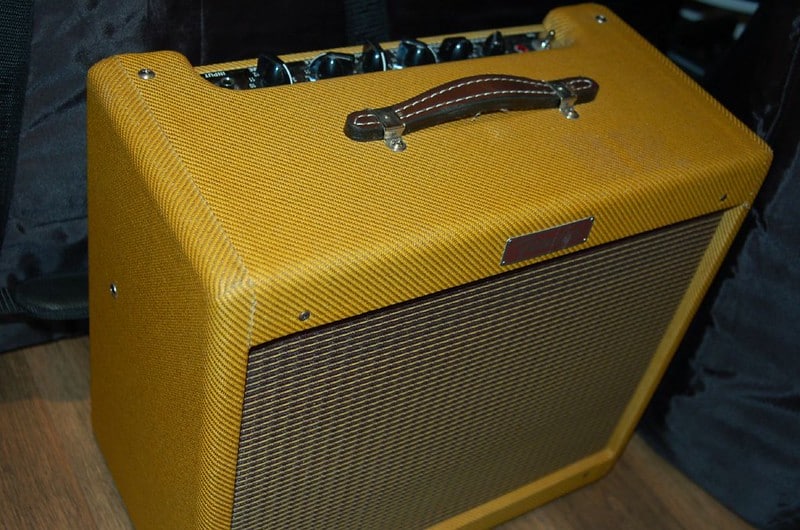 Now coming to its portability, the Fenders Blues Jr weighs just above 31 lbs, which is significantly lower than its Hot Rod sibling.
This makes it a great travel partner as you can easily carry it around without going through any hassle. It also has a handle for easier portability. This exceptional build quality makes it highly durable, and you can rest assured that it will stand up to long-term use.
Final Verdict
The Fender Hot Rod Deluxe and Blues Jr are two highly popular guitar amps by Fender. Both have similar construction, and exceptional build quality, but they still differ in many features.
The Hot Rod Deluxe is a flagship-level guitar amp by Fender, whereas the Fenders Blues Jr is a balanced package. The Hot Rod Deluxe is louder and boasts more robust features than its Blues Jr counterpart.
It might be pricier, but you can't find any flaws in its construction or performance, making it the winner.