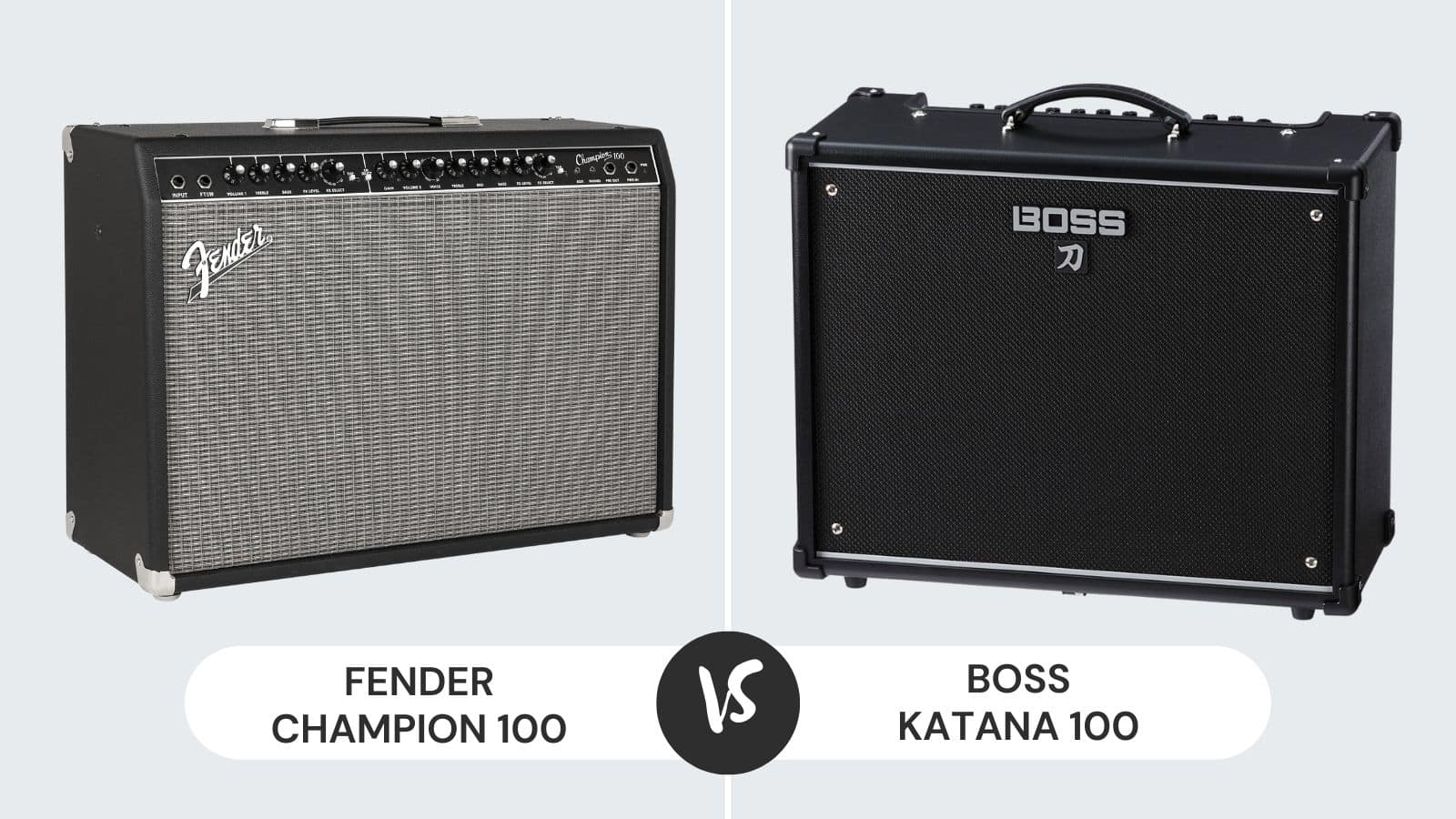 Picking a guitar can be a daunting task because you have to consider multiple factors like the shape and size of the guitar. You also have to look for the performance features in terms of the output levels, frequencies, amplitude, and clarity.
When you are done choosing the speakers, you need to pick the right amp for the guitar. One can research and find a number of amps in the market. The music industry holds the reputation of Fender.
The latter has been delivering wonderful musical products for generations. Fender amps have been in use even before the Fender guitars. The modern-day guitar day revolution is incomplete without Fender amps.
Fender Champion 100 and Boss Katana 100 are quite popular and highly sought-after amps in the musical communities.
If you are facing a hard time making a choice between them, you have to assess certain factors that differentiate the two of these amps. Doing so eases the job of selecting an amp for you.
Fender Champion 100 vs Boss Katana 100
Comparison Between Fender Champion 100 And Boss Katana 100
| Features | Fender Champion 100 | Boss Katana 100 |
| --- | --- | --- |
| Color of product | Black, white, red | Black |
| Cabinet shape | Straight | Straight |
| Bass element quantity | 2 | 1 |
| Bass element size | 12 in | 12 in |
| Amplification technology | Solid state | N/A |
| Width | 25.9 in | 20.87 in |
| Depth | 10.2 in | 9.76 in |
| Height | 18.9 in | 19 in |
| Weight | 40.2 lb | 32.6 lb |
| USB | N/A | Yes |
Fender Champion 100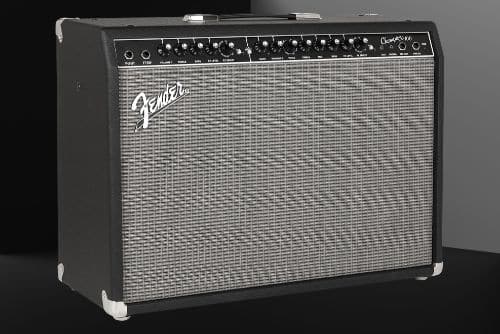 If you are planning on getting a hold of an amp that delivers sound with the right audio quality, ample power, and right output voltage, then Fender Champion 100 might be the one for you. Regardless of the kind of guitar you own, Champion 100 allows you to enjoy the perfect power.
You can buy a Champion 100 amp to blend with other Fender equipment that you might be using. The reason is that all of them have the same Fender design philosophy. The front of the amp includes a number of knobs that you can use to control all the preferences.
Fender Champion 100 guitar amp is perfect for anyone who is in need of reliability and versatility. You get to use different effects, settings, and capabilities. It is also well-modeled and can be a great pick for beginners.
The tone coming through the 2-12″ speakers is bright. The Champion 100 runs at a power of 100 watts. You can easily access the speakers through the open black design whenever the maintenance is to be performed.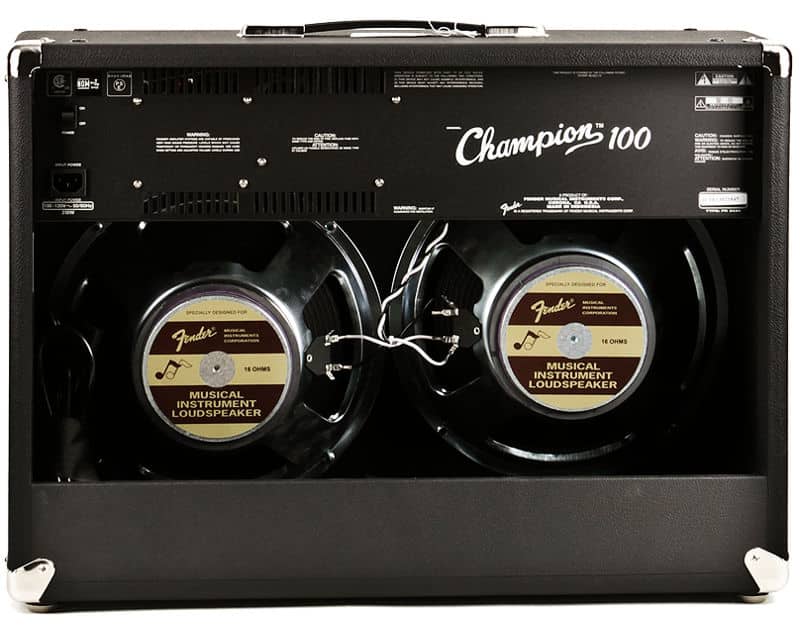 Talking about the channels, there are two of them, and each of them has its own effect loop. You can also use any of the built-in effects in the amp like echo, reverb, chorus, tremolo, and vibrato. The hooking of your pedalboard is eased with the preamp in and out jacks.
The best thing about Champion 100 is that the connection of each channel is made with its own effect type. It's up to you whether you choose to have flanger on one channel and reverb on another.
The footswitch jack allows you to hook the included footswitch. This is how the bouncing between clean and distorted channels is made easy.
The EQ capabilities in the Champion 100 are set as per your needs. You are given the ability to mix your channels on an individual basis to match your favorite style of playing music.
With the help of an auxiliary input and a phone jack, you can play your own shreds without troubling your neighbors with the loudness. Champion 100 suits the suitability of almost all genres. Whether it's jazz or blues, country or metal, you can easily get the tone and power you need.
Any guitar player can get the most out of this amp. It's hard to find a musician who wouldn't be in awe of the tones and versatility of the Champion 100. The latter is perfect for starters of guitar players and session studio players both. You can also use this amp for the stage.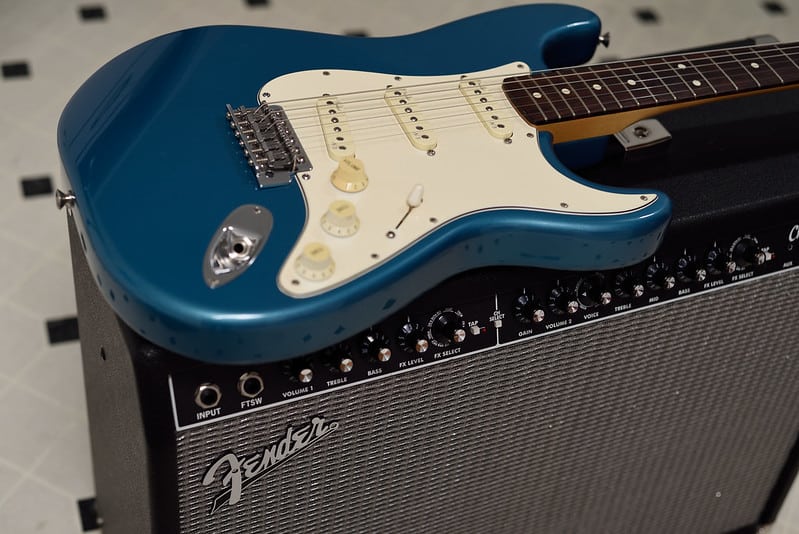 Boss Katana 100
Boss Katana is a piece of ideal audio equipment that provides the perfect edge of power and sound. The minimalist amp of Boss Katana lets you enjoy the right output levels, and sound clarity on multiple genres played on your guitar.
If you have a dark background, Boss Katana 100 can be a perfect fit with its matte black finish and sleek look. The Boss Katana 100 offers a wide and commanding range of tones that are gig-worthy. It uses 100 watts of power and a 12-inch speaker.
The slicing of Katana 100 tones through any band is quite graceful. You can generate inspiring sound even at low volumes. That's why it is perfect for home playing.
The unique design and advanced power control of the Boss Katana 100 make it one of the best amps on the market. The number of Boss effects you get access to through this amp is too many.
The free Boss Tone Studio editor software application allows you to customize the Boss effects as per your desire. Whenever you need an instant recall, you can get your favorite amp channel effects and setups that you had stored in Tone Settings Memories of the amp.
The convenience of using this amp is enhanced with the use of a handle on the top. You can also unattach it and add a pile of as many amps as many you want.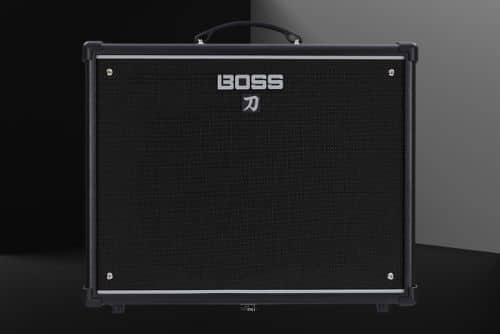 You can control the knobs through the controls located on the top. The safety of Boss Katana 100 is taken care of by adding supporting feet at the bottom. This way, you can get it on multiple surfaces.
Comparison Between Fender Champion 100 And Boss Katana 100
The power output of both the Fender Champion 100 and Boss Katana is 100 Watts. Champion 100 has 2×12″ Special Design Speakers, while the Boss Katana 100 uses 12″ custom speakers.
Champion 100 has two channels. Boss Katana has five different amp types, including clean, acoustic, lead, crunch, and brown. It also has four memory slots for effects settings and panel settings.
The effects of Champion 100 include reverb, tremolo, chorus, vibrato, and delay/echo, while the Boss Katana has independent effects of the mod, delay, booster, fx, and reverb. Katana allows the use of 3 effects simultaneously.
Champion 100 has controls for Channel 1 of volume, while channel 2 has the following controls: volume, gain, voice, bass, treble, FX select, TAP, and level.
Talking about the controls of Boss Katana, they include amp type, middle, volume, treble, bass, booster/mod, sounds, delay/fx, master and power control, and reverb.
In Champion 100, preamp out and power amp in are included in the effect loop. It has dimensions of 485x660x220mm, whereas the dimensions of Boss Katana are 530x248x484mm. Champion 100 weighs 18kg, while Boss Katana is 14.8kg.
The design of Champion 100 is black bronco vinyl, and its grill is the silver front. Boss Katana provides innovative sound customization software which features more than a variety of 60 Boss effects, customizable routine, and channel and global EQs.
If we look at the price comparison of Champion 100 and Boss Katana, the former is cheaper than the latter.
Bottom Line
Although the Boss Katana is costly, it is an accessible amp with a lot of expandability and switching options. On the other hand, Fender Champion 100 is perfect for the precise warm tones, and it also goes well along with a variety of genres.