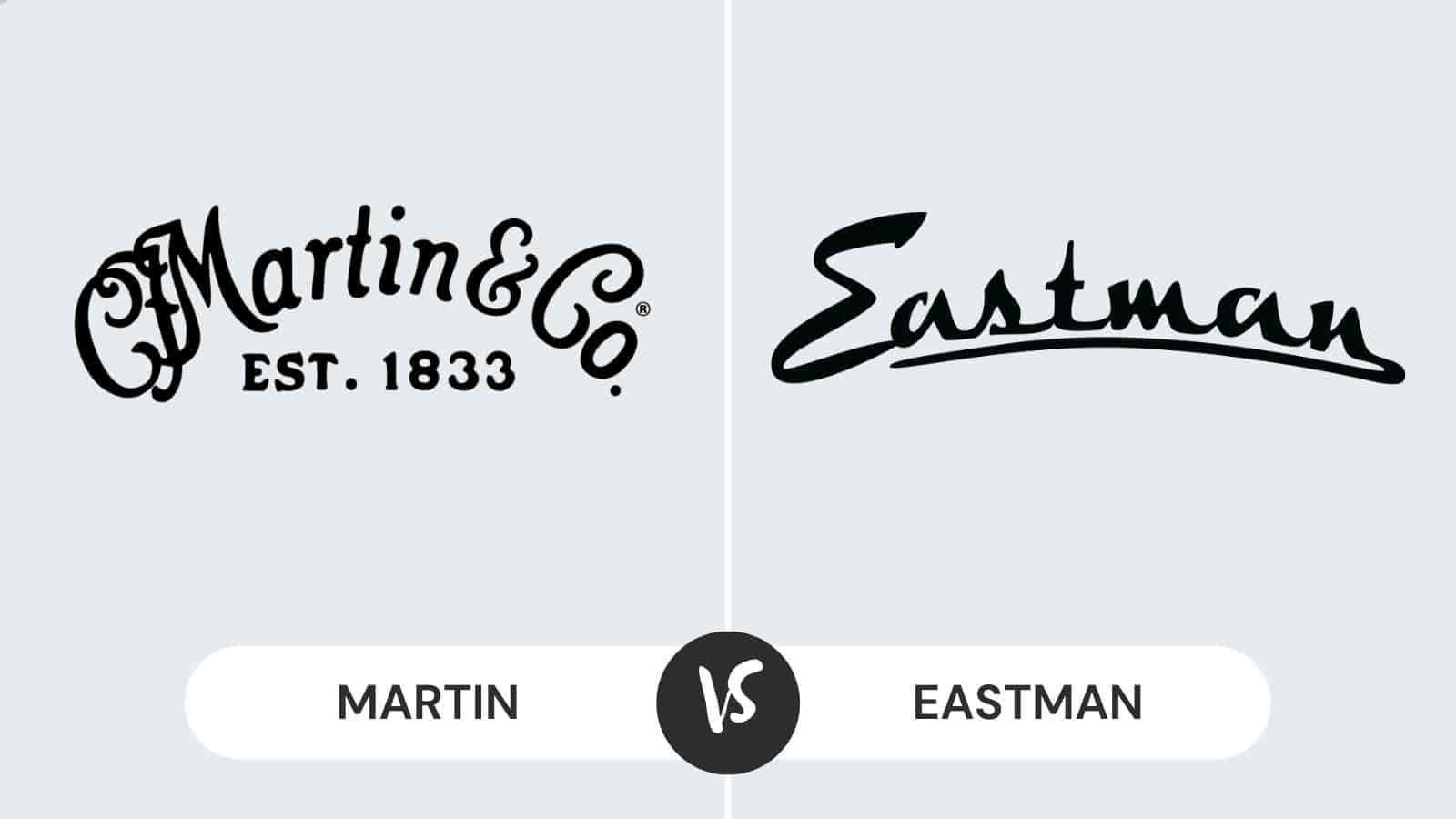 The guitar has always been a popular musical instrument, and its popularity has not declined over time. It offers a fulfilling playing experience and is an incredibly versatile instrument.
It has undergone lots of changes over time, and the modern guitars are more durable and better sounding.
As the guitar became more popular, more and more companies jumped onto the bandwagon and started manufacturing guitars. Among all the companies, Eastman and Martin hold a prized position.
Both are known for manufacturing quality guitars that have stood the test of time and have been used by thousands of guitarists all over the world.
If you are learning to play guitar and looking for the right guitar, this article is for you. We will be comparing the Eastman guitars with the Martin guitars, and by the end of this article, you will be able to make an informed decision.
Eastman vs Martin Guitars Comparison
Below is a detailed comparison between the Eastman Guitars and the Martin guitars. Let's start with the Eastman guitars.
| Features | Eastman Guitars | Martin Guitars |
| --- | --- | --- |
| Tone | Crisp and clear | Bright |
| Price | $2000 | $39900 |
| Customized guitars | Yes | Yes |
| Weight | 6.9 lbs | 4.68 lbs |
Eastman Guitar
Without an iota of doubt, Eastman is one of the most popular guitar brands in the music industry. The major part of the company's popularity comes from its violins since the company was originally founded as a violin manufacturer in 1992.
It then dipped its toes into guitar manufacturing and has earned a sound reputation over the years.
Players have only expected the best quality from Eastman, and the company has always lived up to their expectations.
Apart from guitars, it manufactures violins, guitars, and a few other musical instruments as well and offers them across the globe.
The thing that sets Eastman guitars apart from the rest is that every guitar is handmade, be it basic models or flagship ones. The company has a team of skilled engineers that meticulously manufacture the guitars with great attention to every detail.
As a matter of fact, the company has even hired musicians to design its guitars and inspect their quality. Expectedly then, they have all the things that you need in a guitar.
Construction
In terms of construction, the Eastman guitars are head and shoulders above the competition. Most of its guitars are made of timber and maple, which are sturdy and lightweight. It has excellent tonal characteristics and ensures a great tone.
From guitar neck to headstock, every component is made of quality materials for ultimate durability. If taken care of properly, these guitars can last several years at least.
The Eastman guitars have a distinctive construction that every guitarist can recognize at first glance. The profiles of their neck are a bit slimmer than other guitars, and the cutaway is also more rounded.
Apart from that, the headstocks also have a kind of open-book look to them. The humbuckers of these guitars are also manufactured by Eastman, and they sound pretty clear.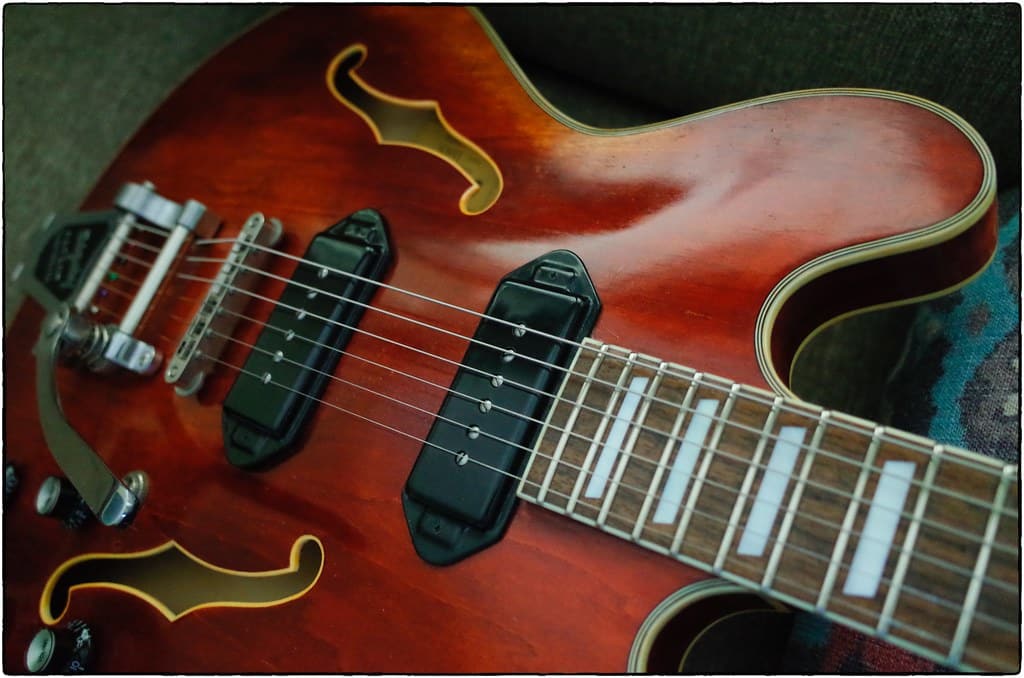 The Eastman guitars also have a pin at the bottom part. If you want to install any pickup, you can simply take it out and install it in the hole. Unlike other guitars, the hole is pretty big, and you won't have to drill a hole yourself.
Unlike most guitars in the market nowadays, most Eastman guitars come with a nitro lacquer finish for superior protection. It takes longer to dry, but it protects the guitar better than other finishes.
It also gives you a vintage vibe since guitars had this finish back in the day.
Sound Quality
Now coming to their sound quality, the Eastman guitars have a crisp and clear sound. They are also pretty versatile, and you can use them to play almost every genre.
Whether you are looking for a guitar for performing in a gig or jamming with your freaks, these guitars are the right choice. However, the tone may differ depending on the type of the guitar. So, consider checking the tone before buying a guitar.
What's better than having a durable and great-sounding guitar? Getting it at a reasonable price! There are certainly countless excellent guitar models available in the market, but most of them are out of reach for working musicians.
One of the best selling points of Eastman guitars is their selling point. As mentioned earlier, the Eastman guitars are designed by guitarists who understand the needs of other players.
So, the company offers guitars at reasonable prices, undercutting its competitors.
Martin Guitar
Founded in 1833, Martin is among the giants in the guitar industry. Its guitars have been played to record thousands and thousands of songs of every genre.
It still holds the same popularity, and the new Martin guitars are better in terms of durability and sound quality.
Martin offers a wide range of guitars. From dreadnought to acoustic, you can expect pretty much every guitar from Martin. It has even introduced several types of guitars, including the flat-top-steel-ring guitars.
Martin rose to prominence when it introduced the steel strings in guitars. Back in the day, guitars were not as louder as they are today. They worked fine for jamming or recording, but they lacked in terms of loudness on big stages.
With steel strings, Martin filled the gap in the industry by manufacturing loud guitars. These strings are used in guitars even today.
Construction
Martin has never held back on using the latest technology in its guitars. With the electric systems for feedback protection and tuning, these guitars have always been ahead of time.
Every musician would agree that guitars can easily go out of tune while performing on a big stage. The electric systems make sure that does not happen.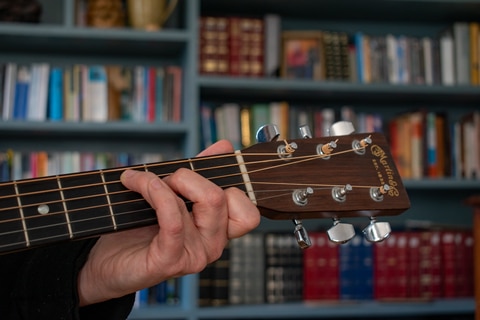 It also gives the guitarists peace of mind, and they can focus better on playing rather than worrying about going out of tune.
The use of technology also gave Martin a competitive edge, and it has staked its claim on the hearts of many musicians across the globe.
Sound Quality
Martin guitars are exceptionally versatile instruments. They can be used to play any genre that you can possibly think of. There is a Martin guitar for just about every genre and playing need.
They tend to have a bright, high-end tone, making them a great option for playing on big stages. Apart from steel strings, they feature other types of strings as well.
As a cherry on the cake, the Martin guitars are user-friendly, and even newbies can operate them pretty easily. They are readily available all over the world, and you can easily find them in online stores as well.
Martin guitars are highly durable as Martin uses premium quality materials to manufacture its guitars. You even get a free neck reset, which shows the trust Martin has in its guitars.
As far as the price is concerned, Martin guitars are a bit pricier as compared to their Eastman counterparts. This could be a deal-breaker if you are a beginner and looking for a budget-friendly guitar.
Final Verdict
Eastman and Martin are two big names in the guitar industry. Both brands manufacture an extensive range of guitars that are versatile and durable.
While Eastman guitars are great in many areas, Martin guitars outshine them in terms of features and sound quality. However, Eastman guitars are an excellent choice if you are looking for a wallet-friendly guitar.