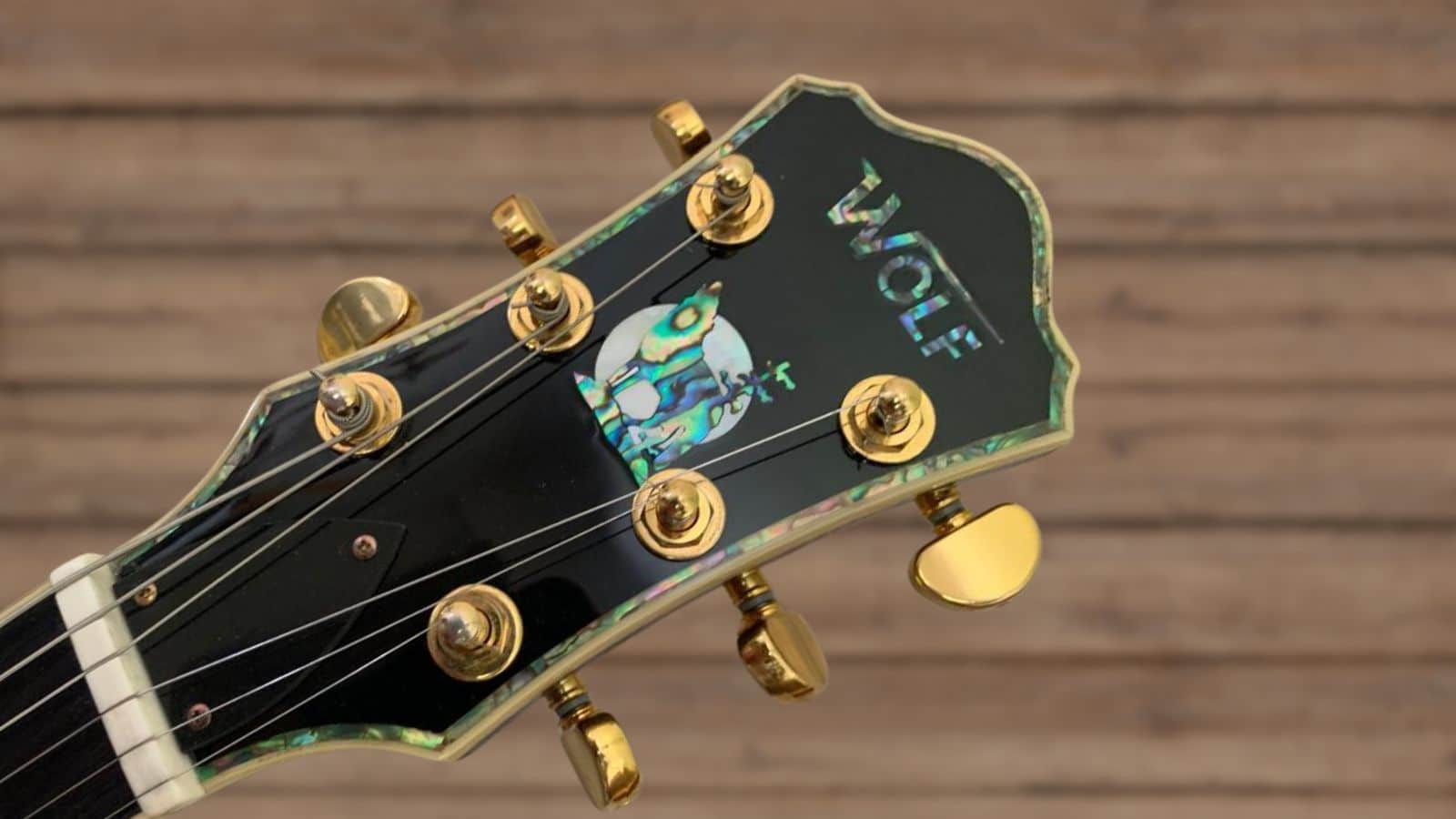 Guitars are undoubtedly one of the most popular musical instruments. Their portability, accessibility, and affordability give them a special place among all instruments. They are quite versatile and can play many genres.
Furthermore, studies reveal that playing guitar benefits your health as well, making them an obvious choice for many people who wish to learn an instrument.
With that out of the way, as guitars got popular, more and more companies started manufacturing them. As a result, the guitar market has hundreds of brands, which may leave you scratching your head if you are buying for the first time.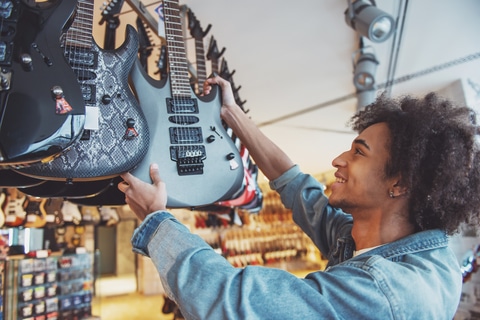 Wolf Guitars is a well-known company that prides itself in manufacturing high-end guitars and other musical instruments. It has been around for a while and has a strong foothold in the music industry.
The company offers a variety of instruments at competitive prices and has thousands of loyal customers all over the world.
So, what guitars does Wolf offer, and how do they stack up against other guitars? This article intends to discuss Wolf guitars and their offerings in detail. Let's jump straight onto it!
All About Wolf Guitars
Talking about the Wolf WLP electric guitar first, it represents Wolf's exceptional craftsmanship and is among the most sought-after guitars by the company. Let's see what it has to offer!
Construction
As far as the construction goes, you can't really beat the Wolf WLP electric guitar. It comes with a mahogany body that perfectly complements its finish.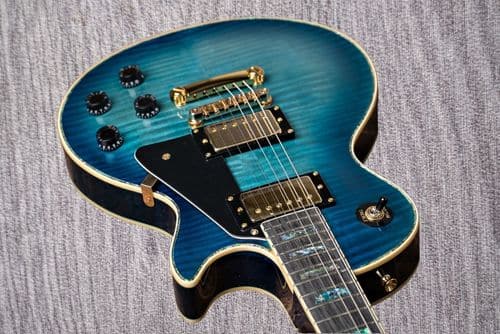 Mahogany is a premium material and is rarely used in guitars of this price range. It gives your guitar a resonant tone with better sustain.
Experts suggest that it is more balanced and stable than other tonewoods, making it a great option for guitars.
The neck of the Wolf WLP electric guitar is made of rosewood, a material known for its amazing tonal characteristics and durability. It can withstand weather conditions better than other materials.
Furthermore, it softens the sound, and you will experience a warmer tone. In addition to that, it has a set neck, which transfers tones better than its bolt-on counterparts.
The thing with the Wolf WLP electric guitar is that everything is made meticulously for optimal playing potential. It features a hard bone nut that helps transfer sound vibrations. Unlike plastic nuts, it does not absorb vibrations.
The fretboard of the Wolf WLP electric guitar is also made of rosewood, which not only looks premium but also feels sleek.
Thanks to its rosewood fretboard, this guitar is easy to hold, and you can use it for hours. If you are looking for a guitar for long jamming sessions, you can't go much wrong with the Wolf WLP electric guitar.
Now coming to pickups, the Wolf WLP electric guitar comes built with two Destiny CNC wound humbuckers that provide a thick, dark tone with a lot of sustain.
This makes the Wolf WLP electric guitar a perfect choice for playing styles that involve a lot of gain and distortion, such as heavy rock or even metal.
If you are seeking a great-sounding guitar, this guitar packs a powerful punch, and you will surely love playing it.
Furthermore, since the Wolf WLP electric guitar is an electric guitar, it has a compact body and a thin neck.
Electric guitars are also more beginner-friendly, thanks to their light strings. Regardless of your plucking style, you can rest assured that the strings of the Wolf WLP electric guitar won't hurt your fingers.
The Wolf WLP electric guitar weighs around 9 lbs, which makes it a portable instrument. You can easily fit it in the trunk of your car and take it wherever you want. And yes, carrying it is not a problem either, even for people with bad backs.
The Wolf WLP electric guitar features two volume controls and tonal controls that allow you to adjust the sound output as per your liking.
While the volume control helps you adjust the loudness, tonal controls allow you to increase or decrease the amount of treble in your audio output.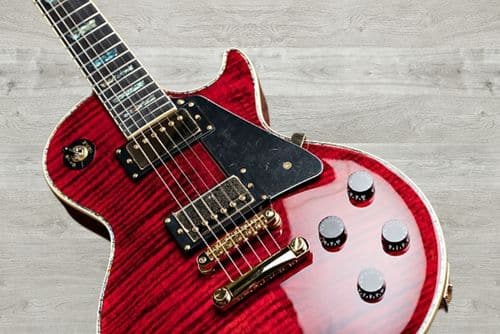 Its alluring design is another reason why we love the Wolf WLP electric guitar. You get many color options to choose from, including red burst, cherry sunburst, etc.
And yes, although the finish is scratch-resistant, you should always keep your guitar in a case when not in use.
Furthermore, the setup process of the Wolf WLP electric guitar is also pretty straightforward. You can easily do it at home if you have done it before. However, if you are unsure about it, you can ask a professional to do it.
No doubt, the Wolf WLP electric guitar is good in all departments. However, its best selling point has to be its price. It comes at a reasonable price so that everyone can afford it.
All these amazing features under the price tag of $500 means that this guitar is an absolute steal.
Wolf KSA50 Electric Guitar
The Wolf KSA50 electric guitar is another excellent guitar with tons of cool features. It stands out for its superior construction and high-quality sound.
Like the Wolf WLP, the Wolf KSA50 electric guitar also has a mahogany body with a rosewood fretboard for ultimate performance. We have already discussed how they improve your playability.
The key difference between the Wolf KSA50 and the Wolf WLP guitars is that the former has a hollow body and double cutaway construction.
The hollow body is often associated with warmer tones, which makes it an ideal choice if you are into jazz and blues. Having said that, it is pertinent to mention that this guitar can play other genres as well.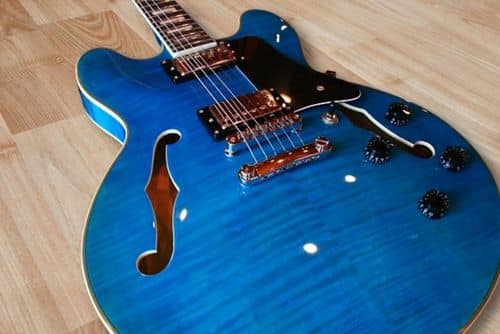 The Wolf KSA50 electric guitar also features humbuckers for brighter and louder sound. In addition to that, you get two volume controls, tonal controls, and a pickup selector switch.
With this selector switch, you can easily switch through different pickups and create different tones. As its name tells you, the Wolf KSA50 electric guitar is also an electric guitar.
Like most electric guitars, you may need a guitar amplifier to enhance your signals while performing on stage.
Overall, the Wolf KSA50 electric guitar sounds bright, thanks to its exceptional construction. And yes, it is highly versatile and is suitable for different environments, be it a gig or studio.
The Bottom Line
With its great range of powerful guitars, Wolf has earned a great name in the industry. Although it offers a variety of guitars, it is best known for its high-quality electric guitars.
The Wolf KSA50 and the Wolf WLP electric guitar are two best-selling guitars by Wolf. Both possess identical features and are available at a reasonable price.