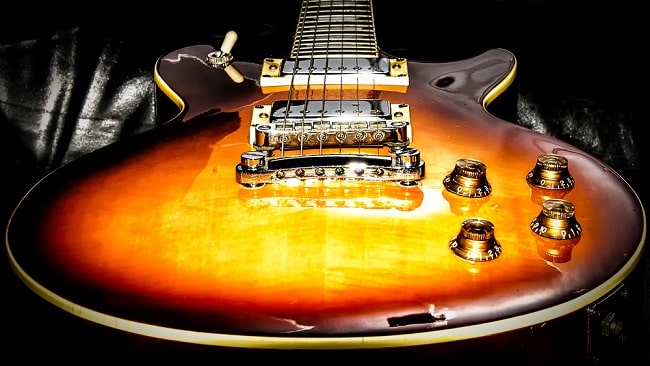 All About Wolf Guitars
The WLP is a Les Paul style guitar, available in an array of different colours. This guitar manages to pack in all of the aspects that are so desirable about a Gibson Les Paul and packs them into a much more affordable instrument. From the sleek designs to the high-quality hardware, this guitar packs a punch in its tone and visually. Finishes of the WLP model include a beautiful blue burst, a deep red burst, a unique tiger amber burst, and the more traditional cherry sunburst design.
All these guitars are also designed with flamed maple veneer which really helps to bring out and compliment these colours. As well as this, the gold hardware adds to the eye-catching, luxurious look of the instrument. The body of the guitar is made out of solid mahogany along with the neck. More affordable guitars are often associated with having poorly made bolt-on necks rather than set necks, which are considered a sign of a better guitar.
There are some changes in the 2019 model from the previous models, such as a rosewood fingerboard now being used rather than an ebony wood and a bone nut instead of a plastic nut. These changes all point towards quality craftsmanship without the price has changed at all.
In recent years, ebony wood has become harder to source and is worse quality, therefore the switch to rosewood demonstrates the company's desire to create the best possible instruments they can. However, Wolf designs their guitars with high quality, set necks. The guitar comes built with two Destiny CNC wound humbuckers which are also gold to compliment the rest of the hardware. The quality of this instrument however far extends beyond just the look, and whilst this is an important aspect, what really matters is the sound. These humbuckers provide a thick, dark tone with a lot of sustain which makes it perfect for playing styles that involve a lot of gain and distortion such as heavy rock or even metal.
The real beauty of this guitar, however, is its price point, as at just $499 you are getting so much of what you would expect from a $2000 Gibson Les Paul. A lot of players have trouble setting aside the ingrained belief that a Gibson Les Paul will always sound better than a $499 version, and whilst there is sometimes truth to this, the WLP really can match it in many of its aspects. Over the years, the quality of Gibson's have wavered but their prices have stayed the same, whereas Wolf guitars offer nothing but quality and an affordable price.
The Wolf KSA50 is a take on a semi-hollow body guitar, designed with many similarities to Gibson's ES-335. Gibson's ES-335 is a world-famous guitar and instantly recognisable, but is also out of many people's price ranges. However, despite the Gibson ES-335 being at least $1500 more expensive, the KSA50 model really keeps up with it from gorgeous finishes to the quality build and even sonically.
The semi-hollow is finished with a glossy sky blue finish with a flamed maple veneer on the front and back. The flamed maple veneer adds another dimension of detail to this gorgeous guitar, helping it to be that bit more eye-catching. This eye-catching high quality, as well as the binding of this guitar, makes it look like a guitar that would be far out of the price range that it actually is in. Mahogany wood is used for the body and the neck and a rosewood fingerboard with 22 frets and block inlays. This type of neck is also ideal for a semi-hollow body as it helps to transfer the resonance between the neck and body of the guitar with less inference and more efficiently.
Wolf hasn't skimped on the hardware on this model either, with tune-o-Matic bridge design and Grover tuning machines. This reliability of these ensures that the guitar will not spontaneously drop out of tune and will hold its tuning. The guitar also comes with the choice of a beautiful design trapeze style tailpiece or a more common hardstyle tailpiece if you don't want it to draw attention away from the body of the instrument.
Just like the WLP model, the KSA50 sports the Destiny CNC pickups which combined with the semi-hollow design of the guitar helps to create a rich and full sound with a lot of basses. The guitar also sounds excellent with high gain, instantly transforming it into a guitar that is capable of rocking like a Les Paul. The clean tone is clear and sharp.
The Wolf TC1 is a real masterpiece on design and playability. This telecaster is guaranteed to catch everyone's eyes and ears, and the craftsmanship on this guitar is exceptional and very unique. One of the most outstanding aspects is all the different types of wood that have gone into making this guitar.
For example, the neck of the guitar is made of walnut and maple, the body of the guitar is made with ash and the top is made of walnut. The top of the guitar is a solid walnut finish, not a veneer which creates a really smooth, clean, matte look. Once again, Wolf guitars surpass all expectations of a guitar in this price range but demonstrating dedication to quality in sound and craftsmanship by having a neck-through design.
By having the bridge, tuners, pickups, and strings all connected on one single piece of wood increase the resonance of the guitar and the quality of tone. The fretboard is made with ebony and built with 22 jumbo frets allowing for ease of playability along the frets. A really unique and appealing detail on this guitar is there wolf print inlays instead of the dot inlays that are traditionally on a telecaster; however, there is also a model that is made with the standard dot inlays. The two single-coil Destiny CNC pickups help to replicate the instantly recognisable twang that the telecaster is so famous for, but with an extra bit of grit and paunchiness to them. The telecaster is already notorious for being a workhorse guitar and an extremely versatile instrument and this model is no different.
Wolf guitars are without a doubt a bargain for any musician, regardless of their level. If you are more of a beginner, then purchasing one of these guitars will have you feeling like you're rocking out. They are affordable enough for a relatively new guitarist to purchase as well as having all of the requirements that an experienced player would want. The playability of these instruments are outstanding, the necks sit comfortably in the hand of the players and the fret are smooth for easy transitioning.
When one of these guitars is purchased, the company also offers to set them up exactly how the player wants, for example, if a specific action is desired they will adjust the guitar to suit the players' needs and style. The detail that goes into every aspect of this guitar is seeming that you would be hard-pressed to find from many bigger brands. Generally, when receiving a new guitar many aspects of it must be changed are it is not suitable for playing. However, when receiving one of these guitars almost no adjustments will have to be made as the have already been checked and altered the players' liking.