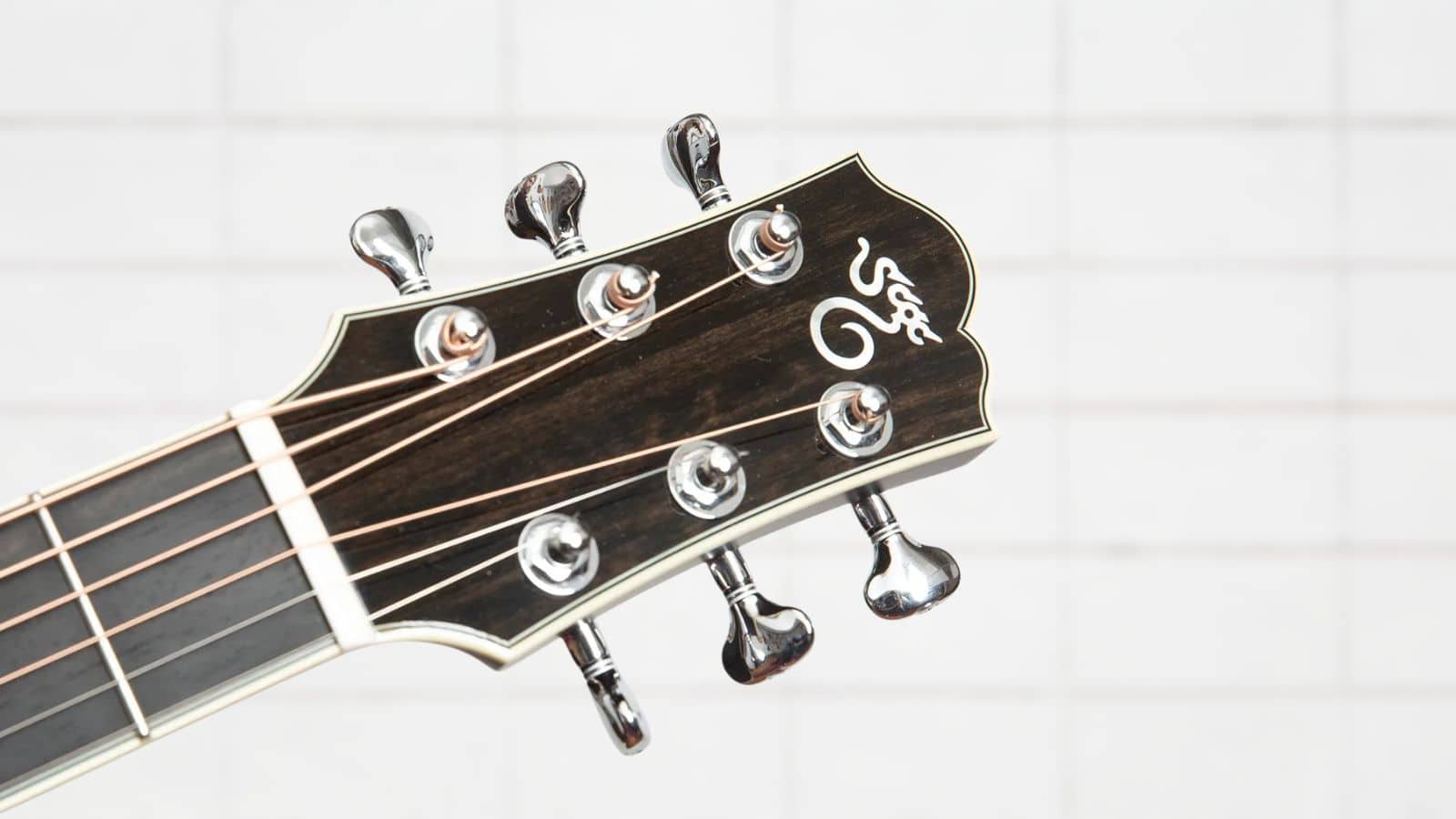 The guitar is a staple instrument in lots of music genres we listen to and cherish. It is affordable and exceptionally versatile, making it popular among newbies and experts alike.
It can accompany other instruments and can also be played on its own. In addition to that, various studies have associated guitars with better mental health and memory.
Since guitars are widely used all over the world, the market is extremely saturated. With hundreds of companies already established and new brands entering the fray, there are countless options available, which may leave you overwhelmed.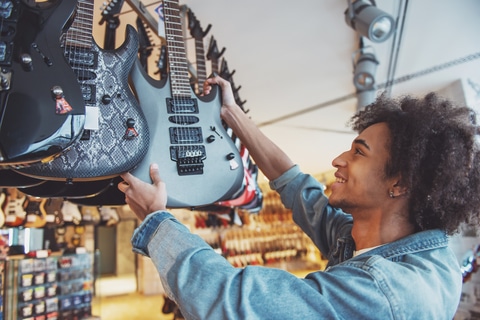 Whether you are a beginner or professional guitarist, you'd want to choose a brand that is known for its reliability. Firefly guitars is a well-known company that prides itself in manufacturing high-quality guitars.
The company is based in China and was founded long ago. Today, it has established itself as one of the major players in the industry.
So, is Firefly special, or is it just another guitar company? What makes the company special?
Today, we intend to discuss everything you should know about Firefly guitars and take you through some of their popular offerings. Let's delve further without any delay!
All About Firefly Guitars
Let's take a look at some of the best Firefly guitars.
Firefly FF338 Electric Guitar
Starting with the FF338, it is truly a legendary guitar. As its name suggests, the Firefly 338 is an electric guitar. It checks all the main boxes and houses tons of features to be excited about.
When it comes to construction, the Firefly FF338 electric guitar is as good as anything. From the fretboard to the headstock, everything is constructed meticulously for its optimal playability.
Its fretboard is made of rosewood, which is considered one of the best materials for fretboards. It has great density, stability, and hardness.
Furthermore, it is seen that the fretboards made of rosewood have better resonance. So, it improves the tonal quality of the guitar as well.
And yes, rest assured that the fretboard has no dead spots. Dead spots often lead to inconsistent sustain, putting your performance down in flames.
The Firefly FF338 electric guitar has a semi-hollow body with a double cutaway. Semi-hollow bodies have secured great popularity lately, thanks to their amazing benefits. They weigh less than their solid body counterparts.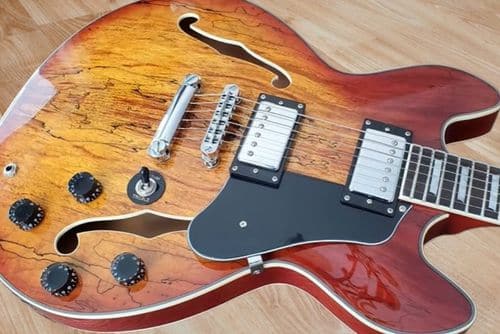 While a solid body guitar weighs somewhere around 15 lbs, the Firefly FF338 electric guitar weighs 11.5 lbs. Of course, it is not feather light, but it does make a difference nevertheless.
Apart from that, the semi-hollow body has shown great results against feedback. It also projects more volume than other electric guitars. However, it is important to note that you may need external amplification when performing on big stages.
The Firefly FF338 electric guitar comes with a set neck for an enriching playing experience. It's no secret that many guitar manufacturers nowadays use bolt-on necks in order to cut corners.
They are also far easier to install, which is why most companies opt for bolt-on necks, especially for mid-range guitars. However, that's not the case with the Firefly FF338 electric guitar.
The set neck design in the Firefly FF338 electric guitar allows it to transfer the resonance between the neck and the body of the guitar more swiftly with less interference.
This creates a fuller, warmer and brighter sound. It's no secret that the neck is the most important component of a guitar.
The Firefly FF338 electric guitar has 22 frets that allow you to achieve great intonation. Moreover, it has binding around the body and the neck, which takes its already great build quality a step further.
It is usually seen in flagship guitars and is often associated with better high-end. Furthermore, it acts as a cushion and keeps your guitar protected from bumps and scratches.
The Firefly FF338 electric guitar has two chrome-plated humbucker pickups for ultimate playing potential. If you have used a guitar with humbuckers, you'd know that they produce a more balanced tone than single coil pickups.
You also get a three-way pickup selector that seamlessly helps you switch through the neck and bridge pickups. The neck pickup provides a bold, clear sound with more defined tones, whereas the bridge pickup is hotter with more treble.
The Firefly FF338 electric guitar has a glossy finish, which you will fall in love with at first sight. It comes in various colors, but the golden color is the most popular among users.
Having said that, a number of users complained about the quality of tuners in the Firefly FF338 electric guitar. However, this problem was limited to a few models only.
What's the best part? The Firefly FF338 electric guitar comes under the $150 price tag, and even those with a low budget can easily afford it. It packs tons of ground-breaking features while being easy on the wallet, making it the best of both worlds.
Firefly FF335
The Firefly FF335 guitar is another excellent guitar from the Firefly FF series. Let's have a closer look at it!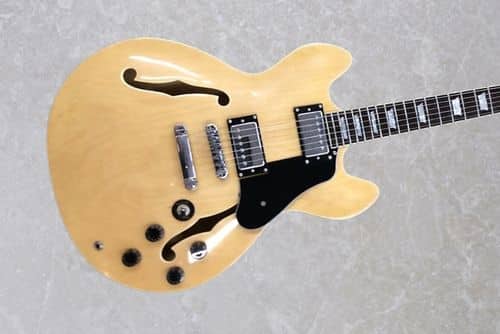 Thanks to its semi-hollow construction, the Firefly FF335 electric guitar is lightweight and can easily be carried wherever you go. It is super portable and can easily fit in your car's trunk. Like the FF338 guitar, you get many color options to choose from.
The neck on the Firefly FF335 electric guitar also has a set neck that is glued into its body. Expectedly then, it has a warmer tone. If you are seeking a guitar with warm tones, the Firefly FF335 electric guitar would be an excellent choice.
The Firefly FF335 is surely one of the most durable offerings by Firefly. It has a cream binding to protect its body from dings and scratches. If used carefully, it will surely last for years.
Whether you want to perform in a gig or jam with your friends, this guitar can do it all.
The rolling saddle bridge is another striking feature of the Firefly FF335 electric guitar. It extends the strings' lifespan by reducing friction and tension between them.
The Firefly FF335 electric guitar costs a bit more than its older sibling, the Firefly FF338 guitar. However, it still offers a reasonable package.
If you have a limited budget and are seeking a guitar with great tonal quality, the Firefly FF335 electric guitar is definitely worth investing in.
The main reason why Firefly guitars are so cheap is that they are manufactured in China, where labor costs are low. This is why Chinese brands earn great profits despite their low prices.
Customer Service
Customer service is an important consideration when choosing a guitar brand.
Talking about Firefly, it offers great customer support in case you encounter some problem after purchasing an instrument. Whatever your problem is, just leave a message, and they will soon get in touch with you.
The Bottom Line
Firefly is a popular China-based company that manufactures budget versions of the legendary flagship guitars. The FF335 and FF338 are two of the most sought-after guitars by Firefly.
e it construction or tonal quality, these guitars check all the boxes and offer great value for money. Furthermore, they have attractive designs and come in a variety of finishes.