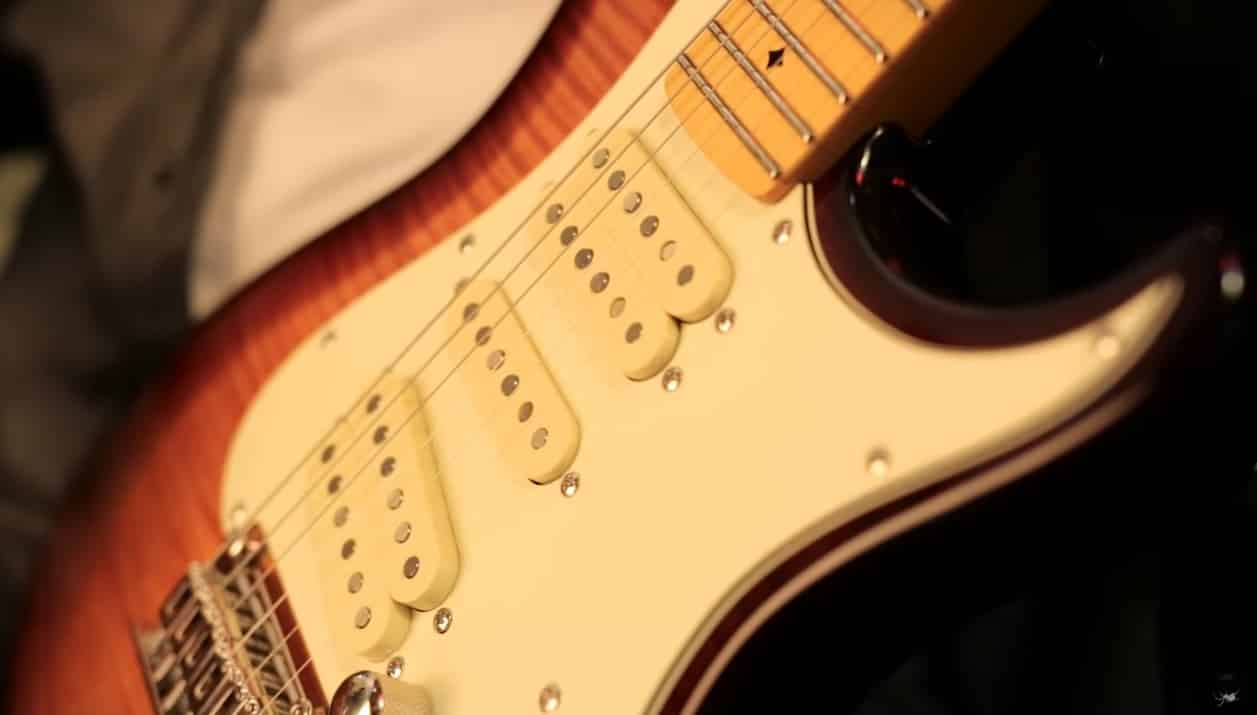 A legendary name in the guitar making business, Dean Zelinsky is a name known across many guitar players all across the world. The guitar manufacturer claimed to be legendary by most, has been making guitars since 1976, meaning that not only has he made good guitars, he has been making them for long enough to have more than enough experience under his belt. Dean started to gain interest in guitars and rock and roll a little early on in his life, at the time when The Beatles, The Rolling Stones, and Johnny Winter came into the rock and roll scene to be specific.
Soon after his attention shifted towards rock and roll, Dean started to play electric guitars and not only play them but also improve them. He specified the things which he liked in the guitars he played while also specifying all that he didn't like. A very popular and in-demand guitar that was barely available at the time was the Gibson Flying V, a guitar which Dean had, and played. But what's interesting about this is that after playing it, Dean sawed it half and started tinkering around with it in an attempt to make an instrument that would feel and play even better.
Dean Zelinsky himself has also been an influential person when it comes to the designing and making of guitars. Dean attempted to modernize guitars played by bands in the 70s as they were not up to speed with the times according to himself. His guitars have been played on by many popular bands and artists down the years, some of which are the quite popular Iron Maiden, Michael Schenker, Dimebag Darrell, and the founder of the popular death metal group Nile, Karl Sanders. All these and many other proclaimed artists have used his guitars over the years and even now, his models can be seen or heard being used in different radio shows, award shows, and other places as well.
Dean Zelinsky was always strict when it came to the origin of the guitars, as he was always encouraged to have his guitars produced in the USA, as opposed to the orient from where multiple popular companies had to import guitars from after a shortage due to great demand in the 80s. Although he did have to end up importing some parts here and there from other countries, his guitars were mostly made in America. After this, however, Dean had to sell his famous company in 1991, as he wished to spend time with his small family.
He did come back to the guitar making business 9 years after when he returned to Dean Guitars for the purposes of overseeing marketing, production in the USA, and relations with artists. In May 2008, Dean left the company again, after a dispute over his contract, and opened another guitar brand called DBZ guitars that also gained quite a bit of popularity. However, Dean left this brand 4 years later in 2012, as he wanted to be a part of a brand that he had complete control over. Later on, Dean founded his current and latest brand which is the Dean Zelinsky Private Label, a brand in which Dean designs and has guitars made according to his own will.
Dean Zelinsky's new company is small, yet popular due to his history. The brand doesn't consist of too many people within it and has a great guitar designer designing and building guitars for them to sell, who has done the same for his previous companies and top artists. Some of Dean's guitars are not only equal to guitars made by the bigger brands, but a few are also actually even a little better, due to the innovating SideKick pickup, which Dean himself created.
All About Dean Zelinsky Guitars
When talking about Dean Zelinsky guitars, there are loads of models that deserve much more popularity and praise than they already receive. Sure not every single guitar he makes is the next perfect thing, but he has released a few classics over the years. If you aren't familiar with his models, here are some things that you expect from his guitars.
They will arrive straight to your doorway after being made in the factory. Dean isn't fond of including third parties into his dealings anymore, as he believes that he can give customers a better experience when dealing straight with one another. He and his brand both believe that since you deal with one another directly, they have to offer you a better playing experience as well. When you place an order, most of the time the guitar that you buy will be made in the factory according to your specifications if you added those, and be tested before being delivered to you. So that you do not get a broken or dysfunctional guitar. It doesn't matter if you are a seasoned veteran when it comes to guitar playing or a complete beginner, Dean Zelinsky guitars will provide you with the help you need to buy the right guitar for yourself, while also doing their best to provide you with a great guitar once you've made your choice.
As mentioned above, Dean has an old habit of tinkering with guitars in the hopes to make them even better than they already might be. Because of this, there have been quite a few innovations in both the way his guitars are designed and the way his guitars function. A lot of his guitars are absolutely beautiful, such as the LAVOCE Z-GLIDE CUSTOM CROC SKIN, which as the name features, has a design that mimics the skin of a crocodile and is quite beautiful, especially if you are a guitar collector. The mentioned guitar may be a bit expensive if you think that it is just a decoration piece, however that isn't the case, as mentioned the guitars look as well as sound beautiful, and this guitar also features all the signature Dean Zelinsky innovations such as the Z-glide and SideKick pickup, both of which are further explained down below.
If you did some research on the guitars made by Dean Zelinsky beforehand, you may have noticed that many people over the internet talk about his Z-glide neck which has friction-reducing capabilities, as well as his famous SideKick pickups, which are a good addition to any electric guitar, as the pickup provides you with a single-coil and a humbucker in one small package. The SideKick pickup allows you to switch between both variations and removes volume drop-off as seen in conventional humbucker splitting and coil-tapping. His instruments provide players with multiple different variations that most other guitars cannot provide.
Made with durable and lightweight materials, his guitars are sure not to break any time soon. Made with high-quality woods, most of his guitars use materials that are used in the best quality guitars that are much more expensive as well. The materials also help with the tone of the sound and are in no way reinforced with cardboard or plastic on any side of the guitars, meaning that while these guitars are a little pricey if you are just starting out playing guitars, they are also sure to last and feel good when playing. The lightweight materials and thin design of his models also make the guitar easy to move around and play, which is a great thing if you are in a band, or intend to move around in general.
There is also an option to personalize your guitar in any way you like, for example, you can change the design or color scheme of your favored model any way you like while keeping the core values of the said model intact. Meaning that even if you can't find a guitar that you like the looks of on his website, you can get one personalized the way you like, although of course, some additional charges will be applied.
Dean is an old and experienced designer and guitar builder, so you can trust that he will most likely provide you with a guitar that makes you satisfied with your purchase. If you've owned one of his better, older models than you know what he and his brand have to offer. Sure there have been changes made in the features of guitars since back then, however, the quality of a majority of his models remains the same.
Made in America, his guitars are all tested and functional as mentioned above, so you should have no problem on that side of things. However, on the off chance that you do, there is a 30-day money-back guarantee with all of his products, as well as a 5-year warranty with most of them. All you need to do is submit your claim and send them the guitar and they'll either give you a full refund or an option to exchange, depending on your choice. They aren't the best guitar brand around, however, Dean Zelinsky's Private Label does have a great builder and designer at the helm that can provide you with a great guitar.