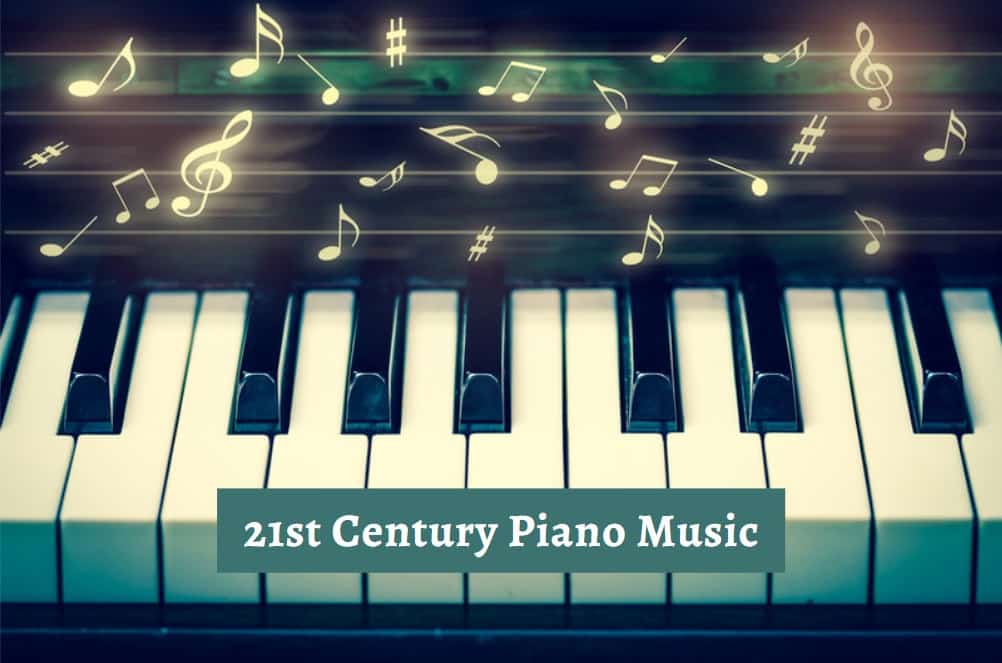 Often preference and passion are given to the music of the past whilst the music of the times in which we live is ignored or overlooked. For some the demands and complexities that can accompany contemporary music make listening to these pieces unpleasant, for others, this is a window into new exciting sonorities.
As I hope to show in the selection of 21st Century piano pieces below, the range of contemporary piano music is extremely broad, with something for everyone.
21st Century Piano Music
1. Thomas Ades – 'Darknesse Visible'
https://www.youtube.com/watch?v=GCVNDoR2lU4&feature=youtu.be
Thomas Ades made his debut in the contemporary music scene over three decades ago, heralded as the enfant terrible of his age. Ades is not only a compose with an astonishing ear for instrumental texture and sonority, but a formidably gifted pianist. Born in 1971, Ades trained at the Guildhall School of Music and Drama in London under composer Robert Saxton. Ades has produced an extraordinary catalog of works from solo piano pieces, operas and many remarkable orchestral and ensemble work.
'Darknesse Visible' is an exploration and homage to the music of English composer John Dowland. In particular, Ades explodes the Dowland lute song titled 'In Darkness Let Mee Dwell' (1610) in an ingenious composition that shines a 21st century light through a 17th-century piece.
The piece is masterfully measured and controlled to allow Dowland's music to sound through the filters Ades creates. It is a hauntingly beautiful piece and a good entry point into the world of Thomas Ades. More recently (2018) Ades completed a Piano Concerto that is, in fact, his second.
2. John White sonatas at EMC2 Festival, 25 March 2017
English composer John White, has devoted his life to composing music for solo piano. Almost his entire oeuvre consists of piano sonatas, with the total number now somewhere around 170. White was born in 1956 and his raison d'etre since the age of 19 has been to complete an ambitious 175 piano sonatas. It is difficult to give an appropriate summary of White's piano sonatas as they represent a tremendously diverse selection of styles and influences from Busoni to Satie.
In the selection above, White performs his own sonatas nos: 159, 119, 140, 165, and 156. To illustrate the quirky nature of White's work the 159th sonata is titled 'Waiting For Batman', whereas number 116 is called an 'Underwater Rhumba'. What is even more appealing is that these sonatas are perfectly approachable by pianists of all ages and ability levels. This is in significant contrast to many 21st century pieces that require an outstanding facility on the piano.
3. Elliott Carter 'Two Thoughts About the Piano' (2005-6)
At the other end of the scale in terms of technical demand comes the piano music of American composer Elliot Carter. His works whether orchestral, chamber, or solo instrumental pieces, make great demands on the performers. Similar to the works of Brian Ferneyhough though the resulting music is often stunningly beautiful.
As the title suggests, there are two parts to this ten-minute composition titled, 'Intermittences' and 'Catéraires'. The first piece was written in 2005 for Peter Serkin, the second for Pierre-Laurent Aimard. 'Intermittences' explores the concepts and interpretations of silence in music and draws from the Proust novel titled 'Intermittences du Coeur'.
In the second piece, Carter writes what amounts to a toccata. Fast-moving semi-quavers dominate the music in flurries and elaborate gestures that stretch the facilities of any pianist. It is as if the music is on fire and in a desperate hurry to escape from its own incendiary nature.
4. Harrison Birtwistle: 'Responses: Sweet Disorder and the Carefully Careless' (2014)
From the solo piano music scene to the arena of the concerto. This is one of the more recent compositions featured in this article. Birtwistle is an English composer whose unique musical voice emerged through the plethora of experimental music in the 1960s. This piano concerto has a duration of around 25 minutes and is scored for a generously proportioned orchestra. It is full of hard-edged textural twists and turns that stretch and yearn for release.
Birtwistle expertly manipulates the orchestral sound palate, drawing out brilliantly layered colors and expressions. I find that with many Birtwistle works there is an organic sense of purpose as if the music itself is coming to life like a colossal ancient creature.
This concerto explores and re-defines the relationship between soloist and orchestra in astonishing and unexpected ways that creates a constantly evolving composition. As an additional point of interest, the title of this single-movement work comes from architect Robert Maxwell's Book of the same title.
5. Magnus Lindberg: 'Piano Concerto No.2' (2011-12)
With a duration of a little over 25 minutes, this concerto was composed around eleven years after Lindberg's first foray into the genre. Even though the music is continuous, there are three clearly delineated sections with the opening offering a window into the material of the work; exploratory and unsettled.
The second section presents a contrast to the first and is slow and more lyrical with a cadenza that segues into the Finale. Lindberg's individual musical material is transformed and explored between the soloist and orchestra in what seems to be quite a free manner. At the heart of the work is the interaction and communication of ideas between the large orchestral forces and the voice of the piano.
6. James MacMillan: 'Piano Concerto No.2' (1999; 2003) for piano and string orchestra
James MacMillan has become one of the leading composers of his generation. His list of works is impressive and includes concertos, orchestral and chamber works alongside a broad quantity of choral music too. This Piano Concerto is a more modest piece than some of the others listed above. Macmillan scores if for string orchestra and solo piano.
What appeals to me about this work is that MacMillan unashamedly draws on his Scottish heritage as shown in the titles for the three movements: 'Cummock Fair'; 'Shambards' and 'Shamnation'. Interestingly, the work did not begin as a concerto but as a response to a suggestion by choreographer Christopher Wheeldon. He expressed his interest in Macmillan developing an earlier work for string quintet into a ballet score.
The first movement takes inspiration from Edwin Muir's poem that also provides the tiles for the other two movements. In equal measure, I find the concerto unnerving, glorious, and wickedly mocking making this whole piece one of the most engaging of this century.