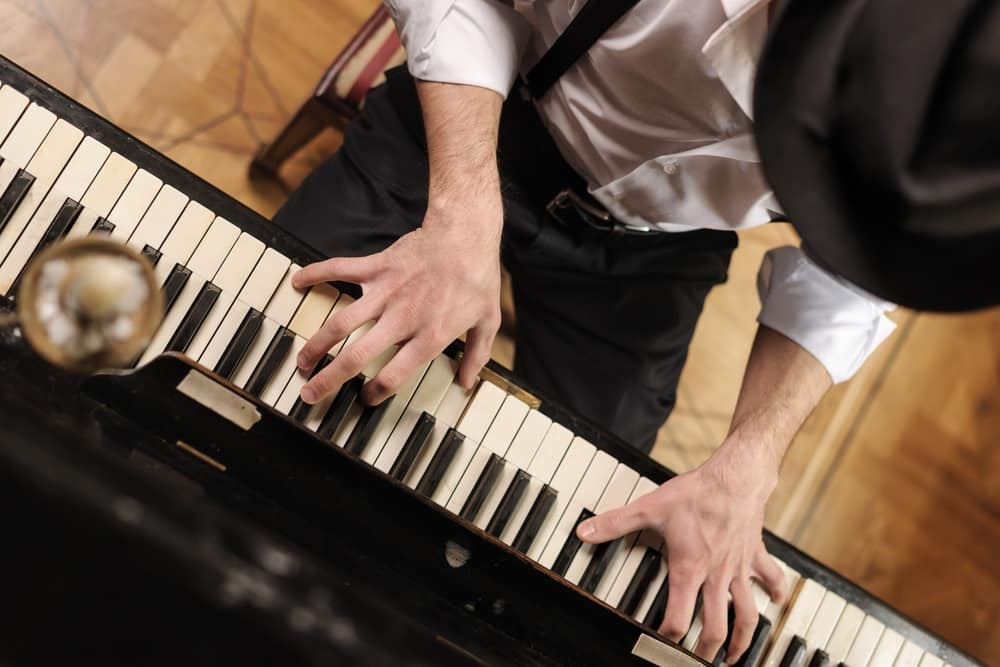 The sheer number of breathtaking performances in the genre of Jazz are far too many to list in this brief article, but I have carefully chosen a selection of piano performances that I feel stand out from the crowd. It is very much a question of personal taste when it comes to which solos to pick out. Should one choose the purely virtuosic, the sumptuous and lyrical, or perhaps the minimal and edgy? Perhaps the ones below will serve as a starting point for discussion and further exploration.
Jazz Piano Solo
1. 'Round Midnight' by Thelonious Monk
As an initial piece, I have pulled this performance from the archives as it provides one of the most compelling interpretations of what has now become a jazz standard. Thelonious Monk was a jazz pianist and composer. What singled him out from many of his contemporaries was his fresh approach to harmony. Monk was able to bring unexpected harmonic direction to his pieces that made full use of clusters of quite dissonant chords that on first hearing seem unrelated to the key in which he was writing.
It brings an unsettling edge to many of his pieces that characterise his style. 'Round Midnight', was composed in 1944 or possibly earlier, with some sources stating Monk penned the piece as early as 1936. It is in the rather dark key of E flat minor with a gradually rising melody that seems to struggle to climb above the descending chordal pattern.
In this version, Oscar Peterson brings his own unique and florid interpretation to Monk's standard. The pensive mood remains intact amidst some colourful harmonic twists added by Peterson and slightly out of place blues riffs that scurry about the piano. A sensitive and thoughtful performance that displays the dazzling technical fluency that Peterson possessed.
2. 'A Handful of Keys' by Fats Waller
This piece has made the selection as it is one of the most demanding pieces to play as a piano solo. On a first listening through the reasons for this will become quickly apparent. Not only is the speed of the piece very quick but it includes the technique called 'stride' that Fats Waller could effortlessly deliver. Essentially, the stride method of playing meant that the pianist needed to play the bass notes plus the chords with their left-hand whilst their right-hand took the melody plus any additional harmonic parts.
The arrangement of the Fats Waller classic linked to above is probably a fair representation of how the composer himself would have played the piece; with a degree of freedom and generous helpings of improvisation around the existing material. This piece was first recorded in 1939 in Camden, New Jersey USA. It has become one of the most performed of his compositions alongside other notable songs such as 'Honeysuckle Rose', and 'Ain't Misbehavin''. 
3. 'Tea For Two' by Vincent Youmans
https://youtu.be/fKb0Sc2lYVU
Sadly, I have not been able to find any actual footage of this remarkable genius of the piano performing this song. Art Tatum was a blind piano player who took the concept of jazz piano to a whole new level of possibility. The song dates from around 1924 and was composed for the musical titled 'No, No, Nanette'.
The original version is a simple enough and pleasing song that is almost lost within the flurry of notes that Art Tatum uses in his performance. Melodically, it is a repetitive song that in some way contributed to its success as it was almost immediately memorable. In 1939, Art Tatum recorded his interpretation of the track that remarkably reached number 18 on the US chart list.
Many other recordings of the piece by big names in the jazz world followed but none, to my mind, ever came close to what Art Tatum was able to draw from this music. Not only does he manage to extend and develop the melodic ideas, but he also reconstructs the form of the music, pulling it around with tangential harmonic jumps and rhythmic twists.
Such is the complexity of Art Tatum's work on this piece that he appears to leave no musical stone unturned like Beethoven squeezing every last drop of musical possibility from a set of variations. Nothing is wasted. The famous Classical Pianist Joseph Horowitz was so in awe of Art Tatum that he is supposed to have said that if Tatum ever decided to take up classical piano playing, he would quit the next day.
4. 'My Foolish Heart' by Victor Young
Bill Evan's performance of this jazz ballad is an outstanding one. It does not fall into the category of a Tatum display of technical virtuosity pushing the limits of the instrument and the music, but it does present a beautifully crafted reading of this jazz ballad. What Evans consistently offers the listener is a lyrical and highly expressive understanding of the music. It is measured and deliberately understated performance, avoiding the sounding of a single unnecessary note. Evans subtle harmonic colourations support what is quite a fragile melodic line intensely and distinctively that often featured in many of his performances.
'My Foolish Heart' was a song written by Victor Young with lyrics by Ned Washington. Even though the song was featured in the film of the same title, it was not met with critical acclaim. By the 1950s the song had reached a wider audience and very soon became established as a popular tune with several high profile artists including Billy Eckstine.
5. 'Blue Rondo a La Turk' by Dave Brubeck
This final piece is included because of its wonderful rhythmic complexities and fascinating structure. Brubeck became known alongside his quartet for the song written by his saxophonist Paul Desmond called 'Take Five'. Many of Brubeck's pieces make use of cross-rhythms that play across the main beat of the piece. Blue Rondo is no exception with time signatures that include both 9/8 and a bluey 4/4.
Brubeck's solo in the piece uses the piano in a very different way to many of the other soloists featured above. He likes to push the melodic material in a rhythmic direction that is unexpected and slowly evolving. Block chords hammer their way over the swinging pulse of the accompaniment building in intricacy and technical difficulty. There is an underlying organic feel to Brubeck's solos that make no need for speed of performance favouring instead, a carefully measured almost classical approach to jazz.