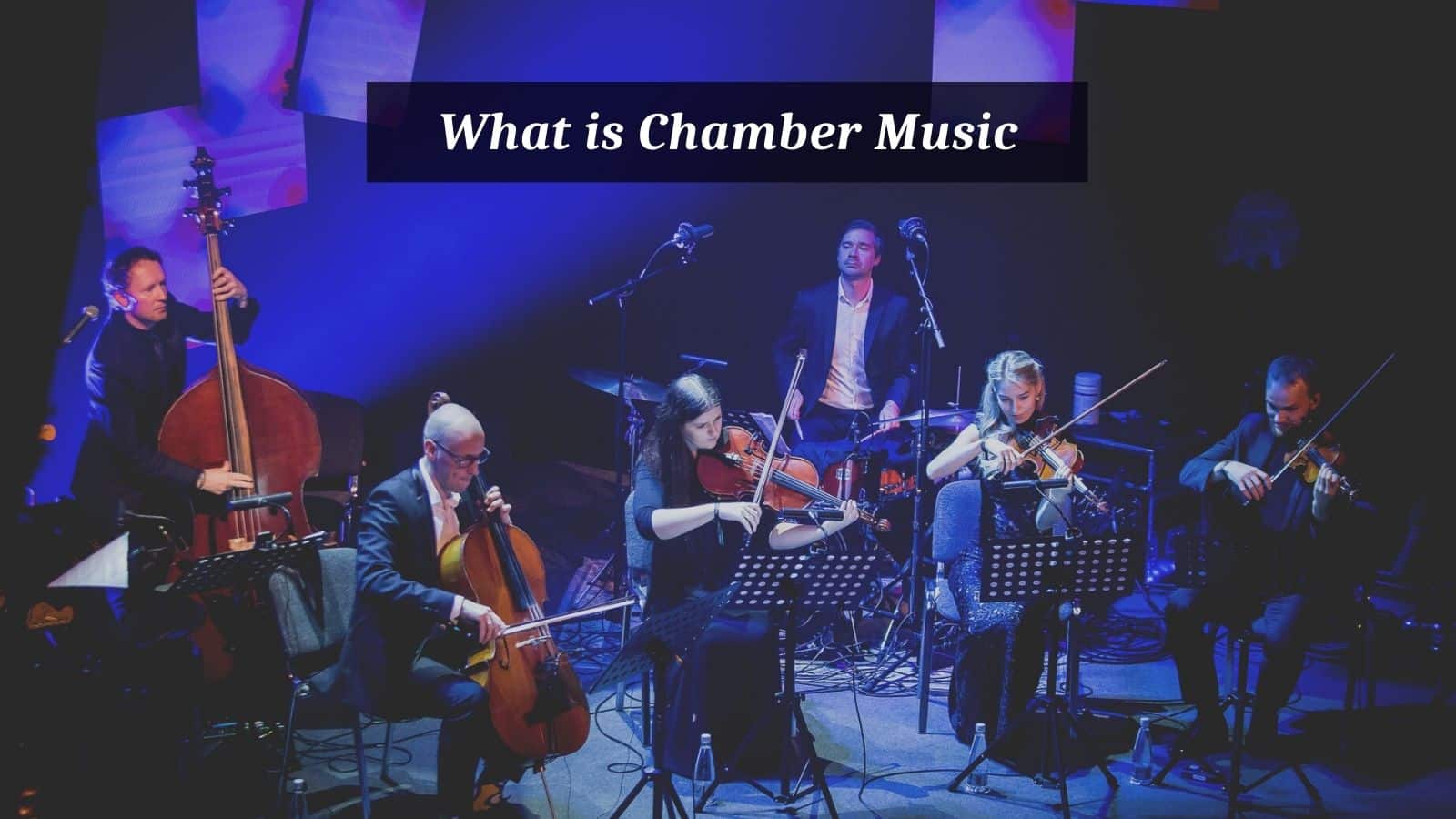 Chamber music, as the name suggests, is designed for small ensembles that perform together in a palace room, a residential parlor, or any small space.
The term also defines music where each instrument has a part instead of an orchestra where multiple players play together in the strings, brass, percussion, and woodwind sections.
What is Chamber Music
Chamber music excludes solo musicians from its definition, but chamber groups can range between two (duet) and ten players. Chamber orchestras also exist, but this is where the lines become blurred between chamber and orchestral music.
Examples of Chamber Music for Groups
Below we'll highlight some examples of famous and sometimes obscure chamber compositions ranging from trios to dectets—we promise it will get exciting! Click here for a fascinating history of chamber music.
Trios
During the Renaissance, playing music at home came into vogue thanks to pieces described by historians as 'sonata da camera' which is Italian for chamber sonata.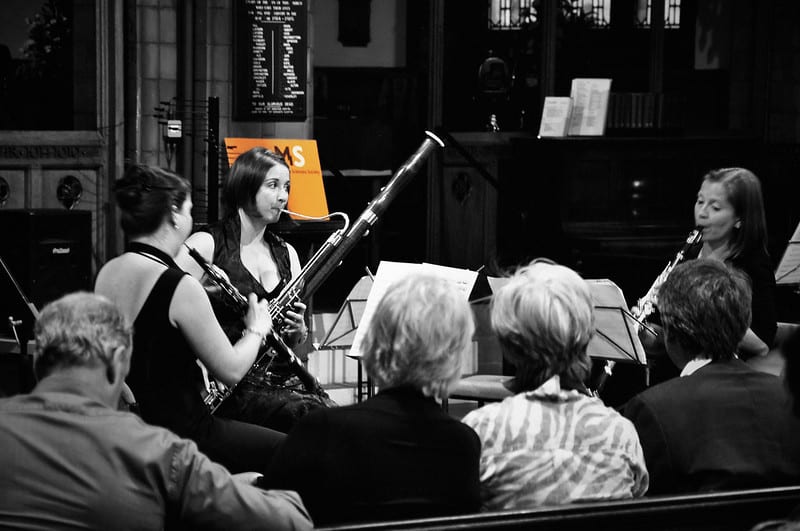 Archangelo Corelli and Vivaldi both stand out as Baroque masters of the form.
From the sonata da camera, the Trio Sonata was developed. JS Bach composed keyboard works that could be played by soloists or arranged for three players: the same work (Trio Sonata No. 6 in G Major, BWV 530) played on the organ and on three instruments.
The trio is traditionally for piano, violin, and cello. But other combinations are also possible. Mozart and Beethoven's piano trios usually stand out as prime examples. Other combinations also exist:
Clarinet-Cello-Piano:
Beethoven: Clarinet Trio, Op. 11 no. 4
Toshio Hosokawa: Vertical Time Study I

(1992)

Poulenc's Sonata for Horn, Trumpet, and Trombone—no piano or strings, only brass shining bright. Or, maybe you prefer Poulenc's Trio for Oboe, Bassoon, and Piano? A personal favorite that stands out is Schubert's Piano Trio No.2 in E-flat, D.929.
Closer to our own time, Conrad Asman (b. 1996) composed a terrific flute, cello, and piano trio in 2008 titled Sense Twitch Sprint.
Quartets
The string quartet is the most famous compositional grouping. But the Baroque era slowly gave way to the Classical period, and Franz Joseph Haydn was at the forefront of helping drive these changes.
His string quartets, trios (skip to 3:29, and other ensemble pieces helped to move the changes forward. In turn, composers such as Mozart and Beethoven picked up Haydn's mantle.
Beethoven pushed even further, and the string quartet became a vehicle for expressing a vast array of emotions—bridging the Classical era to the Romantic period.
The Romantics include Schubert, Brahms, Schumann, Mendelssohn, and Tchaikovsky, to name a few.
Other notable examples include:
Philip Glass is one of the most well-known and daring composers of the twentieth and twenty-first centuries. Glass's masterful and deeply emotional Closing (from Mishima: A Life in Four Chapters) is performed by a string quartet, and here's a saxophone quartet for balance.
Quintets
Sextets
Mendelssohn's Piano Sextet in D major, Op. 110, was composed in 1824 when he was only fifteen. It's scored for piano, violin, two violas, cello, and double bass. The composition is mature in style and not just a childhood fantasy piece.
Now, for something completely different. Steve Reich was one of the earliest proponents of minimalist music. His Sextet from 1985 is scored for far more than six instruments, but only six are played at any given time.
Septets
Beethoven uses a conservative instrument allocation with a string quartet but breaks the mold, including a French horn, bassoon, and clarinet to flesh out his Septet in E-flat major, Op. 20, which was first performed in 1800.
Octets
Ever the child prodigy, Mendelssohn composed his String Octet in E-flat Major, Op. 20 at age 16.
Schubert pushed the envelope even more in 1824 with his Octet in F major, D. 803, by featuring two violins, viola, cello, and double bass in combination with a clarinet, bassoon, and Frensch horn—much like Beethoven's septet minus one violin.
Steve Reich's Eight Lines from 1979 places a minimalist emphasis on rhythm with repetitive melodies, pushing the octet even further.
Nonets
Louis Spohr's instrumentation of a violin, viola, cello, double bass, flute, oboe, clarinet, bassoon, and horn has long been used as the standard template for nonets. He used the instrumentation in his 1813 Grand Nonetto in F major, Op. 31.
Other composers followed suit, but others broke with this tradition, for example:
Ernst Krenek's Sinfonische Musik, Op. 11 (1922) is scored for nine solo instruments
Akanthos (1977) by Xenakis is scored for two violins, viola, cello, double bass, flute, clarinet, piano, and soprano.
Dectets
There is no established form for the dectet, so that composers can get quite creative in their instrument combinations:
Mozart is well-known for his two divertimenti for ten wind instruments (B-flat major, K 186/159b and E-flat major, K 166/159d) are both scored for double oboes, English horns, clarinets, horns, and bassoons.
Karlheinz Stockhausen's Kontra-Punkte from 1952—53 scored for flute, clarinet, bass clarinet, bassoon, trumpet, trombone, piano, harp, violin, and cello.
György Ligeti broke all the rules when composing Poème Symphonique for 100 metronomes. Is it even chamber music because 10 'players' operate the 100 metronomes? There is a score… so it is undoubtedly a 'serious' composition, won't you say?