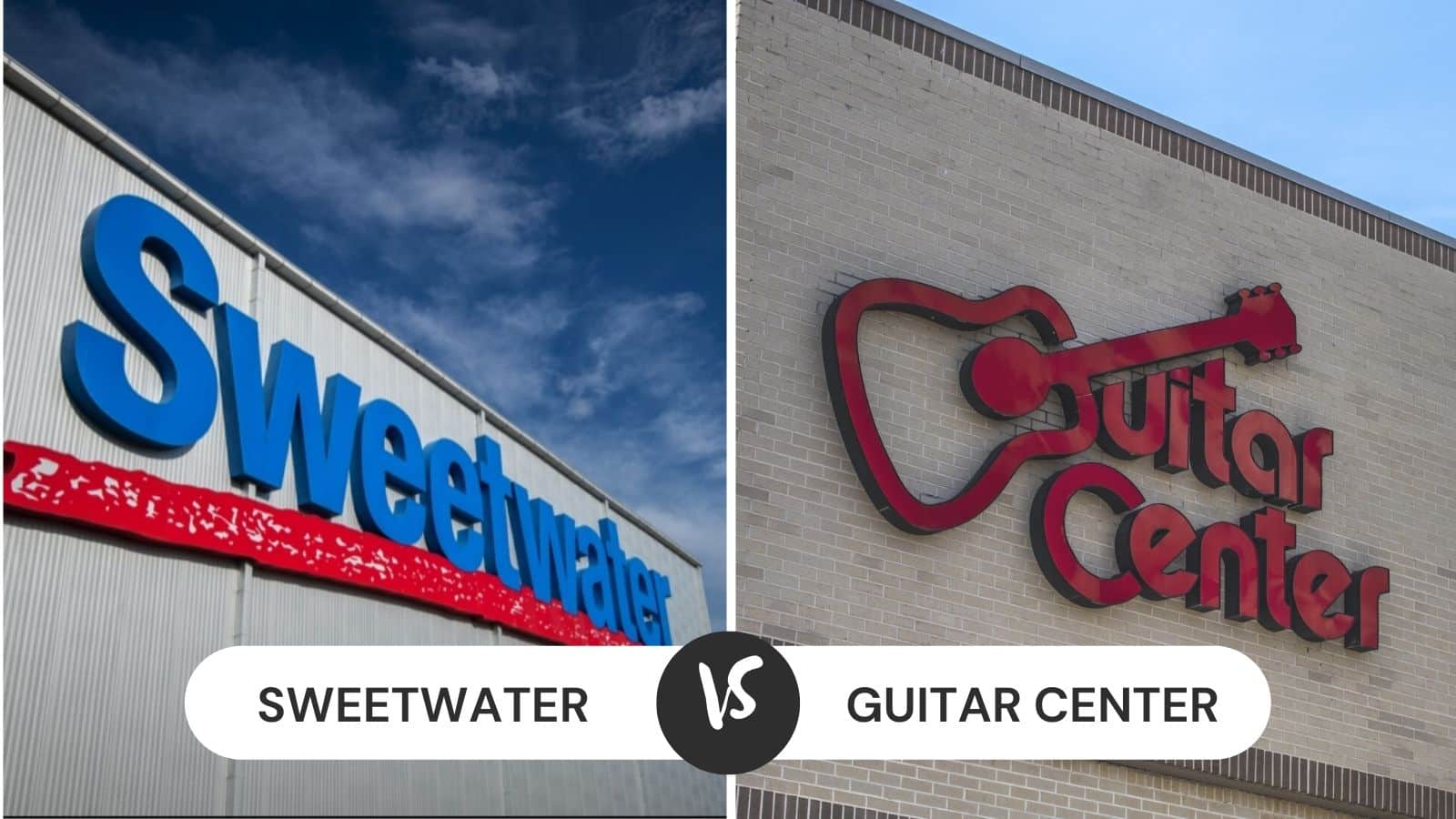 Without an iota of doubt, guitars are one of the most widely played instruments across the globe.
Everyone is familiar with its sound and knows the basics behind its production, even if they are not into music. They are portable, easy to use, and could be used to play several genres.
That being said, as the guitar became more ubiquitous, more and more companies started offering it. So, if you are just getting started with the guitar, you might be overwhelmed by the countless choices.
To make sure you do not end up overpaying for the guitar or its gear, it is important to choose the right retailer.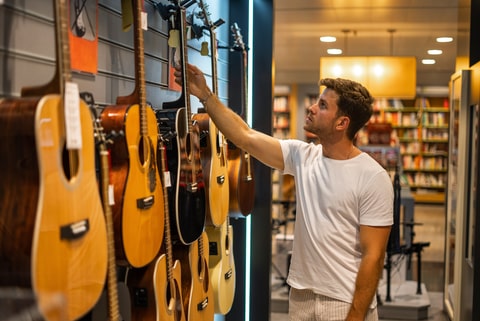 The music industry has seen hundreds of retailers over the years, but only a few of them managed to retain their popularity.
Sweetwater and Guitar Center are two such outlets. They are among the major players in the industry and are highly popular among musicians of every age.
If you are looking for the right outlet to buy your music gear, keep reading as we will be comparing the services of these two outlets hereinafter.
Sweetwater vs Guitar Center
| Features | Sweetwater | |
| --- | --- | --- |
| Custom guitars | Yes | Yes |
| Email customer service | Yes | Yes |
| Website | Yes | Yes |
| Stores | 1 | 294 |
Sweetwater
With millions of happy customers around the world, Sweetwater is a giant in the music industry. It was established by Chuck Surack in 1979 in Fort Wayne, Indiana.
The company is among the industry's pioneers and has built a great reputation over the years. It is a go-to retailer for many musicians around the globe.
Website
Sweetwater was quick to adapt to the internet revolution and has a highly responsive website for the best shopping experience.
The website has an intuitive interface, which customers find easy to use. Apart from the website, the company has a strong online presence on various social media platforms as well.
Customer Service
Customer service is another area where Sweetwater outshines its competitors. It might be often overlooked, but customer service is one of the most important factors to consider when choosing a retailer.
Guitars and their gear may get your mind in a tangle, and reaching out to the customer care service will certainly straighten it out.
Most companies offer customer service via their websites. However, Sweetwater takes it a step ahead and goes the extra mile to ensure the best shopping experience.
For starters, you get an automatically generated email as soon as you place an order. The email confirms that your order has been placed and that you will soon receive your desired product.
Then, Sweetwater assigns a salesperson that will take care of everything. The salespersons even share their contact information, so you can contact them whenever you want.
Whether you want to know about the timeline of your order or want to track it, the salesperson can help you with everything.
In addition, if you are confused, you can also seek guidance from the salesperson. Guitars come in various types, and with companies launching new models day in and day out, it could be hard for you to choose the right one that suits your playing needs and budget.
The salesperson will recommend the best guitar and guitar gear, depending on your playing style. This makes Sweetwater a great option for newbies as they won't have to play the guess-game while choosing a guitar.
Apart from that, Sweetwater even offers customer care service via email. Just leave a question, and it will be answered soon. The team recommends guitars honestly and is always willing to help. All in all, Sweetwater has unparalleled customer service.
Custom Guitars
Sweetwater also offers custom-made guitars for the best customer experience. The company will share the contact details of the sales engineer, and you can contact them to build a guitar according to your needs.
The sales engineer will contact you before working on your guitar and ask about your preferences.
If you are a beginner and are unsure about it, worry not because Sweetwater has got you covered. The sales engineer will ask you about your playing style, how hard you push the strings and a few other questions, and manufacture the guitar accordingly.
One thing that may offend you is that Sweetwater has fewer stores as compared to other retailers. Therefore, you might not be able to play the guitar before buying it.
It's no secret that the guitar tone is a personal choice, and you may want to try the tone before purchasing it. If that's the case, fewer stores could be the deal-breaker for you.
However, the good news for you is that the website has pictures of guitars and guitar gear from every angle to give you better insight. This way, you can have a closer look at the components and construction.
Guitar Center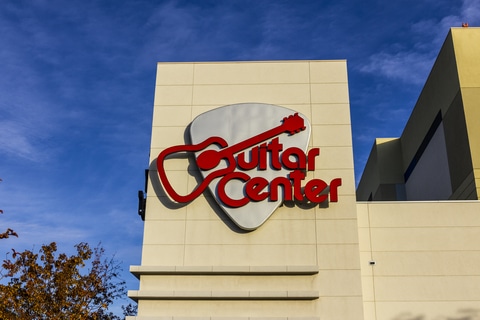 Based in the USA, Guitar Center is one of the fastest-growing music retailer chains in the world.
It enjoys great popularity and has built a massive customer base with dedication and quality. It was founded in 1959 and has come a long way since its inception.
Website
Like Sweetwater, Guitar Center also has a website for customers' convenience. The website has a user-friendly interface, and placing an order is an absolute cinch.
What's even better? The website is pretty responsive and doesn't take hours to load or refresh.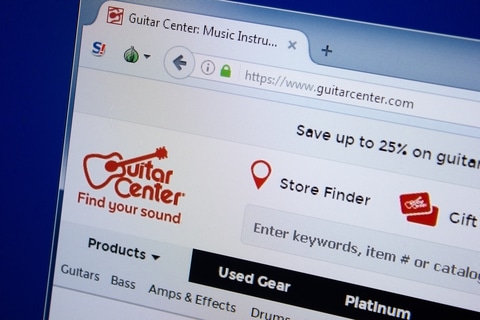 Guitar Center offers all types of guitars. Whether you are looking for a classical guitar or acoustic one, you can get everything at Guitar Center.
And yes, the company also sells accessories, such as guitar amps, for improved playability. Basses, workstations, keyboards, microphones, you name it, they have it.
Customer Service
Customer care service is high on the agenda at Guitar Center. It has a team of knowledgeable and skilled customer care specialists to offer the best shopping experience.
Whether you are a weekend warrior or a seasoned player, its customer care team will answer all your questions. As if that wasn't enough, you can also attend free workshops and weekly classes to learn more about your instrument.
Custom Guitars
Like Sweetwater, Guitar Center also offers custom-made guitars. Whatever your playing style is, you can request a custom-made guitar, and the company will manufacture the right instrument accordingly.
Want a guitar with a brighter tone? Or do you want a thicker neck? Just tell the engineers and rest assured that you will get a suitable guitar.
The thing that sets Guitar Center apart from Sweetwater is that it has a network of over 290 branches across the USA. So, you can play the guitar to gain a deeper insight into its tone, construction, and other aspects.
Final Verdict
Sweetwater and Guitar Center are the two popular options when it comes to buying guitars. Both offer an extensive range of guitars and guitar accessories at reasonable prices.
While Guitar Center has a bigger network of stores, Sweetwater offers a better online shopping experience. Thanks to its superior customer care service, Sweetwater wins this battle.
However, Guitar Center is also a great choice if you don't mind driving a few miles.