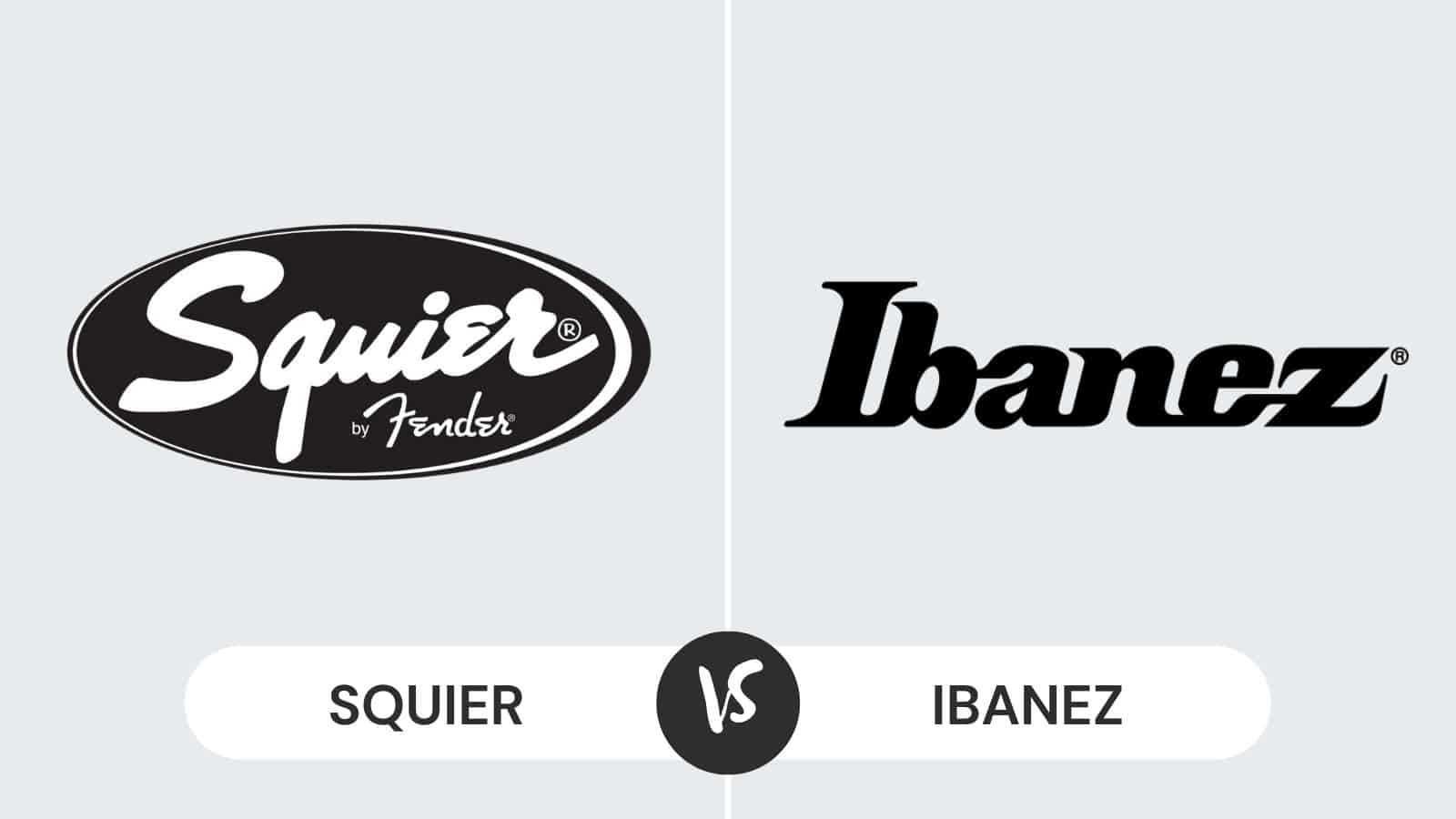 The quest for finding the perfect guitar can seem quite endless, especially since there are continuous debates online and all around the world about which guitars are better.
When picking a guitar, you don't just like the features and quality but will tend to look at brand names as well. Those brands that are spoken of favorably by your peers or online will automatically have you inching closer towards them.
While some might think that buying a specific brand is because of customer loyalty or just purely based on the fame of its name, there are quite legitimate reasons to choose a brand.
In addition to having signature designs, several brands produce musical instruments with special technological advantages that are only synonymous with that specific brand.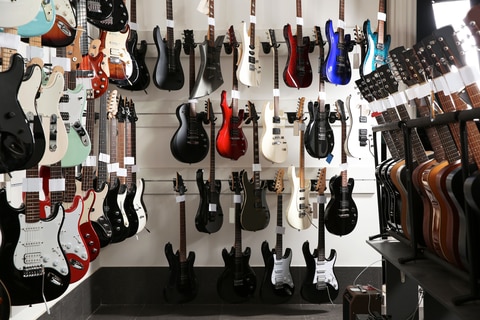 Therefore, picking a certain brand when buying a guitar would also include receiving several of the distinct features they offer.
Understanding the distinction between features offered by various brands can help you choose one that may be right for you.
There are certainly several factors that come into play and it is important to understand them before choosing between guitar brands, such as Squier or Ibanez, the two most popular guitar manufacturers in America.
The Differences Between Squier vs Ibanez Guitar
| Features | SQUIER | IBANEZ |
| --- | --- | --- |
| Range | Limited range | Wide Variety of instruments |
| Style | Have a range of distinct signature styles | Range of styles that include new innovative and futuristic styles |
| Sound Quality | Clean, perfect for funk or country music | Strong and Crisp, perfect for punk, rock, and pop. |
| Price point | Low price point | Slightly higher in price as compared to Squier |
| Strength | Highly Durable | Highly Durable |
| Customization | Available | Available |
| Compatibility | Limited compatibility with other brands' products | Widely compatible with a range of products |
Squier Guitar
The Squier is one of the most well known brands when it comes to the manufacturing of electric guitars.
Based in Michigan in the US, Squier has been in the guitar manufacturing business since 1890 during which time they have gained some serious experience in the field in terms of how a guitar should feel and perform for a musician.
Squier is famously known for the creation of extraordinary shapes for their guitar bodies, as well as their attention to detail and durability. Squier guitars can last you a long time.
Judging by their inventory, it may not seem that extensive when compared to a relatively new brand that has since joined the guitar-making business.
However, the ones they do create are almost without fault and you would be able to find a model for practically any type of sound or genre of music that you need.
Ranging from beginner to professional, all of which range within both their acoustic and electric collection, the Squier brand is sure to have something for everyone.
In addition, you can also find a variety of shapes and sizes, as well as customized ones with specialized features.
A customization is also an option available with Squier. You can easily create your very own guitar without worrying about anything and can be assured that it will be perfect for you
Along with a range of guitars you can also enjoy a ton of additional accessories and parts that are also sold by the Squier brand. You will find a range of amps, tuners, and other such gear all manufactured and sold by Squier.
Squier guitars are also noted as having a clear tone which is great for genres such as funk or country. This quality of theirs far surpasses many others.
Additionally, Squier is known as the budget-friendly alternative to higher-end guitars like the Fender Stratocaster. When Fender took over the brand, they used it as a way to produce lower-cost Stratocaster and Telecaster guitars.
These are all great qualities of the Squier that make it attractive to the average customer. Because of its sound, durability, and price range, the guitar is especially good if you are a musician or music enthusiast on a budget.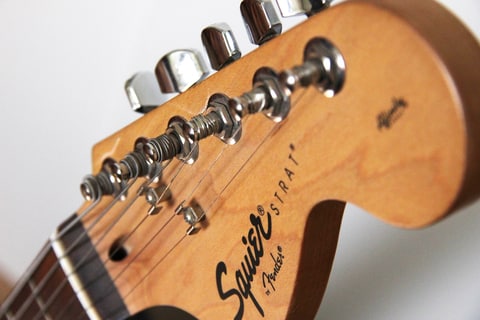 It can still provide you with the perfect tone and experience without the high price tag of top-of-the-range guitars.
The brand also provides excellent support service for all your queries and guitar needs so you are sure to enjoy your time with a Squier guitar.
Ibanez Guitar
Ibanez is another very popular brand known the world over. This is a leading Japanese guitar manufacturer which began business in 1957 and has therefore garnered decades of experience, fame, and respect within the international guitar market.
Since its inception, Ibanez has continued to innovate not only on its design aesthetics but has gone so far as to create dramatic futuristic models that are exciting to look at.
In addition to how they look, the sound and performance quality for each of their instruments is near perfection, as the company maintains strict quality control.
Its main focus has long been on quality and performance and this has continued to elevate them as one of the leading brands in the guitar industry.
With Ibanez, you can ensure that you are getting a perfect instrument, in terms of durability, style, design, and performance.
They also have a decent price point similar to the Squier, making their products quite competitive in the market. They have a wide range of inventory that not only includes electric guitars but also bass and acoustics.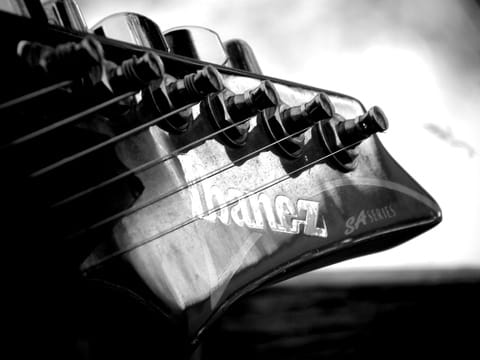 Additionally, they also sell accessories and equipment to supplement your instruments such as pedals and high-performance amps.
Their accessories include tuners, straps, picks, and other such things which are praised the world over for their excellent quality and value for money.
Conclusion
Though mostly close to the same price, you may find that some guitars from Ibanez have a slightly higher price point in the US as compared to Squier.
However, with the quality, range, and style you receive, it is hardly something to complain about. The sound of the guitar works best for those interested in genres such as metal, pop, rock, and futuristic sound.
A major advantage of the Ibanez is also its compatibility when it comes to connecting other equipment. You will find that the Ibanez is more likely to work with a range of amps or effects, which may be unlikely for some products from Squier.