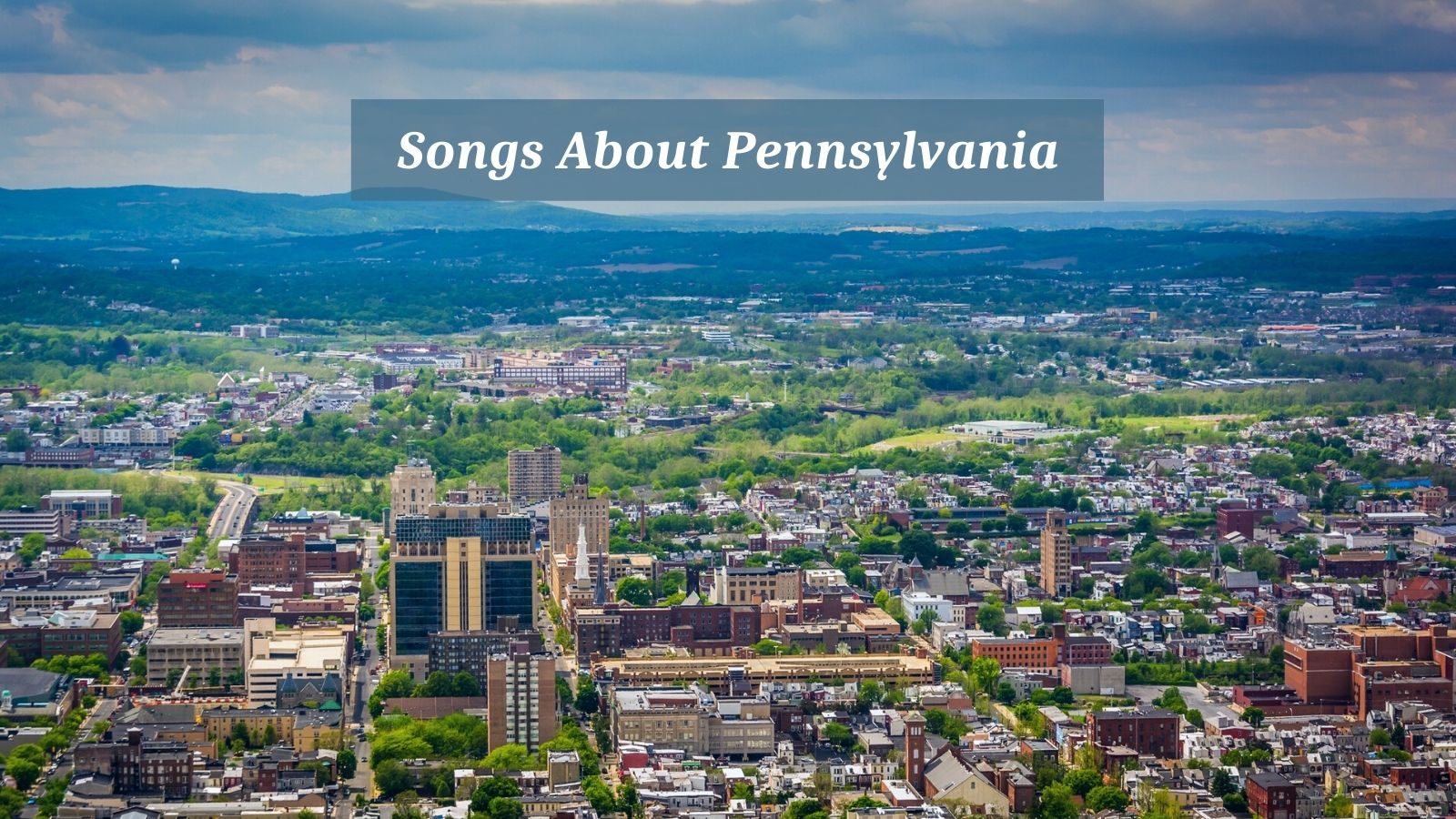 Renowned for its natural beauty, mountain ranges, cities and old-school political significance, each song about Pennsylvania is composed from a contrasting angle, showcasing the many sides to which come with any one state.
From songs incorporating Pennsylvania as a mesmerising landscape backlighting a tale of new love, to tracks dedicated to home-grown love for the state, our list of songs about Pennsylvania crosses the genres and covers it all.
Songs About Pennsylvania
1. Matthew Mole – Pennsylvania
Matthew Mole's cute and colourful indie pop track, Pennsylvania, uses the North-Eastern state as the landscape padding his deeply sentimental love song.
Whilst only mentioning the track's title once at its start, Mole devotes his spellbound lyrics to the whisked-away feeling of new-found love, as opposed to crafting a love-letter to the city through his song;
"One day love would ring me up, in Pennsylvania, and we'd never be the same again … And you'd play me all your favourite songs, and I would sing them wrong, but let me tell you something true, that you are everything I love and you're all I'm dreaming of."
Grounded in a nostalgic early '10s acoustic soundscape and laced with uplifting country inspirations, Pennsylvania carries some truly breathtaking lyrics beneath its inherent, ukelele-incited cheesiness, shaping a love song for anyone who can't stop themselves from falling;
"My darling, your love was made for me, and Heaven's starting this life for us to see, would you take my heart and take my soul, and would you never let me go, and pour your love over me."
2. Joy Again – Pennsylvania Black Coffee
Joy Again's obscure indie rock/pop track, Pennsylvania Black Coffee, is a striking exhibition of caffeine-induced eccentricity and disoriented separation.
Centred in oddly subdued clean guitars resounding with the reminiscence of being played underwater, Joy Again mix their drums with captivating imbalance to the remainder of their stylistically not-quite-right track, their conjured rhythms possessing the illusion of being non-fixated upon the beat, mirroring their erratic, caffeinated title.
Joy Again's masterful artistry doesn't end with their equilibrium of concept and sound. Pennsylvania emerges as an unspoken destination for their heartbroken narrator, who's desperately trying to escape the putrid, black feeling desecrating his sanity with uncontrollable anger;
"I wanna be too far away, you'll never see my damn face again, I'll be in the right place again."
3. Irene Kelley – Pennsylvania Coal
Irene Kelley's 2014 country release, Pennsylvania Coal, intertwines her stunningly cinematic soundscape with a lush bluesy ambience, her track capturing the haunting tranquility of the North American wild.
Kelley anchors this piece in the struggle of a small-town working man of Crabtree, Pennsylvania, highlighting poverty and the ruthless determination it spurs within the spirit;
"My grandpa worked the mine and then he worked the farm, 8 hours in the dark 6 hours in the sun, and everyday hear that whistle blow, to make a better life for someone down the road, and pray one day the ones you love will know, you don't sell your soul for another load of Pennsylvania coal."
This is a track exposing the hard times faced diversely by past Pennsylvanian generations, whilst uniquely celebrating their impact upon the modern day; "Black lung, unsung heroes every one, unknown, backbone I'm still leaning on."
4. Afroman – Pimpin' Pennsylvania
From the same icon who brought us the stoner staple, Because I Got High, Afroman's 2008 hip-hop release, Pimpin' Pennsylvania, captures the contagious humour of the artist through yet another landmark track.
Afroman floods his lyrics with references to various Pennsylvanian cities and suburbs, each threaded with a comically sexy sense of wordplay;
"Chilling with my girl in Pittsburgh, f****** her t*** whiles I hit the herb, f****** her friend in State College, no degree, just ghetto knowledge, she's from Penn State, I'm from the State penn."
Between his array of not-so-subtle innuendos are allusions to Pennsylvanian trademarks and stereotypes, from revered culinary creations to the weather, composed under Afroman's absurd light;
"This girl from Altoona, I opened her legs, it was all tuna, I met this girl from Clearfield, when the coast was clear, I f***** her in the field … Eating Philly Cheese steak again … Put my cold hand on her warm butt cheek."
5. Cabinet – Pennsylvania
Cabinet's 2015 track, Pennsylvania, harnesses a classic country sound embellished with banjos, showcasing not a hint of electricity in its composition.
Cabinet masterfully use their old-school take on country music, weaving descriptions of Pennsylvania's unique landscape through their lyrics, styled to tell the story of two close friends or lovers embarking upon their North-Eastern adventure
"When we left our road to take a ride out West, across the country side, we started out at seven in the morning. There was a man named Blair, he'd be our guide and took us for a cable ride, and the fields were overflowing with sweet corn."
A love song to the state as much as a track of wild-hearted exploration, Cabinet's Pennsylvania is a track for anyone revelling in the new lands they've escaped to;
"We spent some time in Pennsylvania doing things we never done before, and I can still feel that warm wind blow, Pennsylvania hold me strong, never let me go!"
6. The Andrews Sisters – Pennsylvania Polka
This vintage 1942 pop track by The Andrews Sisters carries that old-school atmosphere of rockabilly nights out dancing, the vocalist trio's blissful optimism echoing through every fluttering melody.
Pennsylvania Polka is dedicated to its titling dance routine, its lyrics narrating the social history and ambience of true love spawned by the heritage arts;
"Strike up the music the band has begun the Pennsylvania polka, pick out your partner and join in the fun, the Pennsylvania polka … While they're dancing, everybody's cares are quickly gone, sweet romancing, this goes on and on until the dawn."
7. Dave Kline & The Mountain Folk Band – My Pennsylvania Home
Another retro-inspired track, Dave Kline & The Mountain Folk Band's folksy country piece, My Pennsylvania Home, illustrates the scenery of their home town in beautiful detail, summoning evocative imagery for those who've not yet ventured to the narrator's corner of the country;
"The Appalachian trail, the streams are cool and clear and sweet, and the stars at night will light the path to guide your weary feet."
My Pennsylvanian Home is an upbeat, old-school track for those finding an unmatchable sense of peace within the North-Eastern landscape which raised them;
"The changing of the season never gives you a reason to wander off to any other shore. I'll always remember the snowflakes and the spring days of the heartland of my Pennsylvanian home."