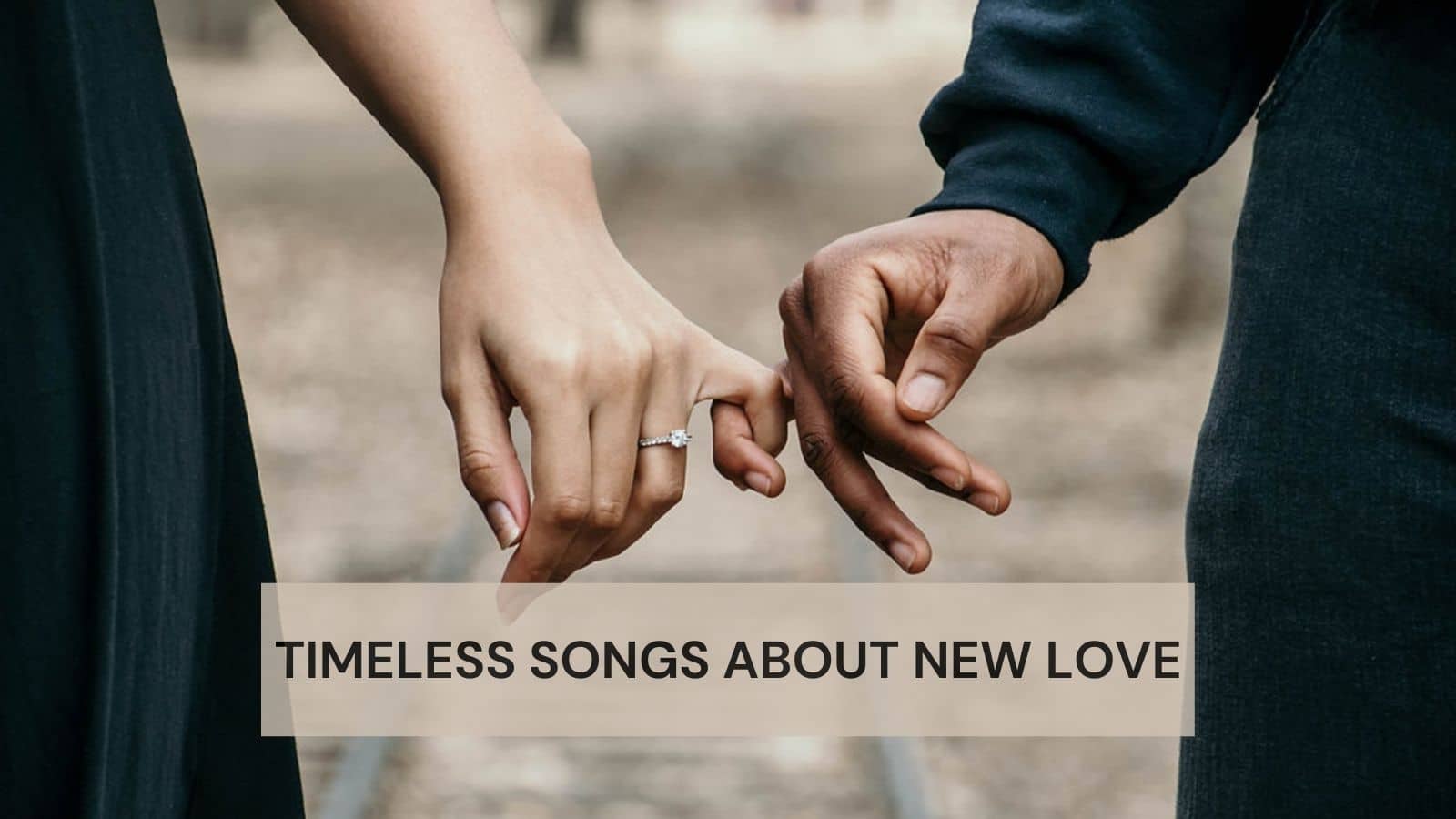 Since the dawn of composition, musicians have weaved every fragment of their nature and experience into art. Poetry and harmony lapse together to detail and record the fluxes of being human.
The topic of exciting, blossoming new love is no exception. Wander through the eras of music history with our list of new-love songs reminiscent of that breathtaking butterfly feeling, as we journey through the present to the past of pop music.
Timeless Songs About New Love
1. Demi Lovato – 4 EVER 4 ME
4 Ever 4 Me, the captivating last track on Demi Lovato's shameless album, Holy Fvck, is a quintessential love song about falling helplessly for someone new.
The character Demi creates falls "smitten and hopelessly" for a boy and soon realizes she can't hold back the way she feels. As the audience, you quickly realise this song has become a love letter to that particular person she admires.
Demi's vocals are empowered by the confidence and honesty that comes with knowing she's found the one and coupled with the nostalgic soundscape of a 2000s power ballad, 4 Ever 4 Me is crafted into a timelessly romantic song.
2. Harry Styles – Late Night Talking
Harry Styles' Late Night Talking reflects the thrill of new relationships, with the excitement of late night conversations that stretch till morning richly embedded within its bright, summery sound.
Styles evokes some of the purest aspects of finding love with someone new through lyrics like "it's only been a couple of days and I miss you," while lines such as "now you're in my life I can't get you off my mind" might resonate with any hopeless romantic across the world.
3. Ed Sheeran – Kiss Me
Of all of Ed Sheeran's iconic love songs, Kiss Me is the perfect one for delving into that cosy feeling of new-found love. This album track is a mellow song detailing all the cutest things about being in a new relationship.
That childlike feeling of "falling for your eyes, but they don't know me yet," those perfect moments of having "your lips pressed to my neck" and the finding of safety entwined in each other's arms are all encapsulated within the simple charm of this song.
4. Taylor Swift – Love Story
Taylor Swift's Love Story is a song about new love with a twist. It begins as you might expect; its first verse embellished with captivating and beautiful imagery, the character "standing there on a balcony in the summer air" as she falls deeply and innocently for her first love.
With Shakespeare's inspiration, Swift unravels the expected fairytale and shows the tangled emotions of a new relationship that's been ruthlessly forbidden by family.
Their love is tainted with secrecy as the world tries to pull the new couple apart. But ultimately, Love Story is a song blanketed in optimism, embracing the hopeful side of falling for that one person you're not allowed to have through its rosy, acoustic harmony.
5. Kylie Minogue – Can't Get You Out Of My Head
Can't Get You Out Of My Head is a hallmark example of the infatuation that comes with falling for someone new.
Kylie draws on the almost obsessive element of new love, where your thoughts suddenly become distracted endlessly by the special person in your life.
The song's electro-centric harmony is infused with subtle jazz chords giving a strange, underlying effect of disorientation, as Kylie's lyrics revolve and repeat unchangingly, simulating the wild hypnosis of falling in love.
6. Michael Jackson – The Way You Make Me Feel
It's not surprising that The King of Pop had a hit song about new-found love in his vast collection of Top 10s.
While the music video depicts Jackson seeking the attention of a girl through his dance moves, his vibrant disco-infused lyrics are a love-letter to someone you've only just met who gives you a 'fever like you've never known'.
With catchy, heartfelt lines like "I never felt so in love before; promise baby, you'll love me forever more" and "You're just a product of loveliness," this is another one that will effortlessly echo the excitement of finding new love.
7. Stevie Wonder-Isn't She Lovely
Stevie Wonder gave a unique take on the topic in his legendary song, Isn't She Lovely.
Wonder wrote this song in adoration after meeting his newborn daughter for the first time, describing a father's unmatched love for his first-born child, the new-found love for his wife as a mother and the blessings of love that a new baby brings to their lives.
His soulful lyrics, "Isn't she lovely? Life and love are the same. Life is Aisha, the meaning of her name," play upon the heartstrings and can be felt in awe by any new parent mesmerised by their newborn baby girl.
8. The Beatles – I Saw Her Standing There
I Saw Her Standing There captures a story of meeting a girl across the dancefloor in a moment of love at first sight.
The closer you get, the more you know she's the one and you're quickly realising you'd do anything possible to stop somebody else from taking her.
The rebellious, rock n' roll attitude of The Beatles illustrates the joy and zeal of new love within this musical time capsule, holding the same fervour today as on its release 60 years ago.
9. Elvis Presley – Can't Help Falling in Love
Elvis' rendition of Can't Help Falling In Love is undoubtedly the ultimate pop song about new love.
Timeless themes of being lost in someone's presence parade throughout the song; with Elvis' doubts on staying followed by the realisation of his romantic destiny.
The simple, enchanting story is mirrored with the dreamy aura of vintage Disney soundtracks. Lines unparalleled in their effortless charm, like "Take my hand, take my whole life, too" can be felt by just about any hopeless romantic across the world.
New love spans every generation, evolving with each era of pop music and withstanding every tidal wave of change.
From captivating ballads released 60 years apart, to upbeat songs that enliven every essence of  inner happiness within you, the raw and sweet nature of new love is unchanging.