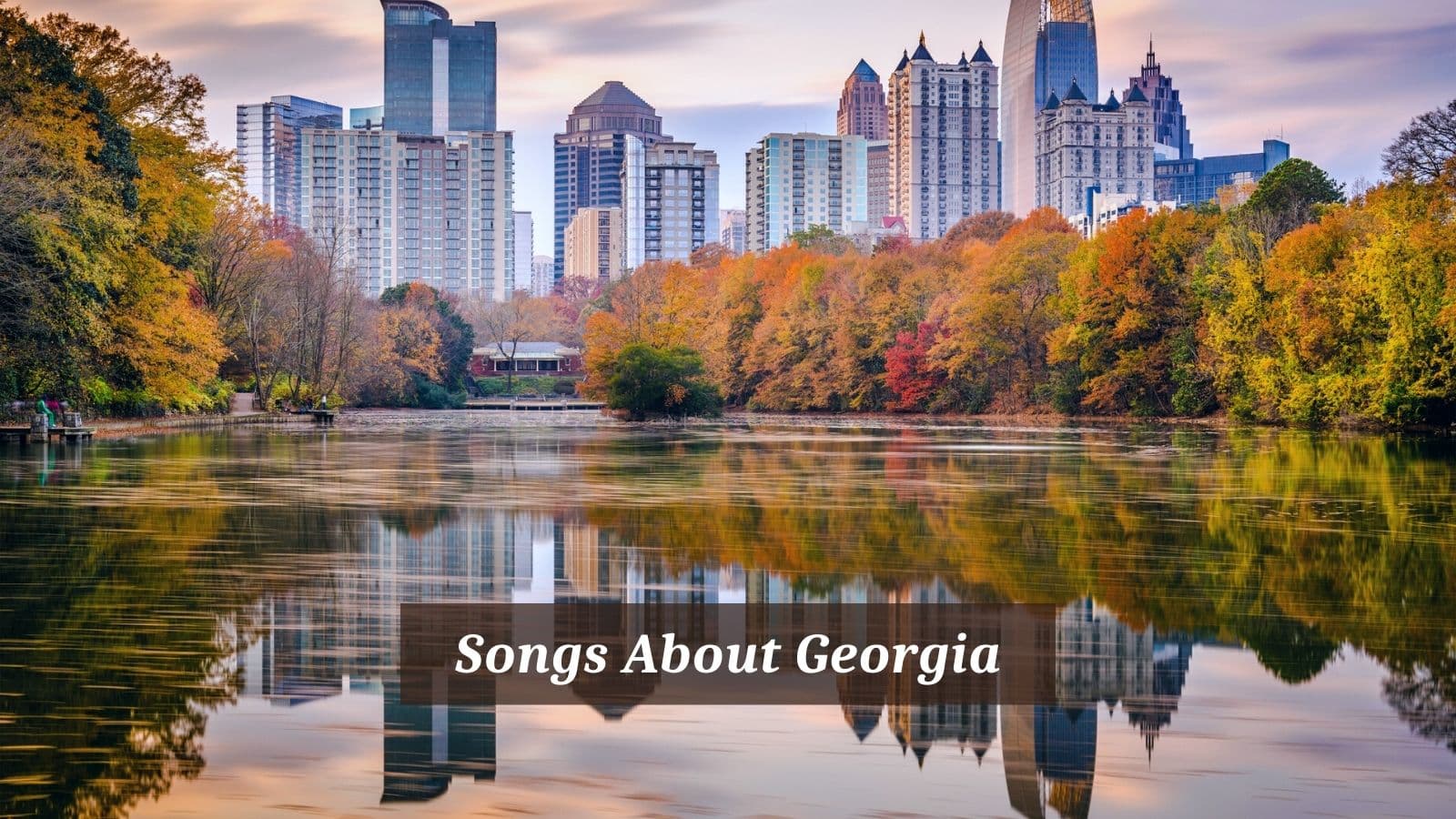 As a Southern state, it's not surprising so many songs about Georgia, USA are rooted in country music.
Our playlist collects some stand out songs about Georgia, crossing the genres and covering it all, from love songs to the state itself, to tracks about falling for a girl with the same name.
Songs About Georgia
1. Ray Charles – Georgia On My Mind
Ray Charles' 1960 masterpiece, Georgia On My Mind, is a vintage, jazz-inspired love song to the state, its lyrics crafted to relate to both the place and a soulmate of the same name.
Padded with Disney-style choirs, Charles embellishes this old romantic track with soft string sections and sweet, bluesy melodies, each mirroring the soaring emotional heights of his lyrics.
Georgia On My Mind is a serene song for those melting into their love for the Southern states, unashamed of their compulsion towards a land of beauty and peace;
"Georgia, a song of you comes as sweet and clear as moonlight through the pines, other arms reach out to me, other eyes smile tenderly, still in peaceful dreams I see, the road leads back to you."
2. Gladys Knight & The Pips – Midnight Train To Georgia
Gladys Knight & The Pips' 1973 soul hit, Midnight Train To Georgia, captures a mesmerising moment of true love and devotion to a struggling partner, alongside the sanctity of the country in comparison to L.A.
Knight's track follows the story of someone escaping their big city pressures and returning to the simpler life of their Georgia home town, followed at the tail by their life-partner;
"I'm gonna be with him on that midnight train to Georgia, I'd rather live in his world than live without him in mine (Her world is his, his and hers alone)."
Midnight Train To Georgia carries many gripping elements within its soundscape, from Knight's otherworldly vocal performance to its minute harmonic details, the most stunning of which being the backing vocalist's artful representation of the steam train's horn.
3. Blackberry Smoke – You Hear Georgia
Blackberry Smoke's country rock single, You Hear Georgia, hides a number of varying symbolisms within its lyrics, relating to Georgia as a woman, a place and as an idea of happiness.
This is a track about embracing change as it comes and rising above lowly self-perception, heartbreak and tormentors; "You see 'Georgia' when you look down on me, from the top of that mountain where you'll always be, maybe you could find a new harmony if you hear 'Georgia.'"
4. Primus – The Devil Went Down To Georgia
Primus' heavy metal / folk hit, The Devil Went Down To Georgia, roots itself in the pure country lyrical technique of storytelling, unearthing a strange tale of a boy performing in a virtuostic fiddle-playing fight with the Devil;
"The devil went down to Georgia he was looking for a soul to steal, he was in a bind 'cause he was way behind and he was willing to make a deal."
Composed around folksy Irish violins far-removed from the rock sound expected from Primus' genre, The Devil Went Down To Georgia instead uses its distortions in sparse amounts, artfully detailing the Devil's serenade, before peeling back again into its folksy acoustics.
5. Kane Brown – Bury Me In Georgia
Kane Brown's contemporary country rock release, Bury Me In Georgia, clads its morbid lyrical focus with an array of heart-warming sentiments and memories of the place you grew with and love.
This track comes from a younger man's perspective rather than from someone closer to funeral-planning age, demonstrating an unconditional love which will outlast a lifetime; "Bury me in Georgia, let me rest in peace, underneath the pines, where my roots run deep."
Brown's lyrics blend the macabre with striking levels of tranquility and patriotism, showcasing the insight of a man longing to literally return to his roots;
"I don't care what colour my suit is, or what shoes y'all put on my feet… Just take me out to that graveyard, sing a send-me-home song, put 'Go Dawgs' on my headstone and pile that red dirt on."
6. Tiggs Da Author – Georgia
Tiggs Da Author anchors his 2015 blues / pop track, Georgia, in the theme of 'opposites attract,' describing his intoxicating lust for a girl that's unpredictable, high-maintenance yet hypnotic;
"I don't need your love, but I'm addicted, like you are to designer clothes, I don't need your drugs, but I'm fiending, hoping I don't overdose."
Tiggs' pads his upbeat bluesy piece with hints of R&B and soul, each element carrying a timelessly retro effect reinvented within the modern context.
7. Elton John – Georgia
This sentimental Elton John album track entitled Georgia, makes a series of contrasting comparisons between Georgia and other US states, illustrating its highlights and downfalls with a romanticised sense of realism;
"When it's springtime down in Georgia, it's winter time up in Maine, you can go from snow to sunshine, if you board a southbound train, you get used to taking orders, but it's sometimes kind of rough, I got everything that a man could need but it still ain't quite enough."
Georgia's chorus is backed by an array of vocalists, bestowing a genuine sense of community and belonging to a song about life's perpetual changes;
"Georgia take me to your Southlands, I sometimes feel my life is rolling on, oh Georgia lead me through your heartlands, I need to see them one more time before I'm gone."
8. Jason Aldean – Talk About Georgia
Jason Aldean's country rock release, Talk About Georgia, is about a man who stumbled upon a true soul connection with a woman in Georgia, proving to be so overpowering that she and the state are all he can talk about, no matter which coast of the country he travels to;
"Fast-lane through Oklahoma, tequila nights in California, but there's just one goodbye that gets me every time, when I talk about Georgia, it's the colour in your eyes, or the summertime shining on ya, I remember every mile, yeah, you drove me wild."