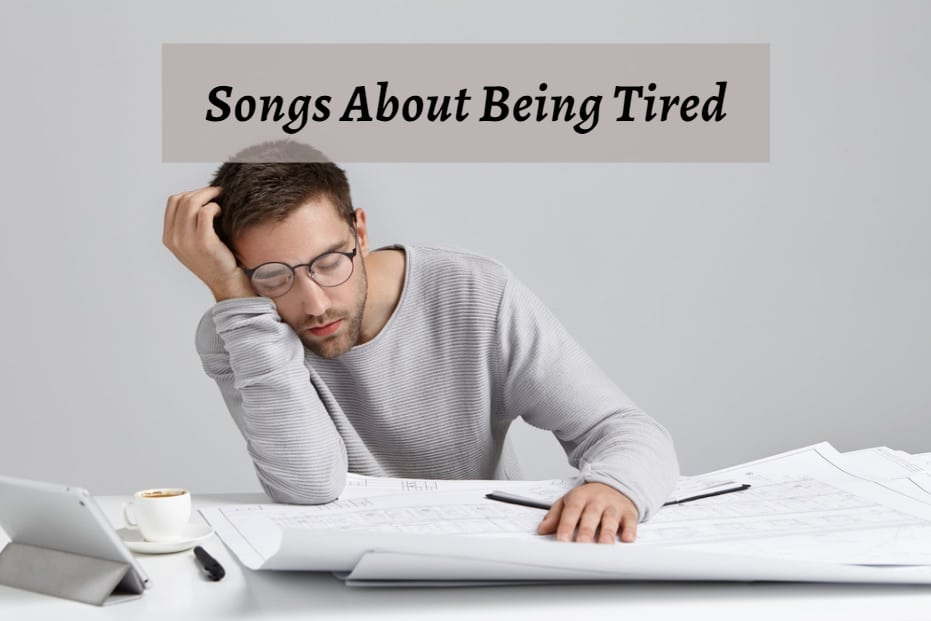 Songs About Being Tired
1. 'So Tired' by The Beatles
We begin this shopping list of fatigue with a 1968 classic from The Beatles. In what is a remarkably brief song, this super group manage to successfully capture the very essence of tiredness in their usual effortless fashion.
The song stems from 'The White Album' which was a double album for the band. John Lennon performed the vocals on the track but the writer's credits are with both Lennon & McCartney.
The song reflects Lennon's inability to sleep whilst on retreat in India. He apparently was missing his new love Yoko Ono, and as a result, was experiencing a bout of chronic insomnia.
Lennon's performance beautifully conveys the weighty tiredness that often comes with insomnia. Despite the somewhat depressing focus of the song, it remained one of Lennon's favourites.
2. 'Who Needs Sleep?' by The Barenaked Ladies
In 1988 the Barenaked Ladies released their fourth studio album. It has since sold around 4 million copies and has proved to be one of their most successful albums to date. 'Who Needs Sleep?' is track ten on this fabulous album of hits.
Whilst this particular song wasn't a single release it is certainly one of my personal favourites. What you get in this track is the intelligent humour this groups of Canadian musicians are well-known for alongside great musicianship.
The opening line is one of the best amongst all the songs here: "Now I lay me down not to sleep". Once again insomnia rears its ugly, unwelcome head in this song. It seems that no matter what techniques the singer tries, there is simply no overcoming the persistent problem.
Another brilliant line comes in the chorus and even though I hope it's not true, must encapsulate the feeling many have when tiredness hits in this way. "Be happy with what you're getting, there's a guy who's been awake since the second world war".
3. 'Sick & Tired' by Dr John
Even though Dr John lost part of his index finger wrestling a gun from someone attacking his friend, it doesn't seem to have harmed his piano playing. This track appears on several different albums by Dr John.
The exact date of composition is not known. Dr John became synonymous with that most appealing style of piano playing; Boogie-Woogie. Although he began life as a guitar player and dabbled with bass guitar too, he eventually settled with the piano becoming a legendary boogie-woogie performer.
This is where the song has its roots and the live version linked above displays Dr John's talents rather well.
The song describes how he's more than tired of looking after a woman who does nothing for herself. She lays around in bed all day and doesn't even brush her own teeth whilst he is working overtime to make their lives work.
It is an ultimatum where Dr John says to her that if she doesn't change her ways, she's out.
4. 'Tired' by LCD Soundsystem
LCD Soundsystem harks back to the early 2000s. An American band from Brooklyn, New York, they have carved their niche amongst the worlds of rock and electronica quite successfully.
One of their biggest credits is the creation of a soundtrack for Nike's Original Run Series in 2007. The band currently have four albums to their name beginning with 'LCD Soundsystem' in 2005 and ending with 'American Dream' in 2017.
'Tired' comes from this initial self-titled album from 2005. This release was a two-disc album that enjoyed reasonable success on the billboards. The track has wild desperation to it more akin to Captain Beefheart or Frank Zappa.
Driving rock drums, pacey bass lines and screaming vocals power this song from start to finish. The lyrics are a patchwork of memory desire and love.
There's a raw crudeness that arrives with the words, with clumsy pick-ups and manic passions. The key line is "I'm never so tired as when I'm waking up".
5. 'Always Tired' by Weathers
Weathers are a band who are very much in the US limelight today. They began in 2015 and have two full studio albums behind them. 'Kids in the Night' (2018) and 'Pillows and Therapy' (2021).
This song is a highly polished one, clipped, concise and gently driven. It is track three on the EP titled 'Our Other Little Secret' from 2021. The vocal delivery is reminiscent of Muse with a certain desperate intonation that conveys the message loud and clear.
In a similar vein to some of the other songs here, the lyrics describe the despondency one feels when sleep evades one. The absence of rest and resolution purvey the song.
There seems to be another element in play too that could be a third-party making sleep impossible or sleep itself. A compelling song that is deserving of air time.
6. 'Fade to Black' by Metallica
One of the darker songs in this collection. Metallica has an uncanny way of delivering a song that no other artists can. The strength of emotion and utterly convincing performances are hard to topple.
'Fade to Black' was the second single released by Metallica from their album 'Ride The Lightening' (1984). The band have freely explained that the song orientates around death which was becoming a consuming theme for James Hatfield (vocals and guitar).
Unlike many other Metallica songs, this doesn't initially hit hard and keep burning. Instead, it is almost a rock ballad that was a departure for the musicians. At the time of writing the band was down on their luck and tired of all the problems, they were enduring.
As the title suggests, it's a suicide song and as such it received some misplaced criticism. Metallica fans have greeted the song with open arms and open hearts, many claiming it helped them feel better.
7. 'Sleep The Clock Around' by Belle & Sebastian
This song comes from one of Belle & Sebastian's most celebrated albums, 'The Boy With The Arab Strap' (1998). It is the second track from that album. The title on face value suggests it could be about enjoying an extended period of sleep, but there is more to uncover in this song.
These words appear at the end of the song, not the opening and do not form a chorus as many songs often do with their titles. It isn't directly a song about being tired except for the implication in the lyrics of someone who has endured more than they can take and is emotionally exhausted.
This track is closer to the idea of growing up and making mistakes. These mistakes become recognised and dealt with in different ways. Here the singer walks away from the pain he caused not perhaps knowing what else to do. Now after the ordeal he can rest.
8. 'I Don't Sleep, I Dream' by REM
'Monster' was a huge accomplishment for R.E.M. This is the album which contained this song. In many ways, this track illustrated the new direction the band were taking with the album. There is a black and heavier hue to this album than with their previous work.
Even though the song revolves around the idea of sleep where the crux of the song lies in sex. 'I'll settle for a cup of coffee, But you know what I really need".
What we can't be sure of is whether this is just a dream, a fantasy that arrived during restless sleep, or something less metaphorical. Fatigue, irritation or something darker, the song leaves an anxious feeling that is hard to shake.
9. 'Exhausted' by The Foo Fighters
Recorded in 1994 and released in 1995, this song was the lead single from the band's initial album called 'Foo Fighters'. Dave Grohl, lead vocalist and guitarist penned the song that featured frequently as the Foo Fighter's concluding song at live gigs.
There's a hard edge to the track that is part of its appeal. The lyrics detail the thoughts of someone who is worn out and fatigued by life and its demands.
Musically the song falls easily into the category of rock ballad but is nicely interspersed with classic Foo Fighters, heavier riffs that underline the gravity of the lyrics.
10. 'I'm Tired, I'm Tired, I'm Tired' by Marva Whitney
This track has a great pedigree. Its composer, if you can't tell just by hearing the bass line of this song, is soul legend, James Brown. Marva Whitney cut her own funky groove with numerous albums to her credit and countless live performances.
Whitney became known for her soulful voice and as a formidable advocate of funk music.
From limited sources, it appears that this track hit the record stores in the summer of 1969 and was produced by James Brown under the title 'It's My Thing'. The sub-title for the album was fitting 'James Brown's Funky Divas'.
Whitney was considered to be a 'number one soul sister'. Certainly, the power and clarity of her vocal delivery in this track are impassioned, powerful and captivating.
The lyric content is written from the perspective of someone whose life is draining her of everything. From racism to working for no money, she is tired of the life she has that is through no fault of her own unbearable.
The funk rhythms determine the feel of the song bringing a much-needed lift to what otherwise is a blues. A wonderful example of a very different musical age.