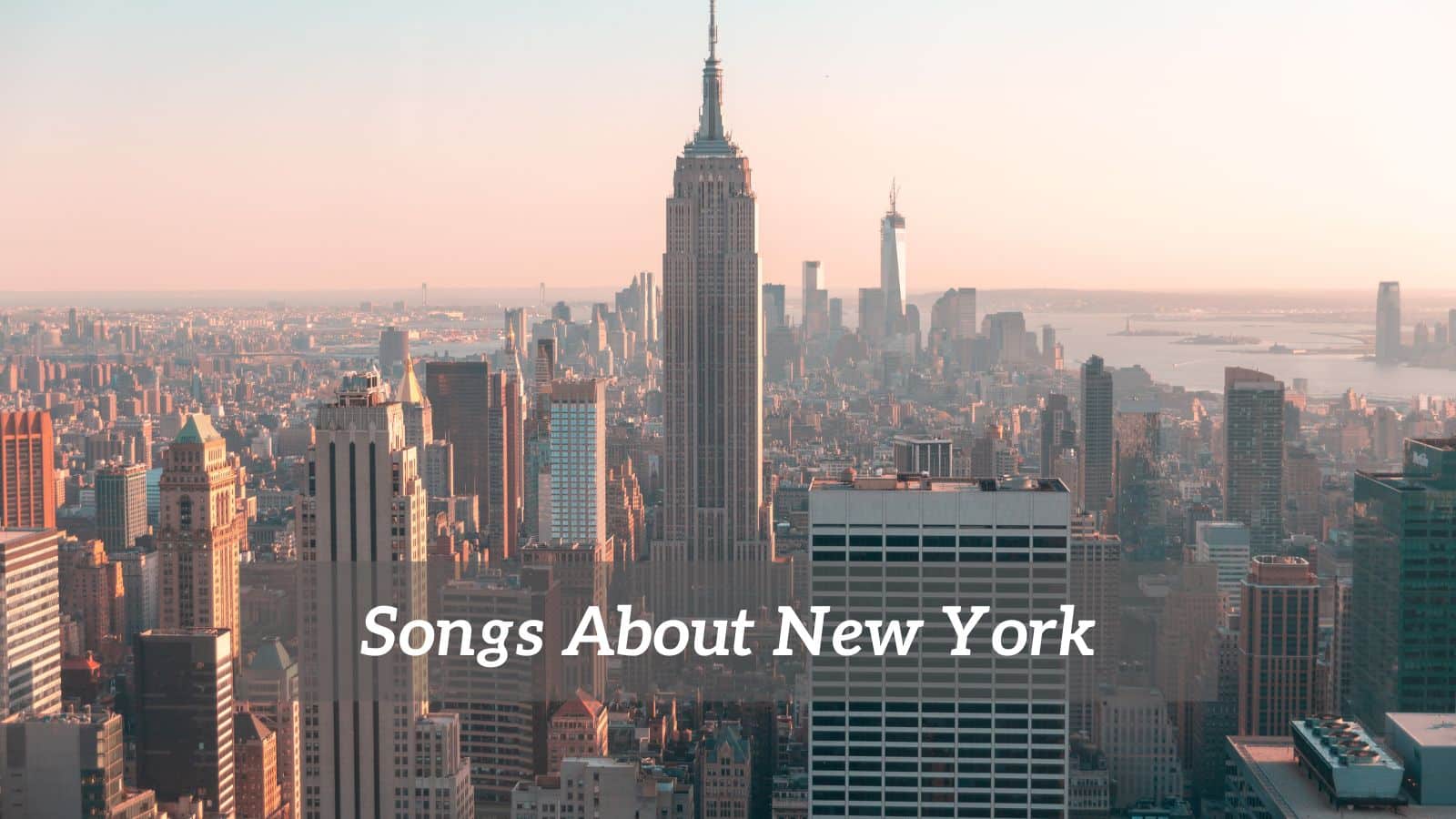 New York's wealth of history evokes a significant, unforgettable feeling of grandiose glamour as its bright city lights and exclusive luxury enchant and influence the world.
From the sun bouncing between skyscrapers, to the boundless greens of Central Park, New York paints the background scenery to a crowd of many stories; each a glimpse of the city's evolving history captured through fleeting moments of music.
Song About New York
1. JAY-Z ft Alicia Keys – Empire State Of Mind
The biggest song about New York of our age, Empire State of Mind glistens with the glitz of the modern city, large in its presence whilst binding the grittiest and most polished corners of New York together.
Jay-Zs lyric-dense verses mimic the claustrophobia of the crowded streets, bustling with rhythm, letting Alicia Key's chorus rise freely and magnificently like the towering skyscrapers which they sing of.
Both New Yorkers, they cram their track with a flurry of hometown references like Broadway, Harlem, the Yankees, the Crips, the World Trade Centre and so on.
The highlighting detail: their inclusion of coin bag percussion – a tambourine carrying the song's essence of luxury through its bright chinking sound of money. Their trailblazing song is a serenade to both the best and worst of the city.
2. Paloma Faith – New York
Paloma Faith's passionate track New York personifies the city's captivating glamour into a spellbinding woman. She describes "A diamond girl who could talk for hours," who "stood so tall and she never slept."
New York captures her lover's heart and steals it away, like the splendour of the city might to any tourist.
With Paloma's elegant eccentricism and classy vintage undertones matching the unique city she sings of, this song is a glossy metaphor for the cruelness of being left for someone more beautiful.
3. The Pogues – Fairytale Of New York
The Pogues' Christmas song illustrates a vintage winter evening date backlit by the extrovert culture of New York night-life.
With their own stylistic Irish flair, they detail the urban American aura of luxury, "They've got cars big as bars, they've got rivers of gold, but the wind goes right through you, it's no place for the old," striped with poignant moments of retro romance, "Sinatra was swinging, all the drunks, they were singing, we kissed on a corner then danced through the night."
Fairytale of New York, however American-infused its lyrics may be, is overwhelmed by the cosy pub atmosphere familiar to the artists' home country, reaffirming their fairytale isn't quite their reality.
3. Harry Styles – Ever Since New York
Harry Styles' Ever Since New York sounds like the dreamy NY track we expect, but discreetly conveys something as brutal as what lurks in the bleak passages of the city.
With a strong sense of nostalgic sadness, Ever Since New York could easily be a heartbroken song about romantic disaster beneath the city's blinding lights, but instead, the captivating New York backdrop sees Harry awaiting news about his stepfather's worsening health overseas.
His resounding chorus, "Tell me something I don't already know" is transformed to symbolise the agonising, non-changing words of doctors, while "Almost over, had enough from you" becomes a line drenched in pain, implying how tired he is of the cancer gradually ending his step-father's life.
He captures a rain-stained polaroid of New York as the first scene of tragedy.
4. Ella Fitzgerald – Manhattan
Ella Fitzgerald's rosy Manhattan takes you on a vintage adventure through the old city's myriad streets and attractions.
Her sepia-toned jazz song muses on settling in Manhattan and claiming its paradise with your lover, "We'll have Manhattan, the Bronx and Staten Island too," exploring the passion of new-blossoming romance against the New York landscape;
"We'll go to Coney, and eat baloney on a roll, in Central Park we'll stroll, where our first kiss we stole, soul to soul." Ella masterfully paints a microcosmic image of the city in 1956, laced with wistful love and rich in the warm ambience of a faded era.
5. The Chainsmokers – New York City
The Chainsmoker's album track New York City has a crystal clear meaning of heartbreak; beckoning to the chaos that surrounds them, "New York City, please go easy on this heart of mine."
However, the first verse suggests a darker implication of models, musicians, Broadway stars etc. who turn to New York City to catch their glimpse of the American dream, only to spiral into it's gutters;
"To know how it feels to kill yourself with bad habits, to know what you want, know you'll never truly have it." Their weaving of soft, dream-ridden melancholy through the track summons a contrasting shade upon the usual glistening atmosphere of songs about New York.
6. Frank Sinatra – New York, New York
Becoming a signature song of Sinatra's after its 1979 release, his classic big-band style captures the timeless love of the big city during its mid-century golden age feel.
With a heartwarmingly retro style, his gleaming persona highlights the ritzy thrills of New York from the perspective of a new-comer optimistic in finding his piece of the American dream.
Sinatra's bold and shining tone matches the sleek magnificence and exclusivity of the city paired with the opportunity its skyscrapers bestow upon someone from a small, struggling town.
Within this, he embeds the grandiosity which exuberantly parades New York, "I want to wake up in a city that never sleeps, and find I'm number one, top of the list, king of the hill."
7. New York, New York from On The Town
Another perfect retro piece, New York, New York from the 1949 musical On The Town tells a story of sailors porting in the big city with only 24 hours to catch a glimpse of every wonder New York has to offer.
Gene Kelly and Frank Sinatra star as sightseers rattling through the city, singing atop buildings and landmarks with one simple thing in mind;
"There's just one thing necessary in Manhattan when you've got just one day. You gotta pick up a date, maybe seven or eight on your way."
8. Sara Bareilles – Manhattan
Sara Bareilles' Manhattan is the swansong of our list; a crestfallen track about 'bowing out of place' to give your ex the space to find somebody new.
Her lyrics are cleverly interwoven with subtle, poetic references to New York, such as "I'll gather up the avenues, and leave them on your doorstep.
Although her heart is painfully entangled with the honeymoon reverie of the city, Sara breaks free from the concrete towers trapping her in place, to find her unique place of happiness instead; "You can have Manhattan, I'll settle for the beach, and sunsets facing westward, with sand beneath my feet."
This raw, minimal song is an inspired, acoustic contrast to the extravagance that often dominates songs about the city.