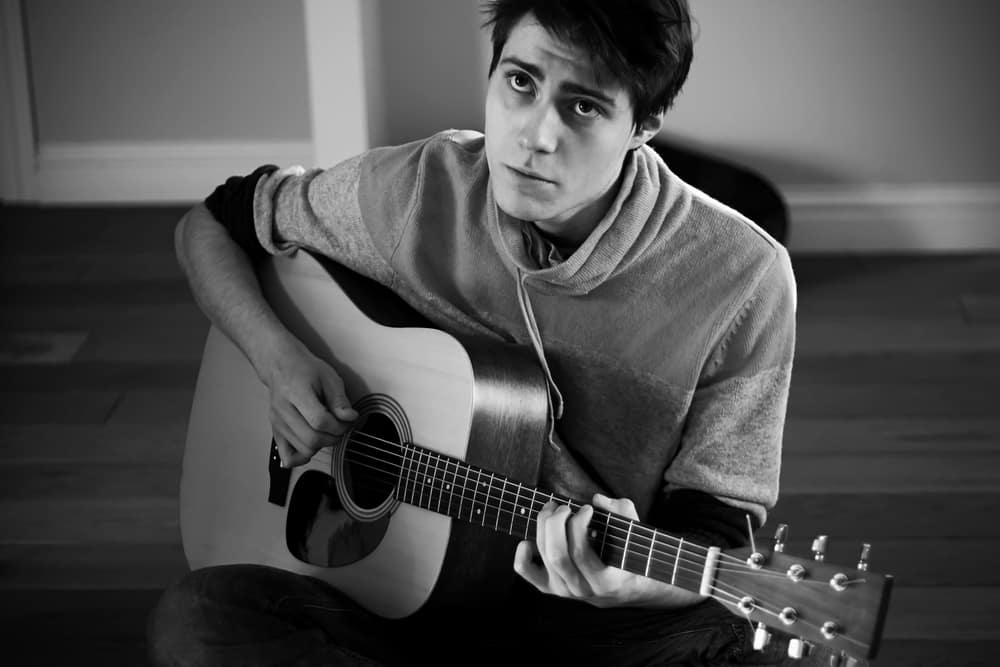 Classical music spans a vast range of emotions from the brilliant and ecstatic through the maudlin to the darker corners of despair. In this article, I have selected a few pieces of classical music whose disposition is drawn towards the melancholy side music.
Melancholy Classical Music
1. Henryk Gorecki, 'Symphony No.3'; Op.36, (Symphony of Sorrowful Songs) 1976
Until this orchestral work burst into the conscious minds of listeners across the world the name of Gorecki was largely unknown. In 1992 the record label Elektra-Nonsuch released this monumental work, performed by the London Sinfonietta, and within a short time, it had risen to the top of the classical music charts. It is thought that more than 15 million copies have been sold of the album, breaking nearly all records for 20th Century music sales.
The Symphony is in three movements, each allocated an extremely slow tempo marking. Each of the three movements draws its focus from different texts that express loss, grieving, and death. The mood is deeply sad throughout the entire work, with the second movement particularly laden with unbearable tragedy.
Gorecki chose to set the words of a condemned eighteen-year-old girl (Helen Wanda Blazusiakówna), who had been captured and imprisoned by the Gestapo in 1944. What is striking about her words etched into the walls of her cell, is that she thinks only about her Mother's feelings when she learns of her daughter's death.
Even though the Symphony mourns, there remains a grain of hope and recognition of the strength of the human spirit even in the face of terrible circumstances. Gorecki's use of a solo soprano set against the huge power of the orchestra beautifully reflects the voice of the one against the backdrop of an often unfeeling, cold world.
2. John Tavener, 'The Protecting Veil'
This forty-five-minute composition succinctly demonstrates John Tavener's style that unfailingly produces works of great stillness and beauty. The Protecting Veil dates from 1988 when Tavener received a commission from the remarkable cellist Steven Isserlis.
Originally Isserlis had asked Tavener to write a more modest work for him but the eight-movement composition certainly is not a disappointment. The cello takes the central role but not in a showy fashion but one of poise, elegance, and intense expression.
Tavener's Orthodox faith runs like a glowing thread through this piece giving it strength and purpose. It is the life of the Virgin Mary that brings life to each section of this work, that begins and ends with 'The Protecting Veil'. Similar to the Gorecki Symphony there is a dominant sense of loss and melancholy in this score but also one of eternal hope.
3. Samuel Barber 'Adagio for Strings' (from String Quartet: 1936)
In 1986 with the release of the Oliver Stone movie titled 'Platoon' Samuel Barber's second movement from his Op.11 String Quartet embedded itself into the hearts and minds of tens of thousands of people.
What to me always seems to be such a clever compositional achievement is that Barber builds this entire piece from a three-note motif or cell of notes. It gives the work an organic feel that complements and reinforces the piece as it grows upwards through the registers of the instruments.
The whole composition breathes and sighs with an aching melancholy that lengthens the melodic phrases to a climactic point about three-quarters of the way through the piece. Barber follows this by a momentary pause that feels almost like a final breath just before the original material is restated.
Here there is a distinct impression that the music could continue in an endless cycle of rising and fall, expansion, and contraction until the end of time itself.
There have been countless arrangements of this stunning piece, some more successful than others. Barber himself set the words of the 'Agnus Dei' in late 1967 for the choir. I feel this is one of the most touching versions of the original score.
4. Thomas Albinoni 'Adagio in G Minor'
Controversy surrounds this famous piece of music that for many listeners is thought to be from the quill of Italian Baroque composer Thomas Albinoni. More recent evidence points in fact to the Adagio being the work of Remo Giazotto who is alleged to have discovered a lost manuscript of Albinoni's and then based his composition upon it. This in itself is also a matter for debate.
Authorship aside, what we discover in this languorous and colorful work is a piece of warm but deeply sad music that evokes a pensive mood. Like the Samuel Barger work, the Albinoni Adagio has been used in many films and television series, often to notable effect.
The 'original' scoring is for organ and strings but is often for strings alone or with a solo instrument. Compositionally the piece is simple which only adds to its attractiveness and appeal. The tempo is expectedly slow and ponderous with an effortless melodic line that songs softly above the slowly turning chords.
5. Henry Purcell ' When I am Laid In Earth' from 'Dido and Aeneas'
Henry Purcell is felt by many scholars and enthusiasts alike to be one of the great musical treasures of the British Baroque Era. For this opera, a landmark in itself, Purcell chose Virgil's 'Aeneid' for a basis. What better narrative to chose as it tells of a Trojan Warrior Prince who goes by the name of Aeneas and the majestic Queen of Carthage, Dido.
Their love is not a happy one and even though Aeneas falls deeply in love with the Queen following his ship being sent off course by a storm and his landing at Carthage, North Africa. Aeneas feels duty-bound to return to his home in Italy and abandons a distraught Dido who orders a pyre be lit so Aeneas can know Dido is dead as he sails away. This yearning, heartfelt lament is sung just before the close of the opera and Dido's suicide.
Purcell's music is remarkably well crafted. His word-painting leaves us in no doubt as to the pain that Dido is feeling and his handling of the descending, chromatic 'ground bass' that underpins the whole piece is masterful.