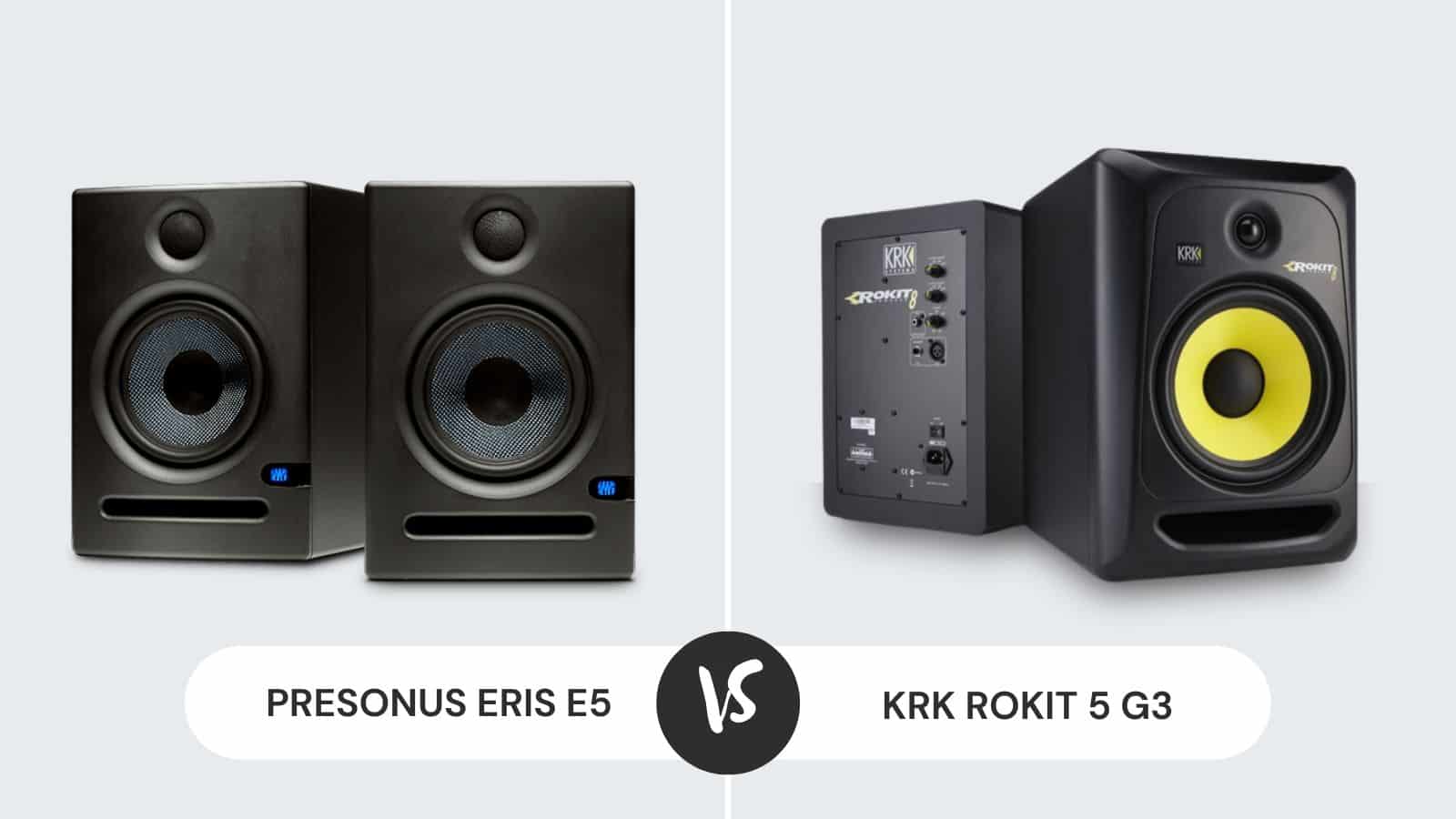 It is always great to have jamming sessions in your studio. The addition of the right equipment in the studio can enhance your overall experience and bring a complete vibe to your studio as well.
One cannot imagine a studio without studio monitors. They are generally called subwoofers. The wide installment of PreSonus Eris E5 and KRK Rokit 5 G3 subwoofers in studios has marked them as one of the popular and highly sought-after speakers.
They play a major role in adding more to your audio experience in the studio by giving the right sound and tunes. The similarities between the two of them are uncanny on the outside, but some differences lie under the hood.
The comparison between PreSonus Eris E5 and KRK Rokit 5 G3 is mandatory to know if you choose between them.
PreSonus Eris E5 vs KRK Rokit 5 G3
| Features | PreSonus Eris E5 | KRK Rokit 5 G3 |
| --- | --- | --- |
| Available colors | Black | Black, gold |
| User rating | 3.8/5 | 4.2/5 |
| Speaker type | N/A | 2-way |
| Number of drivers | N/A | 2 |
| Recommended usage | Studio | Studio |
| Connectivity technology | Wired | Wired |
| Housing material | N/A | MDF/Vinyl |
| Weight | 10.21 lb | 14.11 lb |
| Height | 10.24 in | 11.1 in |
| Width | 7.01 in | 7.28 in |
| Depth | 7.68 in | 9.06 in |
PreSonus Eris E5
What do you need in a subwoofer? Portability and perfect sound quality. Well, PreSonus has got this, and it also includes a bunch of other features as well.
The appropriate speaker size of PreSonus Eris E5 allows you to save the space around your studio and make room for something else. It is quite portable as well. You can carry it around with ease. Whether you are going on picnics or any other family outings, PreSonus Eris E5 can be a perfect fit.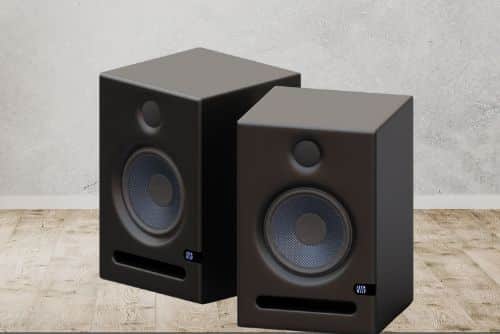 Talking about aesthetics, the look of PreSonus Eris E5 is quite catchy, thanks to the use of quality materials in its build-up. Regardless of whatever aesthetics you have in your studio, the matte black texture of PreSonus subwoofers can match them perfectly.
It's not just the performance that's best but also the looks of the speakers. The delivery of sound from these speakers is so good that you have a soothing experience instead of getting irritated with the sound.
It has a 5″ woven Composite woofer with a 1″ ultra-low-mass, silk-dome HF driver that will be just the perfect thing for you to enjoy. If you want deeper bass, the large ported enclosure of PreSonus has got it covered.
You can check the reason for PreSonus's popularity by observing the quality of sound it produces. The robust connectivity just adds an extra cherry on the top of it.
You can locate all the controls at the back of the subwoofer. With an output of 80 Watts and 102 dB maximum continuous SPL, PreSonus is the right speaker for your studio.
KRK Rokit 5 G3
One can find KRK Rokit 5 G3 in recording studios of top artists and producers. This bi-imp monitor delivers a fantastic bass extension with its front-firing port. If you want the speakers closer to walls, you can do so, and you won't have to lose perfect low-frequency responses.
The plastic on the body of the KRK Rokit 5 G3 can be a bummer for people who are looking for a smoother device. However, features like peak SPL at 106dB and 50 Watta output make it a perfect subwoofer for a medium studio.
In case you need more power output from the studio, you can pair a couple of these KRK Rokit speakers and get the results. There is no chance of any pairing or connectivity errors with these speakers.
The ear fatigue produced by KRK Rokit 5 G3 is minimal. You are promised a balanced listening experience with these subwoofers. Beginners who have just started working on their new studios can get the most out of KKR Rokit because it is quite affordable and convenient.
Get ready to mix sounds on KRK Rokit for hours and have fun at your studio.
Differences Between PreSonus Eris E5 And KRK Rokit 5 G3
PreSonus Eris E5 and KRK Rokit 5 G3 are different from each other on the grounds of certain factors.
1. Unique Production
One can witness the amazing work in the production of PreSonus Eris by observing its superior high-frequency response. That's not it. The audience within its reach is bound to have a pleasant experience, thanks to its 100-degree horizontal dispersion.
PreSonus Eris might be the best pick if you need subwoofers for group listening and collaboration. The chances of reflection from the desk are lowered because of the narrow vertical distribution. The transient reproduction is enhanced and corrected by the silk-dome tweeters.
Coming with the fantastic build quality, KRK Rokit possesses large bass ports. The edges on the front are curved into the speaker's sides. Unlike its previous models, the design of the monitor is done with woven Kevlar to extend the durability and improve the quality of sound.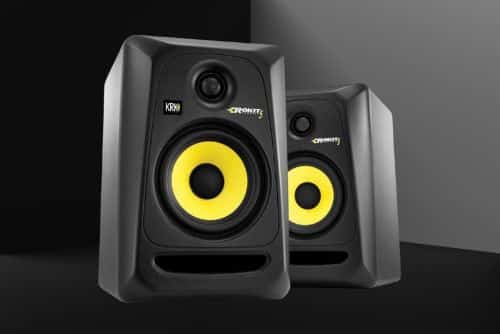 2. Sound Quality
The sound delivered by PreSonus Eris is exceptionally great in quality. While most of the front-ported monitors face the problem of noise, there is no such issue with the PreSonus Eris when it comes to the low end. The monitor has very detailed and non-fatiguing mids and top end.
The artists and producers who are well acquainted with the significance of good monitors approve of the sound quality of KRK Rokit by calling it consistent. You can check the high volume reached by this speaker by noticing its frequency range of 43Hz – 40kHz.
3. Room Setup
You can fit it in any location as soon as you get your hands on PreSonus Eris E5 XT. Whether you own a multi-million dollar facility or a spare guest room, it will suit itself. PreSonus Eris has a wonderful feature of acoustic tuning controls that deal with configuration to match your room.
It comes with a low cut, mid and high controls. Suppose you have to place your speakers in a corner or against the wall. In that case, the 3-way acoustic space tuning of the PreSonus Eris can smoothly compensate for the sonic implications of the location of the subwoofers.
There is a wide range of suitability for KRK Rokit 5 G4 in every environment. You can put them in pawnshops to get the results you want. They will work fine even in the lo-fi bedroom setups. If you have to use them in professional studios, they are perfectly fine for that use as well.
4. Connections
The ease of connectivity of PreSonus Eris E5 XT with virtually anything is the best thing about it. The credit goes to its balanced ¼ " TRS, balanced XLR, and unbalanced R A line-level inputs.
The connection is smooth with KRK Rokit 5 GR subwoofers as well. Using an XLR cable connection to connect the speakers through an audio interface can bring the best results for you.
USB and Bluetooth can also be taken advantage of. If you want good and long-lasting production, you should use the RCA connectors.
Bottom Line
If you are in search of a monitor that is adequate for mixing and sound production, you can pick any of the two monitors discussed in the article. However, if we look closely at the basis of details on the aforementioned factors, it can be said that the KRK Rokit 5 G4 is a better monitor.
Its divisive qualities earn more points than the Eris E5s. With mid frequencies that sound quite well, minimal distortion, and little to no fatigue, KRKs should be your top choice.