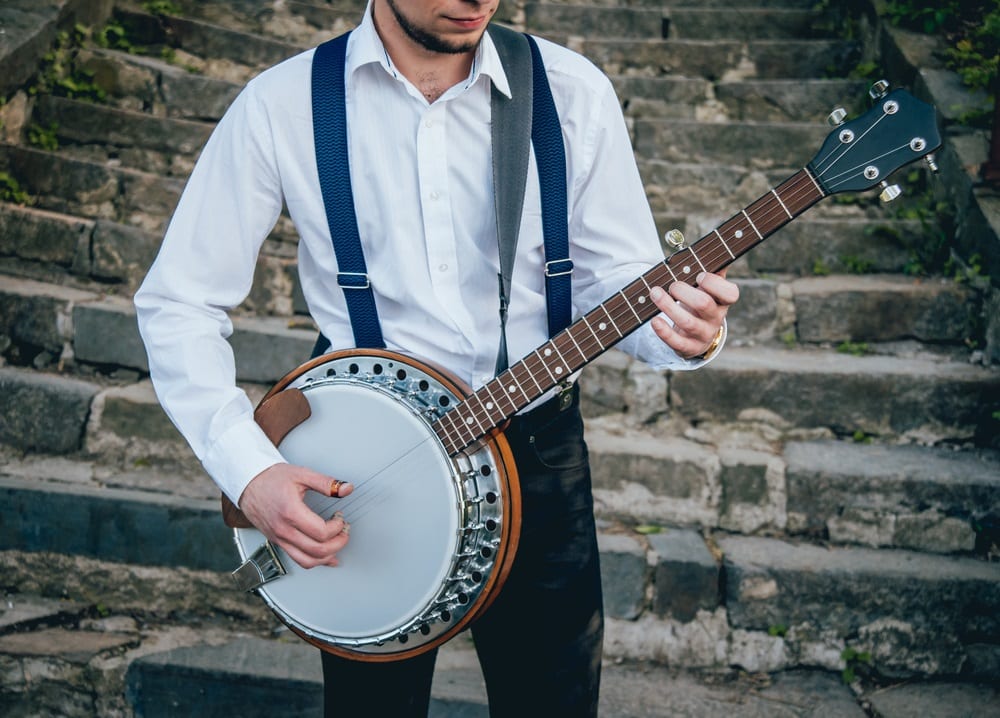 Banjo is one of the most popular stringed instruments as well as one of the most popular instruments in general nowadays. Originating from North America, it's an instrument that is easy to start learning, but difficult to fully get the hang of.
DISCLOSURE: This post may contain affiliate links, meaning when you click the links and make a purchase, we receive a commission.
If you don't have access to a tutor or simply don't wish to work with one, you'll be glad to learn there's still plenty of other ways that you can get better at playing the banjo.
While not all these are highly effective methods, there are still a few which can be great alternatives to a banjo teacher. These great methods are listed below along with all important details.
How To Learn Banjo Without Teacher
As the world continues to become more and more advanced in terms of technological advancements, almost everything is starting to shift to the online world. One of the many things that you'll find in this online world is online banjo lessons. These are available for just about all learners around the world as long as they have a device and a decent enough internet connection to work with.
Online banjo courses are widely regarded as one of the best means of learning how to get better at the instrument, if not the best method of all. The reason why these are so great is simple enough to understand. Online lessons provide the exact guidance which one would expect from a personal tutor while being highly accessible at the same time.
In simpler words, they provide just about all the help one could need while also providing a comfortable means of learning at the same time. Due to the banjo's high popularity, a beginner will find hundreds upon hundreds of great courses related to the instrument. A couple of these great courses are discussed down below.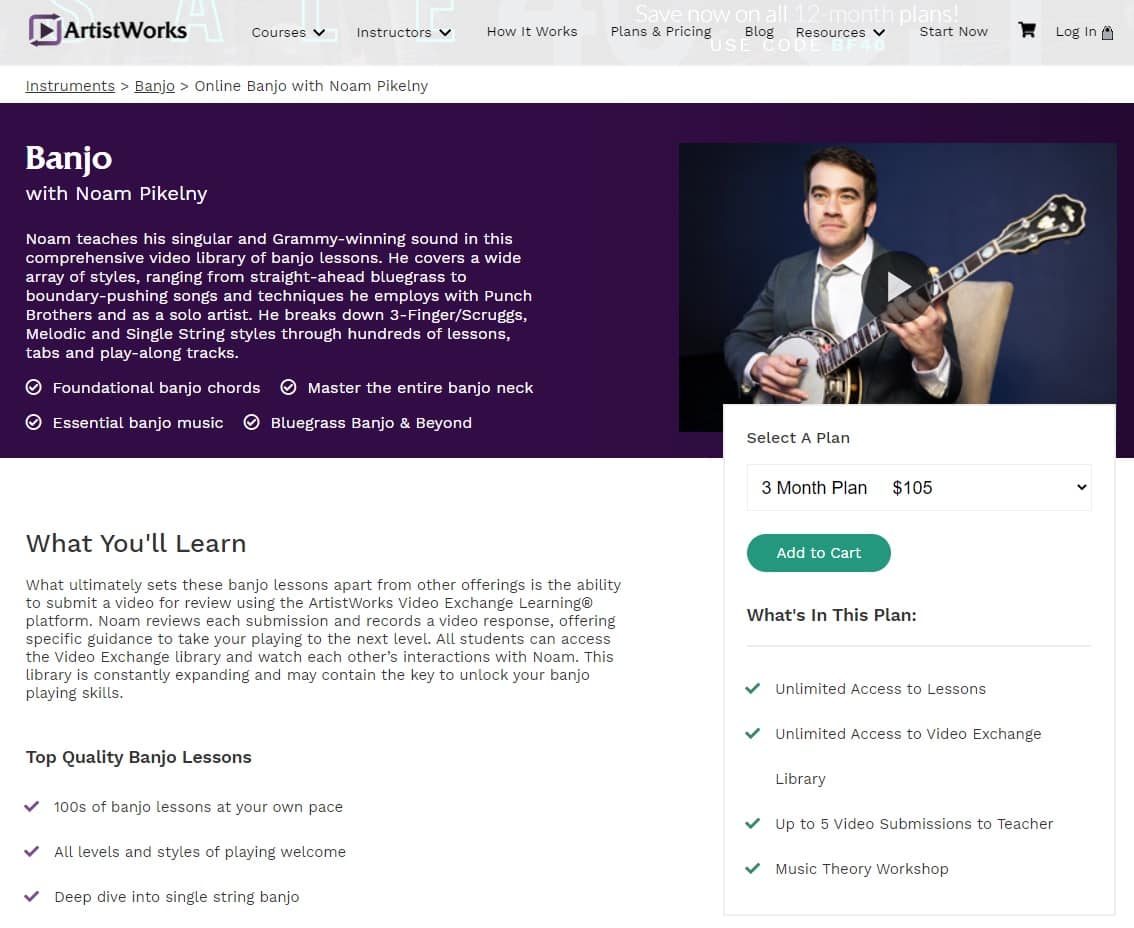 ArtistWorks is a website that works together with some of the best musicians of our time that the world has to offer in order to provide great and highly detailed courses for specific instruments. As they are usually taught by widely known professionals, the courses on the platform tend to be as helpful as it possibly gets, and the same can definitely be said for the few different online banjo lessons that they offer.
In this variety of different online banjo lessons on ArtistWorks, one of the best options you'll be able to find is the course taught by Noam Pikelny. This is a name that one would surely recognize if they've been enthusiastic about banjos and the music played using it for long. Noam's great work has also won him a Grammy award. In this online banjo lesson, he shares some of the best tips he has to offer, and some of the most helpful advice as well.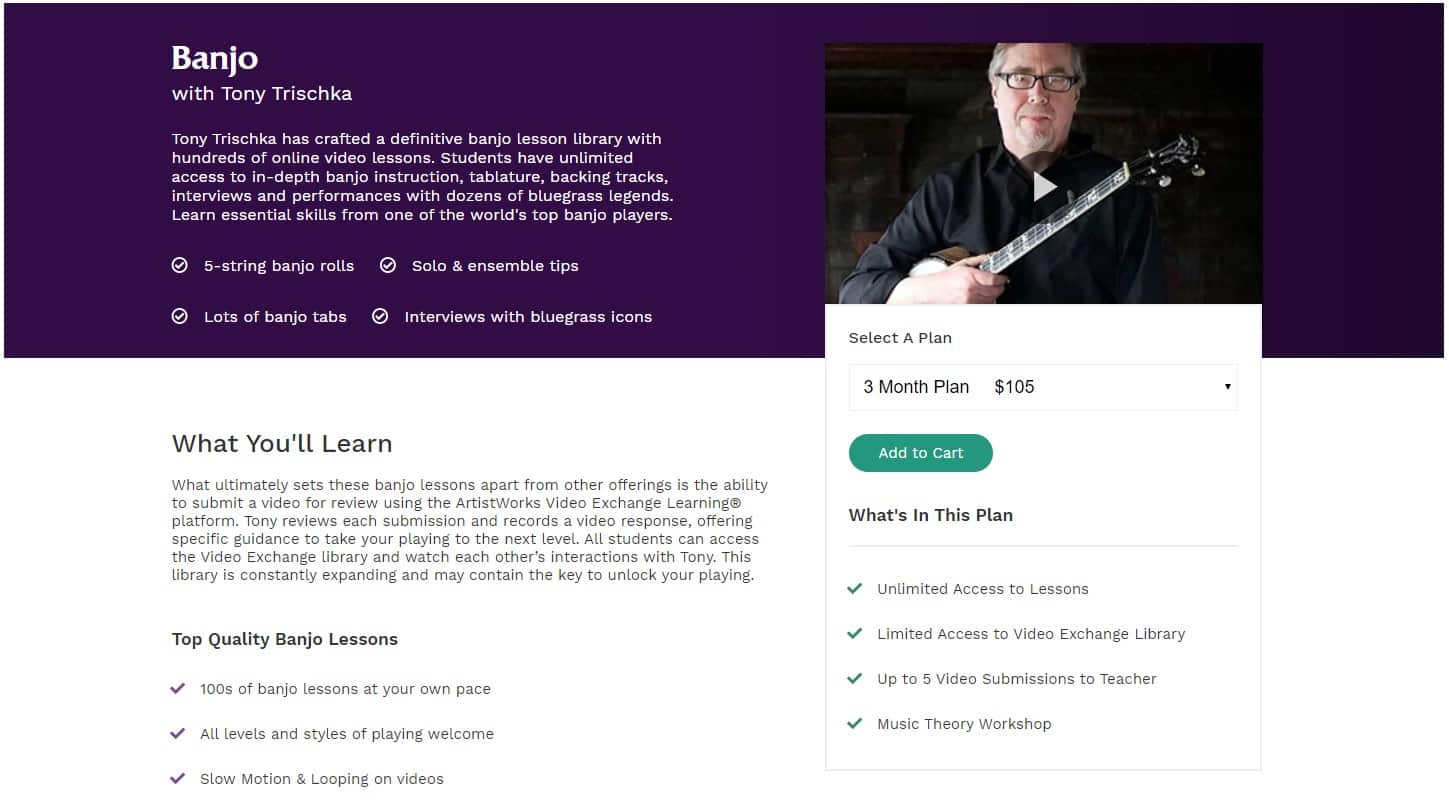 The previously listed course isn't the only great option in the selection that learners can find at ArtistWorks. This online banjo lesson taught by experienced professional Tony Trischka is another very good option that can be just as helpful! He is a popular pro banjoist that's been practicing and improving at the instrument for over 40 years now.
Over the course of these decades, he's learned some great techniques and has lots of great advice to share and discuss with learners, all of which is done in this great course on ArtistWorks. There are well over a hundred different topics related to the banjo that is discussed.
After studying all of these different topics with Tony Trischka, you'll be going from a completely inexperienced beginner to an expert-sounding banjoist in only a few months.
2. Play Along with Other Banjoists
One of the best means of learning that a lot of people will likely tell you about is playing along with other people. Whether this be playing along with others in person or playing along with pro banjoists by playing audio or video of them through a device, it is an effective method that most find helpful. One thing that we recommend is that you try to find a way to play along with anyone which also lets you see the way that they're playing.
This means that your best options are either videos or finding someone to play along with that can be right next to you. The reason why we recommend this is because watching how someone plays makes it much easier for you to play rather than just trying to follow their lead through audio. That's because you can get an exact idea of what you need to be doing, such as which ways you're supposed to be holding the instrument, through visuals.
3. Instructional Books About Banjo Playing
Another good option that is quite underrated is using books to learn how to play the banjo. A lot of people nowadays don't know this, but there are banjo books dedicated to helping people learn all there is about the banjo. While this includes some interesting stuff like the history of the instrument and important guidelines about keeping it maintained and fit for use for as long as possible, it also includes something much more important.
This "much more important" info is none other than all the great and helpful tips that these instructional banjo books have to share with readers. As you would expect from the most popular books related to the banjo out there, they're written based on all of the vast knowledge that pro banjoists have shared over the years.
In some cases, they're written by some very famous pro banjo players themselves. If you're looking for one of the oldest and most reliable means of learning how to play the instrument, there aren't many better options than this one. Another big bonus is that you can use this method to learn just about anywhere as long as you have the book and your banjo around you.
4. Instructional Videos About Banjo Playing
If learning through reading isn't exactly you're preferred method of going about things, another very good option that can act as an alternative to the previously listed method is instructional banjo videos. These share similarities with the instructional books in the sense that they feature lots of importance about playing the instrument, but they're arguably the better option for one very good reason.
This reason is a simple fact that these videos offer a visual aid. As mentioned previously, this visual aid can be very helpful for beginners, especially those that aren't all too familiar with banjo terminology. Learners can instructional banjo playing videos on any major video platform online, making it yet another highly convenient option on this list.
The Bottom Line
The banjo isn't all that difficult to learn. It is made even easier than ever before thanks to these great methods we've given in our detailed list above. You don't have to worry about working with a tutor ever again thanks to these, as they're great alternatives that can arguably work even better than a private teacher.
While it all depends on personal preference, at the end of the day all of the methods listed above are good enough to be helpful for any aspiring banjo player.