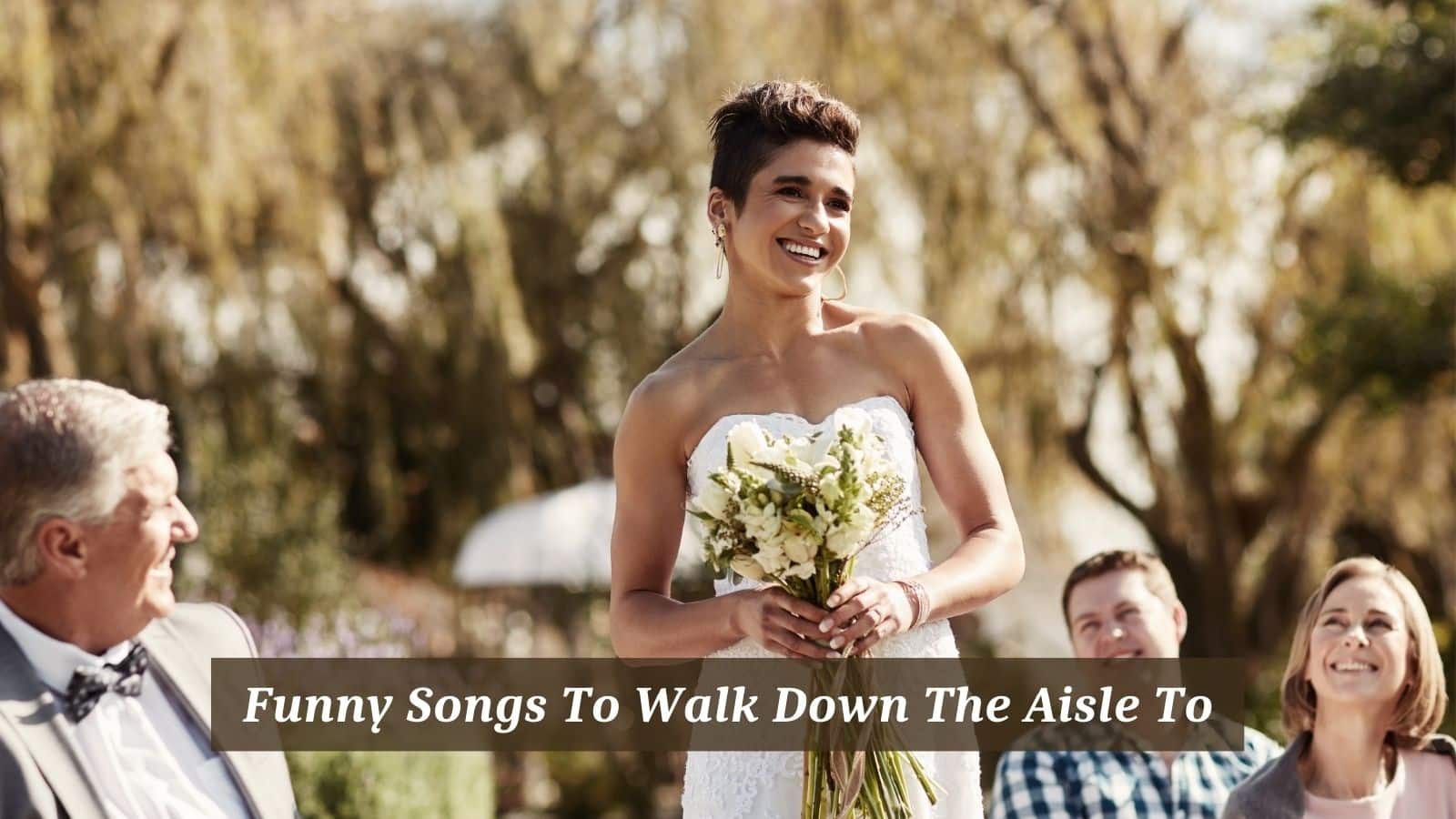 Most song choices for walking down the aisle are slow and sentimental, spurring embarrassing levels of silence for an event celebrating love.
Our playlist collects some funny songs you can walk (or dance) down the aisle to, each hosting a lyrical theme in comical conrast to the overused sentiments of wedding songs, from tracks about being single, to taming your partner by marrying him.
Funny Songs To Walk Down The Aisle To
1. Nina Simone – I Put A Spell On You
Nina Simone's vintage soul track, I Put A Spell On You, carries a romantic, bluesy ambience destined to put a dark and steamy twist on your wedding day.
Its lyrics depicting feminine domination upon a man supposed of cheating, this fiery piece is an inadvertent wedding anthem, its narrator captivating and capturing her male prey.
However, this track isn't all about the ironic comedy, its compelling effect elevated by an enchanting soundscape ready to draw out your natural, feminine elegance as you walk down the aisle;
"I love you, I love you anyhow, and I don't care if you don't want me, I'm yours right now, you hear me, I put a spell on you because you're mine."
2. The Beatles – Help!
The Beatles' pop hit Help! hosts an instantly recognisable and hysterical title when used in the context of getting married.
This track's initial panic parts way to reveal sentimental themes of your world shattering without the one you love, finding yourself wholeheartedly dependent on them to feel complete;
"And now my life has changed in oh so many ways, my independence seems to vanish in the haze, but every now and then I feel so insecure, I know that I just need you like I've never done before."
With an inherently feel-good soundscape, this is a wedding song to inspire your guests with an array of happy memories.
3. The Pussycat Dolls ft. Busta Rhymes – Don't Cha
Busta Rhymes & The Pussycat Dolls UK #1, Don't Cha, possesses an iconic cheating-themed chorus hilariously contrasting the idea of marriage in general, but when used to your own empowerment, could be used to tempt your male guests and show them what they're losing out on now you're off the market;
"Don't cha wish your girlfriend was hot like me, don't cha wish your girlfriend was a freak like me… Don't cha wish your girlfriend was raw like me, don't cha wish your girlfriend was fun like me? Don't cha?"
4. AJ Rafael – Avengers Theme (Piano Cover)
This 2021 instrumental release by AJ Rafael translates the Avengers theme song into the style of a wedding processional piece, disguising itself as a traditional choice of wedding song, Pachelbel's Canon in D, before allowing its superhero theme to emerge organically and sentimentally within the original song.
This is a hilarious choice for brides who'd prefer a classical-inspired soundtrack to walk down the aisle to, whilst giving the groom his own sentimental moment of boyish delight.
5. Murderdolls – White Wedding
Billy Idol's iconic 80s hit, White Wedding, would be a great addition to this playlist in itself, however horror-punk band Murderdolls elevate Idol's rebellious attitude to outlandishly comical extremes, forming a wedding song for any couple carrying their love for blood-soaked shock-rock over to their big day.
Composed with searing ominosity, overpowering distortions and feral screams, this ruthless evolution of an 80s anthem will certainly make for a hilarious moment on your wedding day.
5. Britney Spears – Oops!… I Did It Again
Britney Spears' pop anthem, Oops!… I Did It Again, is another instantly recognisable track humorously juxtaposing the concept of marriage and finding your 'one true love,' whether you're using it in the context of your first marriage, second or third.
Circling the theme of leading someone on in love, this track is one of the last songs your guests will expect to hear as you walk down the aisle, finished with an upbeat energy that naturally raises the mood of any contemporary, non-traditional wedding ceremony;
"I made you believe we're more than just friends, it might seem like a crush, but it doesn't mean that I'm serious … Oops, you think I'm in love, that I'm sent from above, I'm not that innocent."
5. Beyonce – Single Ladies (Put A Ring On It)
Beyonce's US #1 release, Single Ladies (Put A Ring On It), is a hilarious choice for walking down the aisle, its lyrics both contrasting and affirms the idea of getting married.
Beyonce's perception comes from a woman ridding herself of a man who won't commit to her in marriage and is swiftly moving on in her love life, backlit by a strong message of committing to the one you love;
"'Cause you had your turn, but now you gon' learn what it really feels like to miss me … Don't be mad once you see that he want it, if you like it, then you shoulda put a ring on it."
This zestful track is great for brides preferring to dance down the aisle rather than solemnly walk whilst inspiring your guests with a vibrant vibe.
6. Tammy Wynette – D.I.V.O.R.C.E
This laid-back vintage country track by Tammy Wynette fashions its theme of divorce by comically spelling out phrases a separating couple would likely choose to keep secret from their child;
"Me and little J-O-E will be goin' away, I love you both and this will be pure H-E double L for me, oh I wish that we could stop this D-I-V-O-R-C-E."
Whilst carrying a comedic message against marriage and true love, Wynette's country soundscape is almost traditional, layering her humour by padding a sentimental song with hilariously clashing lyrics.
7. Tom Robinson Band – Glad To Be Gay
This late 70s protest track harbours an array of bold sentiments surrounding gay rights, bound together by an optimistic chorus. Glad To Be Gay is bound to cause an eruption of laughter for its intense political messages mixed with an ever-inspiring aura of freedom, pride and love;
"Pictures of naked young women are fun, in Titbits and Playboy, page three of The Sun, there's no nudes in Gay News, our one magazine, but they still find excuses to call it obscene … Sing if you're glad to be gay sing if you're happy that way."