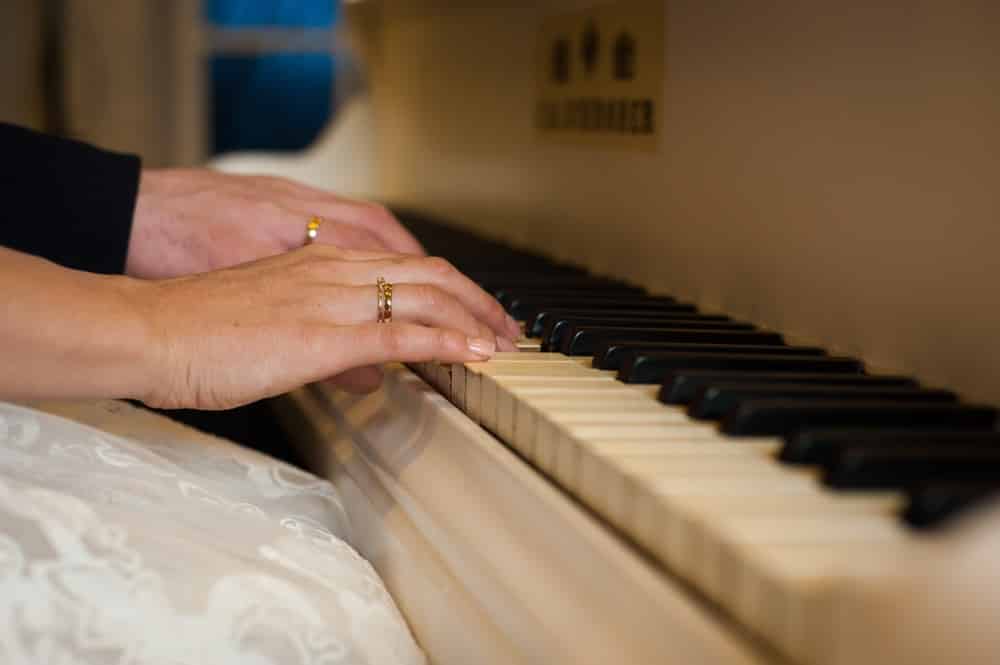 Classical Music for Weddings
Weddings can be notoriously tricky events to organise. The choice of venue, menu, dress, and guests make the whole process fraught with a dilemma. Deciding on the type of music you might wish to have at your wedding ceremony can be equally challenging. In this article, I've selected a few of the most popular options for wedding music that you might like or hate. Either way, you can add to your musical list or remove accordingly.
1. Toccata from Symphony No.5 (Op.42; No.1), By Charles-Marie Widor
To claim that the organ was in the blood of Widor would not entirely be untrue. He was born into a family of organ builders and made a very impressive career from teaching and playing the organ. Following his studies, Widor moved from Lyon to Paris where he remained for the rest of his life.
In 1890, after notable successes as organist of Saint-Sulpice in Paris, Widor gained the prestigious post of organ professor at the Paris Conservatoire following the death of César Franck. Widor became known for his strict approach to teaching and the highest of expectations of his students including thorough knowledge of Bach's organ works and a faultless technique.
The influence of Bach can be felt in this Toccata from his 5th Organ Symphony as in many other of his works that are richly contrapuntal. It is the Organ Symphonies that have become Widor's most enduringly popular pieces.
This toccata is the final movement in the fifth symphony which has four preceding movements. Interestingly, Widor is credited with commenting that he felt organists played this toccata too quickly, preferring himself to adopt a more considered tempo. It is a wonderfully celebratory piece that brims with life and energy.
2. 'The Bridal March' from Lohengrin by Richard Wagner
This is one of the most popular pieces of wedding music ever written. It comes from an equally famous opera by perhaps the greatest German Romantic opera composer of his time, Richard Wagner. The composition dates from 1850 and is full of the grandeur and splendour that many wish for at their wedding. It often announces the arrival of the bride at a wedding and is usually played as an arrangement for organ.
The speed and march rhythm of the piece lend themselves perfectly to the occasion of a wedding, although the use of the piece in the opera carries quite a different connotation. It was Queen Victoria who popularised the Wagner composition when she chose it as the processional march for her daughter's wedding. Oddly enough Wagner himself was not a man in favour of traditional marriage, preferring as he did the concept of 'free love'. 
3. 'Wedding March' from A Midsummer Night's Dream by Felix Mendelsohn
Queen Victoria placed this piece directly into the public conscience when she chose is it for her daughter's wedding to the Crown Prince of Prussia in 1858. Mendelsohn was a favourite composer of Queen Victoria and Prince Albert who were supposed to have spent many happy hours playing the composer's 'Songs Without Words'.
Mendelsohn was also a friend of the royal couple and played for them on his visits to England. Even though Queen Victoria chose the Mendelsohn and the Wagner pieces to be at the start and end of her daughter's ceremony, Wagner did not pull any punches with his comments about how he despised Mendelsohn's music.
The Wedding March drives from the incidental music to Shakespeare's play A Midsummer Night's Dream. Mendelssohn loved the play and was delighted to be asked by the King Of Prussia to compose music for a special production of the play. The music and the play have both gone on to immensely popular in their rights and the Wedding Music arrives as a grand conclusion to the wedding scene in the play.
4. 'Arrival Of the Queen of Sheba' by GF Handel
The music by Handel for the grand arrival of the Queen is well-known and incredibly popular amongst the pieces selected for weddings. Not quite so familiar are the origins of the piece that was composed by Handel as incidental music for his oratorio titled 'Solomon'. Handel wrote the oratorio in a remarkably short period, completing is by 1748 with its premiere in 1749 at Covent Garden, London.
The 'Arrival', is a lively and bright instrumental piece scored for just strings and two oboes. There are many alternative arrangements of this famous piece now that cover a multitude of instrumental combinations. As for the Queen of Sheba herself, she remains a lady of mystery. Legend has it that the Queen was a glamorous and beautiful woman who may have lived in the country we today call Ethiopia.
The people of that country do not doubt her existence yet uncertainty remains even though she appears in the Bible and the Quran. Did she travel to Jerusalem to test the wisdom of the great King Solomon or was she the keeper of the Ark of the Covenant, given as a gift by the King?
5. 'Jesu Joy of Man's Desiring' by JS Bach
Like so many classical pieces that have come to be hugely popular for weddings, funerals, birthdays or other significant life events, 'Jesu, Joy of Man's Desiring' comes from a larger and lesser-known work. In the case of this charming piece, it is part of a chorale setting from the Cantata Bach titled 'Heart and Mouth and Deed of Life' (BWV 147).
It was composed by Bach in 1723 while he was in his initial year as Director of Church Music in Leipzig. This short composition is delicate and full of all the musical elements we would expect from this Baroque master. Bach scored it for four vocal soloists, a four-part choir, two oboes, two trumpets, violin, viola, and continuo.
According to some sources Bach planned to use the composition as a conclusion to a ten-part liturgical piece that celebrated the miracle of Mary and Elizabeth's pregnancies as told in the Gospel of Luke. The work is a glorification of God and a testament to Bach's seemingly endless gift for invention.