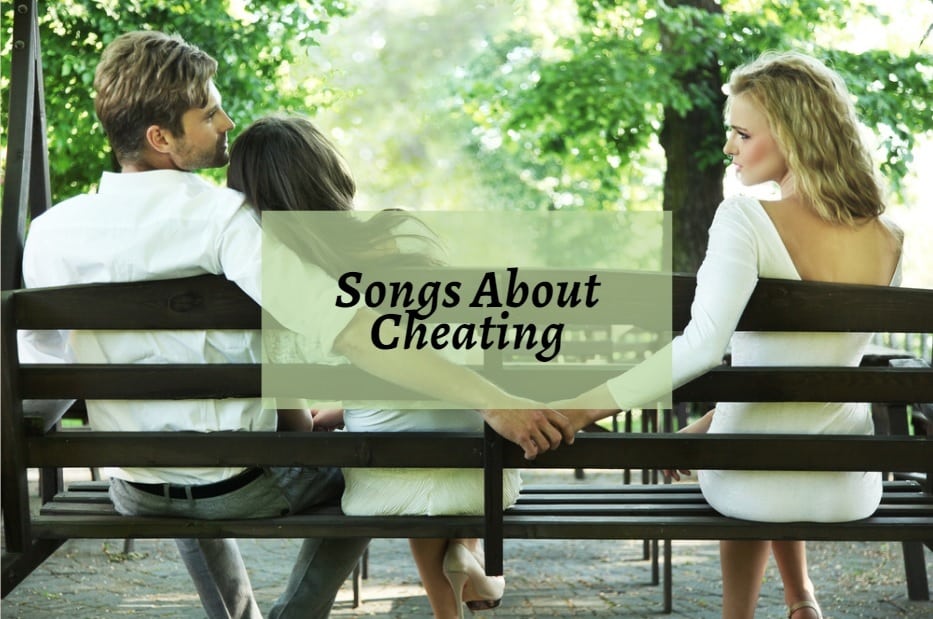 Songs About Cheating
1. 'Lying Eyes' by The Eagles
Glen Frey and Don Henley wrote and recorded this hit song in 1975. It became one of the most enduringly popular tracks for The Eagles and it received a Grammy Award.
According to Henley, it was Frey who came up with the idea for the song when the pair were eating in one of their favourite LA restaurants.
They were watching the stunning young women come to the restaurant to meet what they described as older, fatter guys and obviously cheating on their partners.
Frey and Henley felt that no matter how these women seemed, it was their eyes that told the truth of their situation.
This light Country song describes a young woman who is leaving an older man who she lives with to go and visit another lover.
It is obvious to the man as she leaves that she is cheating on him but he seems resigned and powerless to change the situation. The message is that despite appearances, you cannot hide the lying eyes.
2. 'I Heard it Through the Grapevine' by Marvin Gaye
Perhaps one of the best-loved songs sung by Marvin Gaye. It was composed by the writing duo Norman Whitfield and Barrett Strong in 1966.
Surprisingly, the song was not immediately popular with the Motown Label and was given to several other artists before finally being recorded and released by Marvin Gaye on his album titled 'Groove' (1968).
At this stage of the song's journey, it began to attract the attention of prominent and influential DJs who championed the single. It charted for several months between the end of 1968 to 1969 and has been hugely successful ever since.
Maybe the appeal of this song is that so many people hearing it have experienced what the lyrics convey. Rather than being told someone is cheating first-hand, you hear the unwelcome news through the 'grapevine'. The sense of loss and despair at being treated this way are ably portrayed in Marvin Gaye's legendary performance.
3. 'You Know I'm No Good' by Amy Winehouse
'Back to Black' (2006) was the album in which this track first appeared. It was written and performed by Amy Winehouse. The song underwent several transitions and re-releases all of which have received favourable reviews.
To say it is a typical Winehouse track is not intended to be derogatory but merely to highlight the sound and style that she created in her short time on the planet. Winehouse's life has been splashed across the tabloids throughout her music career.
She was a heavy drinker and sufferer of substance abuse that eventually led to her early death. In the song, she tells of how despite her destructive habits, cheating, and tempestuous relationship with her man, he still finds it within him to take her back, forgive and carry on.
4. 'It Wasn't Me' by Shaggy
On a first listen to this clever track it is easy to dismiss it as a bit of trivial music-making, but when you pay closer attention you come to realise there's much more to it. Not only is the production first-rate but lyrically the story is thought out and provocative.
It is a kind of duet where the protagonist confesses his crimes of infidelity only to be advised to say that it wasn't him, and his girlfriend was mistaken.
As the song progresses the tone changes to one of regret and sorrow with the final verse saying he will say sorry and try to make up for cheating.
The single came from Shaggy's fifth studio album called 'Hot Shot' (2000). In 2001 it was one of the best-selling singles with an amazing 1.5 million sales.
5. 'Before He Cheats' by Carrie Underwood
Released on her 2005 debut album titled 'Some Hearts', this song proved to be a tremendous success for Carrie Underwood. Given that it was her first album, this level of achievement is all the more remarkable.
As of January 2020, the single has sold more than 4.5 million copies. Broadly, this track falls into the category of Country music and as a result of this song, Carrie Underwood assured herself of a considerable following within this genre of music.
Perhaps unusually, this song is not about someone who has already cheated on her, but her boyfriend who might cheat on her. In the track Underwood imagines the boyfriend flirting with a stunning blonde.
He dances with her, buys her drinks, and according to the lyrics, hopes to 'get lucky'. In the accompanying video, we see Underwood vandalising a red pick-up with a baseball bat before the song begins properly.
She is incensed by her boyfriend's behaviour and takes revenge. It is a powerful song by an exciting Country artist.
6. 'Unfaithful' by Rihanna
With Rihanna, we move into the world of R & B. This song was released in 2006 on Rihanna's studio album called 'A Girl Like Me'.
Like many of her singles, this was popular if a marginally controversial song. Critics were not sympathetic towards the lyric content of the song even though it dealt with an area of many people's lives.
It is perhaps best described as a moody ballad that uses the piano as its instrument of focus. Strings come later in the mix to bring a darker, reflective quality to the track.
The story told in the song is from the point of view of someone who is already cheating on her partner.
In a similar vein to the track above, the singer regrets the pain she has caused and does not want to be thought of as a murderer. Incidentally, this was going to be the title of the single originally.
7. 'You Oughta Know' by Alanis Morissette
'You Oughta Know' comes from Morissette's album called 'A Jagged Little Pill'(1995) The song, like the album, was a huge hit and sparked as much controversy as it did delight.
The lyrics are unfalteringly direct and confrontational. According to Alanis Morrissette, the song is actually about a real person but she has often refused to comment on who it might be.
What we can hear in this powerful, hard-edged rock track is someone who has been the victim of someone cheating on her and treating her badly.
The song demands that this ex-partner remembers how much he meant to her and what devastation he caused when he left her.
'You Oughta Know', was a highly successful track that in many ways assured Morrissette of her future as a performer and songwriter.
8. 'Careless Whisper' by George Michael
In this song, we return to the male perspective. George Michael's 'Careless Whisper' was released to great acclaim in the summer of 1984.
What people often remember about this song is not the melody or the lyrics, but the opening saxophone solo. This compelling opening solo was the source of many headaches for the producers, including Michael, during the recording of the song.
The problem seemed to be that the professional player they brought in to record just could not capture the essence of the solo in the demo. Eventually, a saxophone player called Steve Gregory accomplished what the previous eight performers could not and the solo passed into legend.
Lyrically, the song is sung from the perspective of a man who regrets cheating on his girlfriend after she discovers his infidelity.
Michael commented in an interview that this song was based on a personal experience in which he had two-timed a girl when he was younger, but that she never actually found out.
9. 'Irreplaceable' by Beyoncé
This song appeared on Beyoncé's second studio album titled 'B'Day' released in 2006. Essentially, this is an R & B song for which Beyoncé is well-known.
This track was intended to be a Country song composed by Ne-Yo for himself, but later it evolved into a style that better suited Beyonce's talents. This places the song neatly into a mid-tempo pop ballad that is more R & B than anything else.
Beyoncé and Ne-Yo Smith (writer) intended for this song to be acceptable to be understood from the perspective of 'either gender' even though it is presented from the female point of view.
It is a track that encourages and promotes female empowerment, dealing with a relationship that has failed. In the song, the lyrics come across as being sung by a woman who has overcome her boyfriend's cheating and is moving on.
Beyoncé herself is thought to have described the song as very "honest", so perhaps it resonated with her as much as it did with the adoring public.
The reception of the song by fans and critics alike was overwhelmingly positive. Critics wrote extremely positive reviews extolling the clever writing and stunning vocal performance.
Both this single and the album charted and this track has remained in Beyoncé's setlist right up until today.