The Grammy Awards are generally noted for a handful of pop music categories, a slightly smaller handful of pop music performances, the pomp and circumstance of the red carpet, and the drama that inevitably results whenever so many massive egos, with correspondingly massive fanbases, are in the same room at the same time. But the non-televised awards do a great job of keeping casual listeners up to date on musical genres that don't receive the same level of press attention, and the 13 awards handed out last night for classical music compositions and performances provide a sort of State of the Union for the Western classical music industry.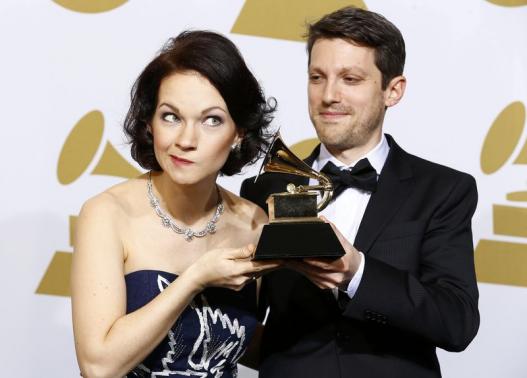 The award for Best Contemporary Classical Composition went to John Luther Adams' Become Ocean, commissioned and performed by the Seattle Symphony Orchestra. Dark, trippy, and evocative, this 42-minute atmospheric piece sounds like the deep blue sea itself—which was certainly what Adams intended. "My hope," he said of the piece, "is that the music creates a strange, beautiful, overwhelming—sometimes even frightening—landscape, and invites you to get lost in it." It certainly does that. You can listen to snippets here:
Become Ocean won out over Anna Clyne's Prince of Clouds, George Crumb's Voices from the Heartland, Stephen Paulus' Concerto for Two Trumpets & Band, and Roberto Sierra's Sinfonia No. 4.
More accessible classical works sometimes win the Best Instrumental Composition category, and this year the award went to John Williams' haunting soundtrack to the young adult Holocaust drama The Book Thief. You can hear key excerpts, performed by Christopher Cook, here:
Williams has been hard at work composing the score for the new Star Wars sequel trilogy. The first of the three films, Star Wars: The Force Awakens, will hit theaters in December.
The award for Producer of the Year, Classical went to the breathtakingly prolific Judith Sherman, making her a three-time Grammy winner (as she'd previously won Producer of the Year in 1993 and 2007). The award for Best Engineered Album, Classical goes to master engineer Michael Bishop of the Atlanta Symphony Orchestra and Chorus for their performance of three classic works by the English composer Ralph Vaughan Williams: Dona Nobis Pacem, Symphony No. 4, and The Lark Ascending.
Composer John Coolidge Adams, conductor David Robertson, and the St. Louis Symphony won Best Orchestral Performance for the jazz-influenced City Noir, which means that—yes—two different men named John Adams won awards for their work last night. While both compositions are atmospheric, the atmospheres they portray couldn't be more different. Become Ocean is pure nature, while City Noir takes you to the dark side of classic Hollywood and carries it through, tonally, to its logical conclusion:
The award for Best Classical Instrumental Solo went to guitarist Jason Vieaux for his album Play, which includes his clever and distinctive arrangement of Duke Ellington's "In a Sentimental Mood":
The award for Best Chamber Music/Small Ensemble Performance went to In 27 Pieces: The Hilary Hahn Encores, featuring Hahn on violin and Cory Smythe on piano. Although Hahn had already won Grammy awards as a solo violinist in 2001 and 2008, this is the first time she has won a Grammy for entirely new compositions. Commissioned from 27 different composers over the course of ten years, these diverse short pieces demonstrate the versatility of Hahn and could be interpreted as a res ipsa loquitur argument for the enduring power of the violin as a lead instrument. There is no general "Best Classical Album" category, but if there were, this would be my personal choice for the award. Hahn talks about In 27 Pieces, and plays some key excerpts, here:
Billy Childs, Renée Fleming, and Yo-Yo Ma won in the Best Arrangement, Instruments and Vocals category for Childs' arrangement of Laura Nyro's "New York Tendaberry." While this particular version of the performance hasn't been released online, Childs' arrangement of "New York Tendaberry" for solo piano, which he performed at last year's Monterey Jazz Festival, will amaze you:
The award for Best Contemporary Instrumental Album went to Chris Thile and Edgar Meyer for their fun, twangy, and deliciously melodic Bass & Mandolin, which thrives somewhere in the margins between classical music and bluegrass and represents the most accessible elements of both. You can listen to their opening track, "Why Only One?," here:
The award for Best Opera Recording went to the Boston Early Music Festival for their performance of Marc-Antoine Charpentier's incomplete La descente d'Orphée aux enfers (1686), aka The Descent of Orpheus. Their performance won out over performances of Milhaud's L'Orestie D'Eschyle, Rameau's Hippolyte et Aricie, Schönberg's Moses und Aron, and Strauss' Elektra. Here, representatives of the Festival talk about the challenges they faced in adapting the work and provide us with enough rehearsal footage to get a sense of how the opera sounds:
Craig Hella Johnson's Texas-based choral supergroup Conspirare won the Best Choral Performance award for The Sacred Spirit of Russia, which features a blend of contemporary Russian choral work and traditional liturgical music of the Russian Orthodox Church. Johnson and Conspirare have a gift for balancing authenticity and accessibility by carefully choosing the work they perform, and the end result is a very powerful 77-minute album. Their version of Alexander Kastalsky's The Great Doxology (Opus 57, No. 2) deserves to be played at high volume:
The legendary Swedish mezzo-soprano Anne Sofie von Otter won her second Grammy, this time under the category Best Classical Solo Vocal Album, for Douce France, a performance—and, for von Otter, a celebration—of 34 classic French melodies. She won out over fellow nominees Philippe Jaroussky, Florian Boesch, Joyce DiDonato, and Lawrence Brownlee. von Otter is always fun to listen to, and fans of every genre will find something to appreciate here:
The remaining classical award, for Best Classical Compendium, went to producer John Schneider for releasing the first complete recording of American experimental musician Harry Partch's Plectra and Percussion Dances (1953). Partch, who invented his own 43-tone scale and composed all of his music using it (and, more often than not, using instruments of his own design or modification), has influenced countless composers and songwriters—and, now that more of his work is available to the public, he stands to influence countless more. You can hear Newband's performance of Castor and Pollux, one of the three pieces comprising Plectra and Percussion Dances, here:
If you're already a classical music fan, there's a good chance you've heard most of the pieces I referred to above—but if you haven't, I hope this has conveyed some of the vitality and range of classical music as a genre. If there's on thing you can learn from the 57th Annual Grammy Awards, it's that there's no one kind of listener, even within specific musical traditions, and it's very likely that at least some of the nominees in every genre—if not some of the winners—specialize in the sort of music you'd like to hear. Using the classical Grammy Awards as a guide is a great way to start broadening your musical horizons and enjoying music that you might not have expected to enjoy.