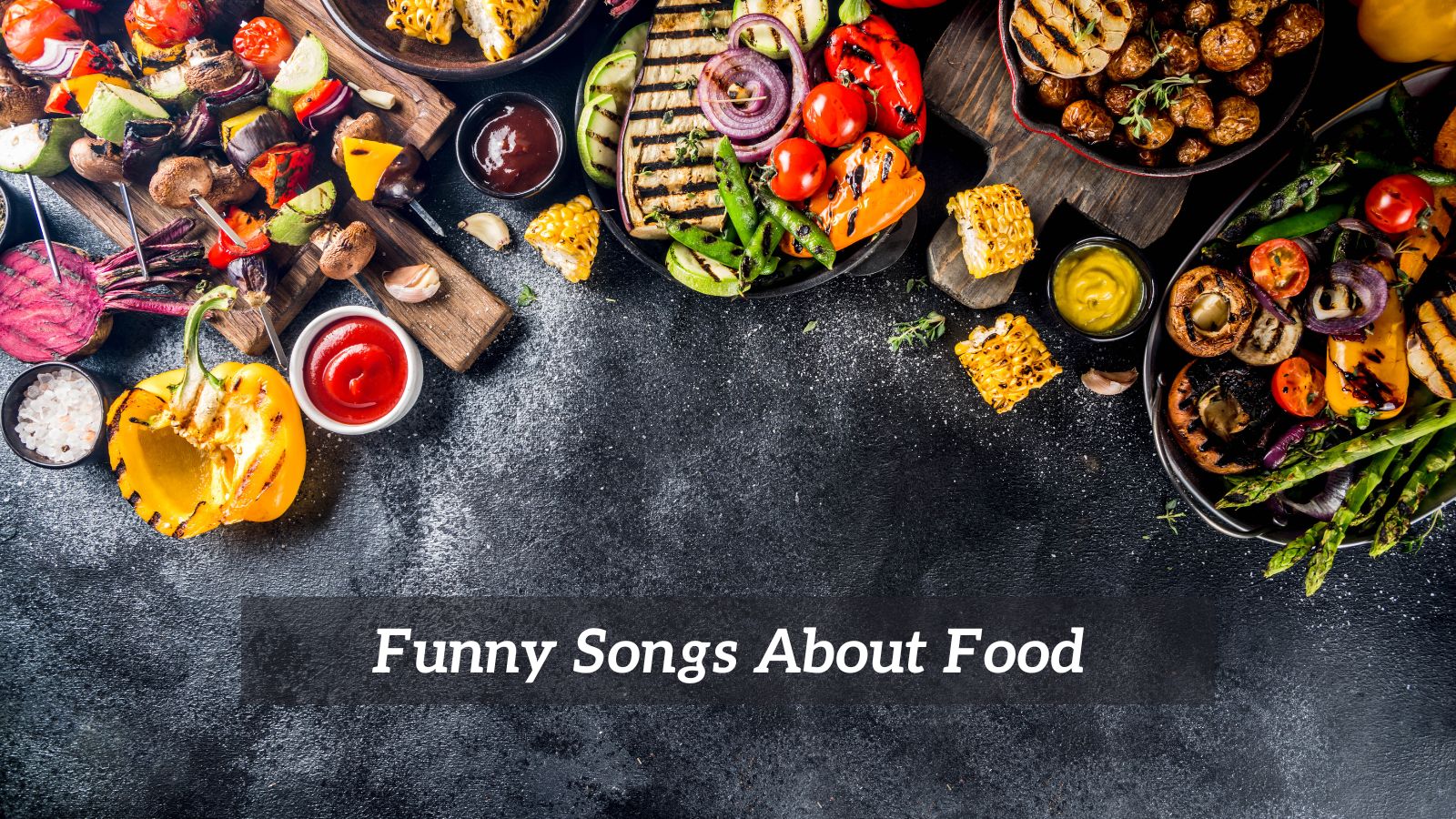 Music about food is colourful and crazy, often summoning the maddening hunger that feasts on us all. Our list of funny songs about food collects the strangest and the best music to soothe whatever you might be craving.
Funny Songs About Food
1. Immortal Technique – Beef & Broccoli
There aren't many 'funny' songs about food which are truly authentic, neglecting the need to parody others in order to generate hilarity.
Immortal Technique's 2005 album track, Beef & Broccoli, is a carnivore's anthem against veganism, concealing dark flairs of humour within his perceived truth, devising a diss track against vegan grandiosity.
Beef & Broccoli highlights the clear hypocrisy of one-sided attitudes, crafting verbose wordplay with a cutting style of comedy;
"I don't go around promoting beef and poultry shoving it in peoples faces, I don't castigate people for not eating steak sandwiches, and I would never diss someone for being a fucking broccoli head, or living off radishes or eating grass with tofu … Being a malnutrition ass got nothing to do with being revolutionary or being on point"
2. Muhammad Shahid Nazir – One Pound Fish
Internet sensation, Muhammad Shahid Nazir, better known as The One Pound Fish Man, went viral in 2012 with his captivating market stall song, One Pound Fish.
Nothing beats the sheer purity of this track, Nazir tempting the ladies with his insatiably low prices, "Come on ladies, come on ladies, one pound fish, have a have a look, £1 fish very very good, very very cheap, 6 for £5, £1 each."
This song could put a smile on anyone's face, laced with almost hypnotic Eastern melodies which add an unexpected layer of musical enchantment to Nazir's fishmonger's anthem, while showcasing the beautiful effect of London's diversity.
3. Just Eat & Katy Perry – Did Somebody Say
Katy Perry's 2022 collaboration with the delivery brand, Just Eat, whisks her back to the colourful candy princess aesthetic which adorned her early discography.
Re-exploring visual extravagance whilst wearing a lettuce leaf bra that puts Lady Gaga's stage wardrobe to shame, Katy crafts her unapologetic advertisement with an abundance of take away-inspired lyrics, mixing in something for every craving you could possibly have;
"A little sushi while I watch a movie, papaya salad while I sing a ballad … Back from the club, eating subs in the tub, spicy chicken when I'm ready."
This track is rich with the dominating sensation of hunger, with a vibrant energy that sparks her audience's appetite for more, "When you're running low there's only one place to go, 'cause I get what I want, when I want it, margherita with extra cheese on it, download now, all I gotta do is pull out my phone."
4. BlackHawk Productions – Fat Boy Anthem
Fat Boy Anthem is exactly what is says on the tin. This hip-hop style pop track is an internet hit dedicated to exposing the not-so-secret life of a self-professed fat boy.
With Kool Aid earrings, the track's vivacious singer is comically shameless in his junk food addictions; "Said that I was full but you know I'm still hungry, looking at you plate 'cause you know that I want it, buy a bag of chips but I wont share with my homies."
5. Zachary Is Hip – Where's The Syrup?
You know that struggle when you mix up your dream cereal cocktail only to realise there's no milk left in the fridge? Or you toast your waffles and the all-important syrup has magically disappeared from the cupboards?
Where's The Syrup overflows with raging sarcasm and eccentric meme humour, combined with the soul-crushing monotony of your morning routines. We don't need to spoil this song's chorus for you; we know it's going to make your day.
6. Barba Lica – The Food Song
Barbra's sweet melodies are absolutely addictive, her rosy, vintage-style tone highlighting her bubbly ukelele pop track about eating your bad days away.
Her lyrics are cute, clever and blissfully relatable to anyone with a habit of drowning their sorrows in sugar;
"I had a bad night, so I wrapped it up in pie and let it bake … Sadness tastes like French fries, and anger taste's like wine … The cookies and cream are starting to talk to me, I'm just crazy, but crazy tastes so good."
7. Gaining Weight (Drunk In Love Parody)
Gaining Weight, is like an open diary of anyone who's love for food is as ceaseless as unlimited refills with a bottomless bucket of chicken.
A hilarious reworking of Beyonce & Jay Z's hit Drunk In Love, Gaining Weight reinvents the lyrics into a golden nugget of parody tracks, sadly lost within the oversaturation of the Youtube platform; "I woke up in the kitchen saying how the hell did I get this fat, oh baby, gaining weight."
This fabulous singer amplifies Beyonce's energy with an eccentric boldness, naturally slaying with her carefree attitude, in a way which the true Beyonce might envy from her tower of untouchable celebrity.
8. Fast Food Rockers – Fast Food Song
Haunting every British kid's mid-2000s birthday party, The Fast Food Song is cheesy as a stuffed crust margharita pizza.
The Fast Food Rockers' colourful track about loving junk food is tempting regardless of how old you get, making a song that somehow stays fresh and crisp over the decaying years.
The verses are crafted with a sly sense of adult romance, melting perfectly into the way we all feel about food;
"I want it, I need it, nothing else can beat it, hot and spicy whenever I'm in town, enticing, exciting, aroma's so inviting, and when it hits me, I wanna take you home… I think of you and lick my lips, you've got that taste I can't resist."
9. DJ Chipman – Peanut Butter Jelly Time
One of the first viral videos to curse the primordial internet, Peanut Butter Jelly Time needs no introduction.
It's still as bloodcurdingly irritating as it was back in the early 2000's, though time has subdued this with a seeping sense of nostalgia for the golden age of early YouTube creativity, not the modern age of content.
10. Weird Al Yankovic – Trapped In The Drive-Thru
This strange pop track by Weird Al is a 10 minute novella of a song, telling the plush story of settling on a drive-thru takeaway with your partner.
Written with comically long-winded detail, like a dreary day-to-day conversation between any couple, humour surfaces in the fine details of their relationship, and detouring experiences with the drive-thru window workers.
Weird Al crafts his song with torturous monotony matched with his own eccentric flair, masterfully capturing the grating annoyances tainting what should be a simple drive-thru process.