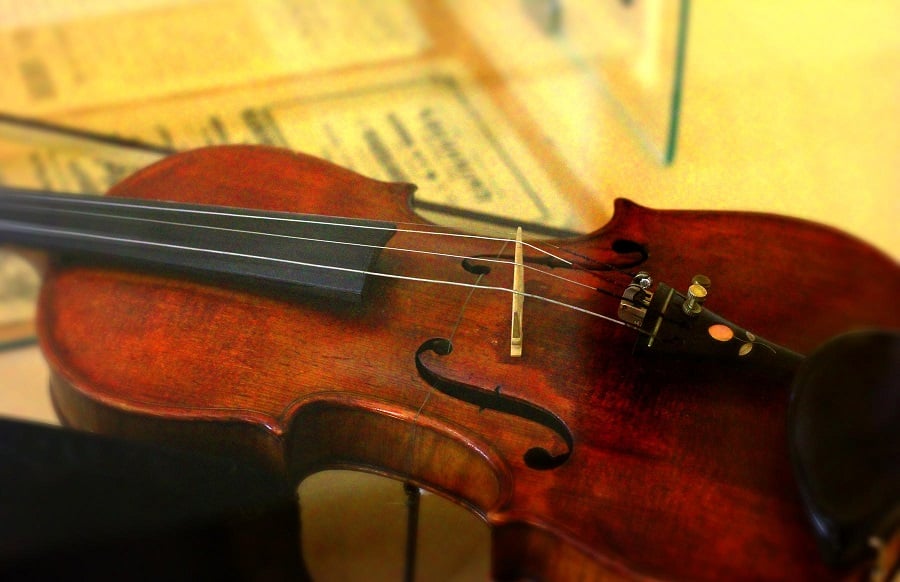 In this article, I have hunted down pieces for the less experienced violinist that are both rewarding and challenging to play. Even though these pieces are broadly considered to be appropriate for beginners, it is worth remembering that a convincing performance requires more than just accurate playing. I have aimed to assemble a variety of works that I hope will appeal to most tastes and exist in a broad variety of different arrangements.
Easy Violin Pieces for Beginners
1. Pachelbel's Canon in D Major
This piece has been arranged more times than perhaps any other classical piece of music. Its enduring popularity can perhaps be attributed to the way the piece is constructed; as a cannon. The canon is a polyphonic musical form popular in the Baroque and this piece captures the essence of that perfectly. From simple beginnings, the canon develops in rhythmic complexity, appearing to gather speed. Each section of the canon layers on top of the one that was previously played creating an appealing texture. Great to play and rewarding to hear.
2. Traditional –  Amazing Grace
A traditional hymn tune composed around 1779 with word by John Newton. The piece works well for beginners as the melody is easily sung and falls into a relatively narrow range of notes. It is often performed in the key of G major which is a violin friendly key and requires no large leaps or complex rhythmic patterns to be performed. Learning the piece from memory is a pleasant challenge for all players.
3. W.A Mozart – Twinkle, Twinkle, Little Star
Not actually a composition by Mozart at all, but the traditional French song "Ah!, vous dirai-je, Maman", dating back to 1761. Regardless of the origins of this charming little lullaby, it remains an accessible and delightful tune to perform and to memorize and the variations that Mozart did compose are well worth learning too.
4. Schubert – Ave Maria
Schubert is one of the most important composers of the early Romantic period with an impressive catalogue of songs to his name. This piece is one of his most popular and not as many assume a setting of the Roman Catholic prayer but originally to the words of Walter Scott from his ambitious poem titled "The Lady of The Lake".  The performance is in a chamber music setting but beautifully captures the simple elegance of this composition.
5. Beethoven – Ode To Joy
The cornerstone of the finale to Beethoven's colossal ninth Symphony, this piece brings with it a sense of triumph and joy. Written in the key of D major it fits neatly under less experienced violinists fingers and offers the opportunity to create an expressive, and lyrical performance.
6. J.S Bach  – "Jesu, Joy of Man's Desiring"
This well-known piece comes from an early Bach cantata (BWV 147) titled "Herz und Mund und Tat und Leben" composed in the early part of the 18th century. The music has a gently lilting feel as it's written in triple compound time where quavers are grouped into three sets of three notes. Ensuring this gentle rhythmic feel is secure is key to enabling the performer to deliver a convincing performance of the piece.
7. John S Bach – Minuet in G major (BWV. 114)
In all probability, this was not a work composed by Bach at all but a contemporary composer called Christian Petzold. The piece is part of a collection of pieces from the early 1700's entitled A Little Notebook for Anna Magdalena. This Minuet is amongst the most popular pieces from the Baroque Era and is certainly approachable by relatively inexperienced violinists.
8. Edvard Grieg – "Morning" from the Peer Gynt Suite
One of the best-loved pieces from this Norwegian composer whose music so effortlessly captures the beauty of nature. The song-like quality of this piece, together with its gentle flowing melody make this an attractive option for performers of all ages and experience. It gives the opportunity to create a dynamically expressive performance with a careful focus on legato playing throughout.
9. Traditional – Oh, When the Saints Go Marching In
This is an extremely well-known tune which has its origins in the Christian Hymns of many years ago. It has been made famous by numerous Jazz musicians over the years including Louis Armstrong. For the beginner violinist, there is an opportunity to play the piece with a more solemn feel or to try approaching the piece with a jazzier, swing feel. It is easy to memorize and if played in G major lies under the fingers quite well.
10. Jean Baptiste Lully – Au Claire de la Lune
This charming melody is thought to have been composed in the 18th Century by the French composer Lully although this is more speculative than certain. The tune is amongst the favourites of many instrumentalists and singers, loved for its simplicity and easy flow.
11. Traditional – Morning Has Broken
The singer-songwriter Cat Stevens popularised this Christian Hymn in his 1971 version of the tune from his album "Teaser and the Firecat". It was first published in the early part of the 20th century and has endured in popularity ever since. The melody has an uplifting, spirited feel that requires smooth playing with a clear expressive phrasing. Plenty of room for interpretation but avoiding rushing is important to maintain the gentleness of the music.
12. Traditional – Camptown Races
Camptown Races was composed by Stephen Foster and published around 1850. It is considered to be a minstrel song and was written for solo voice plus a group of additional chorus singers. It has a folk feel to it and captures the essence of the era beautifully with perhaps a forward look to Jazz music that was yet to come. It needs to be played in a lively but controlled manner with the spirit of untamed America firmly in mind.
13. Traditional – Scarborough Fair
Similar to Morning has Broken, Scarborough Fair has become synonymous with Sime and Garfunkel who sung a stunning version of this traditional piece. The piece is modal which gives it a feel of being old and mysterious and the lyrics that accompany the tune are equally strange. It is an enjoyable piece to learn and helps less experienced students move away from the dominance of major key pieces that take pole position in many collections of easy violin music.