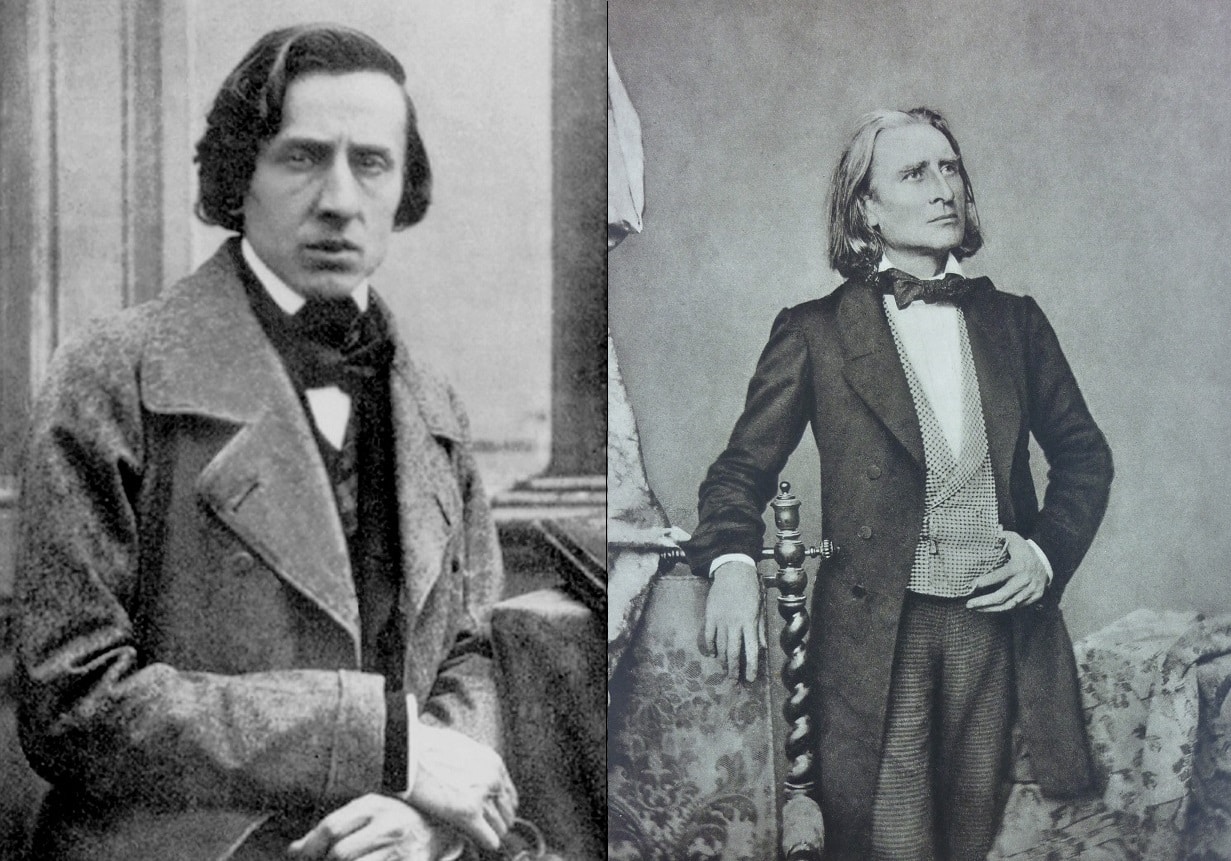 Both Liszt and Chopin were born at a time in musical history when the piano was already established as a popular instrument with composers and audiences not least because of its generous range and expressive capabilities. The more reserved, streamlined tastes of the Classical period were being replaced by music whose purpose was as a vehicle for intense expressions of emotion. Pianists who were able to display ever more extreme levels of technique were fast becoming favored by audiences who eagerly awaited the next Wunderkind who could dazzle them with virtuosity.
Chopin Vs Liszt
As emerging pianists, Liszt and Chopin were quickly recognized by their respective families as exceptional. Each family was highly supportive of their young pianists and ensured that they received the best available tuition and were able to learn on instruments of quality. For the families of Liszt and Chopin, this meant a sacrifice as neither were considered to be wealthy. Chopin was born in Zelazowa Wola in Poland in 1810; Liszt in Döblingen, Austria in 1811. As their talents grew, Chopin was sent to Warsaw study with Zywny and Elsner; Liszt had the enviable opportunity to learn with Czerny. For the developing pianists, these teachers proved to be immensely valuable, cultivating the formidable techniques each eventually had as well as their compositional styles. Each composer recognized this influence and showed lasting gratitude towards their mentors.
Until the age of twenty, home life for Chopin remained supportive and stable. He was able to study and develop his musical skills largely uninterrupted by the troubles of the world. Chopin not only nurtured his composition and pianistic skills but his love for Polish literature and poetry. For Liszt, his early years more closely resembled those of a pop star. From the age of sixteen, Liszt lived in Paris and became embroiled in the excitement that surrounded him. Liszt focused solely on the piano leaving his broader education to another calmer time. Unlike Chopin who always felt a deep connection with his homeland, Liszt left Hungary behind until disaster struck with the flooding of 1838. Only then did the composer pull his attention back towards traditional Hungarian music and his roots.
The reputation grew all be it in two separate countries of Chopin and Liszt. Through regular concert performances to the influential and powerful people of the day, the composers each secured themselves a career and a devoted following. At Chopin's first performance in February of 1832 at the famous Salle Pleyel in Paris, was where these two composers had their first meeting. This was the start of many performances that Liszt and Chopin gave that across the fashionable salons of Paris. In these early days, each was heralded as a great virtuoso of equal merit and distinction. They played one another's compositions and even though they were not what could be thought of as close friends, they were collegial and united in their admiration for each other.
Things began to sour somewhat between the composers in 1835 following a poorly judged dalliance Liszt had with Marie Pleyel. Chopin was good friends with Marie's mother Camille Pleyel who took an unfavorable view of Liszt using Chopin's lodgings to carry his affair with Marie. Chopin was unaware of Liszt's actions and the composers grew ever further apart. As if to ensure that Liszt and Chopin would never settle again as friends their respective partners (George Sands and Marie d'Agoult) who began to use the composers to bolster their social standing and reputations as authors. Needless to say, these relationships, in turn, failed to leave each of the women to write novels about their experiences with Chopin and Liszt respectively, and somewhat unfavorably too. Sands wrote 'Lucrezia Floriani', D'Agoult a novel titled 'Nélida'.
You might imagine that with literary scandal, jilted lovers, and two distinct camps of admirers the two composers would never again align. Chopin did not live as long as Liszt and as his illness developed his relationship with nearly everyone shrank. Liszt never lost his admiration for his fellow composer and pianist and wrote a somewhat poetic book about Chopin titled, "Life of Chopin". The book, although quite flattering is not a genuine attempt by Franz Liszt to accurately detail the life of his colleague and fellow composer. It does provide a flowery insight into Liszt's impression of Chopin and shows his life-long admiration for him. Liszt also had a monument put in place in 1849 to commemorate Chopin shortly following the composer's untimely demise from tuberculosis.
Chopin may not have enjoyed such a long and healthy life as Liszt but his output of compositions was equally impressive. The majority of his compositions are for the piano. They span his entire life and as such show nearly every facet of this complex, private musician. Amongst his most celebrated compositions are the Ballades 1-4 written across a period from 1835-1843. They are supremely important compositions showing his mastery of the structural and poetic elements so characteristic of his music.
The series of Études both Op.10 and Op.25 are phenomenal compositions that illustrate, if there was ever any doubt, that Chopin's technique was certainly equal to his counterpart Liszt. On a larger scale, Chopin completed two piano concertos, both before he reached his twenty-first birthday and both that display effortless virtuosity coupled with every emotional nuance. His Nocturnes, Preludes, Mazurka, Polonaises, and Waltzes occupy a central place in Chopin's catalog, each a miniature masterpiece.
Liszt, in contrast, became increasingly 'showy' with his compositions, where it sometimes feels as if he just wants us to listen in awe at what he is capable of playing without being able to fully control his musical material. Many of his compositions pay quiet homage to Chopin with a definite influence of his Études focusing on the development of technique. The technical focus often comes without the melodic luxury of Chopin.
Liszt transcribed countless other composers' works including Beethoven's nine symphonies. Wagner and his operas were of significance to Liszt too with perhaps his most well-known being from Tristan and Isolde. His later compositions are of particular note as Liszt rejects the earlier romantic ideals in favor of a far darker, serious, and stark style of writing including 'Czardas Obstinee' (1882) and 'Czardas Macabre' (1881). In these and other later works, Liszt foreshadows the work of Debussy and even Schoenberg.