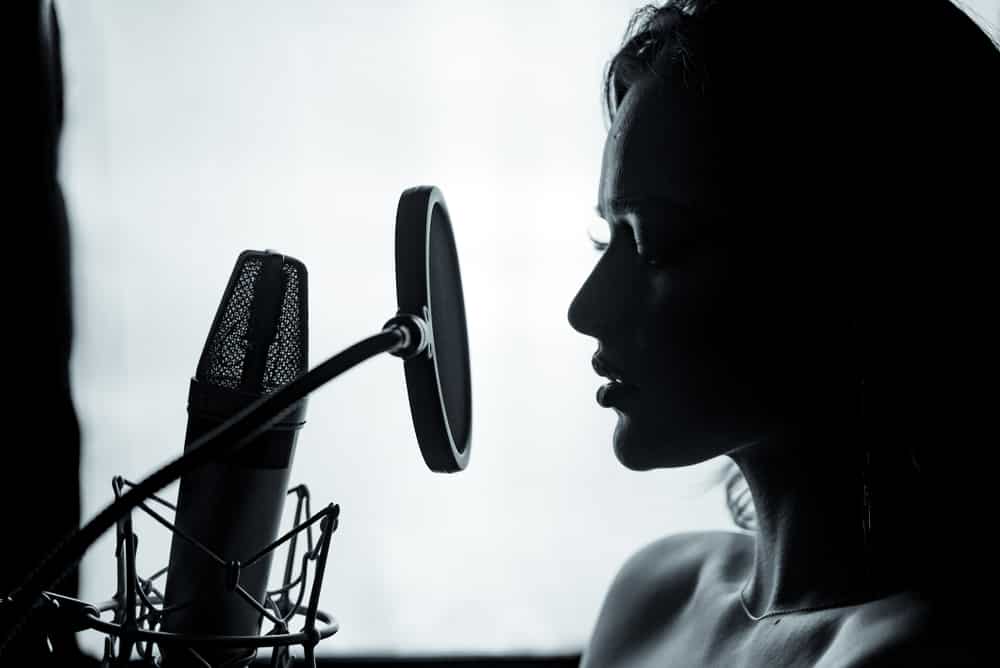 There are a plethora of music genres out there but some of them are pretty special, just like bluegrass music. Bluegrass music originates from America and has become one of the most popular genres out there. For this reason, every music enthusiast loves to harness the bluegrass vocals but they don't know where to learn from.
DISCLOSURE: This post may contain affiliate links, meaning when you click the links and make a purchase, we receive a commission.
If you are confused as well, you have nothing to be worried about because we have added the 6 best ways to learn bluegrass vocals that comply with the different skills and needs of the musicians. Let's get to vocalizing, then!
Best Ways To Learn Bluegrass Vocal
1. Online Bluegrass Vocal Lessons
When it concerns the bluegrass vocals, there are many ways to learn the tricks and techniques but nothing can be as convenient as the online lessons. With the advent of the internet, one can find every sort of help material online and it wouldn't be wrong to say that learning music has never been easier. There are multiple ways of learning bluegrass vocals online but nothing beats the online learning websites.
This is because online learning websites are famous for their in-depth courses. In addition, the courses are designed to streamline with the skill level. The online websites have these courses that are loaded with video lessons and study materials, so you get practice sessions and theoretical information. So, it's a pretty win-win situation with online learning websites.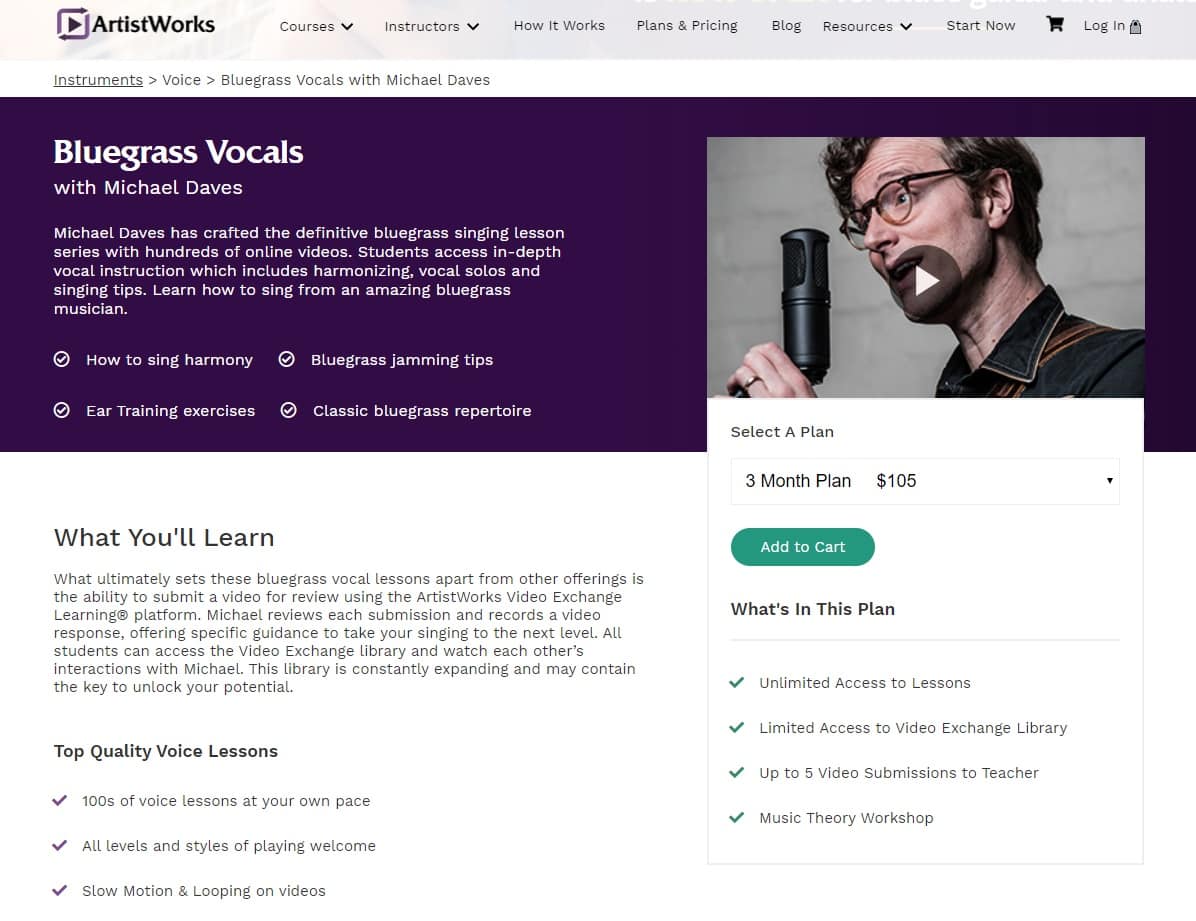 When we are talking about the online learning websites, nothing can match the ArtistWorks because they have designed the special bluegrass vocal courses with Michael Daves. With this course, Michael has added hundreds of online video lessons. The students will be able to learn about the solo vocals along with the singing tips, so you can hum the songs perfectly.
In addition, this course will teach students who they can sing the harmonies. Above all, there are special jamming tips for people interested in bluegrass vocals. There are special ear training exercises, empowering the students to learn how to feel and decipher different tunes. There is a classic repertoire in the course, through which students will learn intuitive skills.
Once you sign up for this course, you can access the video exchange library, so you can submit your videos to Michael and he will provide feedback. The students can submit five videos in this course. All in all, there are no schedules in the course, so you can learn bluegrass vocals at your own leisure. The course is the masterwork of Michael Daves.
Michael Daves has been working with popular artists, such as Tony Trischka, Rosanne Cash, Chris Thile, and many more. One of his albums "sleep with one eye open" has been nominated at Grammy Awards. It wouldn't be wrong to say that he is the talented player and instructor out there when it concerns the vocals. Also, he has been teaching bluegrass vocals since 2016 (on ArtistWorks alone).
The course has been designed with different levels, such as beginners, intermediate, and advanced that meet the unique needs of the musicians. The students will learn the corner techniques, so you can efficiently learn the management of breaks. In addition, there are placement videos and you will get unlimited access to the video lessons and material.
2. YouTube
In contrast to online learning websites, YouTube will offer free video lessons. However, it comes with a fair share of downsides. This is because you won't have quick access to the videos because you have to choose the right one from the plethora of videos on YouTube. With this being said, we suggest that you choose the YouTube channel that's focusing on bluegrass vocals.
This is because such channels have relevant topics and focus on specific techniques. When on YouTube, you should focus on specific techniques. If you find the right videos on YouTube, you can watch them for free, so it's a big point.
Pinterest
We are pretty sure that you have used Pinterest to get the lifestyle and décor inspirations but it can be used to learn bluegrass vocals as well. This is because there are some bluegrass vocal enthusiast profiles on Pinterest and they regularly share the playing techniques with the followers. These videos are usually illustrated to offer in-depth information.
Some accounts share the bluegrass sheet music on the feed that allows the users to learn how to play bluegrass vocals. In addition, sheet music allows users to learn how to read bluegrass music because it improves the overall learning outcome.
Private Lessons
Many people opt for online websites and videos but the private lessons with a private tutor cannot match the outcome. The private tutors can be searched through Google by checking the available options in your area. In addition, you can look for the bluegrass vocal instructors on LinkedIn because they usually have an amazing profile to share.
The private lessons can be done online as well as in-person forms. The online private classes are usually held through Zoom and Skype. The online private classes allow the users to stay in face-to-face form with the instructors and the instructor can see your activities as well. On the other hand, you can ask for in-person lessons where the instructor teaches the skills while sitting beside you.
It doesn't matter if you opt for online or in-person private lessons, the private instructors will focus solely on you and your playing. With this being said, they can provide feedback that positively influences the learning outcome. One needs to understand that these private lessons will be expensive because well, the instructor is giving you all their attention.
Books
For everyone who loves to learn through theory and learn how to read music, a book will be the right choice. The books are curated with history and introduction because when you are aware of the details, the learning will be better as well. In the same way, these books have illustrations, so you can learn how to play and hold a musical instrument.
These books can be easily found through public libraries and music centers. With this being said, these books will teach in-depth techniques. On the other hand, if you don't want hard-copy books, you can always opt for eBooks. These eBooks are rather compact and promise convenient learning outcomes.
When it comes down to eBooks, they are easily available on Amazon. You can also ask the bluegrass musicians if they have designed the eBooks. The eBooks are usually downloaded after paying the specific book price and read online.
Music Groups
If you want a convenient and interactive learning experience while learning bluegrass vocals, we suggest joining the music groups. These music groups are usually curated with eight to ten people at a time and you can interact with them. If you don't mind socializing, these music groups are one of the best ways to learn bluegrass vocals because you learn from the experiences rather than lessons.
The Bottom Line
Bluegrass music is one of our favorite music genres out there, and that too, for the right reasons. The bluegrass vocals are amazingly engaging but mastering that art can be pretty difficult. If you've always wanted to learn bluegrass vocals, we added the 6 best ways to learn bluegrass vocals. Choosing the most suitable bluegrass vocal learning method for yourself and practice makes perfect in your bluegrass vocal journey.