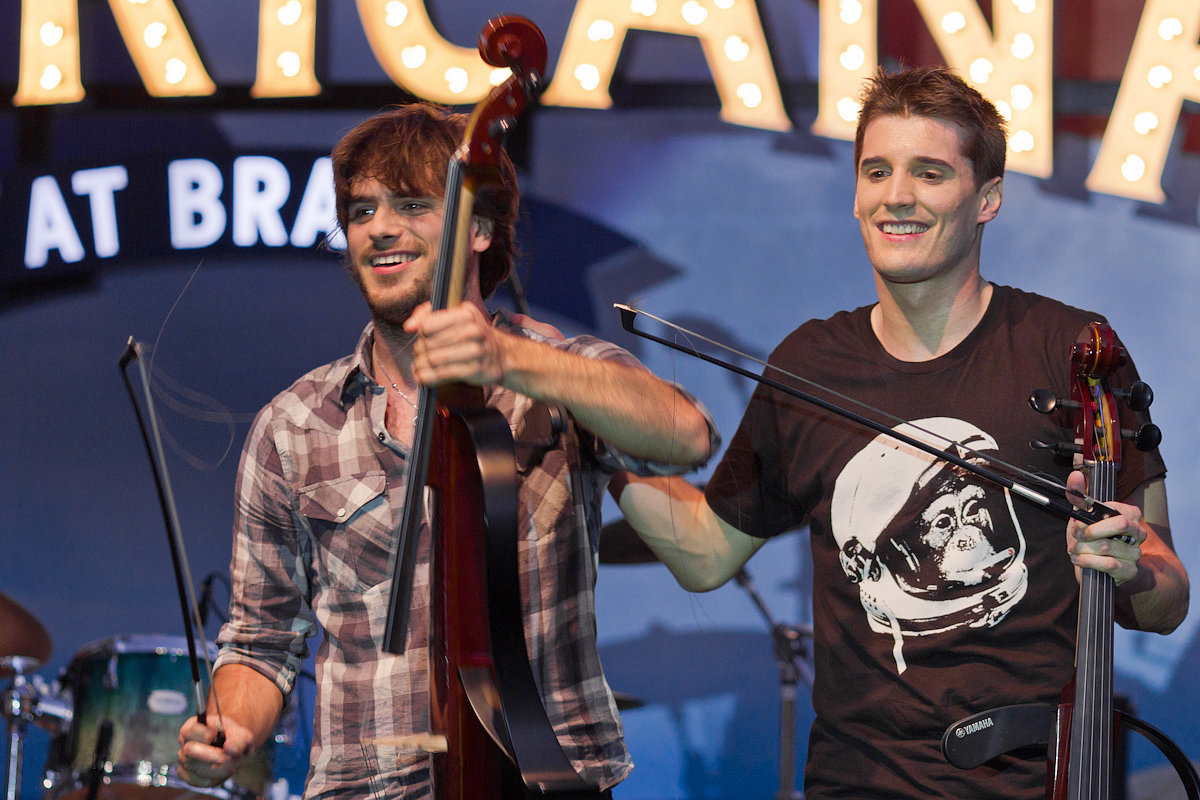 Introduction
2Cellos is a group of 2 trained cellists, Luka Šulić and Stjepan Hauser. This Croatian group was signed by Sony Masterworks in 2011. They are popular for playing instrumental renditions of famous pop and rock songs. They have also performed instrumental songs of films and classical music. 2Cellos has been featured on various TV shows in the US like the Bachelor and Glee.
Moreover, they have taken the cello to the next level and this is one of the reasons for their success. With their playing style, they have eliminated all the boundaries between the genres. They give outstanding live performances no matter what the genre is. In this write-up, we have talked about the story behind the formation of 2Cellos.
Biography of 2CELLOS
Here is all you need to know about 2Cellos.
Background
The group 2Cellos became famous when their rendition of "Smooth Criminal" went viral. They became one of the leading instrumental music sensations as they got more than 3 million views in first 2 weeks. In 2016, their views crossed 8 million.
They were invited by Sir Elton John on his tour. The main purpose of the 2Cellos was always to perform live. They have a huge fan following on YouTube as they share some of their exceptional compositions on their YouTube channel.
Luka Šulić and Stjepan Hausermet in a master class in Croatia when they were teens in Pula. The two decided to record their rendition in a video of Smooth Criminal. This video was uploaded on 20 January 2011, in which they are facing each other alone in a room. Previously, they both were considered as rivals as they were often competing against each other in music competitions.
Šulićhas been participating in international music competitions and winning top prizes for many years. He participated in the European Broadcasting Union New Talent Competition and won the first prize in 2006. In 2009, he won the first and special prize at the VII Lutoslawski International Cello Competition in Warsaw. He also won the first prize at the Royal Academy of Music Patron's Award in 2011.
On the other hand, Hauser has worked with many renowned artists like Bernard Greenhouse, IvryGitlis, Mstislav Rostropovich. He has played for Prince Charles twice, once in St. James's Palace and once in Buckingham Palace. Stjepan has won a plethora of awards, nearly 21 first prizes. He has participated in many music competitions, both at the international and national level.
Performance
Read:
Album
Career
2Cello completed the recording of their first album in 2010. In Croatia, this album was named Menart Records and it came out in 2011. Their debut album 2Cellos included cover songs like U2, Nine Inch Nails, Guns N' Roses, Nirvana, Kings of Leon, Muse, Sting, and Coldplay. The album also contained a cello rendition of Human Nature by Michael Jackson. A drummer, DusanKranjc is a special member who performs sometimes alongside the duo.
The duo stated that they will continue playing classical music while playing with an orchestra. In 2013, they released their 2nd album with some of vocals and duet partners such as Lang Lang, Elton John, Steve Vai, and Sky Ferreira.
During this time, they found greater fame and did a Japanese commercial for a company, Docomo. They took two years to work on their next album, Celloverse. This was their first album which they co-produced. This album includes the cello version of "Thunderstruck" by AC/DC, "They Don't Care About Us" by Michael Jackson and many other covers.
In 2017, their new album was released, which includes a vast range of film music and television music. They also released a new video for YouTube for the most popular show, Game of Thrones. This video got 1 million views in just 2 days.
Childhood
Hauser and Šulićwere introduced to cello at a very young age. Hauser was born in Pula, Croatia, whereas Šulić was born in Maribor, Slovenia. Šulić graduated from the Royal Academy of Music in London while Hauser graduated from Royal Northern College of Music in Manchester.
Family
Many family members of Sulic are related to music, his father is a cellist as well. Hauser's family is also associated with music. However, his sister is a journalist in Pula.
Achievements & Performance
2Cellos have received several awards. Here is a list of their combined awards.
In 2012, they received the award for Best International Album in the Porin Music Awards. Their song Smooth Criminal won the Best International Song award.
In 2013, they won the award for Best International Video Album in Porin Music Awards.
At the Japan Gold Disc Award in 2014, they won the award for Instrumental Album of the Year for In2ition and Song of the Year by Download for Kagemusha.
In 2014 at Vecernjak's Rose, they were awarded as the Musicians of the Year.
They received some nominations including:
In 2013, they were nominated for the Best International Album in Porin Music Awards.
In 2015 at MTV Europe Music Awards, they were nominated for Best Adria Act.
Moreover, the duo has done tours in many areas like Europe, USA, Australia, South America and Japan. They have performed at many special events such as the Queen's Diamond Jubilee in the UK. Other events they have performed at include:
The Ford's Theatre Gala with President Obama
Celebrity Fight Night Gala in Florence
FIFA's BallonD'Or in Switzerland
Emmys in Los Angeles
Starkey Hearing Foundation Gala
They have appeared on several TV Shows such as The Ellen DeGeneres Show, the UEFA Champions League Final in the UK, The Tonight Show with Jay Leno. In their honor, Japan has officially certified the 20th of January as 2Cellos Day.
In the end, 2Cellos is an amazing duo that has released many albums. Some of their famous work includes 2Cellos released in 2011. In 2013, they released In2ition and 2015, new album Celloverse came out. In 2017, they released a new album named Score. They have worked with several famous artists, producers, and composers such as Red Hot Chili Peppers, Elton John, Steven Tyler, George Michael, Zubin Mehta, Zucchero, Lang Lang and many more.