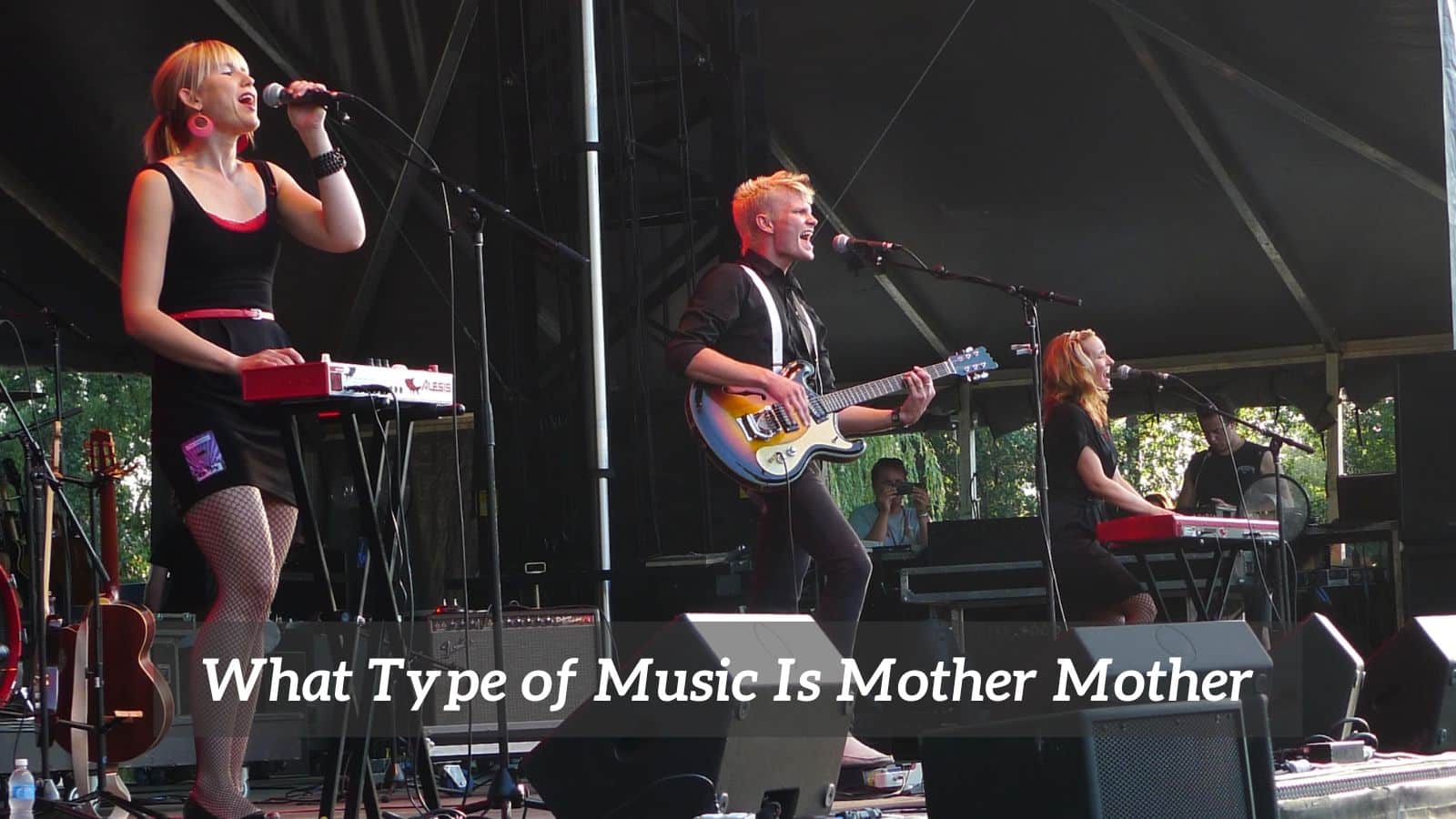 Mother Mother started from humble beginnings in 2005 as a trio. They evolved into a five-piece band that defies classification into one type of music.
The broad description would be alt-rock and indie-rock. Mother Mother appreciates contrast; therefore, optimistic phrases matched to sinister tones are always preferred. Little changed conceptually or musically over the years.
Beginnings
The band formed in January 2005 in Vancouver, British Columbia, when guitarist and vocalist Ryan Guldemond was attending music school and wanted to form a band centered on vocal-driven pop tunes.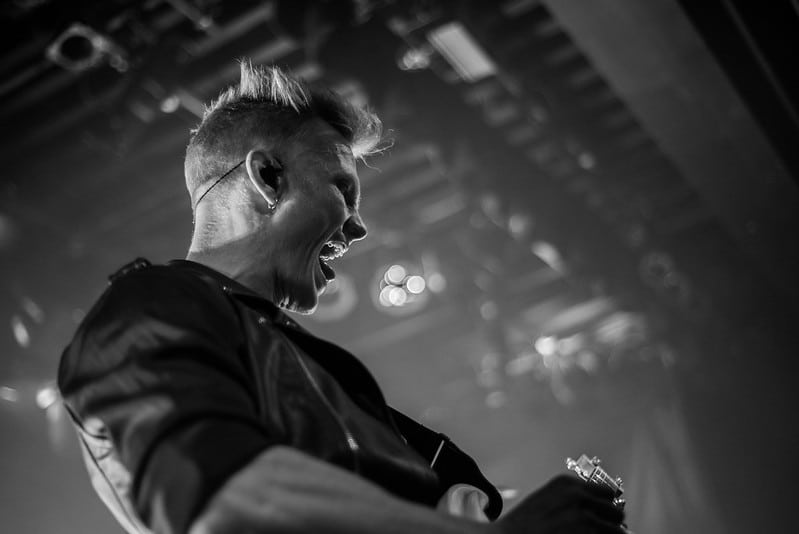 He requested his sister Molly Guldemond to join him since he felt the songs needed harmony.
Guldemond persuaded her friend Debra-Jean Creelman to join in, and the group's acoustic harmonies quickly wowed listeners. The trio later added drummer Kenton Loewen and bassist Jeremy Page.
The five musicians began performing as Mother and independently released a self-titled album in the fall of 2005 produced by Howard Redekopp. He had previously collaborated with The New Pornographers and Tegan and Sara.
Mother received critical praise during their early career for their debut album after Vancouver Province named them one of the top five British Columbia bands to watch in 2007.
Soon after, Mother secured a nationally televised opening slot for K'naan and The Wailin' Jennys. They opened for the Australian band The Cat Empire at the sold-out Vancouver International Jazz Festival in the summer of 2006.
Later that year, on June 29, they made their debut in central Canada at the Montreal International Jazz Festival.
Who Are the Band Members?
The band comprises Ryan as lead vocalist, Jasmin Parkin, singer/keyboardist, drummer Ali Siadat, Mike Young, bassist and multi-instrumentalist, and Ryan's sister, singer/keyboardist Molly Guldemond (who also handles all the band's design and their creative direction).
The current band members are:
Ryan Guldemond: lead vocals, guitar (since 2005), bass (2005–2006)
Molly Guldemond: vocals, keyboards (since 2005)
Jasmin Parkin: vocals, keyboards (since 2009)
Ali Siadat: drums, percussion (since 2008)
Mike Young: bass (since 2016)
The infographic below shows a timeline of all band members, their instruments, and the eight studio albums released by Mother Mother.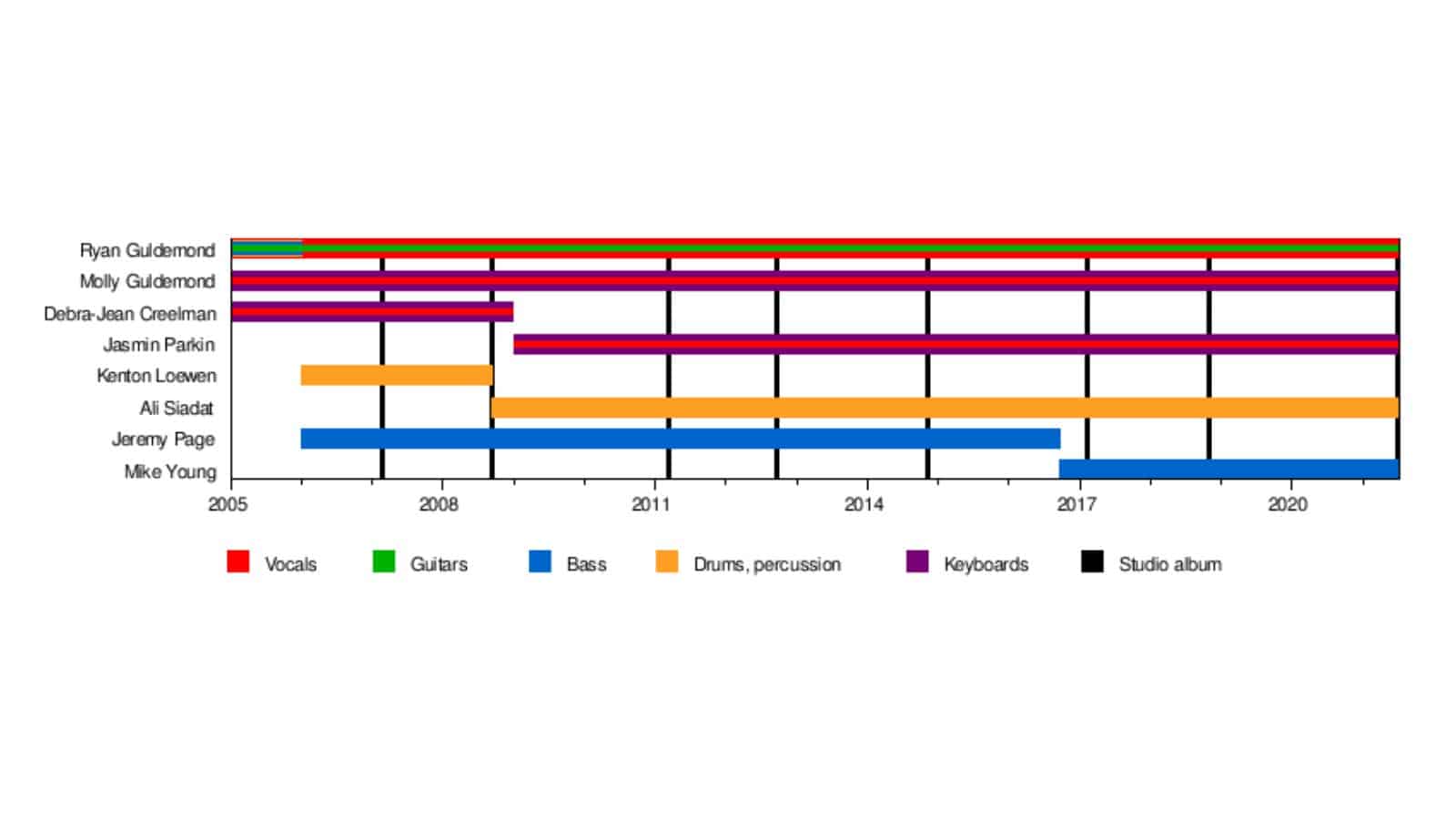 What Type of Music Is Mother Mother
To better understand what type of music Mother Mother is, let's look at some of their albums and the music they used on them to get a better sense of their unique style.
Touch Up—2007
Touch Up is a remixed, re-sequenced version of what had been Mother Mother's self-titled debut from 2006. They re-released the album on February 20, 2007.
The new album contained two new songs and new artwork, and overdubs. This album is reminiscent of eccentric folk-rock and makes one think of both the Roches and the trio's Vancouver counterparts, the Be Good Tanyas—these bands specifically performed folk.
The latter also had some country and blues in their repertoire. Overall, the album has a folk and country sound, but it is straight-up folk or country but with a modern twist and some rock elements.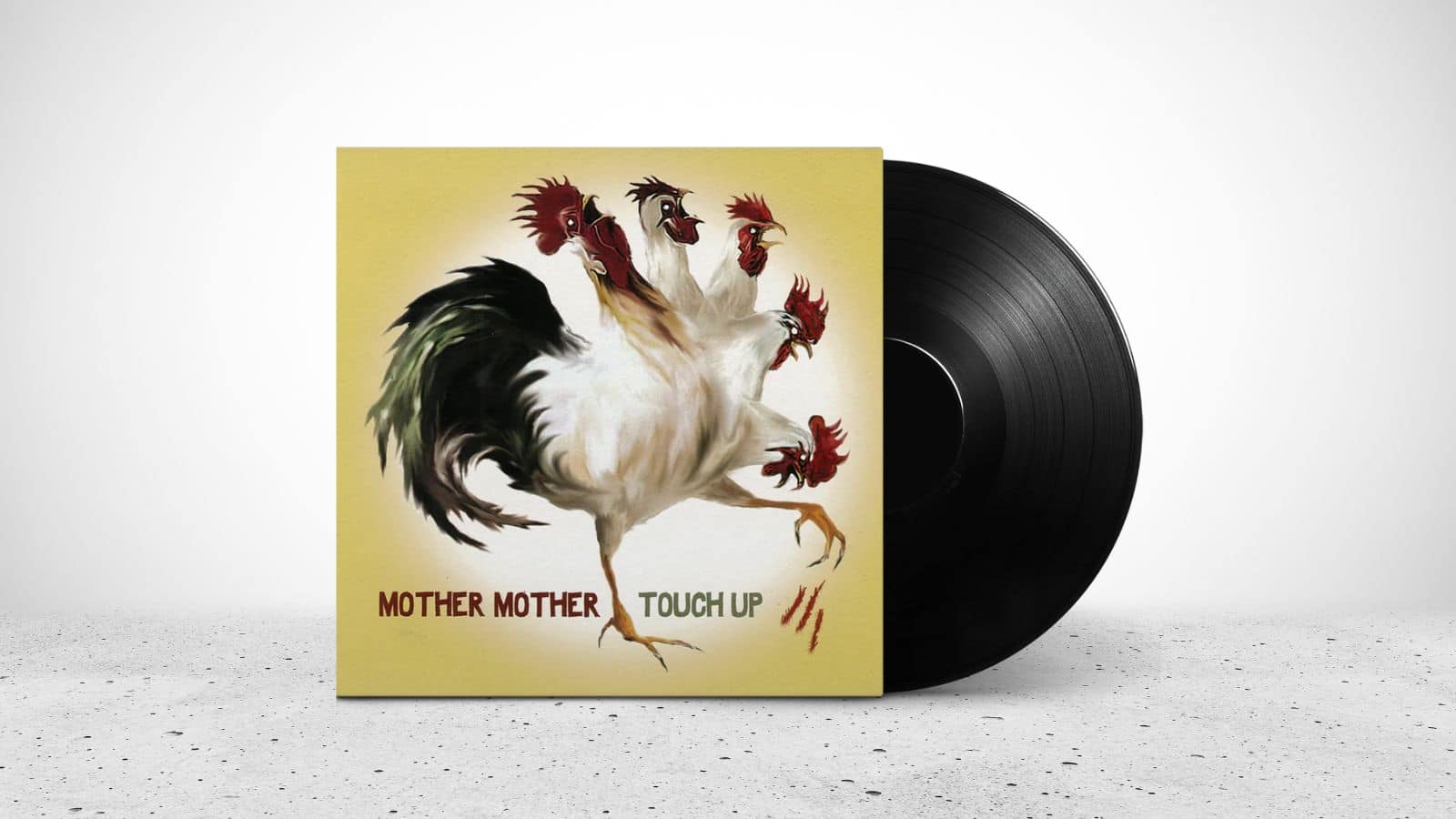 Oh My Heart—2008
Their second studio album, Oh My Heart, features exceptional vocal performances on almost every track. It features standard rock instruments like guitar, bass, keyboards, and drums.
Still, it includes some classical instruments while keeping with their folk/alternative style.
Ryan's main vocals combine smoothly with the backing vocals of Molly Guldemond and Debra-Jean Creelman to produce a rich vocal tone that adds a sonically additional depth to the songs.
The harmony between the three vocalists is particularly noticeable on tunes like Burning Pile and Miles. Still, it can be found in all of them.
The Sticks—2012
It's a concept album on feelings of solitude, escapism, and disengagement from modern life. Being their fourth album, The Sticks also marks the end of their releases on Last Gang Records.
The sound is decidedly more rock-driven with electric synthesizer sounds. It is also more removed from their folk roots, sounding moody, manic, and methodical with driving rhythms.
This album has a smattering of the dirty guitars associated with the grunge and punk movements.
Very Good Bad Thing—2014
This album, again, moves away from its initial image featuring electronic/dance music arrangements.
Very Good Bad Thing features some unforgettable songs, such as the eerie and dark Get Out The Way and then again a calm ballad Alone and Sublime.
Radio-friendly songs such as Monkey Tree and I Go Hungry feature effectively blended keyboard and guitar arrangements combined with unique vocal harmonies.
This album is certainly a mixed bag of influences and styles, but primarily electronically driven.
Dance and Cry—2018
This album departs from the heavy electronic-pop-dance music featured in their previous work and returns to their folk roots, but not overly sentimental and not quite emulating their beginning sound.
It has a simpler musical treatment and deviates from its previous pop and rock productions. The lyrics are also less cynical and raw in songs such as I Must Cry Out Loud, but in Back To Life, they return to a rock influence with the driving drums.
The final song, Keep, is perhaps one of the album's surreal-sounding and best songs. This song defines what the group aimed to achieve by hitting different emotions and giving a new feeling to the music business.
Inside—2021
This album was written during the 2020 COVID-19 pandemic and released on July 26, 2021, through Warner Records.
Inside come into being through hard-hitting choruses and emotional, lyrical songs about purpose and location, understanding and belonging, being attached and detached. Ryan envisaged a combination of folk, industrial/dystopian, and alternative indie rock sounds.
"[The title INSIDE] is a play on the pandemic moment and the stay-at-home orders but transferred to the metaphor of inner journeying. Going 'Inside' of oneself," Ryan said during an interview with Artwood Magazine.
Conclusion
Mother Mother is one of those bands constantly reinventing themselves while breaking down barriers in the music industry.
Perhaps, we must be content with settling on calling them an alt-rock and indie band who appreciates contrasts while merging folk, jazz, rock, pop, and electronic sounds into a unique soundscape.