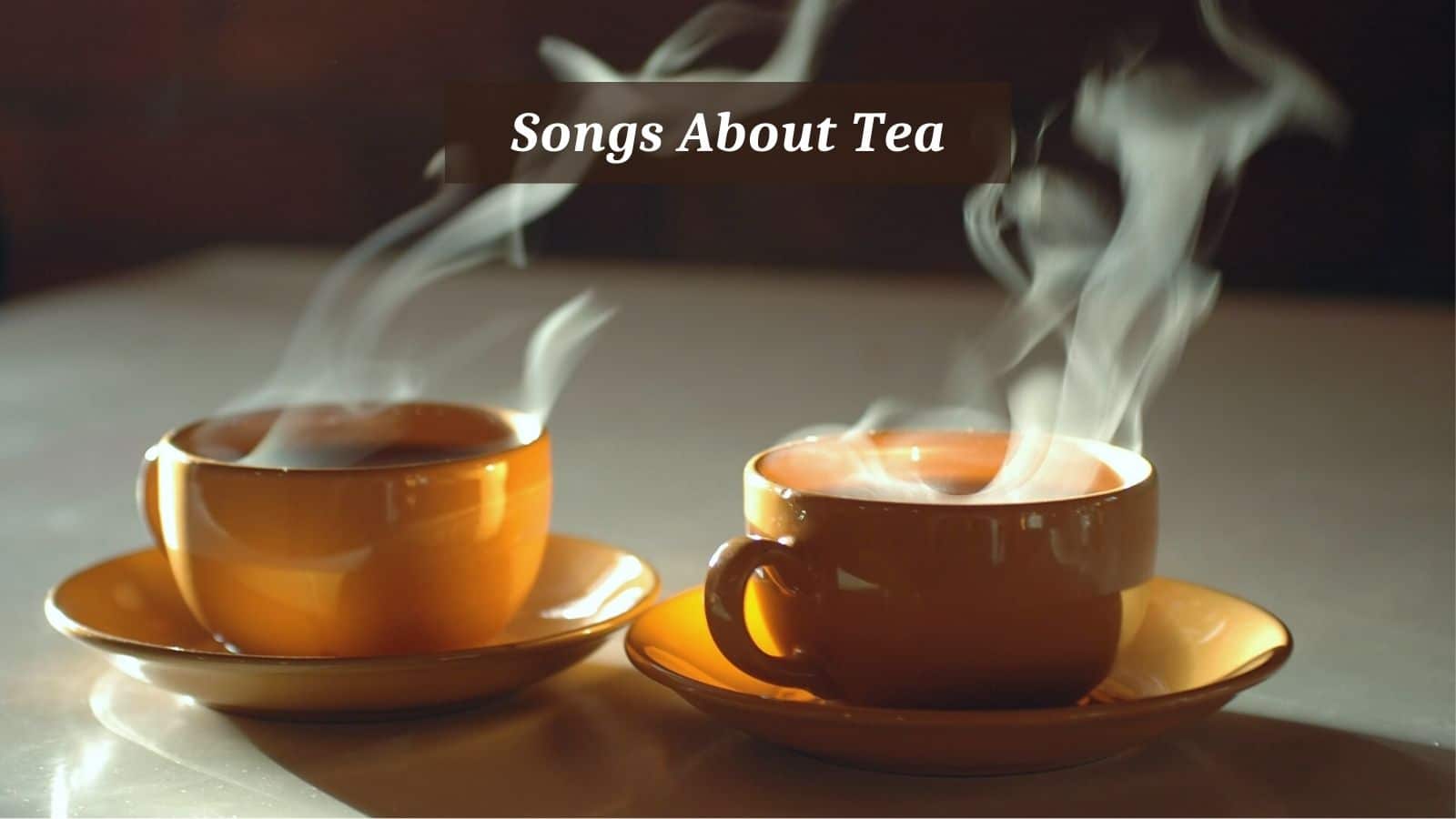 Synonymous with comfort and caring, music about tea often reflects the cosy themes of self-healing, happiness and community.
From songs showing unconditional love for another, to tracks about taking the time to nourish yourself, our playlist of songs about tea crosses the genres and covers it all!
Songs About Tea
1. The Kinks – Afternoon Tea
The Kinks' 1967 rock-pop track, Afternoon Tea, details sweet daily cafe dates with a partner who's long since left you, their narrator swept beneath the tides of lovelorn memory;
"At night I lie awake and dream of Donna, I think about that small cafe, that's where we used to meet each day, and then we used to sit a while and drink our afternoon tea."
This track carries a timeless theme of tea as a means of connecting with friends, family or lovers, breaking the ice and opening meaningful, warm-hearted conversations; "I take sugar with tea, you take milk if you please, like you talking to me, because you ease my mind."
2. Michael Hurley – The Tea Song
Another despairing take on an energetic concept, Michael Hurley's 1965 folk masterpiece, The Tea Song, carries a sound more lethargic than one could dream, yet is enthralling in its profound sense of character and storytelling.
Formed of merely an acoustic guitar, vocals and a plainly tapped beat, Hurley's expression paints a lamenting scene of loneliness, loss and addiction, woven with the enchantment inherent to Irish folklore and tales;
"I don't care that she's left me, just so long as the cupboard's full of tea, my nerves are shakin' and my heart is breaking, that's just because of all the tea I've taken, the poor old Buddha turned into stone, that's why I drink tea alone, Buddha's made of stone and his eyes are rubies, but his thoughts and dreams are distilled in the tea."
3. Dame Amar ft. Jereena Montemayor – Green Tea & Honey
Dame Amar & Jereena Montemayor's 2020 collab, Green Tea & Honey, is centred in a captivatingly warm-toned, Latin inspired rhythm, each chord removed from its expected pop basis and flushed with soft jazz flairs imparting an instantly uplifting, sun-beamed ambience to the track.
Adorned with trailing piano melodies, this track captures the sweet essence of its title, composed as a heart-meltingly romantic metaphor for finding your soulmate;
"I want you to be my green tea in the morning, be my sugar, honey … You make me feel like something I'm not, green tea and honey babe, so warm and sweet, you're all I need, just you and me."
4. Tin Tin – Toast And Marmalade For Tea
Australian rock band Tin Tin's 1971 hit uses the tea concept in the sense of dinner rather than drink, their title becoming a sweetly domestic metaphor for good things which aren't half as great as your lover; "Toast and marmalade for tea, sailing ships upon the sea, aren't lovelier that you."
Whilst harbouring only two, revolving verses, Tin Tin's pop track is underlain by a quirky analogue synth oddly reminiscent of retro video games and haunted, broken Nintendo themes; sounds oddly lying in Tin Tin's own future.
Nevertheless this is a love song for any vintage eccentrics showering their partner with adoration even after discovering their worst qualities; "You more lovely than the day, when the sun is in your eyes, I see through your disguise, all the games I see you play."
5. Bring Me The Horizon – Sugar Honey Ice & Tea
Once acclaimed for their compellingly claustrophobic take on screamo, this 2019 Bring Me The Horizon track is a faint cry from their debut sound; an overwhelmingly melodic track overlayed upon a strange evolution of late-gig-feeling indie-style punk rock.
Their strange tea-infused title is rooted in their chorus, crafted into a vague metaphor, perhaps for the sickly sweet front put on by the masses to cover up their inner bitterness;
"I'm sorry, it's over, the whistles been blown, I think you got the wrong number, I'm breaking up, wanna make a connection, can't get no reception, leave a message after the tone … Everybody's full of sugar, honey, ice and tea."
6. Griff – Earl Grey Tea
Griff's 2021 pop release, Earl Grey Tea, puts a melancholic approach on the otherwise sweet topic of tea, crafting her song around the theme, "You're so scared you're ageing faster, so you drink Earl Grey tea 'cause you heard that's the answer."
Anchored in a piano riff, Griff introduces a breathtaking de-tuned effect in her mix, layering her harmony with spellbinding emotional power reminiscent of dissociation.
This is an anthem for any young person tormented by existential thoughts, illness or death in the family, empowered by a positive message towards the track's ending; "And if we haven't taken our last dying breath, then I'm here and I'm waiting to save anything that's left, so don't give up just yet."
7. Joyce Wrice – Iced Tea
Joyce Wrice crafts her lush sound as a hypnotic reimagination of golden-era '90s R&B, her deeply tranquil, summer evening soundscape detailed with artful rhythmic embellishments echoing as if tapping cutlery on the edge of an iced tea glass.
Iced Tea is a track about finding your own fresh sense of independence and self-love, Wrice's lyrics flooded with bright-shining optimism and feminine strength;
"Know you see the skin glow, sweet like cocoa, keep up with my tempo while I let go … Feel good when you're living like me, can't f*** with a woman like me, lemon slice in your sugar iced tea, feels good when you're living carefree."
8. The Verve Pipe – Cup Of Tea
Flooded with a myriad of hypnotic harmonies and whimsical elements, The Verve Pipe's cinematic take on indie rock, Cup Of Tea, embellishes its lyrics with the age-old saying, 'not my cup of tea,' depicting a life story turned to ruins.
The band's artfully vague verses give way to some striking sentiments within each paradoxically dissimilar chorus, each relating to one of life's many façades and crippling let-downs;
"At graduation everyone will throw their hats into the sun, then they'll drop like flies to the sea; this is not my cup of tea … She's never letting me forget, I've always been an idiot, and at times like this I agree this is not my cup of tea."