Classical music participation in the US suffered a 29 percent dip in the last twenty years, and, since 2010, the orchestras of Philadelphia, Louisville, and Honolulu among others have filed for bankruptcy. In this dire scenario, where Beethoven's Ode to Joy or Mahler's Symphony of a Thousand does not seem to be enough, orchestras have found in video game music a new ally.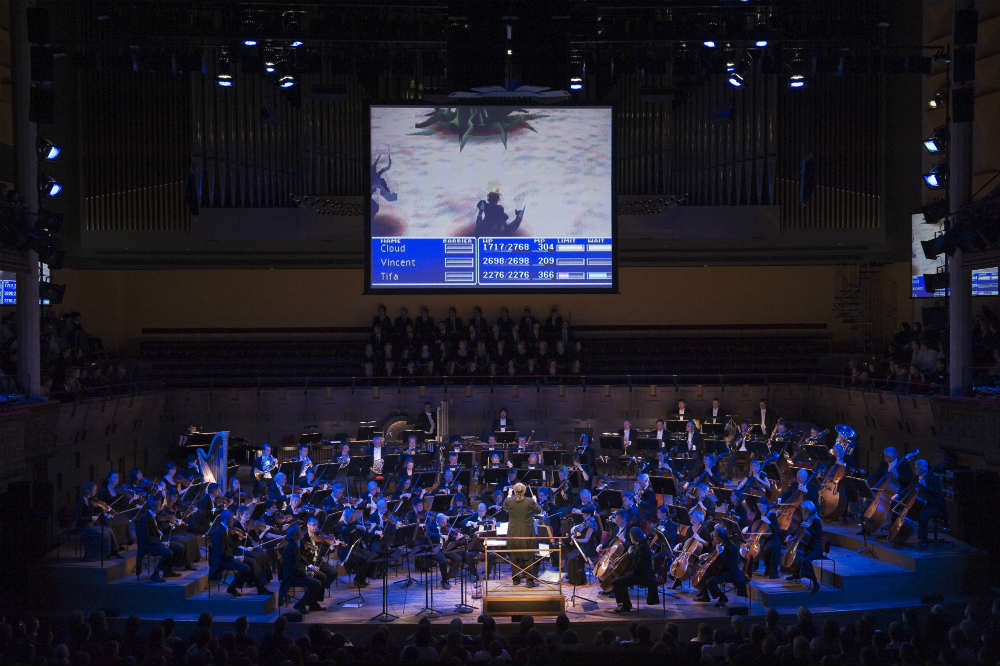 Gone are the days of those repetitive 8-bit sounds and overly simplistic melodies—even though you have to admit it, the Tetris theme rearranged by the London Philharmonic Orchestra has a Rhapsody in Blue-like flair. Nowadays, video game music has almost as much prestige as movie soundtracks, and it's perfectly reasonable to give Nobuo Uematsu and John Williams the same consideration. After all, Classical FM frequently features Uematsu's works in its Hall of Fame and Hans Zimmer has been composing video game soundtracks for a while now.
Japan has a well-documented tradition of video game music concerts: composer and conductor Koichi Sugiyama (Dragon Quest) pioneered the genre with his Family Classic Concert, and, a few years later, he conducted the Orchestral Game Music Concerts, which ran from 1991 to 1996 and were usually performed by the Tokyo City Philharmonic Orchestra.
Germany spearheaded the introduction of video game music outside Japan when, in 2003, Thomas Böckner produced the Symphonic Game Music Concerts. Following the success of the project, Böckner also produced The Chamber Music Game Concerts, performed by a string ensemble and the school concerts, Heroes of our Imagination and Super Mario Galaxy – A Musical Adventure.
In 2011, The London Philharmonic Orchestra recorded The Greatest Video Game Music, which features the best-known melodies of games ranging from Mario Bros to the Final Fantasy saga and also pays homage to Grand Theft Auto, Halo and Fallout. It did not even shy away from the blooming iPhone-games genre: the album also contains an orchestral rendition of the theme of Angry Birds. Suffice to say that this album debuted at #23 on the Billboard 200. An orchestral record had not seen a similar success since the 2005 release of Star Wars Episode III soundtrack. Rolling Stone defined The Greatest Video Game Music "the weirdest hit album".
If you want to experience video game music live, though, here are three touring concerts that you should consider attending.
Pokemon: Symphonic Evolutions
Pokemon might be a childish anime, but all those who played any pokemon game concur: the games are excellent RPGs (provided you are not squeamish at the idea of seeing animals pitted against each other) and their soundtracks are pretty solid as well. In 2014, The Pokemon Company International presented a series of concerts going by the name Pokémon: Symphonic Evolutions. Conductor Susie Seiter conducts orchestral arrangements of the best-known melodies of the Pokemon Game (do you remember what you felt like when you played as Ash Ketchum in Pallet Town?). After a series of successful concerts in the US, Pokemon Symphonic Evolutions is now playing in Australia and is scheduled to hit the Old Continent and America in early 2016.
Legend of Zelda: Symphony of the Goddesses
The soundtrack of the Legend of Zelda series is a well-established staple in the Nintendo Soundtrack roster. Producer Jason Michael Paul recently broke new ground in video game concert history by having the melodies of the franchise arranged into a four-movement symphony that blends the most beloved tracks with the never-before-performed score. If works such as The Magic Flute and other hero-centric operas are to your liking, then let yourself be transported to Hyrule. If only Zelda had its own Queen of the Night.
Final Fantasy: Distant Worlds
https://www.youtube.com/watch?v=5qMeTqSql3Q
Final Fantasy: Distant worlds premiered in 2007 in Sweden, but Final Fantasy concerts have been a fixture in Japan since 2002. Grammy-award winning music director Arnie Roth and a symphony orchestra together with choir and soloist will serenade audiences to the most memorable tracks of the Final Fantasy Saga, such as Eyes on Me, Liberi Fatali and, ça va sans dire, Aerith's Theme. After a date in Chicago in late December, Distant Worlds will come to Europe in early 2016.
Is it all a fad, though? Hardly so. Video game music is not so different from traditional classical music, especially in its structure: the leitmotifs, which are favored in video game soundtracks because they help tell a character's story clearly remind us of Wagner's heritage. Ultimately, video game music is a storytelling medium, with the melody changing upon different locations, weather and the arrival of a determinate character: isn't that a characteristic of the symphonic poem as well?