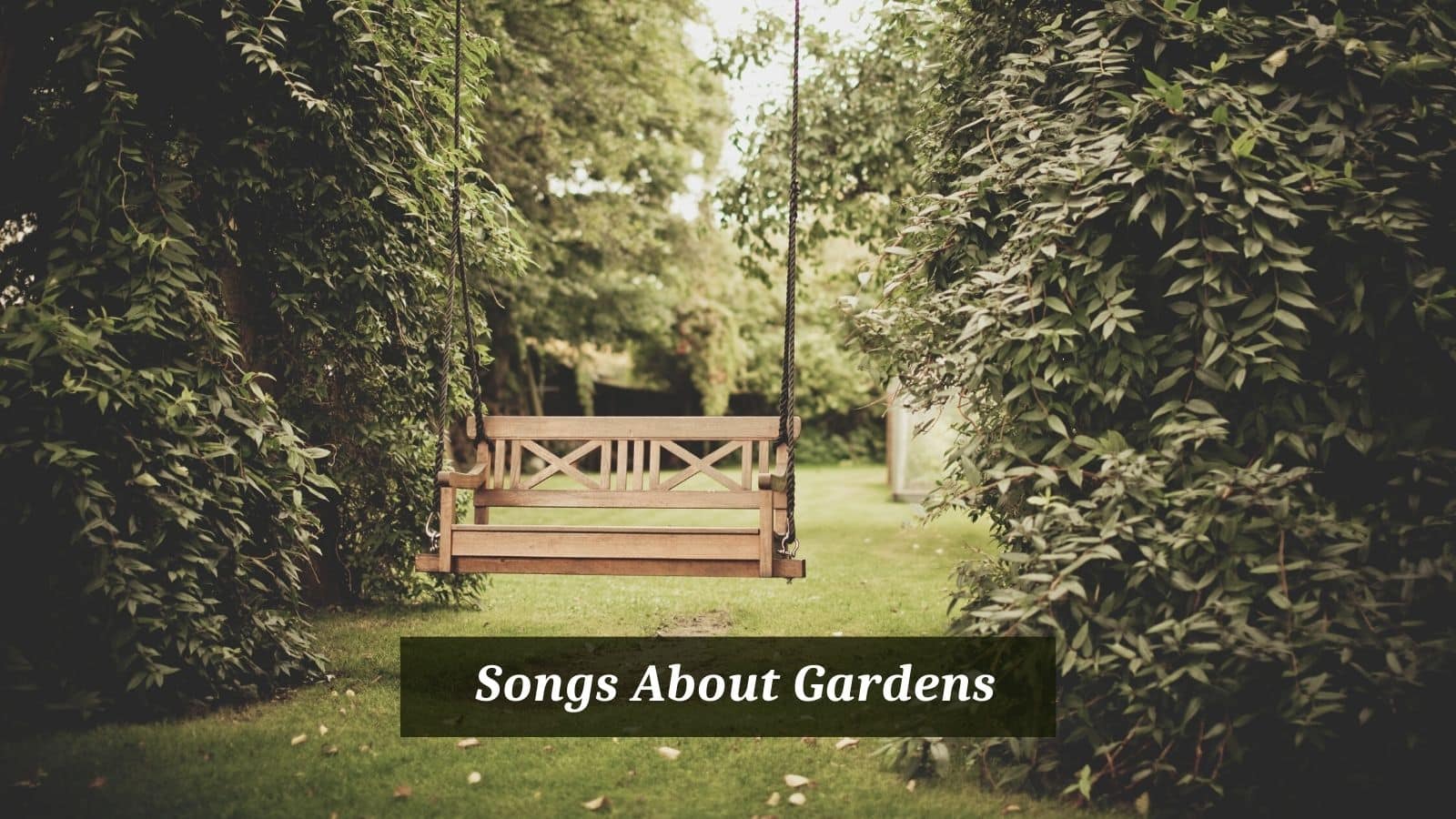 Music about the natural world is always woven with wonder; an artful reflection of either the wild or tamed, mystifyingly complex and ethereally beautiful.
From songs about finding peace in escaping into the serene outdoors, to tracks metaphorising gardens as spiritual sanctuaries, our list of pop songs about gardens covers it all!
Songs About Gardens
1. AURORA – The Secret Garden
Aurora's folksy pop track, The Secret Garden, captures the ethereal essence of wonder within her symphonic landscape of sound.
This dreamy track is crafted with true artistry, from its sonic depiction of wild, beautiful growth to its odd melodic flairs, transcending its pop basis with a profound, cinematic feel.
Aurora illustrates gardens as places of therapy, rebirth and peace, devoting her track to oneness with nature, soaking in the happiness of summer blooms;
"Listen to the anthem, hear the flowers like their hymn has healing power, take my hand and breathe in, the colourful … Let me take you into the garden, into the garden, I'll be there, painting the flowers, give them colour, I'll be there."
2. Phil Wickham – Graves Into Gardens
Phil Wickham's morbidly titled track, Graves Into Gardens, harbours a breathtaking message about new life, growth and rebirth.
This fresh, contemporary pop track begins with the illusion of a love song, before giving way to an array of bright-shining Christian sentiments about finding God through every up and down of human nature;
"'Cause the God of the mountain is the God of the valley, there's not a place your mercy and grace won't find me again."
Wickham saves his garden metaphor for last, placing it at the end of his track to solidify his theme of endings giving way to blessed new beginnings;
"You turn graves into gardens… You turn mourning to dancing, you give beauty for ashes, you turn shame into glory, you're the only one who can."
3. Laura Mvula – Green Garden
Laura Mvula's track, Green Garden, details a daydream of the perfect garden, summoning the desire for pure escapism into the vast outdoors; "Take me outside, sit in the green garden, nobody out there, but it's okay now, bathe in the sunlight, don't mind if rain falls."
This quirky pop track is embellished with a blend of bluesy and electronic flairs, whilst uniquely carried by a bell-based rhythm putting an ever-wondrous twist on our playlist.
4. Kari Jobe – The Garden
Another Christian pop track, Kari Jobe's The Garden is a little more discreet about its faithful message, using belief to backlight an open-armed message of personal growth.
This track is all about recognising gardens as both sanctuaries and as spaces where you can find support in another, alongside gaining natural inspiration from the green life around you;
"I can see the ivy growing through the wall, 'cause You will stop at nothing to heal my broken soul, faith is rising up like ivy, reaching for the light, hope is stirring deep inside me making all things right."
5. The Beatles – Octopus's Garden
This Beatles classic twists the theme of recognising nature's bliss into a strange underwater story of visiting an octopus in a cave.
Octopus's Garden could well be a metaphor for The Beatles' untold wishes of escaping fame and the burdens of being a celebrity, preferring to hide away in an unseen paradise rather than be hounded by the press;
"We would be warm below the storm, in our little hideaway beneath the waves, resting our head on the sea bed, in an octopus's garden near a cave."
6. Quincy Jones – The Secret Garden (Sweet Seduction Suite)
Quincy Jones' 1990 soul / R&B single, The Secret Garden (Sweet Seduction Suite) is a slow and seductive love song devised around the theme of temptation.
Jones places his Biblical inspiration in a more modern setting, his titling 'secret garden' mirroring the story of Eden and the inability to resist the things you know are wrong; "Into the garden, where temptation feels so right, in the garden, we can make it come alive every night, oh, woman."
Under this analogy, Jones' narrator adopts the role of the Devil enticing a woman to bed through charm; "I wanna read your mind, know your deepest feelings, I wanna make it right for you baby, show me, let me share the mystery, listen to your heart tonight, make it alright, yeah."
7. Crowder – Back To The Garden
Crowder's 2017 pop single, Back To The Garden, is based on a bluesy riff which dominates the track with a formidable sense of power.
Crowder craft their piece from the perspective of someone dragged into temptation and repenting for their sins, returning to the Garden of Eden as a place of forgiveness and freedom from human suffering.
Back To The Garden is an anthem of change for believers and atheists alike, its message of meticulous self-cleansing and evolution resonating across every extent of faith; "I was formed from the soil, I got dirt inside of me, but I was born to be royal, I was made for glory."
8. Phoebe Bridgers – Garden Song
This hypnotic pop track by Phoebe Bridgers is centred in a subtle, trance-like sample overlayed with hazy melodies; a strange and subdued soundscape reflecting her psychedelic-inspired lyrical style.
Garden Song is rooted in the themes of growth and aspiration, imagining your future under a kaleidoscopic lens;
"When I grow up I'm gonna look up from my phone and see my life, and it's gonna be just like my recurring dream, I'm at the movies, I don't remember what I'm seeing, the screen turns into a tidal wave."
9. Elvis Presley – In The Garden
This 1967 Elvis track was adapted from a gospel hymn first published in 1912, placing the timelessly relevant message into a time-capsule track of his era.
This soft and simple song is woven with the authentic vintage ambience of a slow ballroom dance, parading a Christian sentiment heralding the glory of creation, whilst achieving communion with the divine through the natural world;
"I come to the garden alone while the dew is still on the roses, and the voice I hear falling on my ear, the Son of God discloses … He speaks and the sound of His voice is so sweet, the birds hush their singing, and the melody that He gave to me within my heart is ringing."