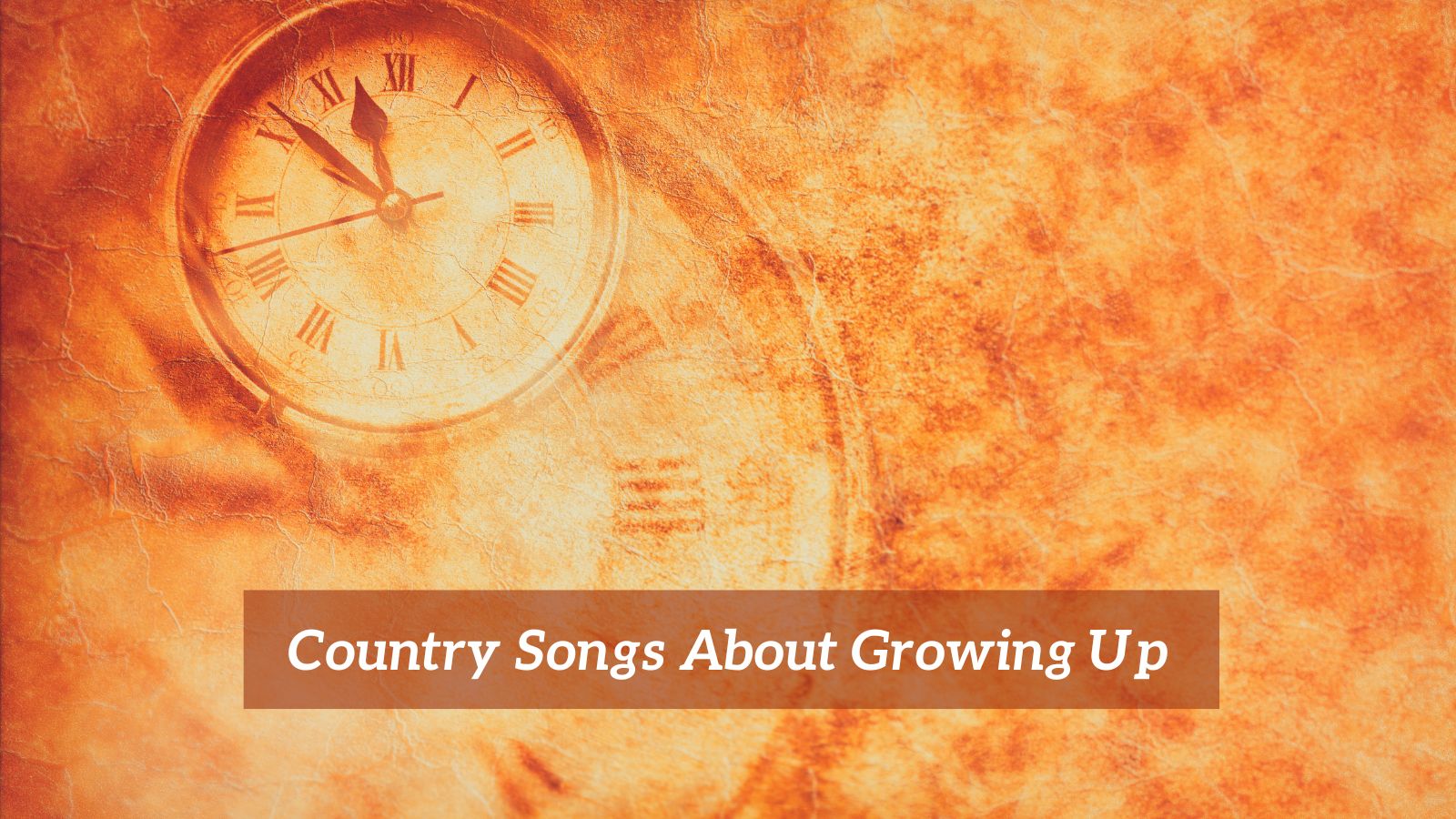 Country music is synonymous with storytelling and imaginative illustrations of nostalgia, creating the perfect backdrop for a lyrical tale of growing up.
From reminiscing on your home town childhood to thinking about the lessons you've learned along the way, our collection of contemporary country songs about growing up covers every occasion.
Country Songs About Growing Up
1. Alan Jackson – The Older I Get
Being the country legend he is, it's not surprising that Alan Jackson's discography bears a breathtaking track about growing up. The Older I Get is crafted from the perspective of an older adult looking back on the lessons learned in his lifetime of endless experience and growth.
A plethora of wisdom is embedded within Jackson's verses, such as the significance of living in the moment and navigating tumultuous relationships.
But Jackson's most inspiring messages are found within his chorus and final verse: "If they found a fountain of youth, I wouldn't drink a drop and that's the truth. Funny how it feels I'm just getting to my best years yet, the older I get … The older I get, the longer I pray, I don't know why, I guess that I've got more to say, and the older I get, the more thankful I feel for the life I've had and all the life I'm living still."
2. Miranda Lambert – The House That Built Me
Country superstar Miranda Lambert's single, The House That Built Me, is grounded in nostalgia for your childhood home. It's a rare and strange experience to return as an adult to the house you grew up in; a concept Lambert tackles in her signature, beautiful fashion.
Padded with an atmospheric acoustic ambience, Lambert's lyrics follow the narrator retreading their first steps, revealing secrets about their old-home which the current owners would never have discovered;
"Up those stairs, in that little back bedroom, is where I did my homework and I learned to play guitar, and I bet you didn't know under that live oak, my favourite dog is buried in the yard."
Lambert's most profound sentiment is her story of a father building his wife her dream house from scratch, adding a second layer of depth to her title: a person can raise a house from the ground up but equally, a house can raise a person.
3. Chris Young – Raised On Country
Chris Young's 2019 release, Raised On Country, is a warm and upbeat country track with a pure pop-rock vibe.
This is an anthem for anyone whose innate love for country music was passed down through the generations, shamelessly amplifying their Southern heart and attitude, "Got a little southern drawl in my talk… Got some Tennessee in my whiskey… I was raised on Merle, raised on Willie… Daddy did too, it's family tradition… 'Cause if you know me I was raised on country."
Young plants a unique message in his second verse, defining how country roots form a bedrock to fall back on after disaster before lifting you up again, "It's the only reason that I survived, every breakup and every party, it's the soundtrack to my life, it runs deep in my DNA."
4. Darius Rucker – It Won't Be Like This For Long
It Won't Be Like This For Long contrasts a father's heartache with the incitement to treasure every moment of a daughter's youth while it lasts.
From the pain of a newborn crying at midnight, to the first days of school when your child refuses to stop clinging to your leg, Rucker draws back to his titling belief; "This phase is gonna fly by, if you can just hold on, it won't be like this for long."
Backlighting Rucker's track is the subtle pain of watching a daughter grow and the fear of one day losing love and connection, shaping a song for any parent wishing the years would slow down;
"Someday soon she'll be a teenager, and at times he'll think she hates him … One day soon that little girl is gonna be all grown up and gone, this phase is gonna fly by so he's trying to hold on, 'cause it won't be like this for long."
5. Maddie & Tae – Downside Of Growing Up
Maddie & Tae devote their sweet country track Downside Of Growing Up to the late-teen stages of growing up rather than pure childhood. This is a track about moving away from the family home and learning to be an adult as you stumble through the complex of new-found independence.
From the overwhelming feeling of moving into your first home alone, to coming to terms with love's ruin, every downside of growing up explored within this track is beautifully contrasted by the chorus's empowering message, conveyed like the stolen words of a mother;
"That's alright, that's okay, it's just the way you find your way, it's the road you gotta take to get where you're going, you're gonna twist, you're gonna turn, but it's how you're gonna learn a lot about life, a lot about love, on the downside of growing up."
6. Walker McGuire – Growin' Up
Walker McGuire's 2018 release, Growin' Up, cleverly uses its title lyric to illustrate an array of ways in which both you and your town change over time.
From finding old home town bars replaced by Dollar Tree stores, to reminiscing about lakeside evening dates with an ex-spouse, the narrator realises how much they've grown since leaving home, while detailing the strange, unrecognisable appearance of their changing home town.
McGuire's masterful depiction of returning back to your roots echoes stunningly with anyone who's never quite been able to describe the nostalgia they feel for an area that's become a ghost of its old, wholesome self;
"Man, I wish that I could go back now, stop the clock and take another lap around, if I knew then what I know right now, life'll get you down, break your heart, mess you up, yeah man, but that's just part of growing up."
7. Thomas Rhett – Where We Grew Up
Thomas Rhett's 2021 single, Where We Grew Up, is a blue-skied track using the timeless country technique of lyrical listing to paint a lush home town description.
Rhett's striking lyrics are evocative of that classic Southern American feeling, mixing bright-burning youth and recklessness with religion and deep-rooted gratitude for the place where you grew up.
Rhett's authentic, sunkissed atmosphere resonates through every minute detail embellished within its lyrics, "Rooster crow meant coffee pot, no trespass meant don't get caught, hit the town meant parking lot, where we grew up … A Bible and a radio, taught us everything we know, grass was green as it could grow, where we grew up."