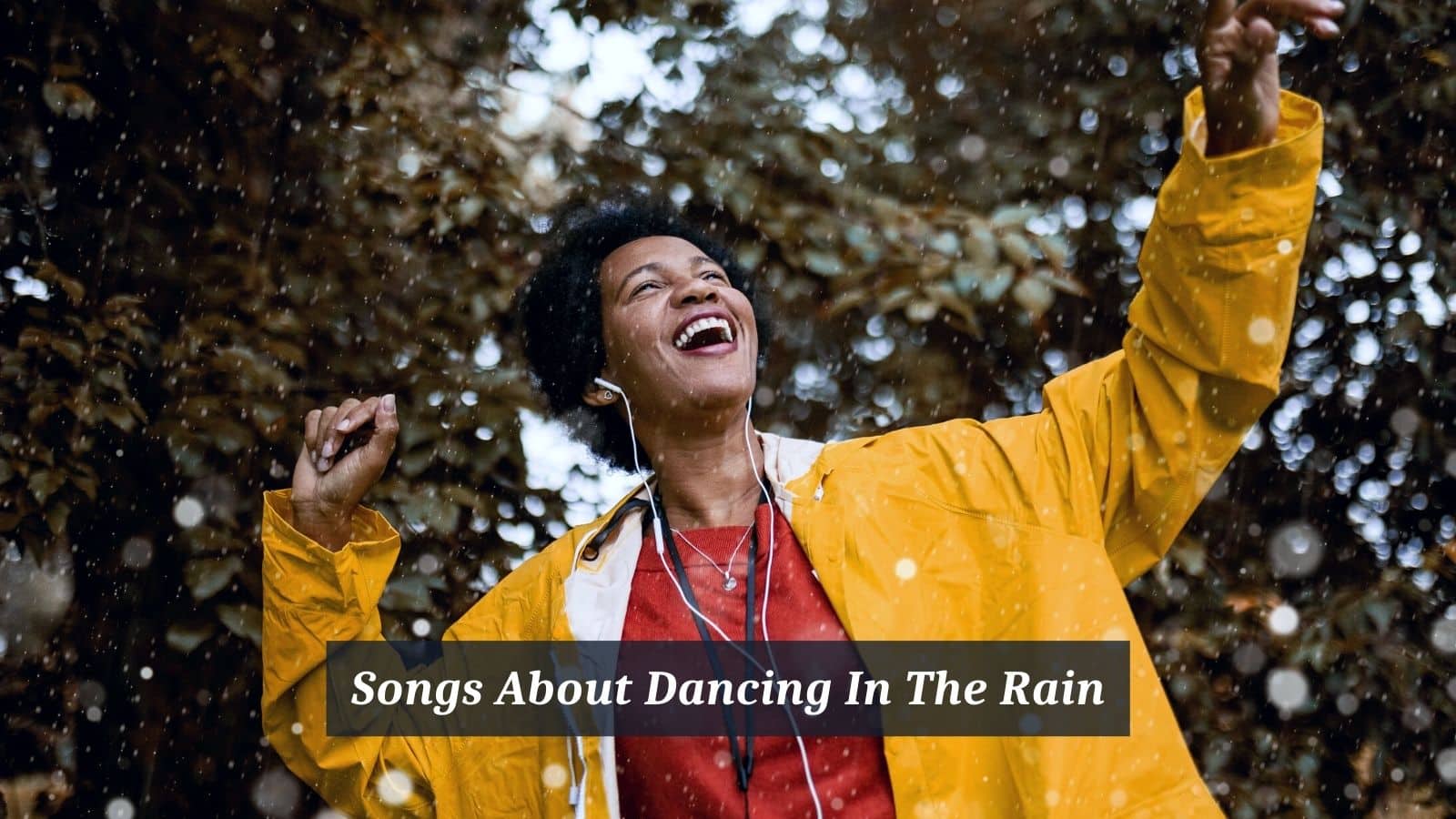 Dancing in the rain is a natural symbol for embracing life to the fullest regardless of the negative circumstances and cleansing yourself from misery.
With water often symbolising emotions in art and music, songs about dancing in the rain naturally draw upon themes of surmounting your inner emotional struggles and choosing to see the positive side of life.
Our playlist collects some stand-out songs about dancing in the rain, from tracks about falling in and out of love, to dealing with gut-wrenching grief.
Songs About Dancing In The Rain
1. Jack Savoretti – Dancing Through The Rain
Jack Savoretti's 2022 pop release, Dancing Through The Rain, harnesses an inspired energy comparable to 80s pop-rock, each nostalgia-infused verse section swelling and subsiding to reveal a purely contemporary chorus.
This track seeks to surmount the inevitable struggles of life with unvaried optimism whilst moving ahead, Savoretti's narrator refusing to topple beneath his vaguely-composed societal pressures and keeping youthful hope in his heart instead;
"Turn the music up and sing with me, hold me tight and say my name, hide me from the storm outside, let's dance right through the rain… Dancing through the rain, us against this hurricane."
2. Kings Daughters – Dancing In The Rain
Produced by Queen's Brian May, this 2020 pop single by girl group Kings Daughters is dedicated to those lost during the COVID lockdowns, deprived of their right to a proper funeral.
This track is laced with the unique perspective of not being able to truly say goodbye to the person you've lost, its narrator choosing to focus on the positives and what remains, rather than grieving missed opportunities;
"I believe in something and its you, I believe that our love will pull me through, every day I look up to the sky, you're my angel, you're my guide… No, I never give up, you got me dancing in the rain."
Dancing In The Rain embeds stormy imagery within its lyrics, highlighting how one makes the choice between sinking into emotional turmoil or dancing despite the flood; "Can't live without you but I know I've got to, it's like a tornado has torn right through me."
3. The Fizz – Dancing In The Rain
This retro-inspired piece by The Fizz captures the 70s / 80s feel-good pop ambience of their debut era, fashioning an inspiring track about picking yourself up and being strong both for yourself and for those you love;
"You won't hear us complaining if skies are cold and grey, and if your heart is breaking, get out there anyway."
Dancing In The Rain draws upon elements of change, chance, hope and cleansing, mirroring meteorological concepts with our own emotional cycles;
"Searching for a sky of blue, and if the rain is here to stay, trouble on the way, the heavens will open again, we'll just go out there dancing in the rain."
4. Izzie Meaden – Dancing In The Rain
Izzie Meaden's pop piano ballad, Dancing In The Rain, uses the free-spirited act as a metaphor for being lifted from your loneliness or depression by a new romantic interest.
This atmospheric track contrasts emotional strife with healing spurred by new love, using the rain as a symbol of cleansing, washing away the old and giving nourishment to a new era of life;
"Little white lies used to play in my mind, I was on the verge of giving up… I used to cry myself to sleep and that was until I met you … Dancing in the rain was so sweet and now every week my heart skips a beat."
Clouded with a soft sense of melancholy, Meaden's enchanting track could be just as resonant in remembering an old, lost lover, interestingly writing her romanticism in the past tense;
"Listening to love songs on that park bench whilst you held me close, right to your chest, oh, you lit up my whole world."
5. Da Hool ft. Julia DeTomaso – Dancing In The Rain
Da Hool and Julia DeTomaso's club-style pop collab, Dancing In The Rain, is a dance anthem about escaping your worries on a night out and entangling yourself in new love; "I'm feeling you are you feeling me, too high to sleep, we got chemistry, let's get lost inside the afterglow."
The duo's chorus emerges as a metaphor for losing yourself in the euphoria of youth and eccentric late-night adventures which others might rather avoid; "We'll drink until we're done, keep dancing all night long, let the water fall on us, I see you dancing in the rain."
6. Yung Gravy – Dancing In The Rain
Yung Gravy's quirky, laid back rap/pop track puts a sultry spin on its titling phrase, crafting it into a metaphor for male promiscuity; "I'm dancing in the rain, I cannot refrain from sliding in yo dame."
While hosting an underlying theme of cheating and stealing another man's woman, Gravy's colourful and carefree track fails to delve too deeply into the dark story beneath it.
This is a piece which embodies the innately unworried and impulsive attitude of one who dances in the rain, its narrator detailing their fortune and the blessings showered upon them;
"50k for a show and a hunnid for my wrist, hunnid-fifty for my skrrrt, couple milli' at the crib… ain't no way that baby Gravy gonna change the way he live."
7. Jana Kramer- Dance In The Rain
Jana Kramer's 2016 country pop single, Dance In The Rain, is about coping with the aftermath of a break up and finding your feet after the storm has passed.
Kramer counters her melancholic lyrical content with her naturally sweet and uplifting soundscape, empowering her lyrics to also rise from their contemplative misery with each motivating chorus;
"Dance in the rain, let it wash away the pain, no, he ain't coming back, there's nothing to say and nothing to do, but try to be brave and learn how to dance in the rain."
Using the phrase's common metaphor of finding happiness in the worst of times, Dance In The Rain also highlights other ways of using nature's elemental powers to attain peace and healing from your trauma;
"I close my eyes and soak it in and as I cry, I'll set these tears free in the wind … So I won't give up, no, I won't give in, kiss his memory goodbye and set him free in the wind."