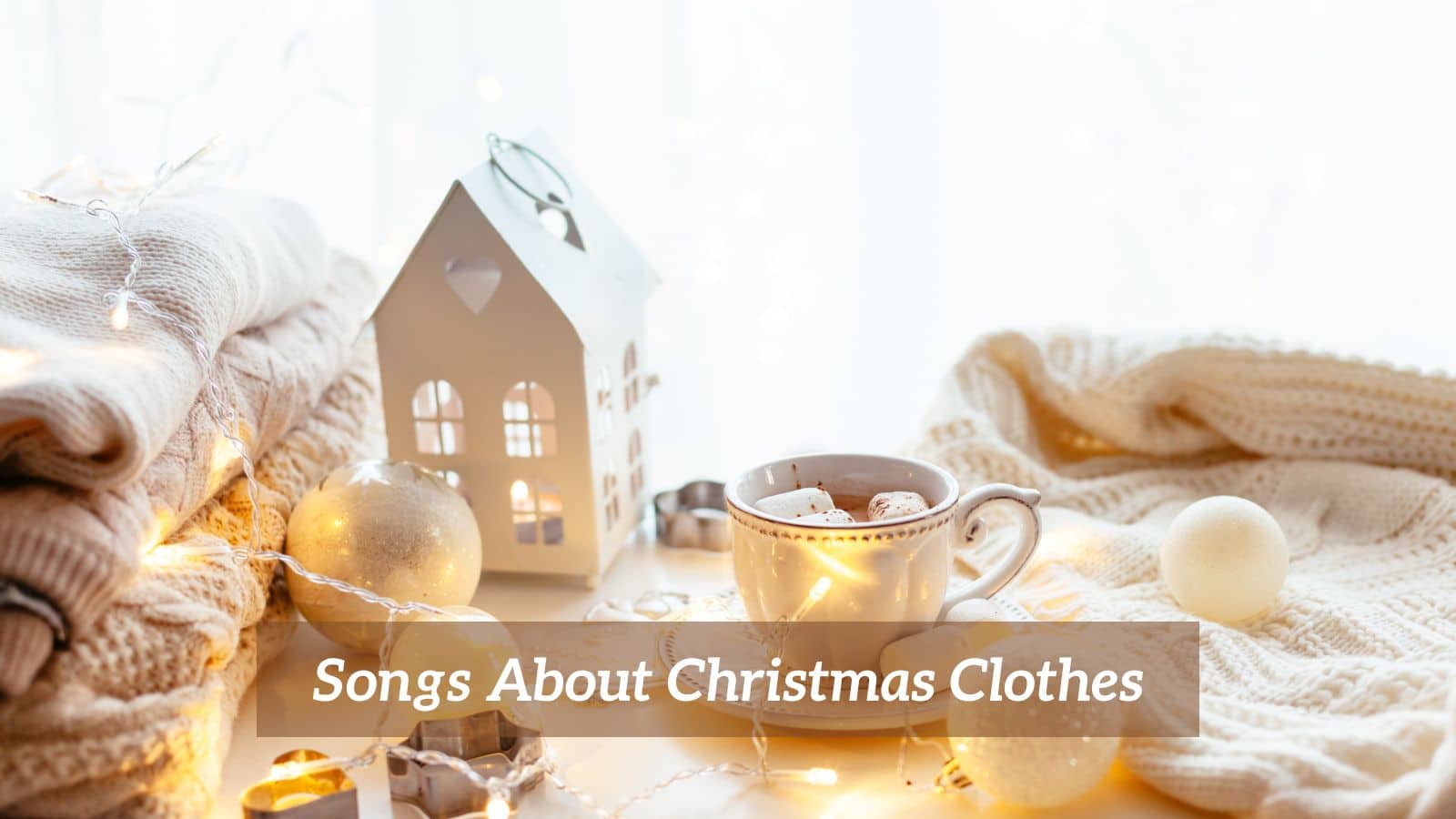 Christmas clothes are woven with that cosy feeling close to the heart.
From fluffy socks to ugly sweaters and gift-stuffed stockings above the fireplace, our list of songs about Christmas clothes crosses the genres, collecting only the best music to get you wrapped up in the festive spirit.
Songs About Christmas Clothes
1. Connor – Socks For Christmas
Kirt Connor captures the spirit of subtle Christmas hatred in his hilarious vintage-style pop track, Socks For Christmas.
Opening with a captivating, retro fireside atmosphere, Connor's track exposes the quiet seasonal dread everyone feels near Christmas time; "I don't want socks.. I really mean it a lot, because I already have an entire dresser drawer full of socks that I've already got."
As one of the most infamous Christmas gifts, Kirt Connor's soft cosy track quickly descends into comedic rage, enlivened by a glistening big-band soundtrack, matching modern loud-mouthed humour with stunning traditional ambience;
"I would rather eat last year's fruitcake than add more socks to the ones I've got… You could get me a tie, you could bake me a pie, I'd rather even take a swift punch in the eye, than another pair of mother-humping socks for Christmas."
This is one of those hidden-gem YouTube videos that easily deserves 100x more views than it has.
2. Michael Buble – The Christmas Sweater
Michael Buble's song is addressed to anyone going half-assed on their Christmas outfit.
Christmas sweaters carry the bright joy and sense of foolish drunken humour inherent to the festive season, and when your partner refuses to match your stupid seasonal outfit, it can end up becoming a buzzkill.
The Christmas Sweater brings everyone together in old-school fashion, encouraging the whole family to play along and make a spectacle of themselves, "Put your Christmas sweater on, it's got to be done."
This is a track to annoy any family members putting fashion over festivity, "It doesn't matter if you don't look cool, everybody's following the Christmas rule… You gotta try to put your pride on pause, show a little reindeer or some Santa Claus."
3. The Caroleer Singers And Orchestra – The Christmas Stocking
Christmas stockings might not be worn, but they're one of the most important bits of Christmas clothing for children around the world.
This quirky 1971 track is sung from the perspective of young siblings detailing which stocking they'd like to hang by the fire, and all the toys they hope to find inside.
We can't begin to describe the strange and almost spooky undertone this song possesses due to its adult-voiced singers, despite the tracks's overbearing lyrical sweetness, humour and purity;
"My Christmas stocking will be made of wool, the kind that stretches and never gets full. Mine will be striped and woollen too, with a hole in the bottom where the toys fall through."
Cleverly, The Christmas Stocking draws curious attention to different Christmas customs taking place around the world, "My Christmas stocking will be a drum, that's what they use where I come from. Mine will be two wooden shoes, that's what my people use."
4. NewSong – Christmas Shoes
Christmas is synonymous with giving, charity and helping those who are suffering around you. NewSong's track, Christmas Shoes, uses this seasonal backdrop to illustrate a heart-shattering scene of childhood poverty.
As the narrator stands in line to pay for some presents, the poor boy in front of him struggles to pay for the shoes he's picked out for his dying mother;
"Sir, I wanna buy these shoes for my mama please, it's Christmas Eve and these shoes are just her size, could you hurry sir? Daddy says there's not much time, she's been sick for quite a while, and I know these shoes will make her smile."
The narrator lays his money down to pay for the boy, flooding the track with the sentiment of good will in times of need and distress. This track exhibits how even the most non-festive person can share peace with others during the season, alongside showcasing the true meaning of Christmas.
What makes this song stand out is the gut-wrenching way it highlights how human suffering doesn't simply cease just because it's Christmas, "I want her to look beautiful if mama meets Jesus tonight."
5. Wengie – Ugly Christmas Sweater
Wengie's 2018 Christmas hit is beautifully evocative of the warm indoor ambience of the season, mixed with the hazy chill of the snow, presents, cookie baking and mistletoe kissing.
Wengie embraces the iconic look of ugly Christmas sweaters, cutely encouraging her partner to match her enthusiasm;
"Baby, don't you know it, that the time has come to rock the polyester with the bells on the front … Go hang the mistletoe, and then we can kiss, I told you Christmas don't get better than this, you waited all year long, you know what I want, come on put it on, put your ugly Christmas sweater on."
6. Sara Wolff – Scarf Song
While this is hardly a Christmas song, scarves are a staple part of any seasonal outfit. If you're a friend of Sara Wolff's, however, your best bet is to leave your scarf at home.
Scarf Song is irresistibly quirky to say the least, studded with cut-throat humour and an odd, indie atmosphere.
This track is about giving a handknitted scarf as a gift to your lover, who soon becomes your ex; with its chorus line laced with a savage remark, "I made this scarf to keep you warm, to keep you safe and snug from harm, I made this scarf to keep you warm, but now I want to tighten it round your neck."
Sara Wolff harnesses a beautifully authentic soundscape, exhibiting a strangely stunning blend of eeriness and light-hearted joviality to create a song as unique as Wolff's handwoven noose.
7. Little Mix – Gloves
Little Mix's track Gloves featured on the group's last studio album before their 2022 hiatus.
A bubblegum pop hit clad in electronica and dance anthem vibes, Gloves is anchored around the phrase 'pulling your gloves up,' swapping cosy winter atmospheres for a metaphor about getting down and dirty in your business to attain ultimate success.
Their chorus is crafted into an anthem for anyone 'gunning for gold' whilst 'breaking the mould';
"I got my eyes on the prize, fight till the day that I die, can't knock me down and that's why, I got 'em all the way up.. Put your gloves up, put 'em all the way up, put ya gloves up, boy you better put 'em high."