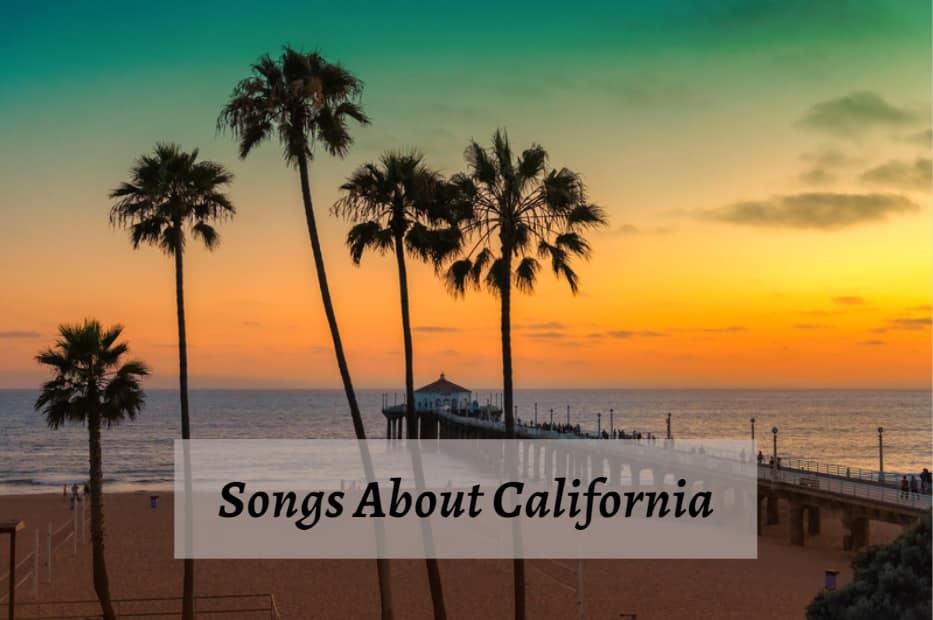 Songs About California
1. 'California Dreaming' by The Mamas & The Papas
The Mamas and The Papas are one of the most famous male and female vocal groups to form and flourish in the heydays of the 1960s. Although the relationships between the group were often difficult, they produced some of the iconic tracks from the era.
'California Dreaming' was written by John and Michelle Phillips in the early part of the 1960s. At the time, the newly-married pair were living through a particularly cold New York winter.
Michelle was used to the more temperate climate of California and this song is inspired by her longing for California. What was unusual for the time was the flute solo. Normally a guitar solo would be expected.
What was even rarer was the fact that it was performed on an alto flute. Released in 1965, the song did not immediately meet with acclaim. As time progressed this has become one of the most popular songs the group ever produced.
2. 'California' by Phantom Planet
Formed in 1994 in Los Angeles, this rock band has enjoyed a series of hits during its career. As it transpires, this track was a bigger hit in Austria than in the US, but the rock scene is strong in that part of Europe.
The song was recorded in 2001 and released the following year. There is some speculation that the song was based on the old Al Johnson song 'California, here I come', mostly due to the piano intro and outro together with the focus of the lyrics. The link seems a little tenuous to me.
The song has an easy, mid-tempo rock feel to it characteristic of that laid-back Californian vibe. Lyrically, the song is quite straightforward. The singer looks forward to and longs for his return to California where life is sweet, sunny, and cool.
3. 'California Love' by 2-Pac
Before I embark on a snapshot of this track, I would like to mention that the video accompanying the song is a work of brilliance. This song dates back to 1995 and features two major figures from the Hip Hop genre of music: Dr. Dre and Roger Troutman.
The idea behind the release of the song was to ensure 2-Pac had a strong comeback following the success of his first album. 2-Pac received strong critical support for this track, with the 'sparkling' production created by Dr. Dre. This was good news for 2-Pac as he had only recently been taken on by Death Row records.
It is a fusion of Hip Hop, Funk, and a touch of Rock, blended into an appealing track. Lyrically, the song uses intricate rhythms and rhymes that propel the track forward. Essentially, this song talks about how great and free life and love are in California even though there is a dark side too.
4. 'California' by Joni Mitchell
From 1971, this is classic Joni Mitchell stems from her album titled 'Blue'. For many apparent reasons, Mitchell was feeling blue having broken up with her long-standing partner. How often it is that from tragedy comes poignant and innovative art. This song is no exception as it remains alive and relevant today.
What we hear in the expertly crafted lyrics is Mitchell's longing for California. There, despite the troubles that were going on in that part of the US in the 1970s, Mitchell felt connected and creative.
She sings from the perspective of someone who is now at a distance from California. (She was in Europe at the time of writing). There are many memorable lines in this song as with so much of her work.
"They won't give peace a chance, that was just a dream some of us had". Even amid the sadness she feels, she laments the fact that the US failed to step away from war-mongering and choose a more peaceful approach.
In some ways perhaps it reflects her overall regret at being away from California and having lost her love. A final point of note, James Taylor plays the guitar on this superb track.
5. 'Going To California' by Led Zeppelin
I have included this track here as it was inspired by the Joni Mitchell track above. At a first listen even to the opening minute or so, the guitar accompaniment certainly feels close to Mitchell's song. There are distinct lyric references to Joni Mitchell too.
"Someone told me there's a girl out there, with love in her eyes and flowers in her hair", almost certainly refers to Joni Mitchell.
Recorded at the famous Headley Grange studios where Led Zeppelin captured so much of their work, Jimmy Page described the facilities as being ideal for creativity as there was nothing to distract you from the writing process.
'Going To California' was a product of Headley Grange and co-produced by Jimmy Page. This is part of the Led Zeppelin Four album that received positive critical acclaim and has now been firmly established as a classic rock album.
Unlike many Led Zeppelin songs, this abandons the heavier sound of many Led Zeppelin songs in favour of an acoustic-based track with no drums. It is a reflective, delicate track featuring the guitar skills of Page on six-string and John Paul Jones on mandolin.
Lyrically we hear about the singer who is leaving an unkind woman behind and making a fresh start in California.
6. 'Go To California' by Rob Zombie
You might not have discovered this artist who was born in the US in 1965 and has an impressive career behind him. In 1996, Rob Zombie produced his first album in close collaboration with Alice Cooper.
This album had the terrifying title 'Hands of Death (Burn Baby Burn)'. 'The Sinister Urge' from which this track comes was his second solo studio album. It was released in 2001 and has become a platinum-selling album.
As you may have guessed, the genre of music Rob Zombie works in is heavy rock or Industrial Metal. Many of his tracks reflect and use lines from classical horror films and his live performances are renowned.
The lyrics of the track are hard-hitting, and mildly surreal but seem to project the urge to go to California where life, sex, and love are free.
In between albums, Rob Zombie makes films. If you're a fan of the horror genre, these might be for you. Rob Zombie directed both 'House of a 1000 Corpses' (2000), and 'The Devil Rejects' (2005).
7. 'California' by Lenny Kravitz
Written, performed, and produced by Lenny Kravitz, this song comes from his 2004 album titled 'Baptism'. In his inimitable style, Kravitz gives the Californian vibe his unique rocky edge in this track.
It's a track about a guy who takes a chance and moves to California, not quite knowing what he'll discover. What we hear in the lyric is his experience in California of meeting a girl with who he shared some wild times, smoking, making music, and falling in love.
He says he misses his friends from where he came, but now he has found his 'surfer girl' he's committed to her. This is an upbeat, positive song that invites you to hit the dancefloor and have a great time just as Kravitz did in California.
8. 'California' by Yellowcard
Yellowcard is not a band I've encountered before, but this track has a certain melancholy appeal along similar lines to R.E.M. The band assembled in Florida in 1997, moving to Los Angeles in the early 2000s.
There are nine studio albums to the band's credit, each offering an organic window into the band's style and focus. They've been described as post-punk rock which frankly covers a whole host of musical options.
This song, released in 2014, is a piano ballad, set with a typical simple piano accompaniment and heartfelt vocals.
In a similar vein to other tracks in this collection, 'California' is an expression of the singer's love for his girlfriend and an expression of regret that she is moving away without him.
9. 'Californication' by The Red Hot Chilli Peppers
According to several sources this song, released in 1999, has sold more than 15 million copies. The album holds the same title as this track and was the seventh studio release for the band. The images that spring from the lyrics are strong and thought-provoking.
Despite the quite upbeat feel of the music, what travels through the song is a message that not everything in this golden state is rosy.
Consider the young mother, hooked on heroin with her beautiful baby smiling at her while she struggles to know how she will make it through the next day with her.
The lyrics poke at the façade of Hollywood and its fake representation of California. Instead, the song suggests that society, notably in the US, is falling apart at the cost of the lives of the most venerable. It is a powerful song that deserves the popularity it continues to enjoy.
10. California Girls by the Beach Boys
In 1965 The Beach Boys released what would become one of the most popular songs they ever wrote and produced. The winning combination of Brian Wilson and Mike Love penned one of the most iconic songs of the 60s in this track.
It is a celebration of Californian women conceived whilst Wilson was experiencing his first acid trip. The instrumentation is characteristically innovative and the layered vocal harmonies beautifully managed.
Over the coming years, the song has become a kind of anthem for the great times one can have in one's youth.
What also makes this song particularly special is that Brian Wilson, so often disparaging about his work liked this song and felt it represented one of the best tracks the Beach Boys ever produced.