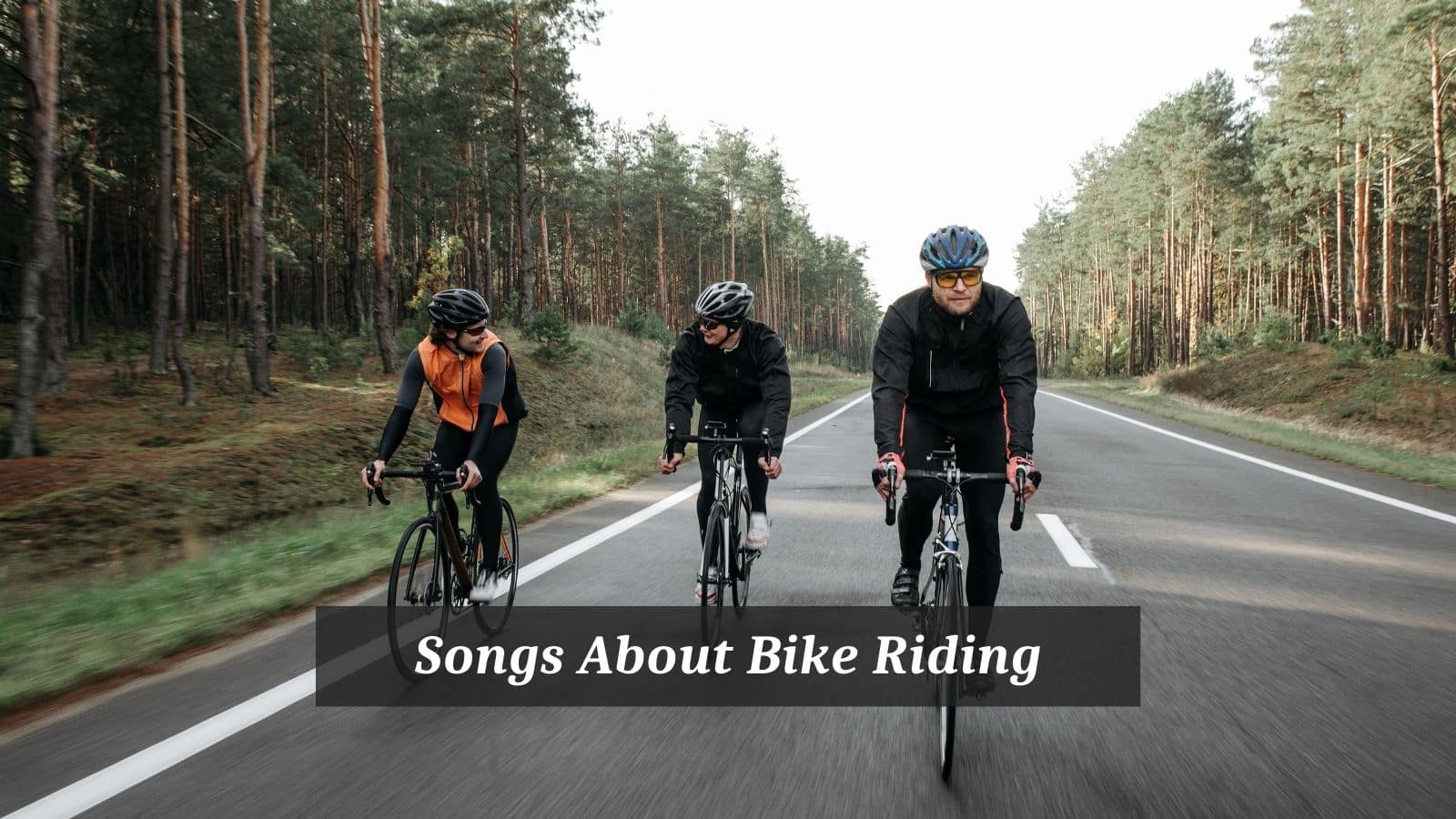 Riding bicycles conjures instant thoughts of springtime adventure and sun-bright freedom, whether you're young or old.
Threaded with themes of childhood nostalgia, progression, innocence and happiness, we've collected some stand-out songs about bike riding showcasing the best of the concept, from vintage tracks about finding love on a bike ride, to contemporary dream-pop hits about leaving home for good.
Songs About Bike Riding
1. Mark Ronson ft. The Business Intl.- The Bike Song
Mark Ronson & The Business Intl.'s 2010 collab, The Bike Song, is a groovy, synth-based track layering an eccentric array of retro details upon its jazzy soundscape.
Hosting an endlessly adventurous and explorative style of harmonic composition such as bike bell embellishments, this quirky, clear-skied track is an adult take on a childlike hobby, masterfully blending the influences of both worlds together.
The Bike Song describes feeling like a child in an adult's world whilst never truly growing up, its lyrics covered with anecdotes comparing adult failures with a childish mentality;
"Everybody's growing up, having kids and paying rent, they're all getting cars of their own, gonna ride my bike until I get home."
2. The Mixtures- The Pushbike Song
This strange vintage pop hit by The Mixtures entited The Pushbike Song, was a AUS #1 on its initial release in 1970, despite hosting an oddly artful conglomeration of sound comparable to broken, manual mechanics.
The Pushbike Song illustrates an idyllic bike ride leading you to meet a fellow cyclist who turns out to be the girl of your dreams.
The Mixtures cutely thread the idea of racing and chasing, before moving up from a one-person bicycle to a two-person tandem bicycle, mirroring the entanglement of souls in a relationship;
"Put on the speed and I tried catching up, but you were pedaling harder too, riding along like a hurricane honey … Now we're riding along on our bicycle honey, that's a bicycle built for two, I'm looking at my honey in the rear view mirror, now I got a better view."
3. Frank Ocean ft. Jay Z & Tyler The Creator – Biking
Frank Ocean's 2017 collab with Jay Z and Tyler The Creator, Biking, is grounded in a hypnotic blend of R&B and dark, ambient jazz, its soundscape conjured by trance-like pianos padded with acoustic guitars and subtle, otherworldly synths.
Composed with a hazy, late-night ambience, Biking is centred around a metaphor for positive progression through life's perpetual cycles, their lyrics woven with themes of karma and embracing the winds of change.
Each vocalist cloaks their verses in bike-themed wordplay, highlighting an underlying message of personal power, strength, endurance and success;
"I don't get weak in the knees… God gave you what you could handle… I got the grip like the handle and I'm biking… I landed the trick, got my impossibles… Alcoholic way I handle the bars."
4. Lana Del Rey – Ride
Lana Del Rey's 2012 single, Ride, illustrates a girl leaving home to escape her father's abusive and addictive behaviours.
This melancholic, dream-pop track is flooded with the feeling of freedom upon making it to the open desert roads, fleeing into the wild unknown and attempting to shed all prior signs of stagnation.
However, this track refuses to be the overtly hopeful piece expected from a radio pop artist, instead centred in a realistic account of struggle, Rey's lyrics textured by the crippling lethargy that soon follows exploration;
"I've been travelling too long, I've been trying too hard… I hear the birds on the summer breeze, I drive fast, I am alone in the night, been trying hard not to get into trouble, but I've got a war in my mind, so I just ride."
5. Chevy – If I Could Ride A Bike
Chevy's 2019 jazz-inspired pop release, If I Could Ride A Bike, resounds like a modern interpretation of a vintage love song, her clean, floral melodies capturing a clear-skied springtime feeling of wistful wonder and colourful imagination.
This sweet, string-clad piece paints a vibrant mental image of an adventure for two, the narrator crafting a dreamscape from her honeymoon-phase feelings;
"If I could ride a bike, I'd zoom around the world with you sitting there behind me … Oh, when you call me, I'm drifting on clouds like I'm dreaming, but in the morning I'll wake up and see that you're stuck here with me."
Chevy's lo-fi piano harmony is inherently childlike, composed with xylophone-style tones and dancing melodic twists, like the wandering, easily distracted imagination conjured by youthful bike rides.
6. Katie Melua – Nine Million Bicycles
Katie Melua's 2005 folksy pop track, Nine Million Bicycles, use its title lyric as a metaphor, demonstrating the truth and depths of her love; "There are nine million bicycles in Beijing, that's a fact, it's a thing we can't deny like the fact that I will love you till I die."
This sentimental piece is destined for anyone riding the road towards long-term love and wholehearted commitment, and finding themselves willing to travel any distance, physical or metaphorical, to be with the one they adore;
"We're high on the wire with the world in our sight, and I'll never tire of the love that you give me every night."
7. Skylar Grey FT. Eminem – C'mon Let Me Ride
Skylar Grey's pop collab with Eminem, entitled C'mon Let Me Ride, transfers an array of childish sentiments into sexual allusions, her lyrics hyper-focused upon a different type of adventure than the bike ride she suggests;
"If you got a sweet tooth, you can taste my watermelons, if the swing set bores you, I can show you all my talents … C'mon, let me ride your bicycle, it's so fantastical on your bicycle."
Interspersing an sample adapted from Queen's iconic bike-riding track, Bicycle Race, Grey threads summertime scenery through her verses, summoning an outdoorsy ambience beneath her swathes of double-entendres;
"If the world starts freezing, I can make it hot and humid, if you get a bee sting, I can suck out all the poison … We can get a little more physical, baby, after all, it's only natural."