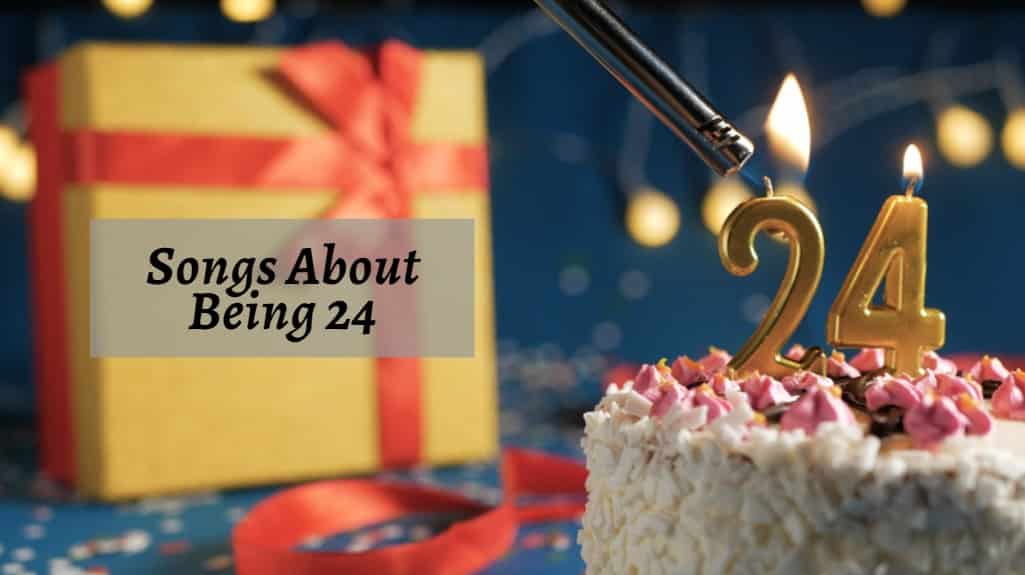 Songs About Being 24
1. 24 by Switchfoot
Switchfoot is an American rock band from sunny California. They may not be a group you've encountered before, but they began as far back as 1996. Since then, the band has produced ten albums, each of which has continued to build the band's success.
Switchfoot is classified by popular culture as Christian Rock, although today, they are thought of as being more mainstream.
'24' features on Switchfoot's fourth studio album called 'The Beautiful Letdown'. This album eventually went double platinum, having sold an impressive 2.7 million copies. '24' is the eleventh track on the album.
The song does not make for easy listening. It expresses deep despair and dismay at having reached twenty-four and found that life is not what you thought it would be.
There's discontent sprinkled with the need for God to raise him up from all the tangled mess that the past twenty-four years have caused. Despite trying every angle, it seems to the singer that there is little to celebrate.
2. 24 by Red House Painters
This track comes from the Red House Painters debut album that hit the shops in 1992. The poignant title for this album was 'Down Colourful Hill'. Lyrically, this track is dark and troubled.
As the singer reaches twenty-four, nothing is the way he imagined it would or even should be. Everything is quite dismal.
The opening is gentle to the point of feeling as if it is stumbling, struggling to get going. It's reflected in the lyrics as the solo acoustic guitar accompanies the lead voice.
Reaching the age of twenty-four is not something that the singer welcomes. In fact, it feels as if this song is almost a suicide note as he finds nothing particularly good about just getting older as your dreams break.
It is a tough song to listen to, but one that provides and provokes discussion. In a world dominated by overly manufactured pop, this track stands out as an honest voice amongst the tide of banality.
3. 'It Could Have Been a Brilliant Career' by Belle & Sebastian
The opening line to this song packs quite a punch. "He had a stroke at the age of 24". If this doesn't draw you into the narrative, probably not much will. Belle & Sebastian have a knack for a story and this song is no exception.
Formed in the early 1990s, Belle & Sebastian lies uneasily in the indie-pop category of music. They are from Glasgow, which, in my opinion, adds subtle darkness to the lyrics that is appealing.
This track is the first on their 1998 album with the inventive title of 'The Boy With The Arab Strap'. If you are aware of the implications of the title, you will already have guessed the slant of this album and the style of Belle & Sebastian's work.
The album, like the song, has been described as experimental and, in some ways, a departure from previous album projects.
'It Could Have Been a Brilliant Career', tackles a difficult subject area. It opens up the idea of what happens to you if one day you should fall victim to an unfortunate event.
In this case, a stroke steals the man's future even though it seems as if even without the stroke, he may not have gone far. The suggestion seems to be as we move towards the second verse that life throws curve balls at us regardless of what we plan.
There are only acceptance, resignation, and broken dreams even at the age of 24.
4. 'You're Mines Still' by TRF Natu
This is a song with some impressive pedigree. It was released in October of 2020 as a track on the EP titled 'Love scars: The Five Stages of Emotions'.
Yung Bleu is the name of the rapper who wrote and performed this track, which was released on his follow-up studio album called 'Moon Boy'. This album hit the stores in 2021. There was a re-mix of the Ep that ensured the young rapper's success.
Drake, after following Yung Bleu on Instagram, accepted his request to collaborate on a re-mix. According to Yung Bleu, Drake wrote his lyrics in a couple of hours, amazing the entire production team.
The hook in the lyric is, "My goals changed now by the age of 24 I need five mills". Described as a melancholy cut by one critic, this track offers an exceptional opportunity for Bleu to demonstrate his skills.
They're complemented effortlessly by Drake, who adds a slightly characteristic darker tone to the song. It is essentially about missing an ex-girlfriend Bleu who he didn't treat well. He realises his mistakes and that the bad things he did to try to get her to return were foolish.
A delicate rap over a trap beat where two artists blend beautifully to create this track.
5. 'Old Man' by Neil Young
This was the first song Young recorded for his renowned album 'Harvest', which was released in the early 1970s. He had successfully managed to arrange a recording session at Quadrafonic Studios in Nashville, USA.
Along with the studio owner, Elliot Mazer, who assembled the best local musicians to work with Young, recorded the track in February 1971.
The inspiration for the song came through a discussion with his new ranch hand, a man called Louis Avila. Avila had questioned Young about how such a young man could afford the $350,000 price tag for this ranch. Young put it down to pure good luck.
What we hear in the track is a young man at the age of twenty-four, highlighting the similarities between his life and the old man's.
They share many things. The young man has his life ahead of him in the same way the old man once did. A small point of interest; James Taylor played the banjo on this track.
6. 24 by Game Theory
'24' is from Game Theory's second studio album called 'Real Nighttime'. As a band, they were active from the early 1980s, and this album was released in 1985. Critics mostly like the album praising its ingenuity and vibe.
Game Theory was a power-pop band fairly typical of the decade. That said, this album is full of inventive lyrics and clever arrangements.
Lead singer and guitarist Scott Miller managed to persuade R.E.M's producer Mitch Easter to produce 'Real Nighttime', which brings definite overtones to this UK band's albums.
The narrator of the song is a tender twenty-four, pondering life's qualities and quandaries. Having gone through college, the lyric suggests confusion over which direction to take next and what meaning in his life might look like.
The young man is crushingly self-conscious, troubled by the prospect of being alone yet uncertain how this might be different in the future.
7. 'Twenty-Somethings' by Judah and The Lion
Not a specific number in this song, but a direct reference to the experience of living life as a twenty-something. Judah and the Lion are considered to be an alternative rock band. They herald from Nashville, USA, and were formed around 2011.
Their music is a brilliant fusion of country, pop, and rock with more than a sprinkling of difference. To date, they have released four studio albums that seem to have attracted a dedicated audience and enjoyed critical credit collectively.
'Twenty-Somethings' is an easy-going song with a gentle build. Its understated nature pulls you into the song without you knowing just how effectively the lyrics and music fuse together.
The essence of the song is about being in your twenties, free of commitments, yet wanting to find your way. There's the sense that so many experiences in this interim period of growing up where you need to continue having fun still don't marry up with a familiar urge to perhaps settle into a more moderate way of life.
8. 'My 24th Birthday' by Dave
If we track back to 2017, you may recall that the celebrated London rapper Dave produced a song called 'My 19th Birthday'. This was Dave looking back at his first two decades on the planet and taking stock of what he's done.
Now, in 2022, Dave's back with a follow-up riposte to his earlier song. With an impressive two number one albums already under his belt, Dave takes another opportunity to consider where he is in his twenty-fourth year.
'My 24th Birthday' is an amalgam of stories that range from memories of Dave's mother through to his current dilemma about how to handle his fame. Dave's father was deported to Nigeria when Dave was only four months old.
His mother struggled to feed and clothe him, and he links the miracle of the loaves and the fishes. Dave celebrates his close friendship with his fellow rapper Drake who has helped him through troubled times.
Ultimately, Dave finds his greatest source of solace and strength resides in his Christian faith. And here lies another deep connection with another collaborative rapper Stormzy.