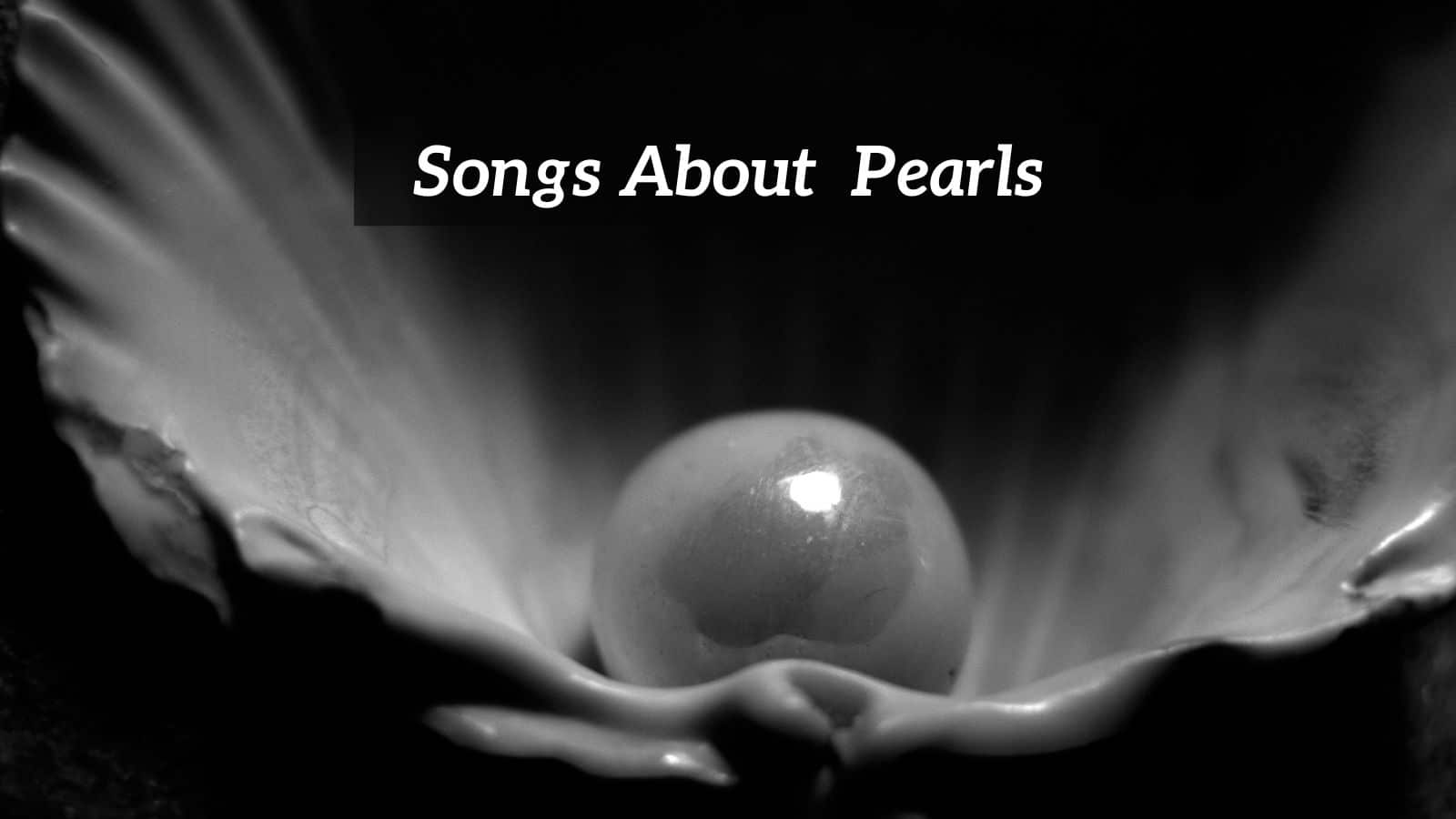 For centuries, pearls have represented peace and wisdom to a multitude of cultures around the world. As a jewel of the seas, the pearl connects us to our emotions, instinctive freedom and the natural beauty that surrounds us, if only we open our eyes to it.
Our list of songs about pearls collects treasures from all genres of music, exhibiting only the most mesmerising and unique tracks about the sea-born gem.
Songs About Pearls
1. Sade – Pearls
Pearls by Sade is an unfathomably beautiful soul track, with the lush, open presence of a movie soundtrack.
Her soft, compelling landscape of sound reflects the wide, flowing seas underscored by the murky depths that shadow them, creating a melancholy yet soul-nourishing song about poverty.
Sade conjures the image of "a woman in Somalia, scraping for pearls on the roadside," threading her sad, stumbling character into a story that demonstrates instinctive strength during disaster, death and perpetual emptiness.
Pearls become the backdrop to a much more profound tale of third-world suffering; "The sun gives her no mercy, the same sun we lay under burns her to the bone."
Sade cleverly links the feminine aspects of pearls and fashion to her chorus, crafting her track into an obscure anthem devoted to the unsung plight of women around the world, "She lives a life she didn't choose, and it hurts like brand new shoes."
2. Olivia Newton-John – Pearls On A Chain
This Olivia Newton-John album track softly glistens with Eastern inspirations and the pure sense of peace which pearls are naturally awash with.
She uses the metaphor of 'pearls on a chain' to profess her love to her partner, alongside their inseparability, alikeness and the absolute beauty they share.
This is a sweetly soothing track that's a refreshing step away from modern soundscapes, Olivia's peaceful harmony drawing in on the tranquillity of the unchanging ocean and the blessings it bears;
"Every day my sun rise will dawn where you are, every night we sleep underneath the same stars, and if we stand face to face, we'll see love's amazing grace, we are pearls, we are pearls on a chain."
3. Savage Garden – Tears Of Pearls
Savage Garden's 1999 single, Tears Of Pearls, is a quirky pop rock tune with a strange metaphor illustrating the displacement of emotions during the breakdown of a relationship.
Their anchoring line, 'tears of pearls,' is crafted to reflect what could be interpreted as the loss of beauty and sense of prized loved that's been washed away by the slow-building resentment riddling the song's verses, "We stare each other down like victims in the grind, probing all the weakness and hurt still left behind, and we cry these tears of pearls."
Their chorus adds another unique layer to their concept by comparing their hidden feelings to tainted treasures lurking within a jewellery box, "All these mixed emotions we keep locked away like stolen pearls."
4. Mitski – A Pearl
A Pearl is a fresh indie rock track swarming with captivatingly unique flavours, with a sound almost like 1960's psychedelia meets 1990s grunge.
Mitski's unconventional pearl metaphor is rooted in their chorus, where they place the gem as a symbol of the remnant of the rarest type of love, turned to ruins;
"It's just that I fell in love with a war, nobody told me it ended, and it left a pearl in my head, and I roll it around every night just to watch it glow."
Like how any precious jewellery unearths sincere memories every time you dig it out of your jewellery box, Mitski shines a light upon the nostalgic act of carrying the crystalline remnants of a broken relationship with you.
5. Gary Clark, Jr. – Pearl Cadillac
Gary Clark Jr's pop track Pearl Cadillac is flushed with smoky guitar solos sounding with the symphonic power of a 1980s rock ballad.
Clark masterfully blends his vintage influences with crystal-clear contemporary pop to craft a landscape for his timeless track, centred around the concept of leaving home to make yourself a better man.
The pearl Cadillac becomes a symbol of a peaceful, better future, winning back the love of those you've hurt through positive change and personal transformation;
"I remember when I left home in that pearl Cadillac, I was searching for some kinda way to pay you back, for your love.. I won't let you down, Imma make you proud."
This is a song for anyone who needs to take a step away to reflect on their blessings and downfalls before they start to step forwards again.
6. Samantha Gongol – Pearls
Featuring as a bonus track on the Fifty Shades Free soundtrack, Pearls is an undoubtedly sultry pop song which harnesses an array of jewellery-inspired lines.
From feeling "caught up" in your lover, to falling "like pearls to the ground" in love or in lust, Pearls captures the essence of dominant feminine energy, like a goddess radiantly bejewelled and glistening with power.
The track's chorus summons a darker shade, "When the pearls on my neck get too tight, I'll let go, at least I could leave you, I wouldn't, I need you," making a song for anyone feeling hopelessly tangled in the chains of your lover.
7. Prince And The New Power Generation – Diamonds And Pearls
Prince's 1991 single, Diamonds And Pearls, is a song that wholeheartedly gives yourself to your partner, putting the power in their hands and laying the world at their feet.
Prince studs his song with light-bearing jewels to poetically allude to the extent he would go to in order to brighten his partner's life with love;
"If I gave you diamonds and pearls, would you be a happy boy or girl, if I could I would give you the world, but all I can do is just offer you my love."
8. Omega – Pearls In Her Hair
Pearls In Her Hair is a late 60s prog rock track dripping with psychedelia and folksy influences, evoking the soundscape of an ancient Celtic forest glistening with mysticism.
Omega's track is wonderfully scenic, every verse doused in captivating woodland imagery, "One day the sun, too tired to shine, slept in the deep, green sombre lake and in the darkness, the world did ail, until she came for all our sake."
The mythical girl appears as an illusion, never quite settling into either fact nor fiction; "That girl with pearls in her hair, is she real or just made of air, long since she's been asleep in the ocean deep."
This song transports you to an Alice In Wonderland-style of novelty and obscurity, woven together by the peace and freedom of the sea's pearly treasures.