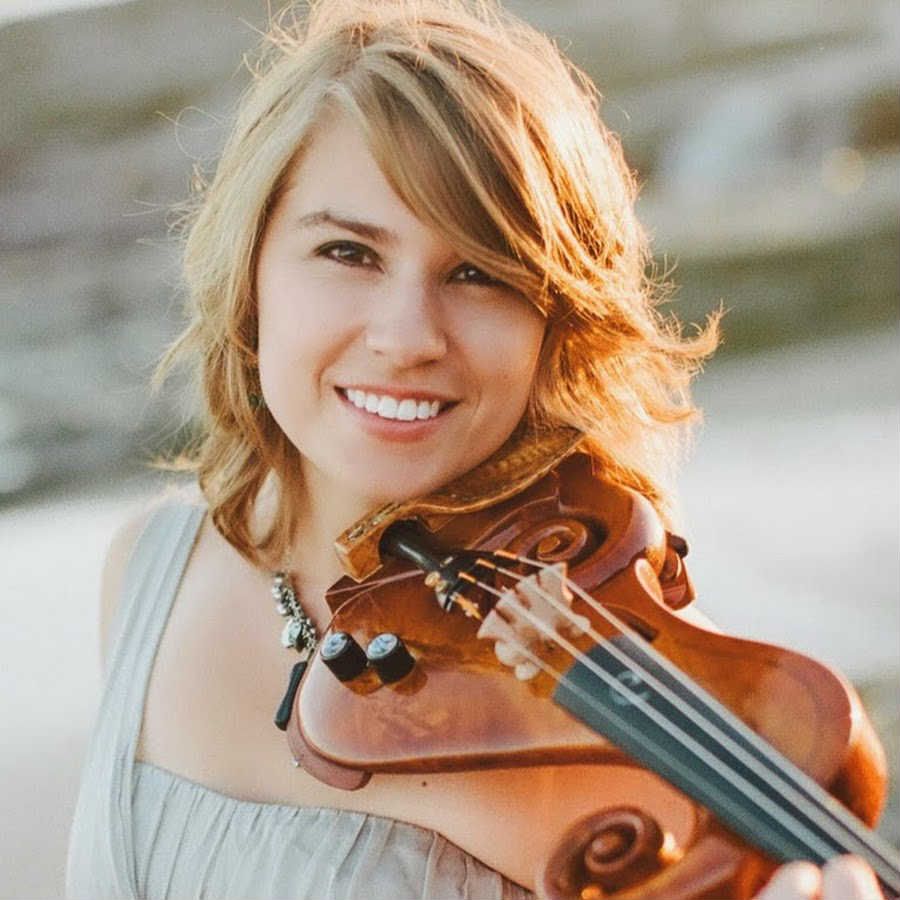 When Taylor Davis was eight years old, she was sitting in an all-school Christmas assembly and saw a young girl take the stage with her violin. "I was never really interested in playing any musical instrument before this, but as soon as the girl started playing a few notes of "Silent Night" I was instantly mesmerized by her performance and had this really intense desire to want to play the violin," said Davis. She begged her parents to let her try the violin and "thankfully," she recalls, "They said yes."
Davis, 28 on March 20th, made a name for herself on Youtube—she has 763,145 followers as of March 17th, 2015— by creating covers of the most iconic video game, anime and movie soundtracks. Her most popular video, which has over 9 million views, is "He's A pirate," an arrangement of Pirates of the Caribbean's theme.
Her videos, however, do not only showcase her flawless execution. On the contrary, Davis takes care of the cinematographic and visual aspects as well: all videos are shot on location and the outfits she wears in them mirror the original context where that particular piece is heard: for example, in her cover of Now We are Free, she wears a Roman-inspired tunic. When it comes to video game covers, she'd also cosplay one of the characters of the video game whose music she is covering.
"I love adding little details in my videos to pay tribute to aspects of the games and anime whether it's through cosplay or choosing a specific location to shoot in that is reminiscent of the game or show," she said. Generally the videographers she works with (usually FifGen Films or Landon Donoho) have also played the game as well, or have done research on it, so the team has some "pretty fun and nerdy discussions" about how they want to approach the video and what aspects we want to include.
Davis first started really noticing the beauty of video game music while playing Super Mario RPG and Chrono Trigger; at that time she spent a lot of time playing video games but mostly with her older brother, when they took turns. Things changed when she approached Final Fantasy VII, whose soundtrack, composed by Nobuo Uematsu, is one of the most renowned in the history video game music. Davis was mesmerized. "As the game went on I just kept getting more and more excited about the music.  At the time I had no idea where to get an actual CD with the music," she said. "So I would actually sometimes just pull up the menu in a certain level and leave the TV on so I could listen to the music on repeat in the background while I did my homework". To this day, Final Fantasy VII remains her favorite game.
She is also an active composer, and the public can get a sense of it firsthand by listening to "Awakening," an original composition.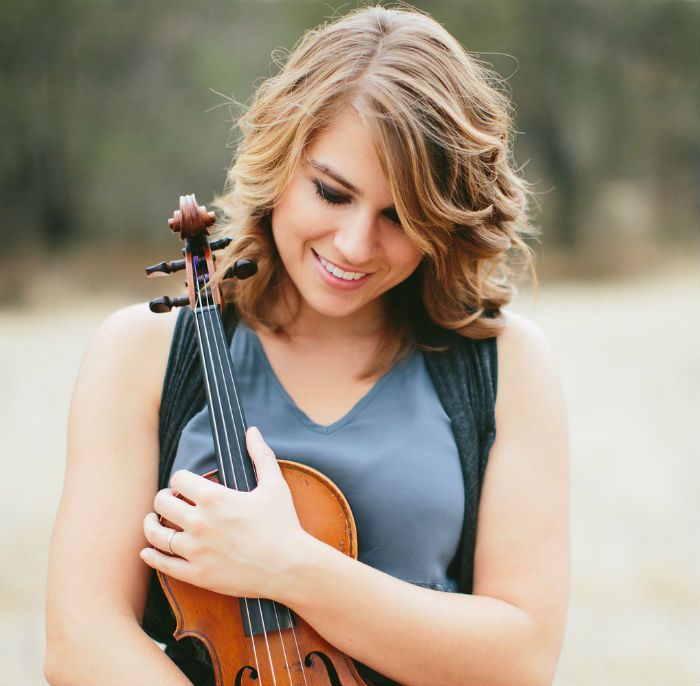 With six cover albums already under her belt, Davis is about to launch her first original album, aptly titled Taylor Davis (now available for pre-order) It will release officially on March 24th and it will include 12 tracks. We chatted with Taylor Davis via email to know more about her art and inspiration.
Why do you think that video game music is becoming more and more important and that people have started recognizing its value ?
I think that game companies are really starting to see the value in music more and more and now they're investing a lot more in the music development than they used to.  It's not entirely uncommon for a game to have an actual live orchestra soundtrack.  Also, the technology has become so advanced now that you can get an incredibly realistic sound from computer instrument samples without even using live players.  I think that hearing the music in a much higher quality format, whether live or computer generated with high quality samples, really makes it a lot more accessible to the average person than the older MIDI style soundtracks were.  It's also really awesome to see Nobuo Uematsu and the music from Final Fantasy tour with live orchestras for shows like "Distant Worlds" to really bring the music to life and make it more relatable.
So, do you have a specific piece by Uematsu that particularly speaks to you? if yes, why?
It's really hard to choose a favorite, but I'll always have a special place in my heart for "One Winged Angel" from Final Fantasy VII.  It's such an epic piece and I really never get tired hearing it.
You've been composing your own songs and I know that you've been working on your album: what composers and genres influenced you the most?
I feel that I'm the most influenced by soundtrack style music, whether it's from a video game, film, anime or movie trailer.  As I've mentioned, Nobuo Uematsu is a personal favorite, and I've always really loved most everything by John Williams.  I also really enjoy music from Two Steps From Hell, and particularly the solo work from Thomas Bergersen.  I thought that his newest album "Sun" was stunning and really some of the most beautiful music I've ever listened to.
Since you are a classically- trained violinist, which are the classical music authors that shaped and refined you as a musician?
I love Rimsky-Korsakov, Mahler and Sarasate.  I think I feel such a strong connection to works by those composers because I love to visualize a scene or story when I listen to music and I always have an easy time doing that when listening to their work.
You started your Youtube channel five years ago: how long did it take you to make a name for yourself? What can you tell me about the opportunities that rose from that channel?
I've never had a truly viral video on my channel, so it's actually been a pretty gradual growth over the past five years.  After I had been posting consistently for about 2 and a half years, that's when I decided to quit my desk job and make my first album.  I didn't have a huge audience at that point, but it was large enough and consistently growing to the point where I felt it would be worth taking that risk.  I've had some really neat opportunities come from my YouTube channel like performing at industry events such as E3, working with Grammy-nominated composer Austin Wintory on The Banner Saga, and performing a series of my own live shows last year in different cities in the US.  I'm really looking forward to having more opportunities to perform live as my channel continues to grow because I really would love to have the chance to meet more of my fans in person!
Are you a full-time musician now or do you have an office job to support your passion?
For a few years I was doing both an office job and my YouTube channel, but in November of 2011 I quit my day job and decided to pursue music full time because my YouTube channel was growing and I didn't want to have regrets if I didn't at least give it a try full time.  I wasn't making money from music at all at the time so it felt like a pretty big risk.  Thankfully after about 6 months from the time I quit my job I was able to start making a living from my music through the sales of my first album "Gaming Fantasy." I wouldn't be able to make a living from my YouTube videos directly because even though I have millions of views, I can't legally monetize a lot of that content for copyright reasons since I do so many covers.  Thankfully it's much easier to obtain licensing for selling the albums, and that's how I'm currently able to support myself and continue doing this full time.
So, as a performing artist, what does your typical work day look like?
Since I'm an independent artist and my own manager, agent, press-rep etc., my days are usually always different and involve tons of unrelated tasks.  I always have a ton of emails to go through so I generally start my day answering what I can.  I also always am updating my social media sites so today I made some different posts about my upcoming album and also updated my Pledge music campaign supporters about their shipments.  I had to approve the final artwork for my vinyl order and also fill out all the necessary information to process that order.  My original album pre-order had a glitch and so I was in touch with a support site to try and get that all sorted out and thankfully it's all figured out now.  I had to issue some refunds to customers on my website who didn't receive their download links to my album.  I began packaging together a lot of my Pledge music campaign orders, so I printed out tons of shipping labels and packaged things accordingly and made a run to the post office to check pricing and pick up customs forms since I have a lot of international orders to fulfill.  I also had to get my pre order set up in my merchandise store so I was approving some t-shirt designs for the bundles and also had to figure out the logistics of when to ship the physical albums to customers.
I'm shooting a music video tomorrow with a pianist friend of mine, Salome Scheidegger, so I was coordinating with our videographer about information for the shoot. Honestly, when I have an album coming out or videos that I'm planning I sometimes don't have a lot of time to even practice my violin.  Within the last two weeks I've probably only spent a few hours playing because I've been so busy with the upcoming album plans.  I'm looking forward to having all this behind me because it means I'll have time to practice regularly again!
In a Daily Dot interview you say that your love of games labeled you as an outcast: do you think things would be the same now that "nerd" culture is becoming more and more prominent within pop culture?
Thankfully I think that things are changing now and that people are becoming more tolerant and accepting of each other's interests.  Things that used to be considered "weird" or "uncool" are now sometimes the things that make people stand out in a good way for being different, and I think that's really nice to see.  Now it seems that a lot of people are proud to be labeled a "nerd" or "geek" and it's definitely becoming a lot more prominent in pop culture to see that as a positive thing.  It's never fun to be labeled as something negative or to hear mean comments about the things that you really enjoy in life, so I'm hoping that less and less people will have to go through the types of bullying that I went through when I was younger just for enjoying some alternative interests and hobbies.
Photos and videos: Taylor Davis