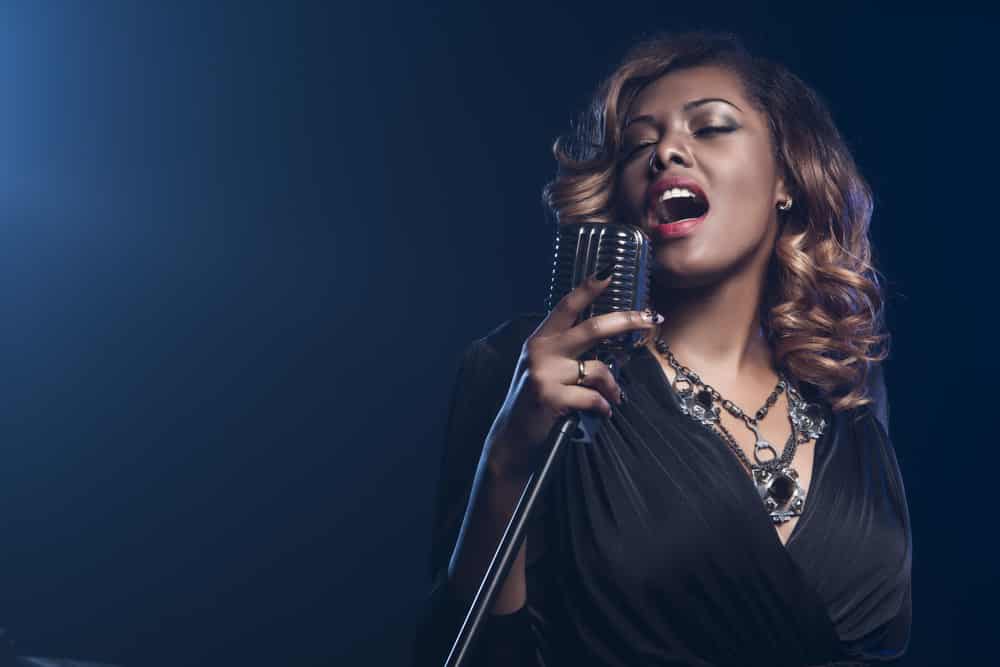 There are and continue to be many pieces of music that do not ask the singer to sing words at all. Instead, performers may be directed by composers to produce all manner of sounds from a hum to shrieks and insane babblings. This extreme would be considered as 'extended techniques' for any singer but the Italian composer Luciano Berio wrote an utterly amazing composition for his highly talented wife Cathy Berberian, titled 'Sequenza III for Voice' (1966).
In this composition, the soprano soloist is literally asked to perform anything from singing in the normal manner through to laughing, muttering under the breath, and sighing. You can hear a performance of this work here and follow the score too.
On a more immediate level think of how many songs you hear or choral pieces where the singers are only humming or perhaps producing an 'ah', 'ooh' or 'ee' sound to accompany the main voices. The practice of 'backing singers' in popular music adds not only supporting chords to the song but a warm background wall of sound that fills out the mix in a way that is altogether more human. The 1950s seemed to specialize in asking backing singers to perform a broad array of oddities including 'do-wop', 'sho-be-do', and other timeless additions you can hear on many hit records from that period of popular music. More recently, the all-boy band Hanson made a chart hit with their song titled 'MMMBop'. Whilst that track did have words too, the chorus was essentially wordless.
Wordless singing is commonplace in jazz. Here the technique has a name that is 'scat singing'. The idea behind scat singing is that the jazz vocalist mimics the sounds they hear played by the instrumentalists in the band. Not only can they mimic the sounds of instrumentalists but they often improvise in just the same way an instrumentalist would. One of the most outstanding jazz scat singers is Ella Fitzgerald whose approach to improvisation is highly polished and sophisticated. In this version of 'Flying Home', Ella Fitzgerald produces a blisteringly good performance.
Scat is not the province of female jazz singers. The famous Mel Tormé makes a great example of how to scat over the classic jazz song 'Autumn Leaves'.
In the world of classical music, words can frequently be extended into what is called 'melismas'. Keep in mind that it is impossible to sing a consonant, so it makes both musical and physical sense to lengthen the part of the word you sing: the vowel. These melismas are often used by composers to draw attention to a particular word and or to emphasize its meaning. Rather than setting each syllable to one note the melisma takes a single vowel and draws it out over a series of notes. William Byrd for example in many of his sacred masses makes good use of this technique. At the ending section of his Mass for Three, Voices Byrd extends the final 'Amen' over several bars.
When considering the music that is sung without words, this technique makes the comprehension of certain words and passages of music more about the sound than the particular word. Here, the music almost becomes more important than the words that are set, although in Byrd's case this could not have been further from his mind.
The term 'vocalise' refers in classical music, to a song that regularly uses a single vowel to develop an aspect of vocal technique or even just sounds as opposed to words. Perhaps the best known of all songs from this genre is Rachmaninoff's 'Vocalise' Op. 34 from 1912.
These are a series of fourteen songs where no specific words are asked for by the composer. Instead, Rachmaninoff instructs the singer to select their own vowel with which to sing the entire piece. Here is a warm and expressive performance of number 14, the famous 'Vocalise', here in an orchestral setting rather than its original piano accompaniment.
Rachmaninoff is not the only composer to have explored the use of a wordless song. Stravinsky whilst still under the watchful gaze of Rimsky-Korsakov composed the delightful and succinct 'Pastorale', scored for soprano, oboe, English-horn, clarinet, and bassoon.
On a larger scale, the French impressionist composer Claude Debussy scores a wordless female chorus in his evocative orchestral composition titled 'Sirenes' (Nocturne No.3).
Using wordless vocalists continues to be a stimulating challenge for composers today. American composer Stephen Montague wrote a piece he called 'Tigida Pipa' (1993), scored for vocal ensemble and pre-recorded tape.
Using a mixture of naturally occurring organic sounds the tape generates a textural background against which the singers perform a wide selection of tones, clicks, pops, and many other vocally produced sounds. It is a highly engaging, rhythmic piece that is fun to perform and just as enjoyable to listen to.
The textural effect of the chorus adds depth and mystery to an already colorful and creative score. It also makes the title of the piece all the more evident.
In the movies, the wordless song has made many appearances. One of the most celebrated pieces of film writing in this context is Ennio Morricone's opening theme from 'Once Upon A Time In The West'.
In all probability, Morricone drew inspiration from the Rachmaninoff Vocalise, but this song sets the tone for one of Sergio Leone's most brilliant westerns.
Returning to the world of popular music I would like to leave you with a couple of additional wordless tracks that made a lasting impression on the listening public. Firstly, the band My Chemical Romance and their song 'Na, Na, Na'.
True this song does have words for the verse, but the chorus and backing vocals comprise only of the title words. Likewise, the song by the Police titled 'Do, do, do' adopts a similar stance when it comes to chorus writing and with more than a hint of dry humor too.