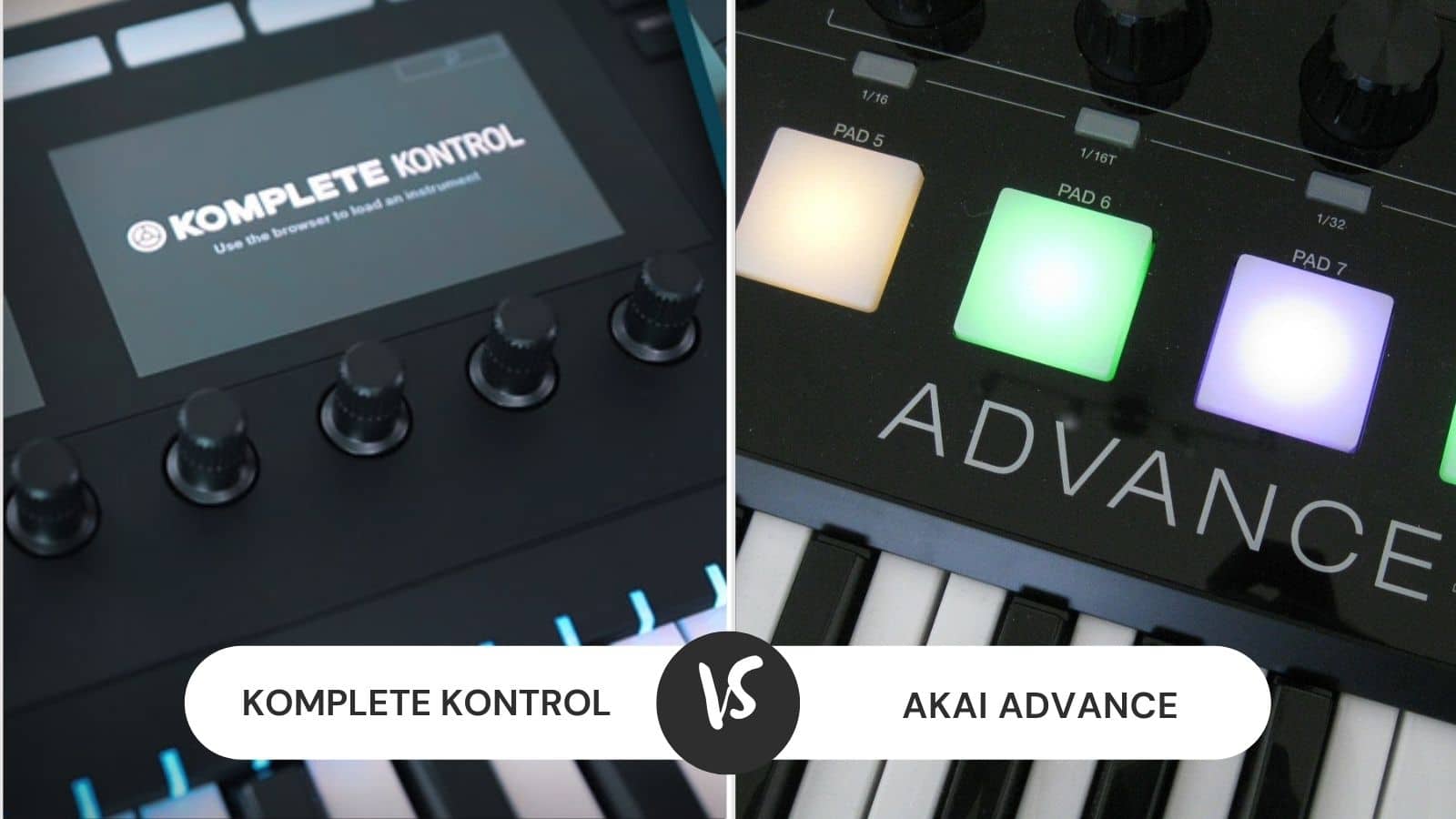 MIDI Keyboards are a marvel at beat-making. Playing the MIDI keyboards eliminates the need for a mouse and enables the user to operate it as a piano.
The producers and musicians use the physical knobs of MIDI keyboards to work with software knobs of an external device. Being a portable gadget allows them to produce sound wherever they want.
They can create beats without worrying about workstations or instruments, all with the help of a MIDI keyboard and a laptop!
The market offers a wide range of MIDI keyboard choices. We typically choose the suitable one when looking for the best fit
If you're looking for a pretty cool designed and classic MIDI keyboard for yourself, then you can't go wrong with these keyboards: Komplete Kontrol and Akai Advance.
Both of them need no introduction to the music biz! They have been introducing excellent MIDI guitars for years.
But still, if you are in trouble choosing one of them, here are a few things you need to know about MIDI Keyboards Series.
Komplete Kontrol vs Akai Advance
| Features | Komplete Kontrol | Akai Advance |
| --- | --- | --- |
| External Device | Laptop or Computer | Customized display screen |
| Pricing | $139 - $779 | $60 - $600 |
| Variety | 3 famous series | Limited models |
The German-based, Native Company has introduced a series of Komplete Kontrol keyboards. Since its advent in 1996, the company has expanded its various branches from Los Angeles, Tokyo, London, Paris, to Shenzhen.
The company aims to manufacture innovative musical instruments, making it a household name in the musical instruments market. Recently, Native Instruments joined Soundbite as a subsidiary brand in April 2022.
Features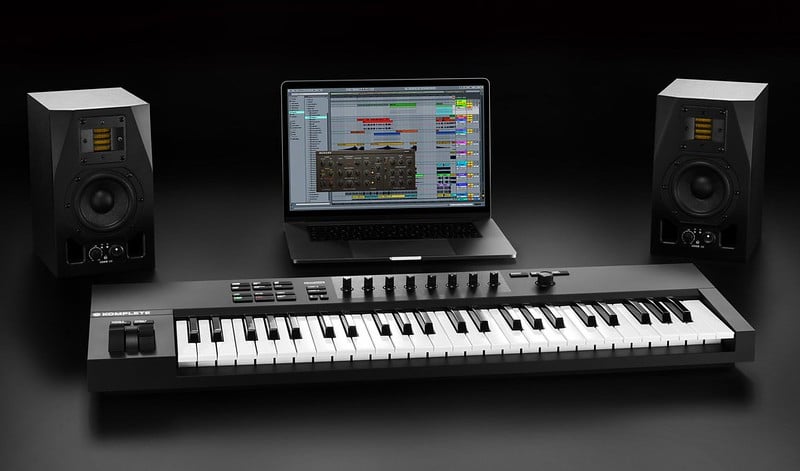 Native Instruments has introduced significantly streamlined unique features in its affordable packaged keyboards. All of them are bus-powered, so you just need to connect them with your computer and laptop, and they are good to go!
They have got great semi-pad keypads, solid pitch, and mode wheels. At the back, there's a connector for a Pedal, which could be an expression, sustain, and half-damper, and you can even configure it in the software.
The keywords come with complete Komplete Kontrol and can operate with many other hosts. All the keys are mapped in a fantastic and varying way by whom you create magic!
In Komplete Keyboards A-series, you get MASCHINE ESSENTIALS production, so there's no problem making different kinds of music out of the box!
There are also unlimited features available under the SMART PLAY feature, which is excellent for people who know nothing about music theory. Even if you're an experienced keyboard user, you can come up with different ideas.
The Komplete Kontrol MIDI keyboards have hundreds of preset scales, which you can access via the SCALE button on the keyboards.
Pricing
Komplete Kontrol keyboards not only fit your workflow but also with the pricing. The keywords price usually varies from $139 to $799. If you buy yourself a Komplete Kontrol keyboard, it will be your best music companion for years!
Variety
Arguably, the best thing about these keyboards is that you have many different options. The three most well-known series of Komplete Keyboards are the S-Series, A-Series, and M32.
A-series is the best fit if you're looking for award-winning and stand-out mini controllers and keyboards. If micro-sized and compact keys intrigue you, go for the M32 keyboard, as it is their smallest and most compact keyboard.
The main critical points of the S-Series are the intelligent keyboard controller with full NKS support, high-resolution color display, and Light guide features.
Akai Advance
Akai is a well-known Japanese company that entered the music industry in 1984. Their instruments have become a fine companion for millions of musicians in the studio and on stage.
The Akai Professional has introduced various devices, from drum machines, controllers, and plugin instruments to MIDI keyboards.
The Professional brand stands at first in manufacturing digital music equipment and has become a brand of trust and quality!
Features
Akai keyboards are designed with interactive looks and illuminated colored buttons, which is rare in most other brand keyboards.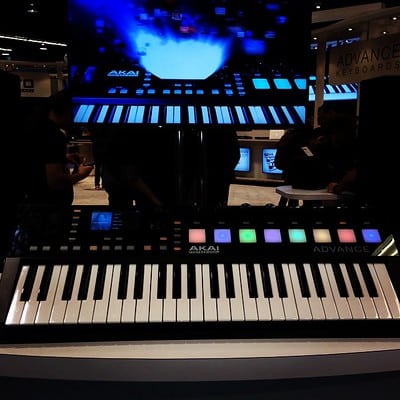 All Akai keyboards come with a 1:1 screen that is used as an alternative to a computer or laptop, and most famous brands have not been to able to achieve this feature yet.
The velocity RGB pads, Dual and Split Keyboard Functions, and high-end electronics features are ordinary in all its models.
Akai's all 26, 49, and 61 keyboards are compact and light-weighted, and only a few brands have been able to provide this many compact and portable MIDI keyboards. Most models are famous for plugin features and for automating and integrating into VSTs.
For most of them, users have to buy expensive control options and sound banks, but it allows sound effects in recording, which is the most popular feature of Akai Advance keyboards.
A 16GB download of more than 10,000 sounds from top sound designers at AIR Music Technology, SONiVOX, and TOOLROOM RECORDS is included with each Advance Keyboard.
You have access to a wide range of popular, modern sounds for both live performance and studio production with this extensive set of nine plugins.
The Advance Keyboard turns computer-based plugins into a hands-on playing experience by fusing the power of software instruments.
An integrated 4.3-inch high-resolution full-color display is built into the keyboard surface and provides real-time feedback of key virtual instrument parameters.
The screen instantly adjusts to the controls of the chosen plugin, providing direct 1:1 access to the instrument and various editable features.
The Advance Keyboard series is compatible with any VSTi, AU, or AAX virtual instrument in all popular DAWs running on both Mac and Windows.
The semi-weighted, velocity-sensitive, and after-touch features have made Akai Advance keyboards the most famous series of the MIDI keyboards!
Pricing
The pricing of Akai Advance keyboards varies from one to another, covering unique features. In fact, from the cheapest to expensive models, Akai Advance has limited keyboards for each type of musician or producer.
If you have limited requirements or money to spare, the 24-key keyboards ranging from $60 – $70 are there to serve you the best! But you might need to add sound back by investing a minimum.
But if you're looking for a more interactive keyboard, then Akai 49 keypads ranging from $250 to $300 will be the best fit! These keyboards are best for MIDI players.
You can get one of the best Akai keyboards for $450 – $600. These keyboards will include larger sound banks, excellent drum pads, and the best Akai Advance features.
Well for general information, the top best-selling keyboard of Akai Professional is the MIDI MINI keyboard.
Variety
Regarding variety, Akai keyboards are limited to a few models only.
Komplete Kontrol vs Akai Advance – Which One To Choose?
If you're a beginner or looking for inexpensive keyboards, Akai Advance's cost-effective and compact keyboards would be a good companion.
However, if you want a modern keyboard that would last you a long while, then Komplete Kontrol is what you're looking for.
Both instruments are outstanding, but it depends upon you, which one you want to pick for yourself and produce unlimited amazing music or beats!