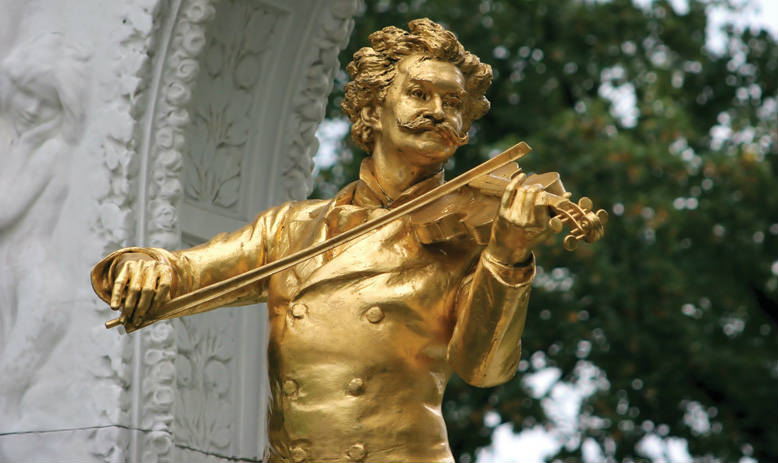 You just need to hear a violin tremolo in the key of A major accompanied by a horn (and maybe the staccato wind chords) to discern the Blue Danube, while the loud opening chords in B-flat major, to you, immediately signal nothing but Frühlingsstimmen. You overly enjoy the plethora of themes the character's motifs, the waltzes and the cancan that constitute the Overture of the Fledermaus.
Also, you are well-educated enough to know that Johann Strauss II did not compose the Radetzky Marsch (it was penned by Johann Strauss Sr). Given how much you enjoy listening to the ultimate Master of Waltz, here are ten more pieces by Johann Strauss you should become hooked to.
Rosen aus dem Süden

Pop culture is enamored with this waltz medley by Johann Strauss derived from his operetta Das Spitzentuch der Königin, with its overall pensive mood culminating in a sparkling finale. This is the waltz that Trelena had Uhura play in "The Squire of Gothos," the melody you hear in Sophie's choice when she is asked for her hand in marriage and, ultimately, the soundtrack to the dance scene in The Dark Knight rises!
Morgenblätter

Allegedly inspired by a waltz by Jacques Offenbach that bore the title Abendblätter (Evening Newspaper), Morgenblätter (Morning Newspaper) is one of Strauss's most inspired waltzes, with varying moods that are easily discernible throughout the five two-parts sections, where exuberance alternates with more brooding melodies, and with a climax complete with a fanfare-like trombone. Both Offenbach's and Strauss's "Blätter" waltzes are dedicated to the Concordia Journalist association.
Künstlerleben

The title translates as "an artist's life", but it could not be more different from Berlioz's famous Fantastic Symphony, which was the recount of an episode of an artist's life as well. In fact, in 1866, the Austrian troops suffered a serious defeat at the battle of Königsgraz, and the spirits of the Viennese population was so low that many balls and festivities were just canceled. So, for the Carnival of 1867, the Strauss brothers were set the task of bringing some joie de vivre back to town, and the most famous product of that endeavor was the Künstlerleben waltz: a plaintive intro by a horn solo, and waltz themes that alternate between high spirits and somber moods that eventually culminate in a coda a minore.
Geschichten aus dem Wienerwald

Geschichten aus dem Wienerwald is one of the more "folksy" waltzes— its title, literally "Tales from the Vienna Woods", is referencing the dwellers of the Vienna Woods. In fact, before the customary ballroom-style waltz themes are formally introduced, Wienerwald features an impressive 119-bar long introduction that is partly pastoral (the flute cadenza) and part folk song with the zither playing a Ländler tempo.
Wein, Weib und Gesang

Do you want a real reason to listen to this tribute to three fine things in life such as "wine, women, and song?" Suffice to say that Brahms and Wagner admired this tune that is, at the same time, passionate and cheeky and complete with a swirling ending. It was originally conceived as a choral waltz.
Wiener Blut

Wiener Blut marks the start of the collaboration between Strauss and the Vienna Philharmonic orchestra, which previously was very reluctant to collaborate with someone who just composed "light" music. It is one of Strauss's last self-standing waltzes that starts as lyrical and gradually acquires grandeur, to the point that it eventually features cymbals and drum-rolls.
Kaiser-Walzer

Originally known as Hand in Hand, this waltz was meant as a toast between Austrian emperor Franz Josef and his German counterpart Wilhelm II in 1889. The title Kaiser-Walzer, suggested by Strauss's publisher Fritz Simrock, was a better fit as it could apply to either monarch.
Lob der Frauen

At the 1867 carnival in Vienna, the orchestra played the Blue Danube and Artist life. Those were two waltzes, and, for all those who wanted a change of pace, Johann Strauss II provided a newly composed Polka-Mazurka. The title means Praise of Women.
Zigeunerbaron Overture

In 18-century Hungary, a gypsy girl who is actually the daughter of a Turkish pasha, a landowner, the owner of a hidden treasure, a fortune-telling Romany queen, a band of gypsies and a troop of hussars are the characters of this Strauss operetta whose popularity was second only to die Fledermaus. Listening to the overture will give you the chance to listen to a production of Strauss that was metaphorically "free" from the Viennese milieu, in that harmonic uncertainty, duple meter, syncopation, and conflation of major and minor keys mark a visible departure from those dances that were best known in the Viennese ballrooms.
Die Bajadere
Much like his contemporaries, even Strauss indulged in Orientalism and, drawing from his operetta Indigo and the Forty Thieves, he composed the polka titled Bajadere, which, in the late 19th'century imagery, was the stereotypically enchanting Indian temple dancer.