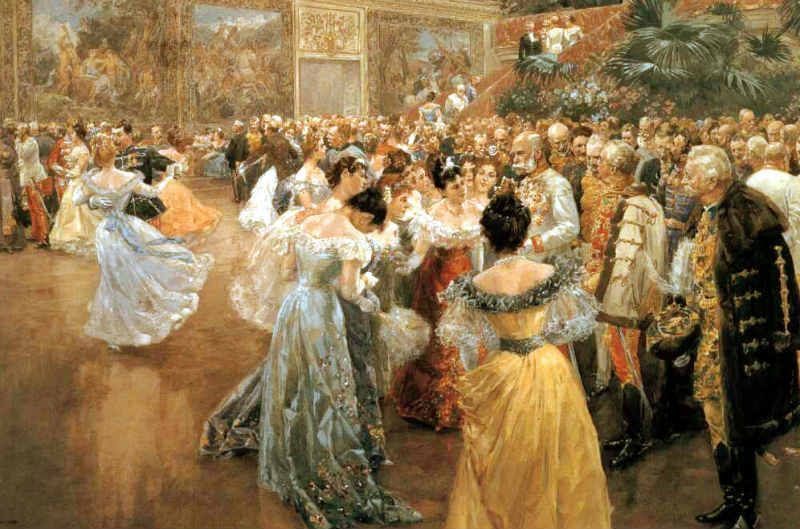 Whether you agree with Graf, or simply enjoy twirling or, like Wagner, you have the deepest admiration for Johann Strauss II's Wein, Weib und Gesang, read more about the 3/4, 5/4 or 6/8 dance that best embodied the Zeitgeist of 1800s Europe, and whose prestige eventually faded after World War I.

Feel free to Subscribe to Our YouTube Channel if you like this video!
Waltz originated among peasants
We can trace the remote origins of waltz back to the 13th century, where peasants in Germany devised a type of rolling folk dance rife with rolls, glides and turns. Around 1750, peasants from Bavaria, Tirol and Styria began dancing a dance for couples called Walzer, while the regions of Bohemia, Bavaria and Austria danced to the Ländler, a country dance in 3/4 time. So, while the upper class still favoured the minuet in their repertoire, the noblemen that were bored by that kind of etiquette preferred to dance what the servants had been dancing for the past decades.
Waltz was the 18th century version of Twerking
Before waltz became popular as a court dance, all court dances were procession-based, tightly controlled and largely consisted of complicated moves and timings. Most importantly, however, before the waltz people never actually touched while dancing, but, instead, just danced around each other, while Waltz introduced a free form dance where dancers' bodies actually touched: old ballroom dance lovers deemed this downright scandalous. "The men dancers held up the dresses of their partners very high so that they should not trail and be stepped on, wrapped themselves both tightly in the covering, bringing their bodies as closely together as possible, and thus whirling about went on in the most indecent positions….," read a first-hand account.
As they waltzed around on the darker side of the room, the kissing and the hugging became still bolder. It is the custom of the country, I know, and not as bad as it looks, but I can quite understand why the waltz has been banned in parts of Swabia and Switzerland.
When the waltz reached the country of England at the Prince Regent's grand ball in 1816, the Times of London made scathing remarks at the "voluptuous intertwining of the limbs and close compressor on the bodies in their dance", which clashed with the modesty that was so remarkable in English females." So long as this obscene display was confined to prostitutes and adulteresses," the article continued, "we did not think it deserving of notice; but now that it is attempted to be forced on the respectable classes of society by the civil examples of their superiors, we feel it a duty to warn every parent against exposing his daughter to so fatal a contagion."
Johann Strauss I and Franz Lanner set the standards for the Viennese Waltz
After both of his parents died tragically— his mother was struck by fever when he was seven and his father was found drowned five years later— Johann Strauss I was trained as an apprentice to bookbinder Johann Lischtscheidl. In addition to that, he also took violin and viola lessons. Upon completing his apprenticeship, he secured a place in a local orchestra, which he left to join the string quartet formed by his would-be rival Joseph Lanner and the Drahanek brothers. This orchestra specialized in Viennese Waltzes and rustic German dances. After a surge in popularity, Strauss I eventually decided to form his own band and started composing dance music. This eventually made him and Lanner rivals, even though such rivalry had nothing but productive consequences. His reputation was estabilished by The Täuberln Waltz, which premiered during the carnival of 1826. His band then toured to Germany, the Netherlands, Belgium and Britain. While in France in 1837, he overheard the quadrille, and, by composing several himself, he introduced that dance to Austria.
Despite the amicable relationship between Lanner and Strauss I after they severed any professional ties, the Viennese started identifying either as Lannerianer or Straussianer: this, however, was believed to be a manoeuvre orchestrated by the Hapsburg dynasty, who was anxious to divert people from politics and the revolutionary ideas that had started to seize Europe. His most famous Waltz is "Die Schönbrunner," the most popular piece before The Blue Danube.
The initial performance of "An Der Schönen Blauen Donau" was only a mild success
Composed in 1866 by Johann Strauss II, it premiered on February 15th, 1867 at a concert of the Wiener Männergesangsverein. Commenting on the mild reaction to his new composition, Strauss reportedly said "The devil take the waltz, my only regret is for the coda—I wish that had been a success!". He then adapted it into a purely orchestral version for the World's Fair in Paris that same year: that version, which immediately enjoyed tremendous success, is the one that is most performed today. In fact, when Strauss's stepdaughter Alice von Meyszner-Strauss asked the composer Brahms to sign her autograph fan, he wrote down the opening bars of the Blue Danube, and then added "Leider nicht von Johannes Brahms". The Blue Danube features prominently in Stanley Kubrick 2001: A Space Odyssey, along with Thus Spoke Zarathustra.
Where Strauss II was bold, Waldteufel was subtle
Even though in Austria the fame of the younger Strauss was unprecedented, Paris mainly worshipped Emile Waldteufel, who, unlike his Austrian counterpart, mainly relied on subtle harmonies and gentle phrases. Waldteufel used to be the court pianist of the Empress Eugénie and, in 1874, he played at an event where the Prince of Wales and Edward VII of the United Kingdom were in attendance. The former showed high appreciation for Waldteufel's Manolo waltz, and arranged a long-term contract for the composer with the London-based editor Hopwood and Crew. Soon after, he played at the Buckingham Palace in front of Queen Victoria, and, in his London period, he composed his best known piece, such as Les Patineurs, inspired by the Skaters rink at the Bois de Boulogne in Paris. It contains glissando notes and themes that evoke the swirling and twirling of skaters, and bells are added to convey a wintery atmosphere. However, when Paris entered the age of impressionism his music was no longer popular, as it was deemed "not revolutionary."
Ravel's La Valse is a homage to the glory of the Wiener Walzer
In La Valse, composed from 1910 to 1920, Ravel used compositional elements of the Wiener Walzer and combined them with Impressionistic rhythm and harmonies. In doing so, he intended to create an Apotheosis of the Waltz as it was known. "Whether or not it was intended as a metaphor for the predicament of European civilization in the aftermath of the Great War, its one-movement design plots the birth, decay and destruction of a musical genre: the waltz," composer George Benjamin said in his analysis of La Valse.
Originally commissioned as a ballet by Sergei Diaghilev, it was, however, never set to choreography. After Diaghilev heard a piano reduction performed by Ravel and Marcelle Meyer, he deemed it a "masterpiece" but a "portrait of a ballet," and not a ballet per se, a remark that ended Diaghilev and Ravel's creative partnership. The work exists both for orchestra and as a piano reduction.